How to cut climate-changing emissions? Recycle buildings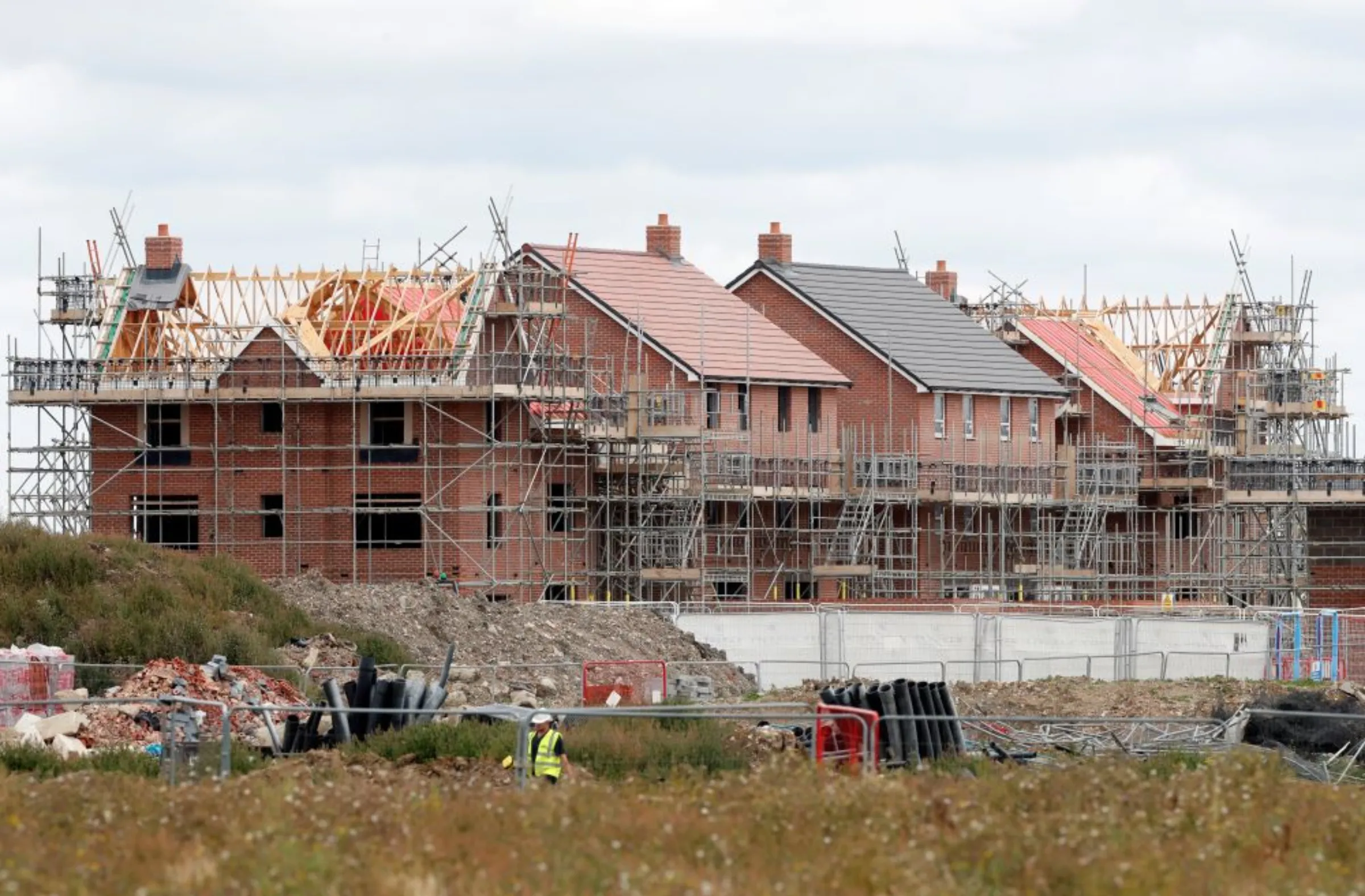 New houses under construction are pictured in Aylesbury, Britain August 6, 2020. REUTERS/Matthew Childs
Prioritising sustainable construction materials could help the European Union meet its climate change goals
Irene García is embodied carbon manager at the Carbon Neutral Cities Alliance, and Joana Cruz is senior policy advisor for Eurocities.
While Europe avoided energy collapse this winter due to warm weather, the Russian war in Ukraine rages on, resulting in raw material shortages and logistics breakdowns. One area hurting most: buildings.
Buildings are responsible for about 40% of the European Union's total energy consumption, and account for 36% of its greenhouse gas emissions. As Europe lags behind on climate goals, pressure is mounting for urgent action in the construction sector.
With over 35 million EU dwellings needing upgrades in the next decade, we have an opportunity to transform the sector. Buildings are a tool to deliver emission cuts, create local jobs, provide healthier and warmer homes, and lower energy bills.
That's why the Construction Products Regulation (CPR), currently under revision, is so important.
The CPR sets the legal conditions for how products can circulate freely within the EU. It can help prioritise decarbonisation and build a stronger, greener, more resilient economy.
Here's the potential. The CPR could harmonise standards on product performance, promote the sustainability of materials, and incentivize the reuse, recycling, and upgrade of materials in EU certification schemes.
And the introduction of Extended Producer Responsibility schemes – where producers take responsibility for their product's entire lifecycle – could encourage circularity of construction materials.
Currently, only 40% of construction waste is recycled or reused in Europe and most recycled materials are downcycled for second-grade construction. That's because we lack applicable criteria for upcycled and recycled materials.
A revised CPR could help by introducing product certification to enable the recovery and reuse of construction products. Three additional reasons for a revised CPR:
First, it'll help the EU achieve its Green Deal goals. Three materials – concrete, steel, and aluminium – are responsible for 23% of global carbon emissions. The CPR could promote the sustainability of products by favouring - and organising in a database - local, sustainable, re-used and recycled construction materials that guarantee a low embodied-carbon footprint.
Second, it'll address health and social inequalities. At least 50 million Europeans live in energy-poor, inefficient buildings, with leaking roofs, damp walls, floors, and foundations. This undermines the EU's just and green transition.
Building retrofits, in response, should be a priority. They prevent a large part of that energy from being wasted and contribute to significant health improvements. And renewable insulation materials such as cellulose and hemp, flax, kenaf and cotton will improve wellbeing and thermal comfort, while lowering the building's carbon footprint.
Third, it'll bring economic benefits. Decarbonising construction through renovation, reusing and recycling practices – instead of demolition and rebuilding – brings job creation, new business models and innovation. This benefits citizens and local, small- and medium-sized enterprises.
"For every 10,000 metric tons of waste recycled, an estimated 100 new jobs are created, and the potential is even greater in refurbishment and repair", notes Holcim, a global leader in sustainable building solutions.
Cities are leading in this space. The City of Amsterdam recently established a "waste-to-new-materials" cluster of businesses, knowledge institutions and public authorities. They promote recycled and reused materials in new products and jobs in sectors such as the repair and processing industry.
Amsterdam is also identifying insulation materials that can reduce whole-life carbon while improving energy efficiency.
And it is fostering a new form of development, such as the De Warren, the first self-built housing cooperative with rental apartments built to represent the highest standards of sustainability and circularity.
The City of Helsinki offers another example. The Finnish capital built a 'Wood City' district in Jätkäsaari, a sustainable mixed-use urban quarter constructed entirely from wood. The project rethinks the built environment and illustrates the health, workplace, and environmental benefits of wood construction.
Helsinki estimates that circular economy solutions, such as renovating buildings with timber, could reduce emissions from construction materials by 38% by 2050.
Other examples include Ghent and Vienna, which are transitioning their construction ecosystems, developing one-stop-shops to provide support through public-private partnerships and stimulate energy-efficient renovations.
As cities lower the environmental footprint of the construction sector, they're building resilience with more green jobs, healthier environments that protect vulnerable citizens, and an ability to withstand future shocks.
While cities are breaking new ground in this space, we need legislation to ensure large-scale transformation at a faster pace.
It's essential that EU legislators, responsible for the revision of the Construction Products Regulation file, encourage the transformation of the current construction practices.
And the Revision of the CPR must happen in tandem with the Revision of the Energy Performance of Buildings Directive and related policy initiatives – e.g., waste, energy efficiency, sustainable products – to ensure policy coherence on circular approaches to buildings and construction materials.
The transition towards a sustainable built environment is urgent. A fragmented framework delays the transition and makes it more costly. We need an EU approach that boosts action in the construction sector, lifts the performance and standards of products, and results in better buildings for people and cities.
---
Any views expressed in this opinion piece are those of the author and not of Context or the Thomson Reuters Foundation.
---
Tags
Clean power

Geo-engineering

Adaptation

Energy efficiency

Net-zero

Climate policy

Green jobs

Climate solutions
---