As US investors buy up rental homes, cities and tenants push back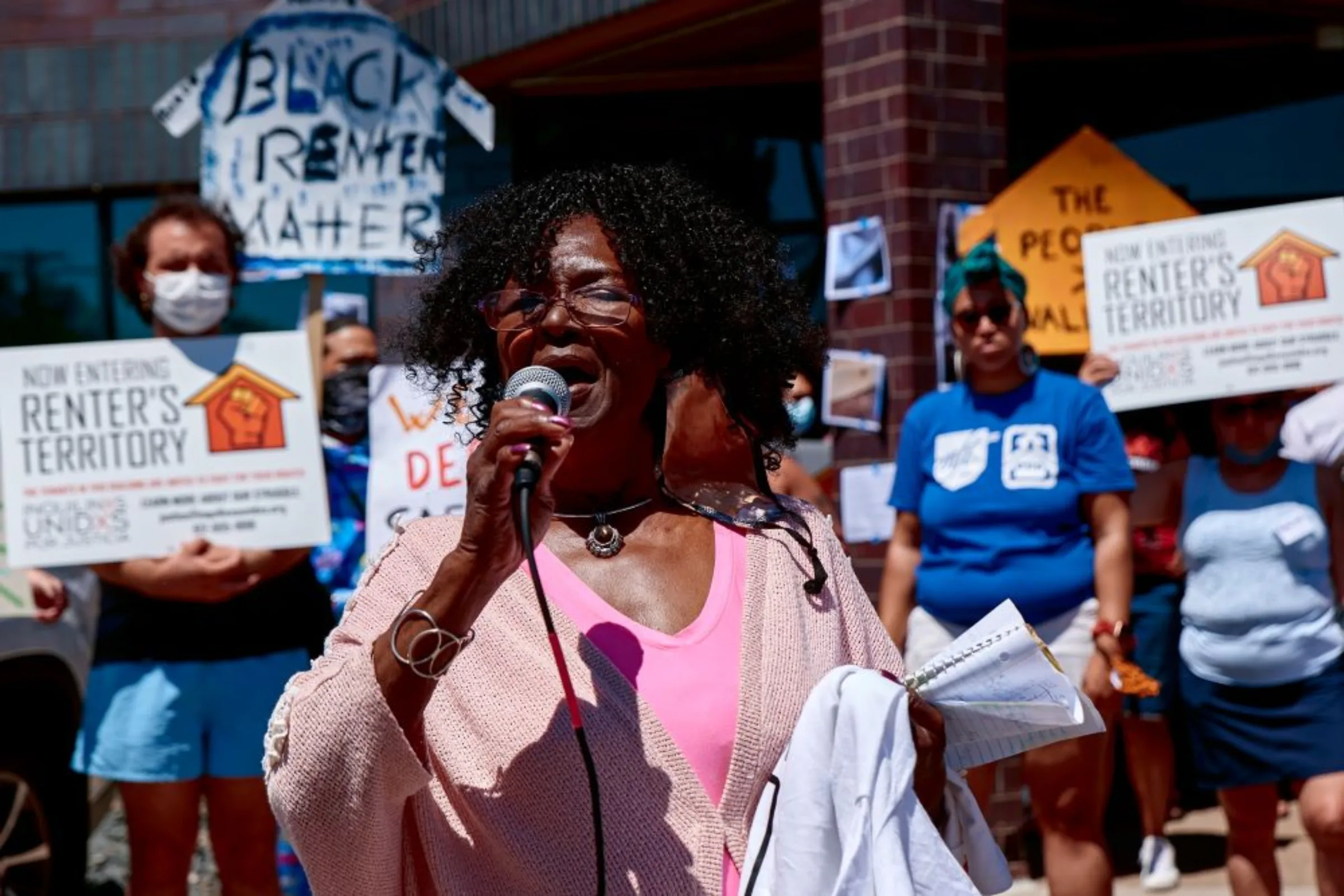 Tenants protest outside the office of a corporate landlord in New Brighton, Minnesota, on June 17, 2022. Uche Iroegbu/Handout via Thomson Reuters Foundation
What's the context?
Tenants and city officials across the United States are alarmed at private equity firms snapping up growing tracts of rental property
Corporate investments in rentals hit record in 2021
Renters complain of rising cost, poor maintenance
Some cities pushing back against private equity
WASHINGTON - Keela Hardge hoped she had found a long-term home when she moved into an apartment in north Minneapolis. But frustrated with repeated hikes in the cost as well as the pace of maintenance repairs, she is house-hunting again.
Hardge blames such issues on the property's ownership by a corporate investor, reflecting a shift in the U.S. rental market that critics say is leading to worse conditions for tenants and a dearth of affordable homes.
"I feel like I'm just a number, and they could care less if my family has a place to go as long as they're getting their rent," said Hardge, 49, a member of the United Renters for Justice advocacy group.
Corporate investors piled into the U.S. property market during the COVID-19 pandemic, in part as many smaller landlords were hit hard by non-payment from tenants who were protected by eviction moratoria.
Meanwhile, record low interest rates and explosive demand for homes sent average house prices surging by 17% in 2021, the strongest annual rise in at least two decades.
"Over the course of the pandemic, we really started to see a shift with respect to these corporations or investment firms acquiring properties," said Enrique Velázquez, director of the Minneapolis city's property inspections division.
"They would acquire (them) from foreclosure and then flip them into rental properties – just to grab the money, in some respect, and not necessarily do the work that we require of responsible property ownership."
After campaigning by residents, the Minneapolis City Council in January struck a legal agreement imposing rental license conditions on property rental firm Front Yard Residential, which is connected to national property company Progress Residential.
Front Yard Residential owns 221 properties in the city, Velázquez said, and is managed by investment company Pretium Partners.
The agreement included commitments from the firm to develop a preventative maintenance plan, respond to housing complaints promptly, and cooperate with the city over scheduled inspections. It also agreed to pause new purchases of rentals.
A spokesperson for Pretium Partners said the agreement "marked the culmination of several months of collaboration" over its Minneapolis operations.
A Front Yard spokesperson added that the company did not acquire any homes that were in foreclosure during the pandemic.
'Insidious problem'
Even as the U.S. housing market slumped, investors accounted for about 18% of all housing purchases in the last quarter of 2022 across 40 urban areas tracked by real estate company Redfin, up from about 7% in 2000.
A spokesperson for the American Investment Council, a trade group, said private equity investments represent less than 1% of the single-family rental market and "have a strong record of improving housing and services for residents."
Others disagree. Corporate landlords typically raise rents, impose new charges and skimp on building upkeep, said Americans for Financial Reform, which estimated last year that at least 1.6 million families rented homes owned by private equity firms.
In December, U.S. housing secretary Marcia Fudge called the rise in institutional investments in housing a "major barrier" to home ownership that is "reshaping local housing markets" and exacerbating the country's shortage of affordable housing.
Corporate ownership has been particularly concentrated in certain areas including North Carolina, Texas, Florida, Arizona and Georgia, said Madeline Bankson, housing research coordinator with the watchdog group Private Equity Stakeholder Project.
In Cincinnati, concerns over the issue drove officials to a first-ever strategy: purchasing 194 single-family homes to stave off corporate buyers, with more likely to come.
Officials found one company had bought over 2,000 properties in the city, while up to half of single-family homes were owned by companies in some parts of the surrounding Hamilton County.
"These investors are really changing the landscape of our local housing markets," said Philip Denning, executive vice president at economic development agency The Port, calling it an "insidious problem."
Rent control has also received increased political focus, with around 60 bills on the issue currently under debate in state legislatures, according to tracking by the National Multifamily Housing Council, an industry group.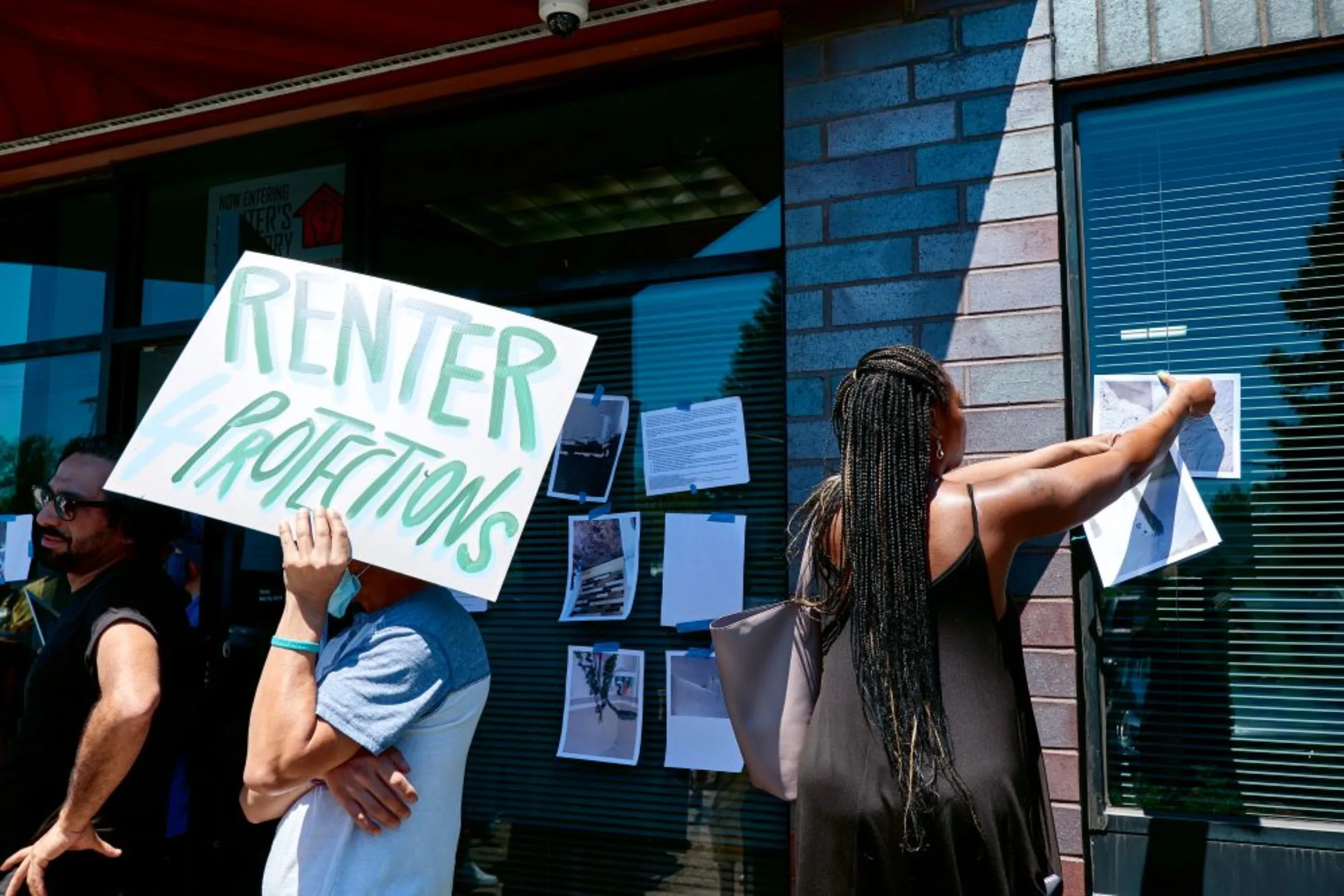 'Pushed out'
In Alexandria, Virginia, residents at the Southern Towers apartment complex were initially pleased to hear it had been sold to a national company in 2020.
But that reaction subsequently soured over rental hikes, changes in utility billing that have further driven up costs, maintenance concerns and more, said Sosseh Prom, state policy manager with African Communities Together, an advocacy group.
The situation prompted tenants to step up organizing – including to start taking their concerns to the landlord's investors directly.
The complex's owner, Los Angeles-based CIM Group, said only 2.4% of lease renewals saw increases of more than $200 to monthly rent, of which the majority were on short-term leases, and that the building's maintenance budget had nearly doubled from the previous ownership.
"Southern Towers Management has, and will continue to support individual residents when faced with challenges," a spokesperson said in a statement.
Tenant organizing has also stepped up in Charlotte, North Carolina, which Redfin said had one of the highest levels of corporate home purchases in the United States.
Community activist Jake Lineberger said his corporate landlord has raised the rent from $1,000 a month to $1,750 over four years, while the home's physical state has "withered".
"They'll feint like they'll fix it, but then they never do," said Lineberger, 24.
Through work with Action NC, an advocacy group working to support lower-income households, Lineberger said he learned his experience was not unique.
"We found dozens and dozens of homes that are owned by corporate landlords. Approaching these people, we found they have a lot of similar problems," he said.
Officials in Mecklenburg County, which includes Charlotte, have now undertaken a study on the issue and last year prompted a national umbrella group, the National Association of Counties, to urge Congress to take a similar step.
However, Lineberger says any action will probably come too late for his family, who are now seeking to buy a home to escape their rental issues but cannot afford a place in the city.
"We've been pushed out of Charlotte because of the housing market," he said.
"And we're definitely not the only ones."
This story was corrected on March 20, 2023 at 10:12 GMT to make clear that Front Yard Residential is managed by Pretium Partners, rather than being a subsidiary of it .
(Reporting by Carey L. Biron; Editing by Sonia Elks)
---
---
Tags
Consumer protection

Cost of living

Economic inclusion

Corporate responsibility
---