Shein's sudden rise: The human cost of fast fashion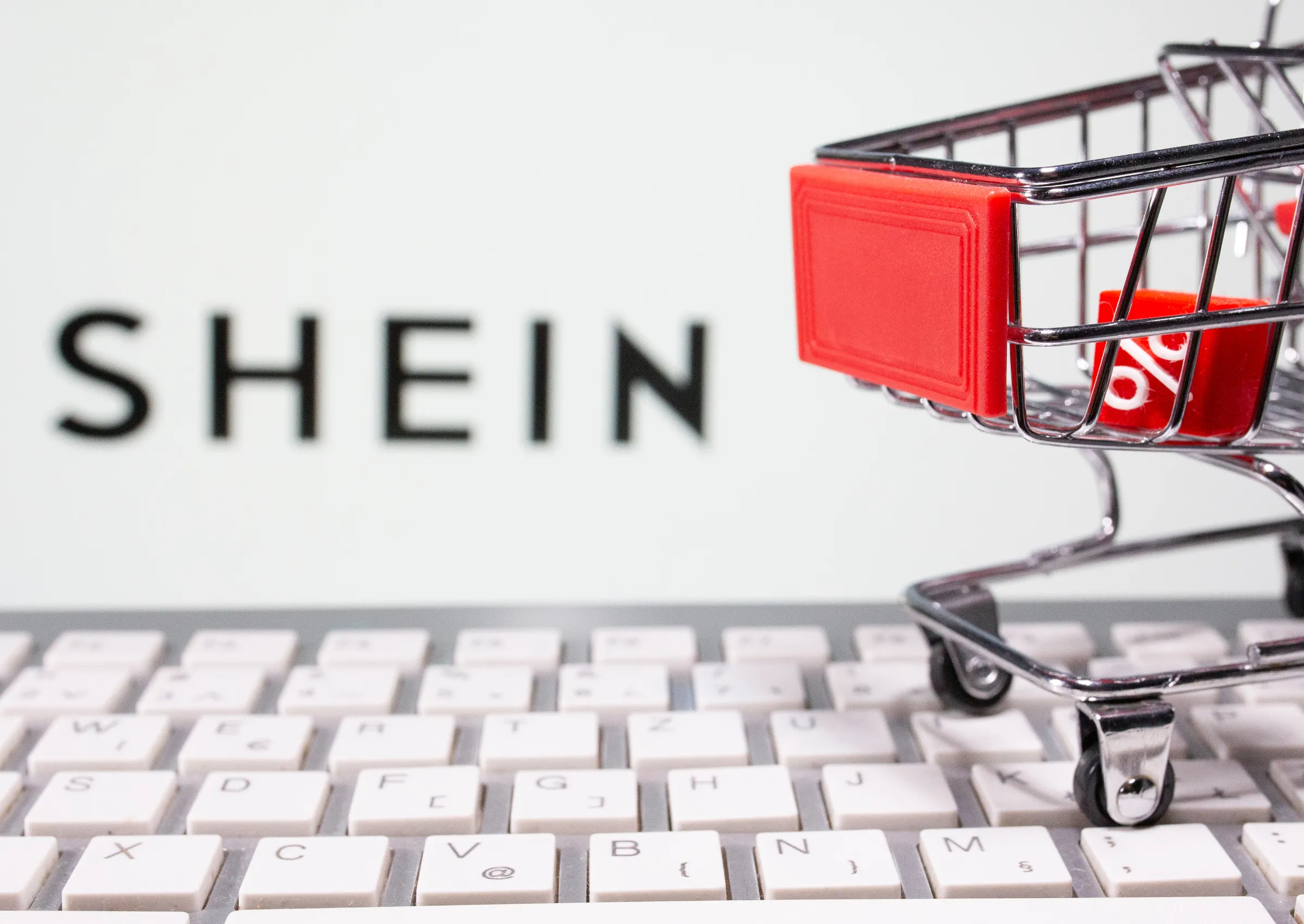 A keyboard and a shopping cart are seen in front of a displayed Shein logo in this illustration picture taken October 13, 2020. REUTERS/Dado Ruvic
To improve working conditions we need to make less clothes and slow down fashion seasons. China's Shein hauls are doing neither
Dr Patsy Perry is a Reader in Fashion Marketing at Manchester Metropolitan University
Online fast fashion retailer Shein is the latest fashion brand to be hit by a sweatshop scandal, with reports that factory workers in China were being paid 3 pence ($0.23) per item, working gruelling hours with barely any time off and having their meagre wages docked for simple mistakes.
Meanwhile, social media influencers produce films showcasing Shein attire in opulent surroundings and Shein's mission statement talks of democratising the joy and beauty of fashion for all.
Ethical issues are endemic across global fashion supply chains. What's gone wrong and what needs to be done?
Market leader
Shein is the world's biggest fashion retailer. In 2021, it overtook Amazon to be the most downloaded shopping app in the United States. In 2022, it was valued at $100 billion, more than Zara and H&M combined.
Its business model is based on high tech on-demand manufacturing, which connects a network of suppliers located within a five-hour drive of its Guangzhou headquarters to its agile supply chain. It uses market research and trend predictions to offer hundreds of thousands of new styles to consumers in over 150 countries.
Its phenomenally rapid growth from unknown to market leader has been supported by aggressive marketing tactics, including adverts featuring Western models, frequent new drops of product and deep discounting, and a social media influencer programme that encourages bloggers to endorse the brand to their followers.
Fashion manufacturing occurs in long and complex supply chains, from growing or extracting fibres, weaving or knitting textiles, dyeing, finishing, cutting and sewing garments.
A major trend has been outsourcing of production to global networks of independent subcontractors in countries where labour is relatively cheap. But this can be risky as processes are conducted by different companies in different countries and cultures.
Shein works with over 6,000 suppliers, many of whom are small businesses. This supply chain complexity results in a lack of visibility over how and where things are made.
The fast fashion business model is based on frequent new collections and low prices. With a strong emphasis on reducing production costs and speed to market, suppliers face significant pressure to manufacture to tight deadlines and low margins.
Inevitably corners are cut, which plays out in poor working conditions.
Not only does the ultra-fast fashion business model increase textile waste, it also results in human rights violations as factories are set targets that are impossible to meet whilst maintaining decent working conditions.
There are no universal laws or regulations governing sustainability. Each country has its own labour laws, environmental policies and ways of enforcing these.
Need to slow down
Following the Channel 4 documentary, Shein announced that all its suppliers must follow its code of conduct based on International Labour Organization conventions and local laws and regulations.
They further asserted that suppliers are audited by leading global audit agencies who had carried out more than 2,600 audits in the past 12 months.
However, with over 6,000 suppliers, it is clear that not all suppliers are audited regularly.
Shein also announced the launch of its resale programme, an online peer-to-peer platform for U.S. consumers to buy and sell pre-owned products. This was promptly met with accusations of greenwashing, since hyper-trendy styles are not designed for extended use, and resale needs to align with a significant reduction in production volumes to make a difference - whereas Shein is clearly on a growth trajectory.
Its philanthropic initiative of setting up a five-year $50 million climate fund with $15 million going to The OR Foundation to tackle textile waste in Ghana was also criticised by researchers as "social offsetting". Like carbon offsetting, critics feel the initiative does not tackle the root cause of the problem, in this case the vast quantities of clothing produced.
Fundamentally, we need to slow down fashion cycles and produce fewer products. Not only should we consider the environmental cost of buying fast fashion, but also the human cost to the people who make our clothes.
Sourcing policies and buying terms need to support factories to uphold decent working conditions and fair pay, rather than squeezing prices and delivery times, leading to human rights violations, impoverishment and denial of dignity.
In response to this article, a Shein spokesperson said:
"SHEIN conducts regular audits of its manufacturing suppliers. SHEIN invests $2 million annually in our SHEIN Responsible Sourcing program and we work with leading agencies like Intertek, SGS, TUVR, and Openview to conduct regular unannounced audits. We will continue to make efforts to ensure suppliers comply with our policies. Our business model aims to reduce waste at the source with on-demand production, which reduces unsold inventory to single digit percentages, compared to an industry average of 30%."
---
Any views expressed in this opinion piece are those of the author and not of Context or the Thomson Reuters Foundation.
---
Tags
Future of work

Workers' rights

Economic inclusion
---