India bets on seaweed's future as food industry appetite grows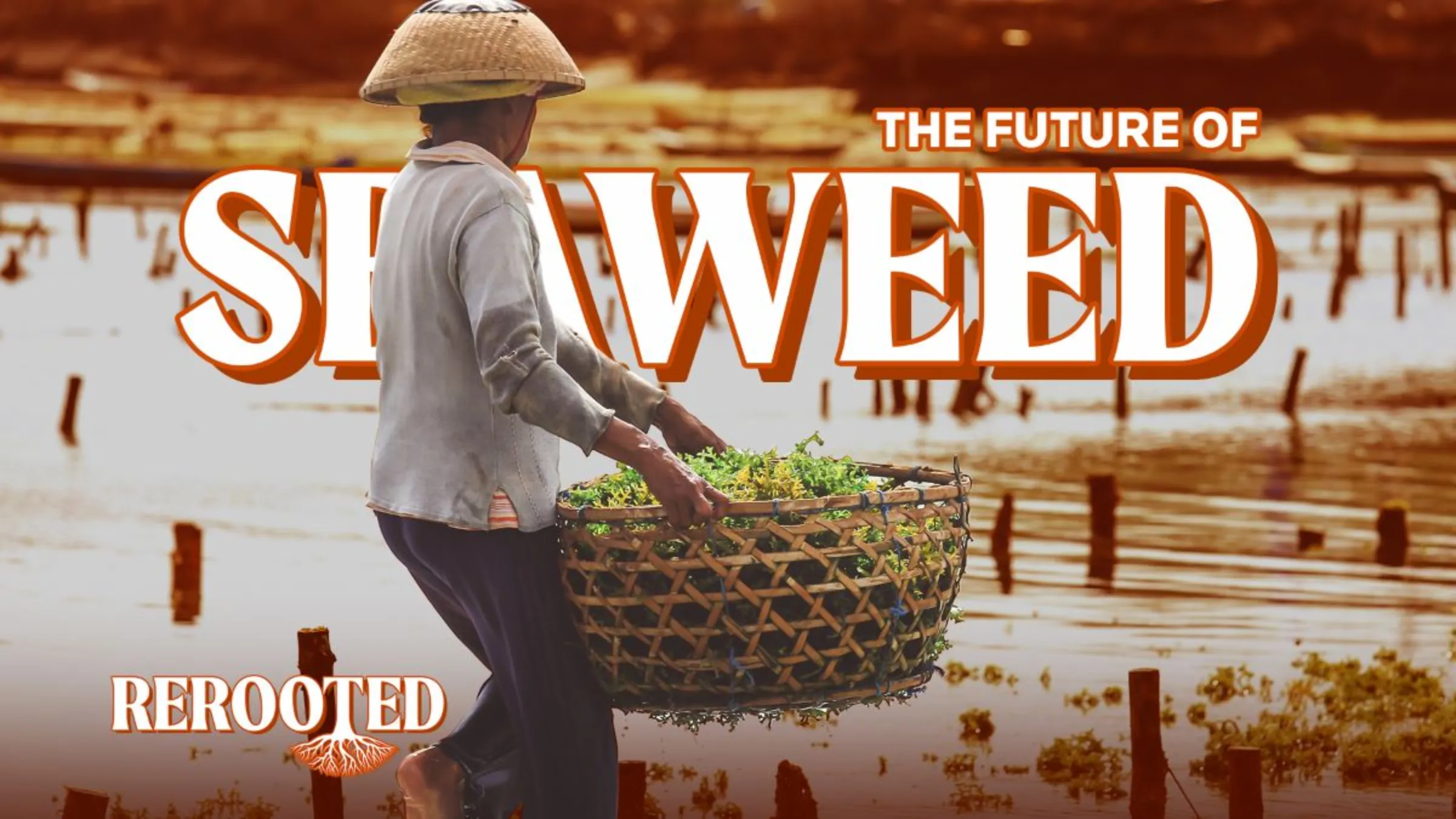 A farmer gathers seaweed in this illustration picture. Thomson Reuters Foundation/Karif Wat
What's the context?
As demand grows for extracts like agar, India wants to boost farming of seaweed - hailed as an untapped, climate-friendly resource
This story is part of "Rerooted", a Context series on the future of crops on a warming planet, exploring how we can grow enough nutritious food for a rising global population while protecting the climate and nature.
Food industry demand for seaweed extracts is rising
India wants to scale up farming to become big producer
Countries race to experiment with seaweed varieties
MANDAPAM, India - Adjusting their swimming goggles and wrapping their fingers in cloth to protect them from the jagged coral below, a group of women plunge into choppy waters off southern India to gather seaweed - their routine since childhood.
The work is hard, the days long and the earnings slim - selling the seaweed to industrial plants earns the average picker about 2,000 rupees ($24) per month.
"Do you think anyone would do this work unless they were desperate?" said Muniamma, 58, adjusting her snorkelling mask over her nose.
Like the others, she has no specialist equipment and wears a t-shirt over her sari as she lowers herself off a small boat at Krusadai Island in Tamil Nadu state.
As global interest in seaweed farming grows, India has outlined ambitious plans to drastically ramp up and modernise its small-scale production of the underwater plant, hailed for its climate-friendly credentials and nutritional value.
The nation's Seaweed Mission aims to kickstart cultivation along its 7,500-km (4,660-mile) peninsular coastline and boost national production from 30,000 tonnes at present to 11 million tonnes by 2025.
"India is only producing 0.02% of the world's total seaweed," said V. Veeragurunathan, principal scientist at the government-run Marine Algal Research Station based in Mandapam, close to where the women seaweed foragers work.
"If all nine maritime states introduce cultivation, our role could be in the double digits."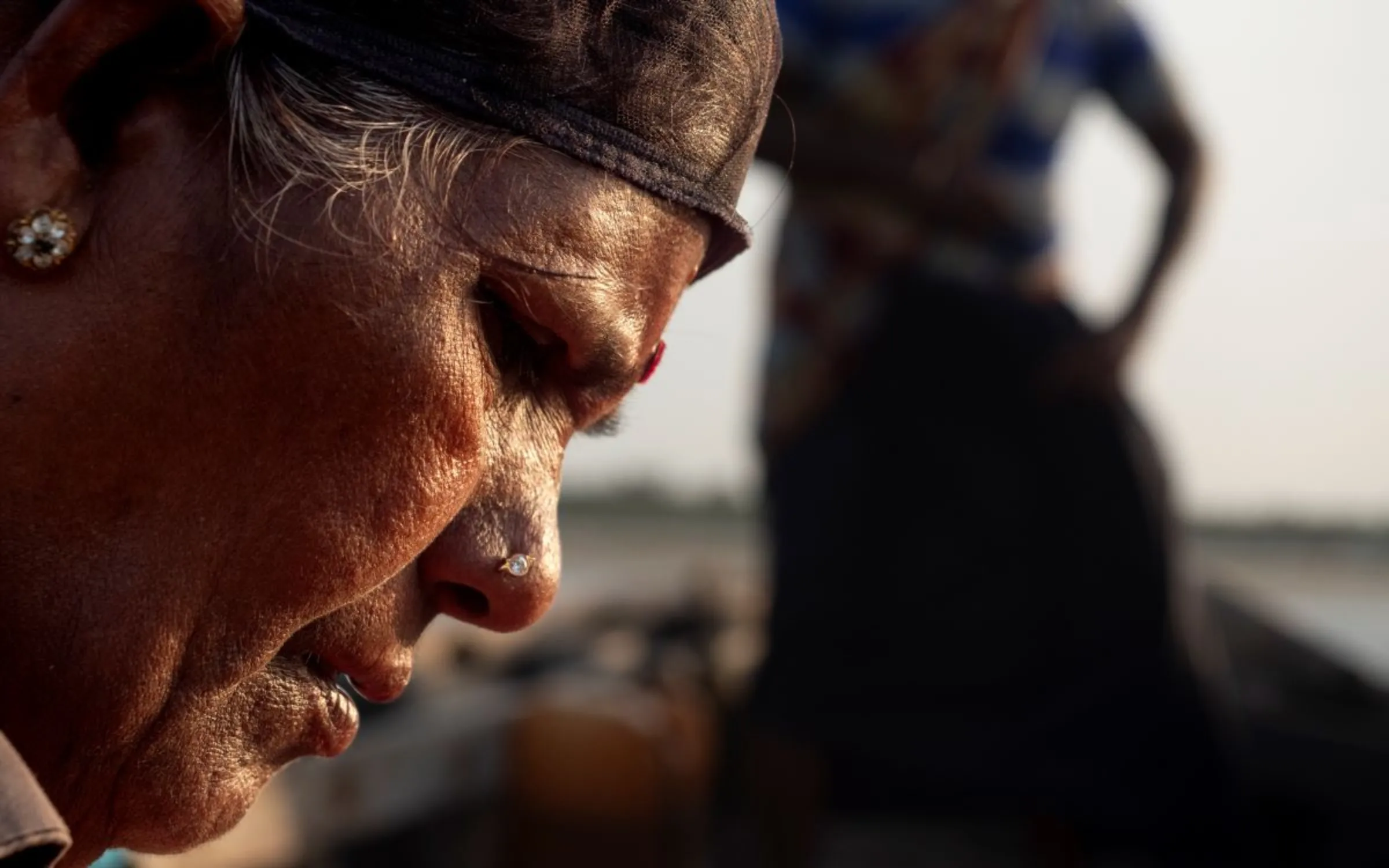 New to Context? We'd love for you to find out a little more about what we do. Click here for a selection of our best work.
India's plans include creating a seaweed park to process the wet and dried seaweed in Tamil Nadu, model demonstration farms, seaweed nurseries and developing seaweed recipes to suit the Indian palate.
Wheat, rice and other carbohydrate-rich grains form the backbone of food security in the world's most populous country, but seaweed advocates trumpet its dietary benefits, diverse uses in processed foods and sustainability.
In contrast to other crops, it can be grown without taking up more land or fresh water as climate change impacts - including harsher heat, drought and floods - pose a major emerging threat to global food security.
Interest in seaweed production comes as efforts ramp up around the world to figure out how to balance nature protection and farming, and introduce climate-smart changes in diets.
"It is the greatest untapped resource we have on the planet ... once we know how to grow (it)," said Vincent Doumeizel, senior adviser on the oceans to the United Nations Global Compact, a voluntary initiative based on private-sector commitments to implement sustainability.
Doumeizel, who has written a book called "The Seaweed Revolution", described seaweed as a "nutritional bomb" packed with vitamins, protein, zinc and iodine, noting that all 12,000 known seaweed varieties are edible.
Supermarket-friendly
Aside from sushi and salads, seaweed extracts - agar, alginate and carrageenan - are used as thickening and gelling agents, and are in high demand from a number of industries including food processing, biostimulants, cosmetics, and even making alternative plastics for packaging.
Seaweed extracts make food supermarket-friendly, and provide a vegan alternative to animal-based gelatin.
They are used to set yogurt, make meat products more tender, and go into jams, jellies and ice-creams. Seaweed also trickles into food supply chains as organic fertilisers and animal feed
The global seaweed market was worth an estimated $17.85 billion in 2021, according to Polaris Market Research, and is expected to grow 10% yearly as coastal countries including India aim to increase production.
In a report last month, the World Bank said 10 emerging global seaweed markets - from animal feed to yield-boosting biostimulants - have potential growth of up to $11.8 billion by 2030, in part because of the plant's capacity to store planet-heating carbon and boost marine biodiversity.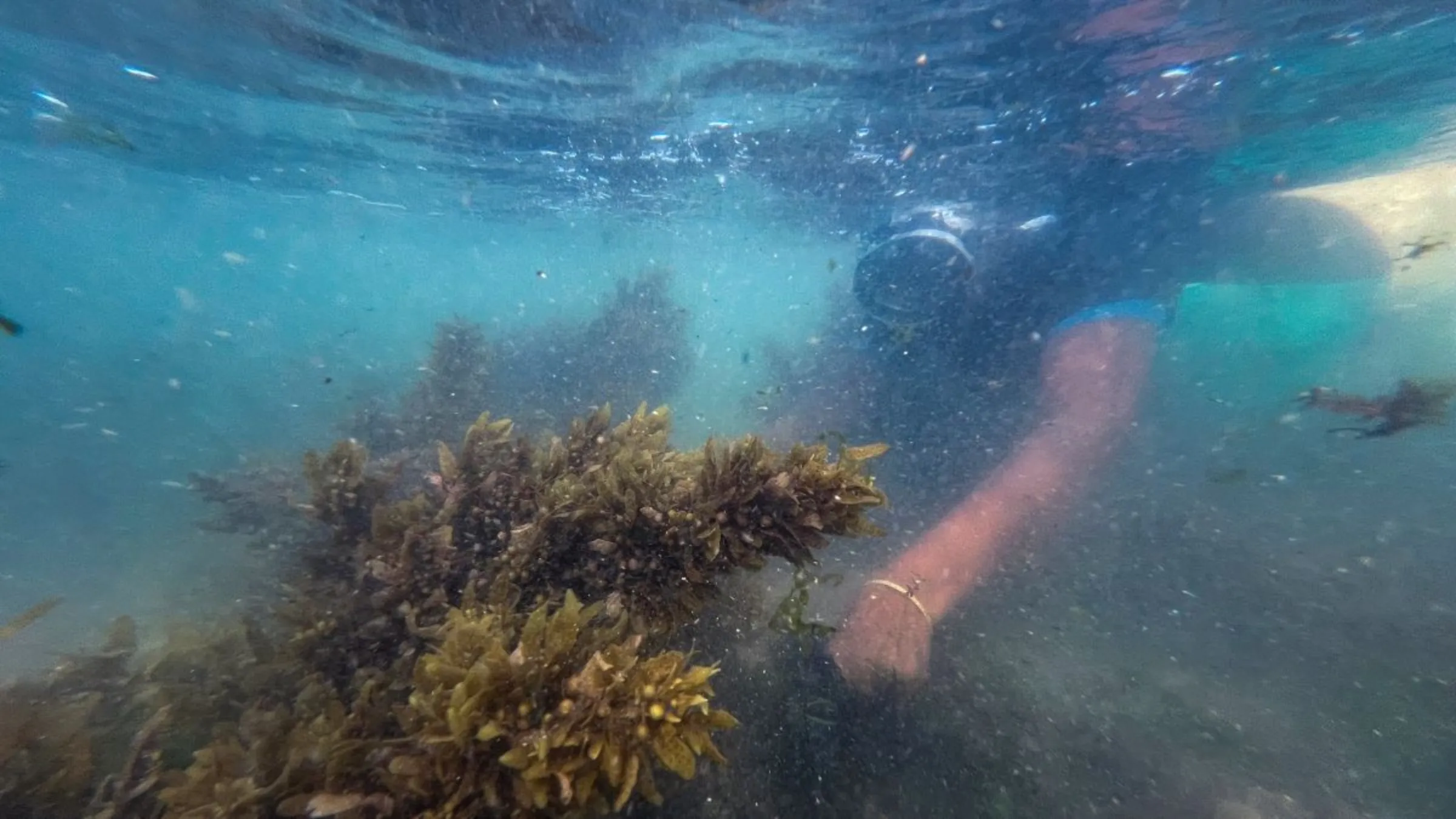 Seaweed also provides food for marine animals, and funnels nutrients from seawater into the food system through absorption.
In India, as coasts lined with palm trees are eaten away by rising seas, Veeragurunathan said coconut farmers "are turning to seaweed", adding to the urgency of professionalising the sector.
He said he hoped his team's experiments with local varieties will soon change the fortunes of fishing communities like Muniamma's around the country as warming oceans, over-fishing and erosion threaten their incomes.
Disease and warming oceans
The waters around Veeragurunathan's office in Mandapam are the richest in the country for seaweed diversity, home to about a quarter of the 844 native varieties that grow in Indian waters.
Building rafts from bamboo and string, a group of student scientists stood in mucky waist-deep water in the Palk Strait off Tamil Nadu one recent morning to run tests on different seaweed strains.
So far, only eight to 10 of India's seaweed strains are commercially viable, and scientists know little about the rest or the best conditions for growing them.
"We're trying to give information to our farmers," said Sundaragnanam, a 22-year-old microbiology student, as he prepared samples for testing.
Past attempts to introduce non-native strains that already had established markets in the food industry have proved complicated, he said.
In the mid-2000s, beverage manufacturer PepsiCo attempted to cultivate an imported strain of seaweed from the Philippines near Mandapam, referred to by local women as "Pepsi pasi" - pasi means seaweed in the Tamil language.
The extract obtained from the seaweed was used to make carrageenan, an additive used in soft-drinks manufacturing.
But concerns that the species was smothering coral reefs put an end to efforts to scale up its production.
Disease - in part linked to rising ocean temperatures - is also a concern for scientists working to boost seaweed output in India and elsewhere.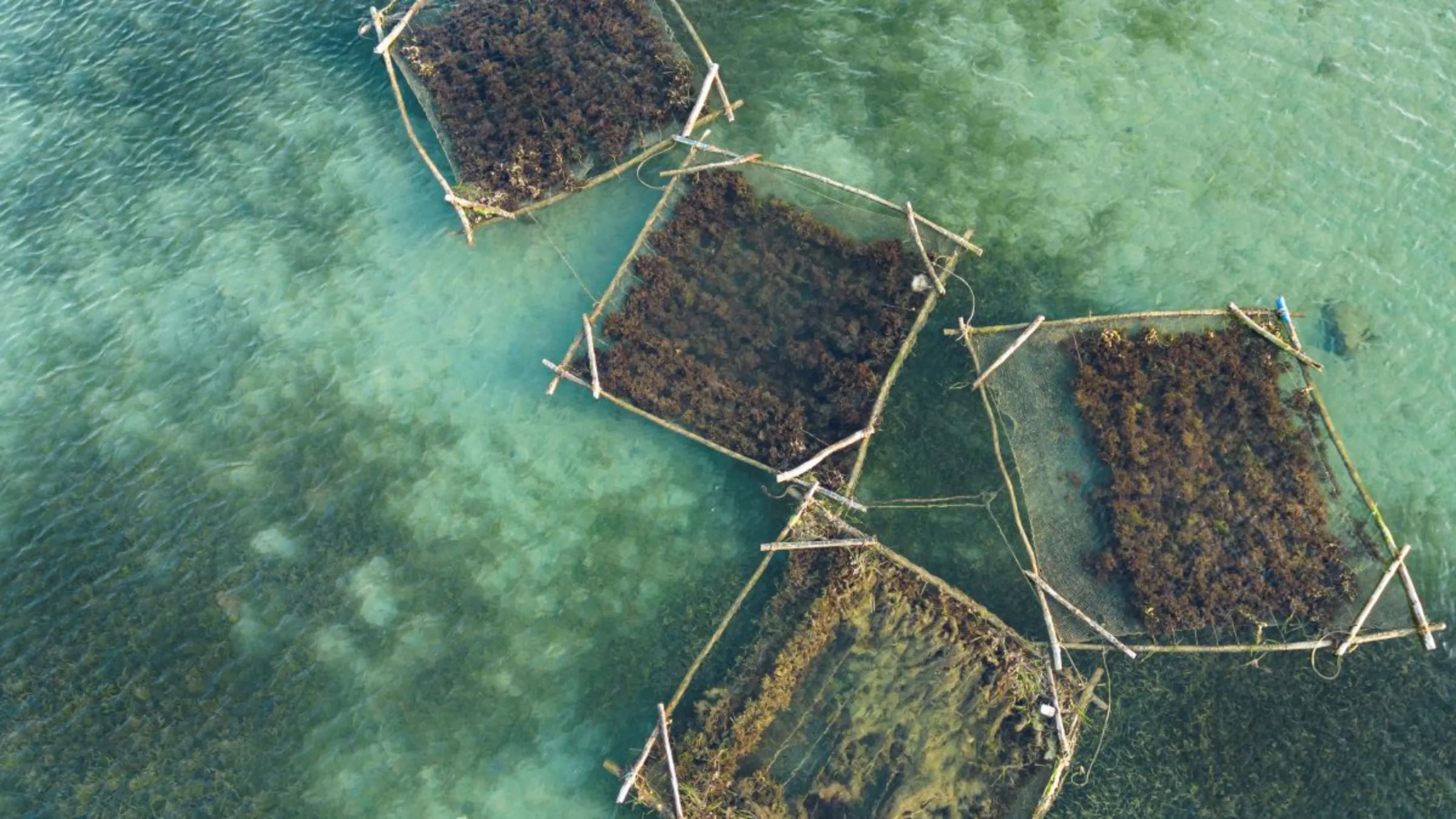 In the Philippines, which is among the world's top exporters of seaweed and carrageenan extract, two species of red seaweed are threatened by rising temperatures and diseases linked to climate change, leading to a decline in production and income for farmers.
The Philippines government, through its National Seaweed Technology Development Centre (NSTDC), is leading efforts to culture old seaweed varieties in laboratories, in a bid to come up with more disease-resistant kinds.
"Farmers usually cultivate mother seaweeds in the field that have been there for decades, so over time the genetic makeup may degenerate or change," Rene Regaspi, the NSTDC's seaweed focal, told Context.
"So instead, we get seaweeds from the wild, culture them in labs and see to it that ... they're disease-resistant," he said.
Filipino seaweed experts also envisage cultivating new species suitable for tropical countries and improving technologies that can help seaweed strains adapt to warming temperatures.
In Tamil Nadu, where the women seaweed divers set out on a boat only 10 days in each month because of government restrictions to prevent over-harvesting, numerous other hurdles lie ahead for India's Seaweed Mission.
Over-extraction is drastically depleting yields and hitting the fragile marine ecosystem, but the government efforts to curb foraging and replace it with cultivation are met with distrust - partly due to the Pepsi pasi experience, Veeragurunathan said.
Sundaragnanam said villagers were struggling to master the new underwater farming methods - and complained about poor returns and the scarcity of seeds.
"More knowledge is needed," he said. "This is an upcoming technology."
This project was funded by the European Journalism Centre, through the Solutions Journalism Accelerator. This fund is supported by the Bill & Melinda Gates Foundation.
(Reporting by Vidhi Doshi; additional reporting by N. Monisha Hyderali in Mandapam; editing by Helen Popper)
($1 = 82.8000 Indian rupees)
---
---
Tags
Adaptation

Energy efficiency

Agriculture and farming

Biodiversity
---