In Namibia, kelp forests help lock up planet-heating carbon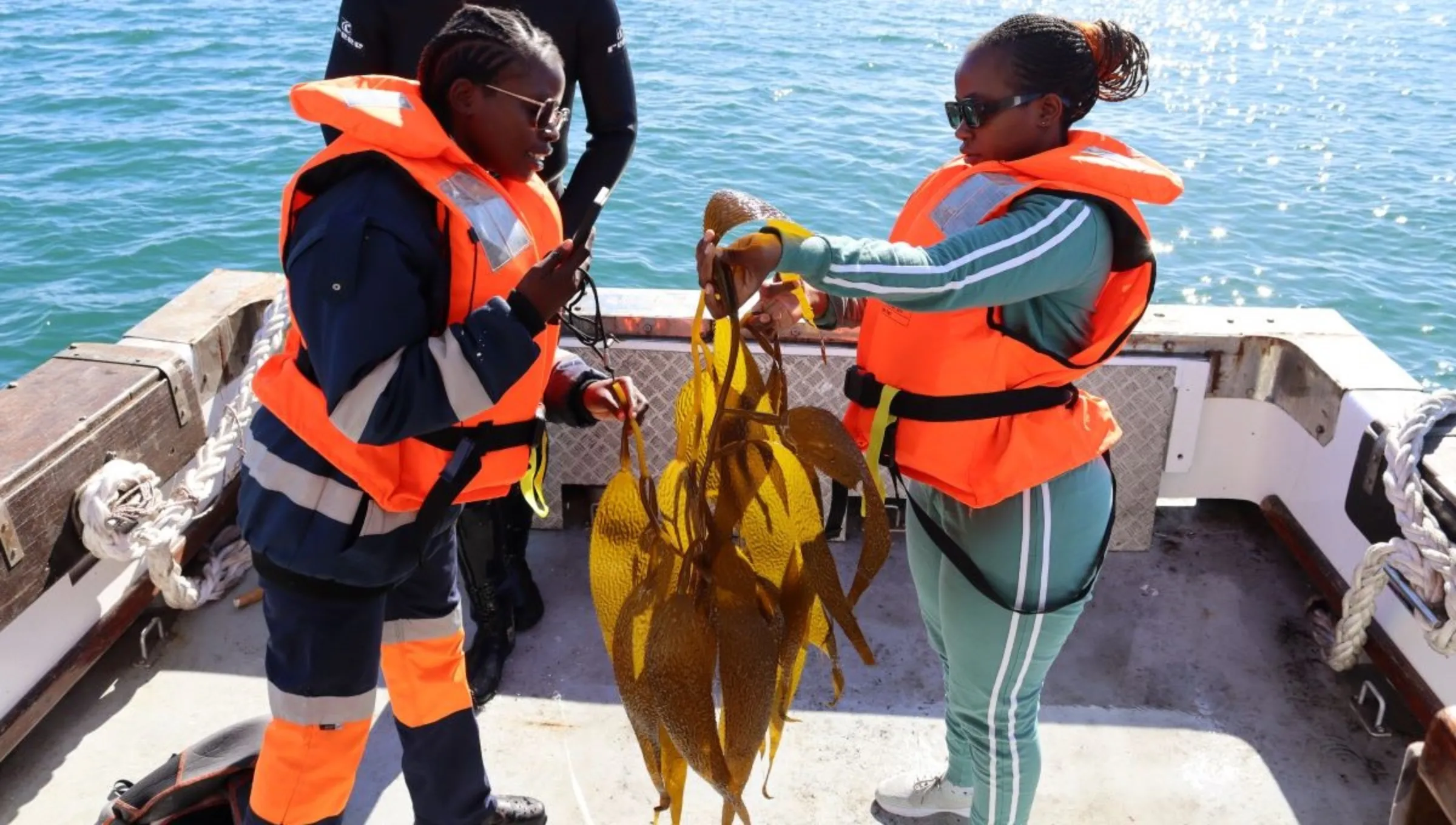 Giant kelp grown in one of Kelp Blue's experimental kelp forests in Shearwater Bay in Lüderitz in ǁKaras region, Namibia, April 23, 2023. Thomson Reuters Foundation/Lisa Ossenbrink
What's the context?
Giant kelp forests being used to make crop biostimulants and other biotech products could one day generate 'blue' carbon credits
Dutch startup grows giant kelp forests off Namibia
Research says seaweed can lock up CO2 emissions
Project produces biostimulants, creates local jobs
LÜDERITZ, Namibia - Lüderitz's riches used to be buried deep underground, but a pioneering kelp farming project off its craggy coast promises to bring new, greener opportunities to the former diamond mining town in southern Namibia.
The pilot run by a Dutch startup grows giant kelp to lock away planet-heating carbon dioxide, harvesting some of it to make products from cosmetics to biodegradable food packaging and biostimulants used to boost crop yields and drought resilience.
Diamond giant De Beers is one of the companies that has signed up for potential carbon credits from the project as it strives to reduce emissions in the years ahead. It is also helping fund Kelp Blue's work to develop a method to measure carbon storage by offshore kelp, needed to generate credits.
But the Lüderitz project brings other benefits, too, said Daniel Hooft, 48, a former offshore engineering specialist at oil major Shell who jointly founded Kelp Blue in early 2020 as COVID-19 spread around the world.
"Underwater, it's a big forest full of creatures ... it's really teeming with life," Hooft, the company's CEO, told Context on the deck of a boat used to monitor the offshore kelp forests.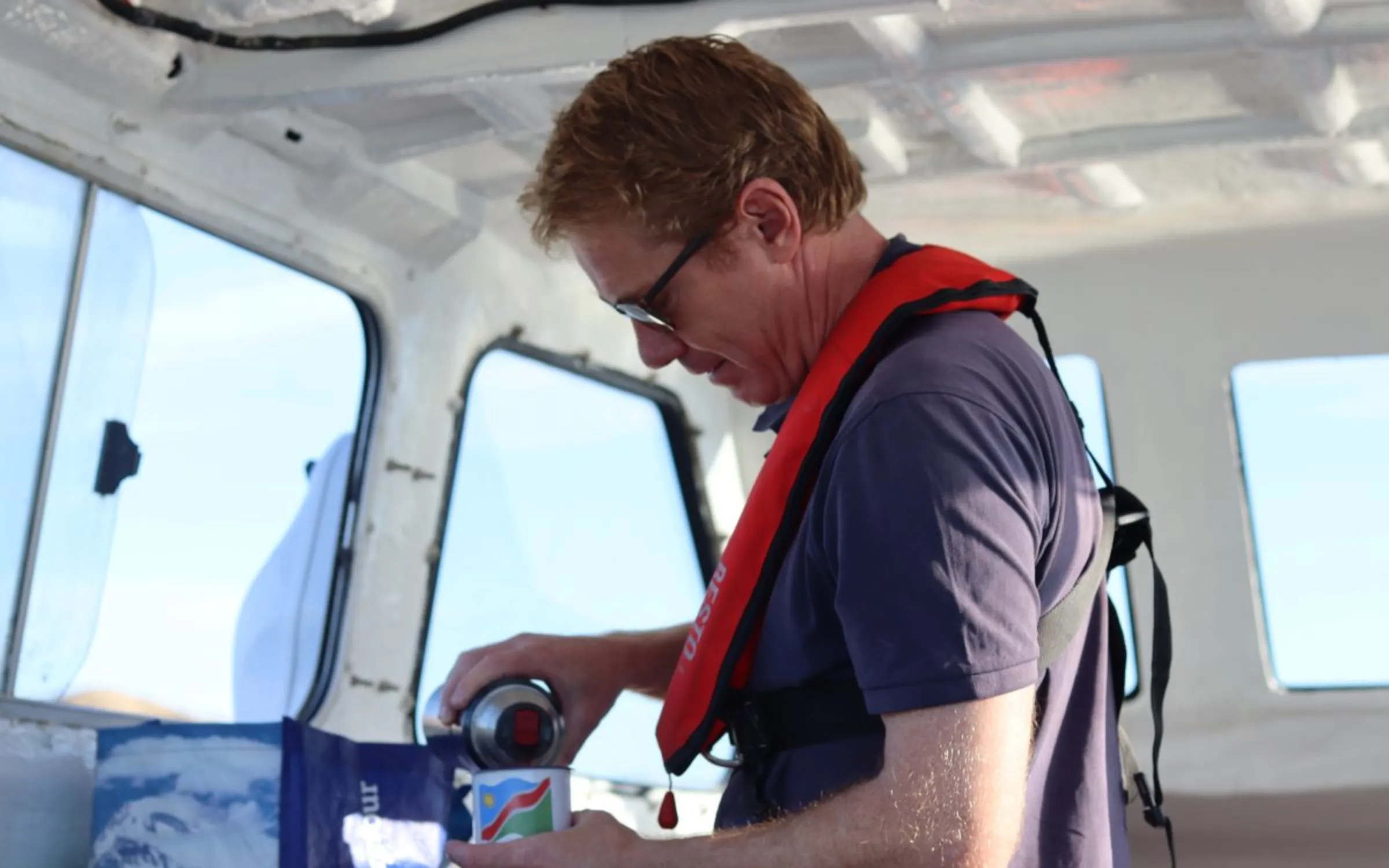 Giant kelp, the biggest of the brown seaweed varieties, can boost marine biodiversity and protect wildlife, research has shown - and the Benguela ocean current that flows off the shores of Lüderitz offers ideal conditions for growing it.
The kelp grows up from the seabed, about 10 metres (33 feet) deep, to the surface, forming towering canopies of "beautiful green, golden, photosynthetic leaves", said Hooft.
So far, Kelp Blue has grown two forests off the rugged coast of Lüderitz. Since December, its team of marine biologists and divers has also set up an experimental kelp forest in Shearwater Bay.
By regularly harvesting the top of the kelp's canopy, the company hopes eventually to produce 150 tonnes of giant kelp per hectare each year to supply its processing department.
Green jobs
In a country where youth unemployment is as high as 50%, with few skilled jobs for marine experts, the project has also turned the far-flung southern town into an unlikely beacon for green jobs.
Iriya Jona, 27, a fisheries studies graduate, was selling her own clothing designs at a market hundreds of miles away in the capital, Windhoek, when she was offered a job by Kelp Blue in Lüderitz about 18 months ago.
She had tried to set up her own seaweed startup for years, but bureaucratic hurdles meant she never managed to acquire the permits.
Today, Jona leads a team of several employees.
"Initially we thought only 25 people would be hired. Now, we have around 42 employees in Lüderitz. And we are expanding," said Jona, one of numerous local marine biologists to find jobs in the town, also the site of a company laboratory.
Laetitia Heita, 27, supervises the biosystems laboratory and is responsible for a team of four biology interns.
In the hatchery, seaweed spores are grown under conditions similar to the open sea, to achieve greater success rates for when the young algae plants are released into the Atlantic waters.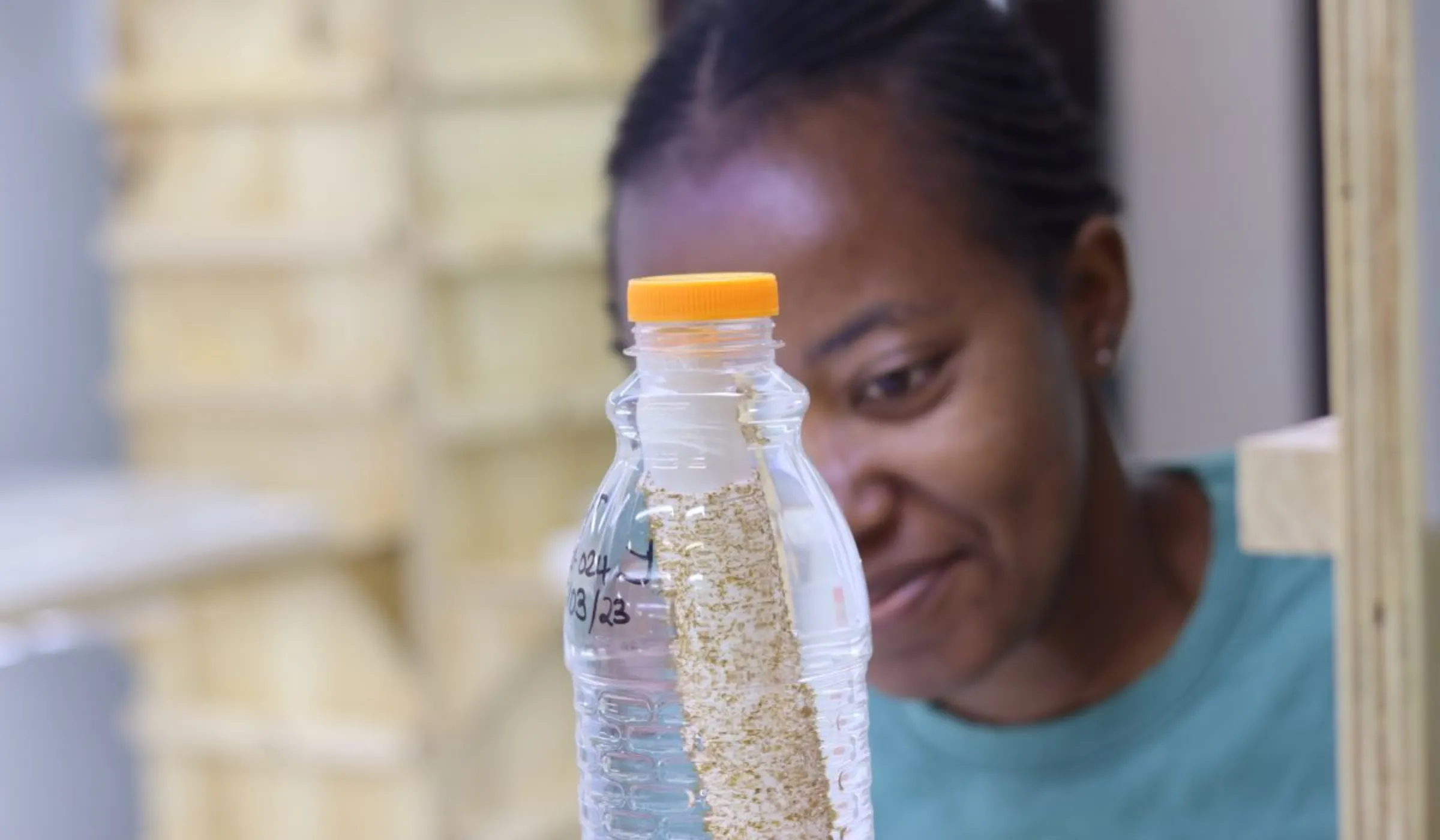 "It's a cool space to work in," said Heita, who studied chemistry and, like Jona, has been learning to swim for her new job.
Some of Kelp Blue's Namibian employees may help the company to establish more kelp forests in New Zealand and Alaska, the next locations it hopes to set up in.
How does kelp reduce CO2?
Jona hopes her work in the processing department could help Namibia's drought-stressed farmers through the production of biostimulants designed to make crops more resilient to droughts - expected to become more frequent and severe due to climate change - and to boost yields.
"Crop resilience against drought is particularly strong for potatoes, row crops and things like grapes, nuts and high-value crops," Hooft said of the company's seaweed extract biostimulant.
A 2020 study researched the effect of biofertilization with macrocystis pyrifera algae extracts on how seedlings adapt to a water deficit, highlighting improved plant growth and protection from stress.
That means kelp forests could play a twin role in efforts to fight climate change.
Researchers say they act as giant carbon sinks and can help curb global warming by sucking carbon dioxide from the atmosphere and locking up that carbon in the ocean.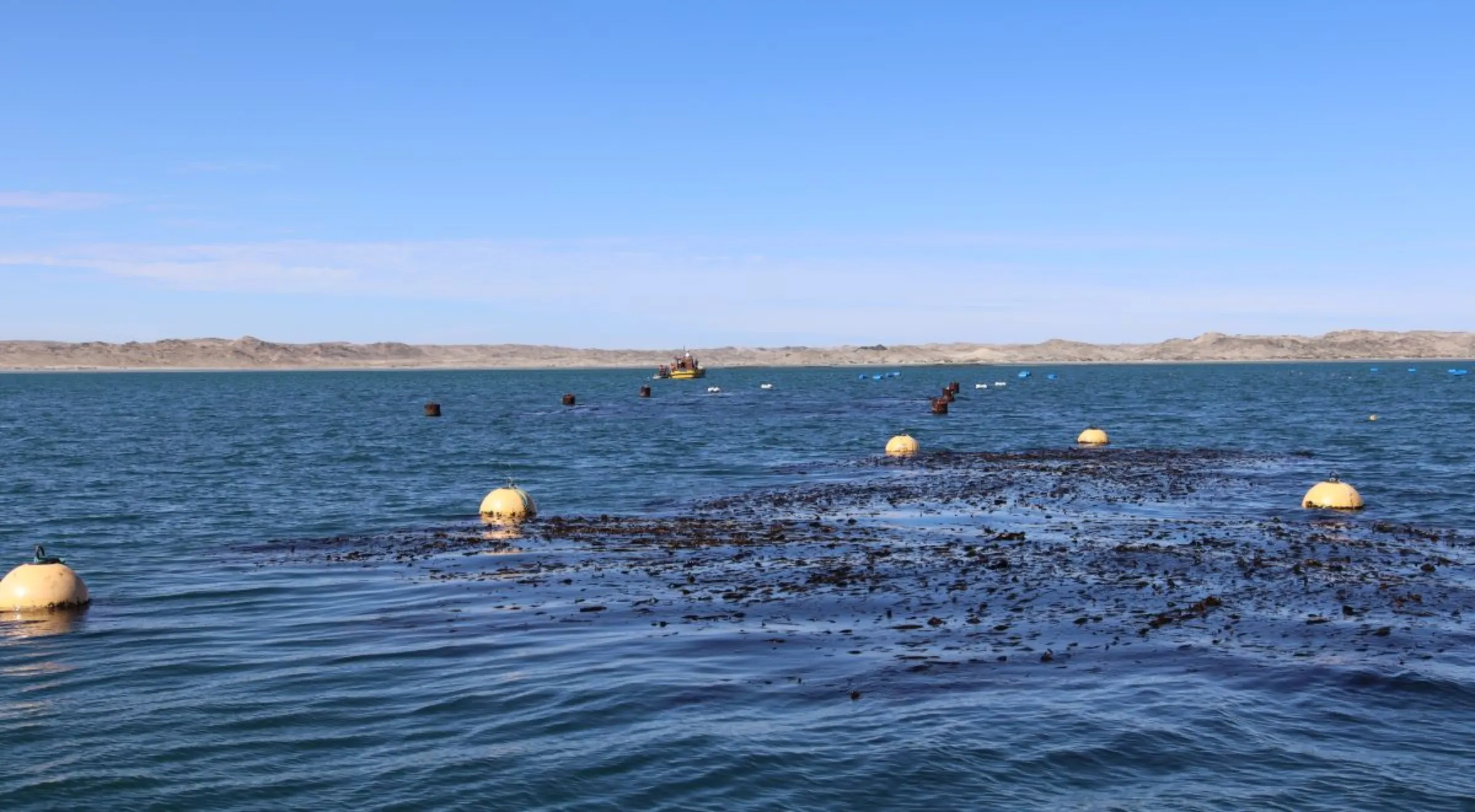 In a recent research paper, the U.N. Environment Programme (UNEP) calls kelp an "important nature-based solution ... to tackle climate change" because of its ability to store carbon.
The report also cites its potential to generate "blue carbon" credits.
Blue carbon is the carbon captured and sequestered by marine ecosystems - and the credits generated by projects to protect, restore and expand these environments are in high demand.
For now, however, while work on the carbon methodology continues, Hooft said boosting biodiversity and contributing to social transformation are central to the project's ambitions.
He wants to build a natural swimming pool in Lüderitz to teach children to feel comfortable in the ocean, and is inviting undergraduates from the University of Namibia to gather data from the kelp forests.
"What we're building here from day one is a company, as it should be, which is diverse and inclusive," he said. "It's really about how we create the companies of the future."
(Reporting by Lisa Ossenbrink; Editing by Helen Popper and Megan Rowling.)
---
---
Tags
Carbon capture and storage

Adaptation

Fossil fuels

Carbon offsetting

Circular economies

Agriculture and farming

Forests

Biodiversity

Climate solutions
---