Philippines' women seaweed farmers keep coastal families afloat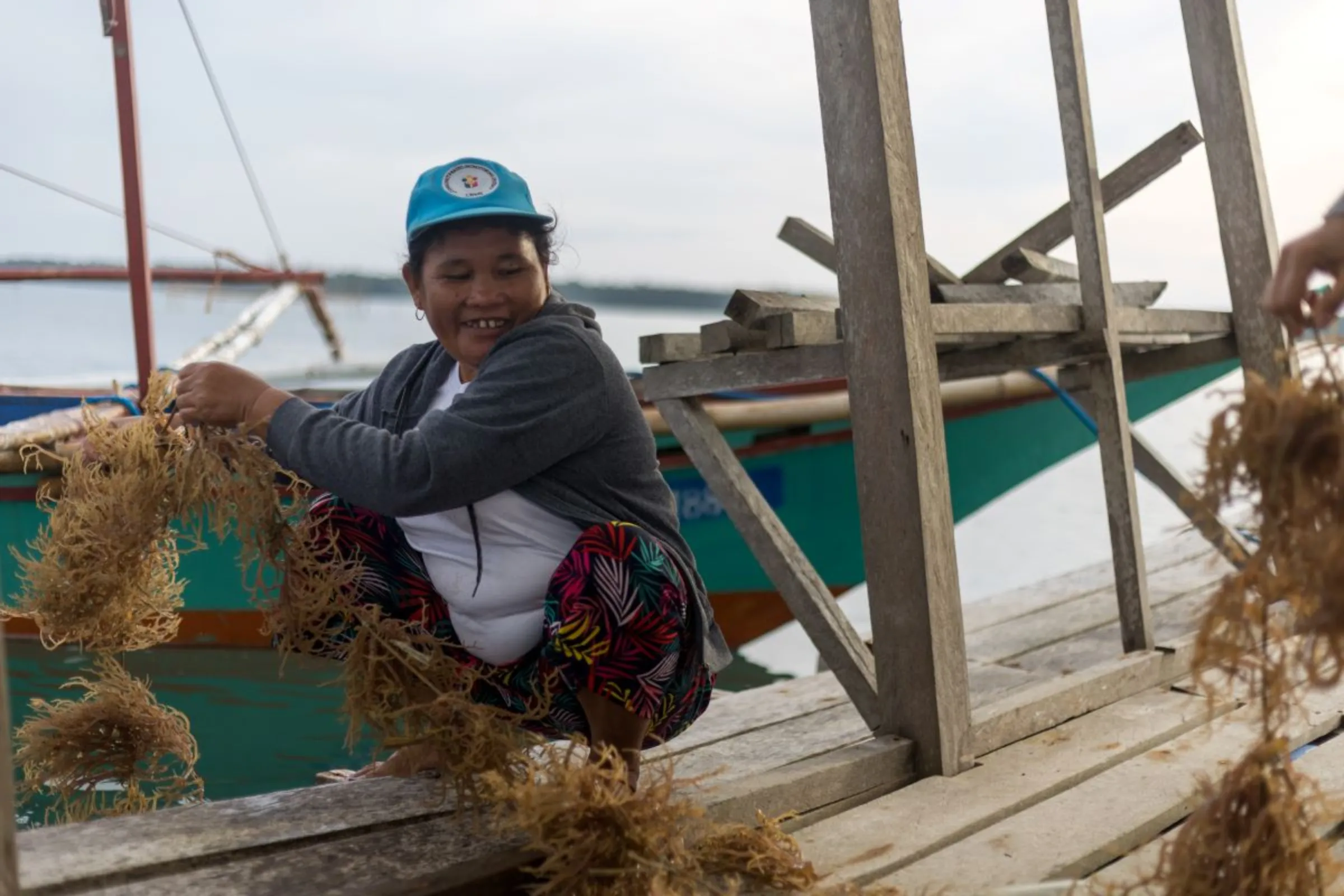 Members of the Cherish Fisherfolk Cooperative in Quezon, Palawan transport seaweeds to their floating dryer. June 5, 2023. Kathleen Lei Limayo/Thomson Reuters Foundation
What's the context?
Seaweed farming in the Philippines, increasingly led by women, is a lifeline to poor coastal families often hit by disasters
This story is part of a series supported by the Women Entrepreneurs Finance Initiative
The Philippines is world's 4th largest seaweed producer
Women seaweed farmers use money to educate their children
Government to create more seaweed farmer cooperatives
BALINTANG - Despite the ravages of storms, seaweed farming is transforming the lives of Filipino families in traditionally male-dominated fishing communities, turning women into family breadwinners who are paying for their children to go to college.
The Cherish Fisherfolk Cooperative of 120 seaweed farmers in the Palawan village of Balintang is named after the 1984 hit "Cherish" by U.S. band Kool & the Gang.
"Cherish means to protect and care for what we have," Mardy Montaño, president of the cooperative, told Context as she rested after a day's work on a floating house in the midst of Palawan's turquoise waters.
"That's how valuable seaweed farming is for all of us."
Seaweed farming is the world's fastest-growing form of aquaculture and the Philippines is the fourth largest producer globally. More than 1 million Filipinos benefit from the seaweed industry, according to the Bureau of Fisheries and Aquatic Resources.
In 1995, when Montaño settled in Balintang, only a few women in the village farmed seaweed and their earnings were marginal.
Increased support from the local government and private funders led to an uptick in production from 2017, when Montaño and other women formed the Cherish Fisherfolk Association to grow their farms together.
It is now a lucrative business. Balintang seaweed farmers earn 20,000 to 40,000 Philippine pesos ($358 to $715) a month, compared to about 5,000 pesos made by small-scale fishermen.
Unlike fishing and rice farming - both capital and labour-intensive - seaweed provides an income every 45 days, the typical cultivation cycle.
"The women in our village are no longer just confined at home. We don't just simply wait for our husbands to come back from the sea," said Montaño. "Through seaweed, we now play a huge role in our family and community."
Montaño's eldest child is now an agricultural engineer.
"All because of seaweed farming," she said.
Seaweed farming a family enterprise
On a typical day, Cherish women gather in a small nipa hut - a thatched house on stilts common in rural Philippines - to attach seaweed cuttings to long nylon ropes. The men then take the lines offshore to farms of about 2,500 metres squared.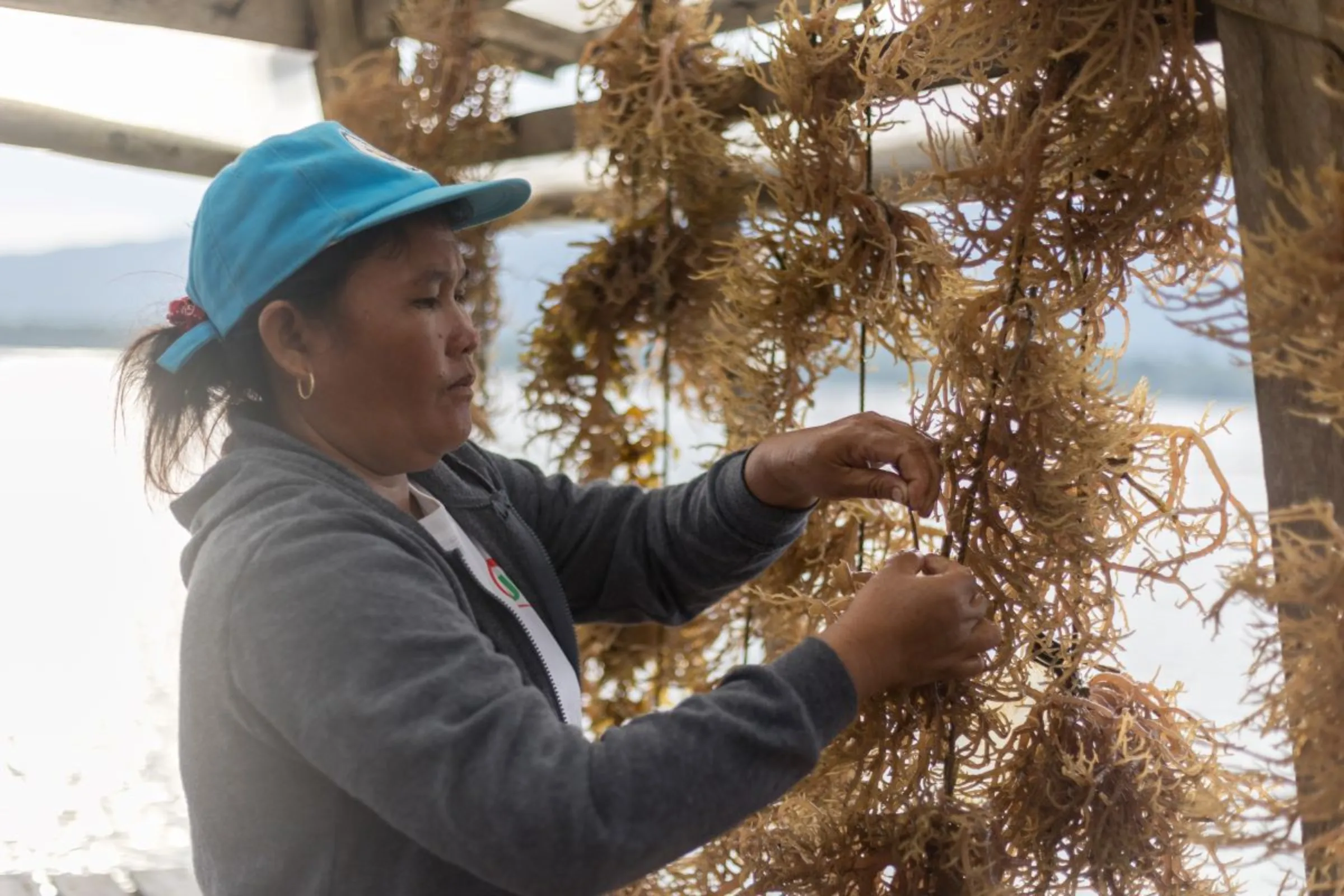 Some six weeks later, the seaweed is harvested and the women set it out to dry in the sun for two to three days, then sell it locally for processing into crisps or noodles or to export as carrageenan - a valuable additive in food and pharmaceuticals.
Last year, the Department of Agriculture developed a five-year seaweed industry roadmap to help the country become the "global market's preferred seaweed and carrageenan supplier".
The World Bank-assisted Philippine Rural Development Project has also identified seaweed as one of eight commodities of national importance, or priority crops for development and trade.
Seaweed farming is often a family enterprise involving the entire household. Mothers share the work with their children who help attach seaweed cuttings to the lines.
"Women lead the farming process from nursery to harvesting," said Palawan agricultural officer Pacita Bravo.
Melinda Gimotea, a mother of five, has managed the family seaweed farm for two decades while her husband is away fishing.
"I'm always happy during harvest time because it means I can buy my children's needs, like food and school supplies," said Gimotea, who has not only passed on her knowledge to her children, but also sent them all to college.
She fondly recalled heading out towards the open sea to check their seaweed crop with her youngest daughter, Charry, who is now studying fisheries in college.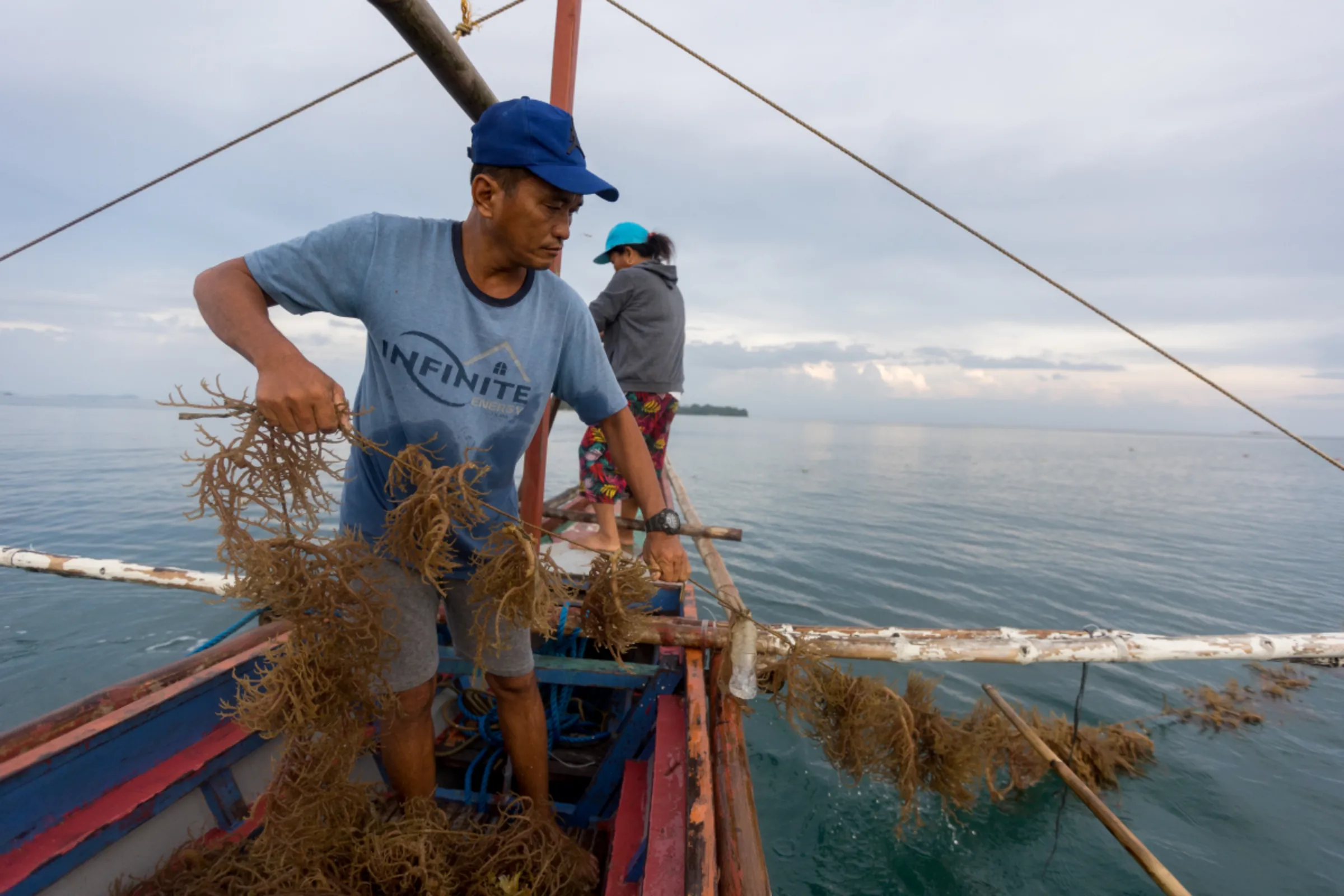 Climate change
Storms, however, often dash much of the farmers' hard work. An archipelago in the western Pacific, the Philippines is among countries most at risk from climate change and is hit by typhoons about 20 times a year.
When Tropical Storm Nalgae hit the Philippines in October, it destroyed a floating dryer donated by the United States Agency for International Development. The debris litters the shore.
When large storms hit Balintang, seaweed lines in the shallows are washed away and around half the crop is lost.
Wilfred John Santiañez, a marine scientist focusing on seaweed, said the plant is vulnerable, not only to stronger and more frequent storms, but also to rising sea temperatures.
"Most of the seaweeds are just floating near the surface of the sea, so they're receiving much of the heat," said Santiañez, who teaches at the University of the Philippines.
Santiañez said direct sunlight and heat reduce the plants' capacity to photosynthesize and leave them vulnerable to disease and a growing number of bacterial infections such as ice-ice, which leads to whitening and hardening of seaweed tissues.
But farmers can adapt to warming temperatures by deep sea cultivation. Montaño hopes donors can help them farm further out to sea.
Last year, Cherish became a cooperative - a business that is owned by its members who get a democratic voice in how it is run - to earn more from selling directly to bigger traders and processing plants.
Being organised as a cooperative is also often a requirement of donors and the government for material and technical assistance, Montaño said.
The success of Indonesia - the world's top seaweed producer - was due to government funding of grassroots cooperatives, according to the Philippines' Bureau of Fisheries and Aquatic Resources.
Following its neighbour's strategy, the Philippines has funded 10 seaweed cooperatives in the provinces of Palawan, Albay, Sorsogon, Bohol, Dinagat and Surigao Del Sur and is planning to establish more seaweed nursery cooperatives.
For Montaño, the social aspect is equally important.
"The farming process is being done as a collective," she said. "We drink coffee, eat biscuits and share stories with other members while doing it. That's how we form a bond."
($1 = 55.9300 Philippine pesos)
(Reporting by Mariejo Ramos. Editing by Jon Hemming and Katy Migiro)
---
---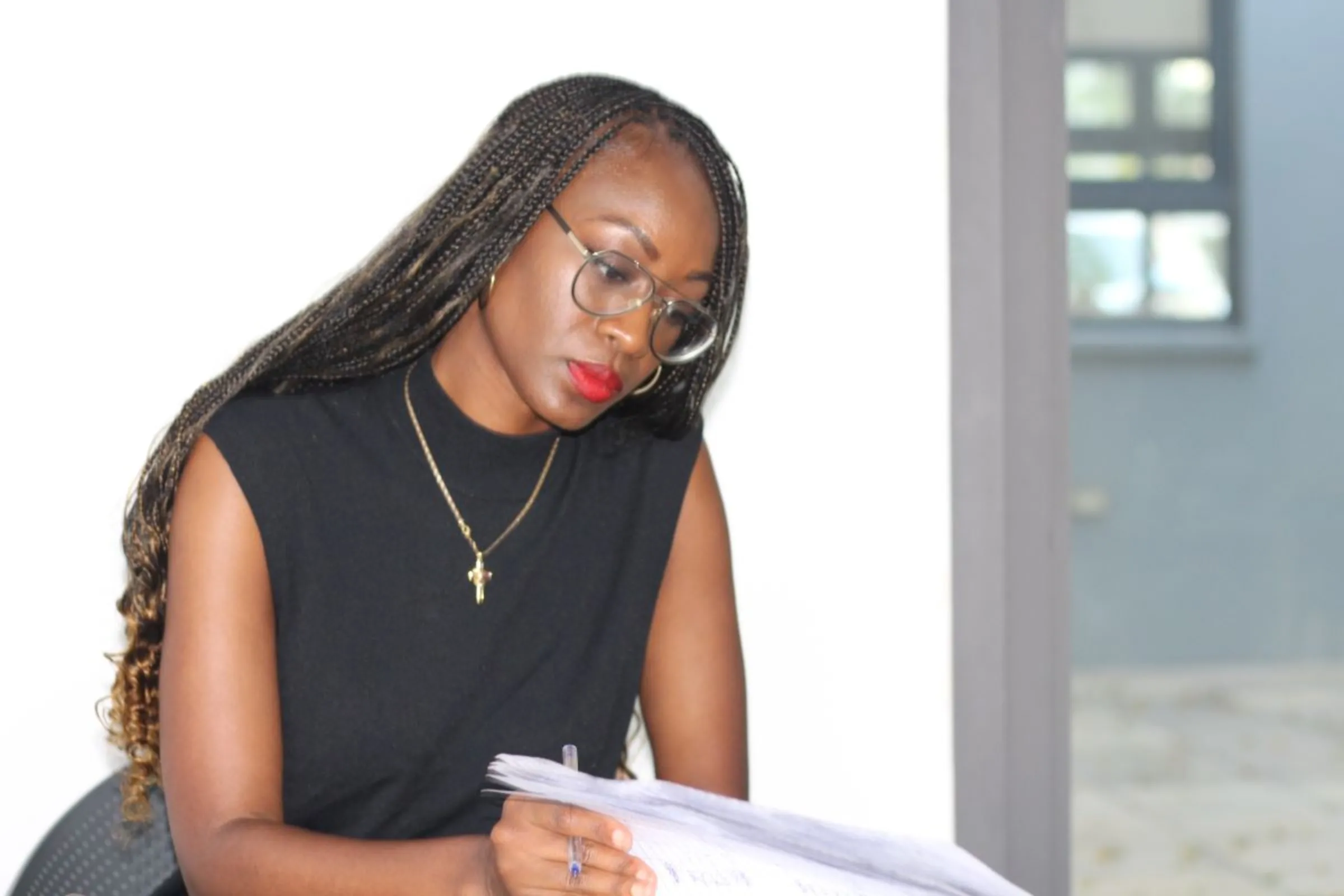 ---
Tags
Future of work

Workers' rights

Economic inclusion
---