Family farms are a big part of the answer to our food problem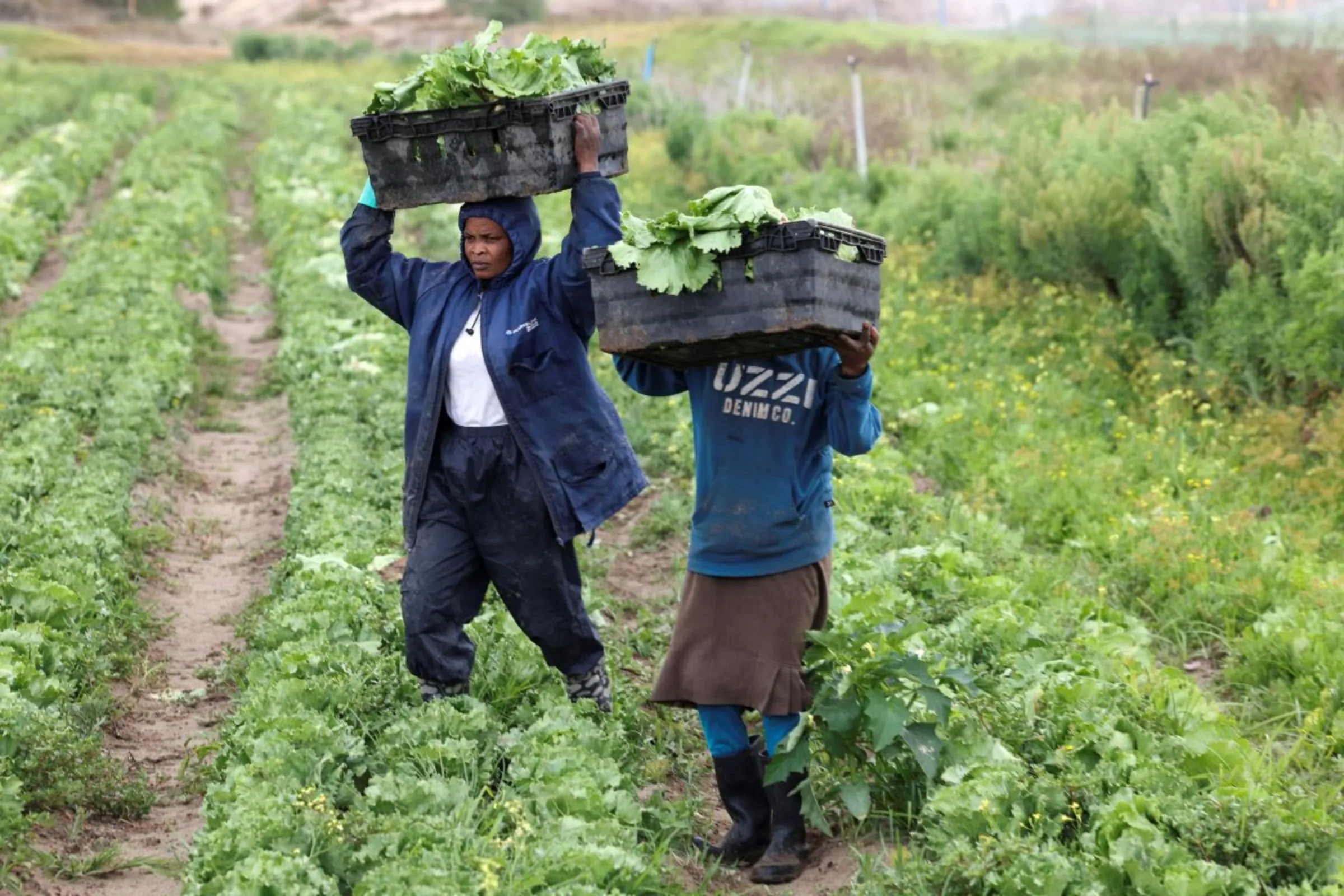 Workers carry harvested lettuce on the Gorgens Family Trust farm which has been struggling to irrigate the crops due to ongoing power cuts as a result of struggling power utility Eskom's inability to deliver electricity to South Africans, in Cape Town, South Africa, January 24, 2023. REUTERS/Esa Alexander
Small-scale farms will be an essential component of our future food systems, and speeding up their development will benefit us all
Alvaro Lario is President of the International Fund for Agricultural Development (IFAD) and Gabriel Ferrero is Chairperson of the UN Committee on World Food Security (CFS).
What is the future of farming? Giant fields tended by robotic machines? Sheds full of hydroponics and LED lights? Or Mom and Pop in their vegetable patch with a rotavator selling at the local farmers' market?
Of the world's farms, 84% are under two hectares. For small, read family-run. And against all the odds, smallholder family farmers are doing a great job of feeding us. They are highly efficient with respect to returns on capital, their labour force is flexible, and they adapt their output quickly to a changing climate and market demand.
And yet our food system is still too often producing the wrong foods or crops, in the wrong places.
Decades of globalization opened the doors to cross-border trade in grains, edible oils and animal feed. This - combined with the advent of biofuels and robust international commodities markets - spurred capital-intensive commodity production, delivering lots of cheap calories and more food for import.
High cost to nature and diets
But there were big downsides to this approach. Woodland, habitats and biodiversity were destroyed. Productivity was driven by intensive use of energy, fertilizer and proprietary seeds, creating new vulnerabilities and dependencies. Food sovereignty was eroded as countries that had been self-sufficient in food production became dependent on imports and vulnerable to market price and energy fluctuations. And low-price imports made it hard for small farms to compete, undermining rural economies and driving a population exodus.
And our diets became increasingly unhealthy – although overall hunger has decreased, in 2020 two-fifths of the world's population were reckoned to be overweight or obese. By 2035, that could reach four billion – half the world's population – according to the World Obesity Federation. The likely cost, in health-related treatment, would be $4.32 trillion or 3% of global GDP.
There has been a 75% loss of plant genetic diversity on farms in the past 100 years . Just four crops - wheat, rice, maize and soybean – now provide two-thirds of human calorie intake. With fewer species and varieties, our food systems are more vulnerable to pests and disease.
On top of that our current system of food production uses about 75% of the world's accessible freshwater. It is responsible for 20% to 30% of all greenhouse gases. It is a primary contributor to biodiversity loss – one million species are currently threatened with extinction.
Small is beautiful – and better
We need to ensure small farms – and rural communities – thrive so our food systems can feed 7.8 billion people without compromising future productivity or the health of our planet . Farms of up to two hectares produce almost a third of the world's calories, on less than 11% of the farmland. Raise the threshold to five acres, and 45% of our calories come from just 17% of all farmland.
Smallholder farmers have a vested interest in protecting the fertility of their soil and the long-term productivity of their land. They are also more likely than larger farms to grow a wide variety of crops, contributing to agro-biodiversity.
Rural and urban societies and economies alike benefit from prosperous and productive small farms. This creates jobs and wealth for their communities, reduces pressure on young people to migrate, and contributes to more stable and peaceful societies. When small-scale farmers earn more, they inject their incomes directly into the rural economy, creating growth and diversification. Almost every example of large-scale national poverty reduction was kick-started by rising incomes among small-scale farmers.
To ensure small farms and rural communities thrive, we need aligned policies that can redress a historic bias that has often favoured large-scale, intensive production at the cost of small-scale producers.
Family farmers need to be able to get their goods to market and to earn decent incomes from selling them. This means investing in storage and transport infrastructure to reduce waste and enable market access. And it means investing in digital technologies so that farmers can access market information.
Public and private investment is needed to link rural and urban areas. This includes better roads, electricity and internet connectivity. Investments are also urgently needed to enable small-scale farmers to adapt to climate change.
We also need to empower women and youth to unleash their potential. This includes protecting their rights to land and assets, and ensuring they have better access to markets, finance and technology. It is they - with small plots, dirt under their fingernails, and a mobile phone - who will provide much of the fresh fruits, vegetables and other nutrient-rich foods we need. Let us - without delay - reshape policies and step up investments to see them thrive so that we can all thrive too.
---
Any views expressed in this opinion piece are those of the author and not of Context or the Thomson Reuters Foundation.
---
Tags
Adaptation

Agriculture and farming
---