Protecting Indigenous rights key to cleaning up EU supply chains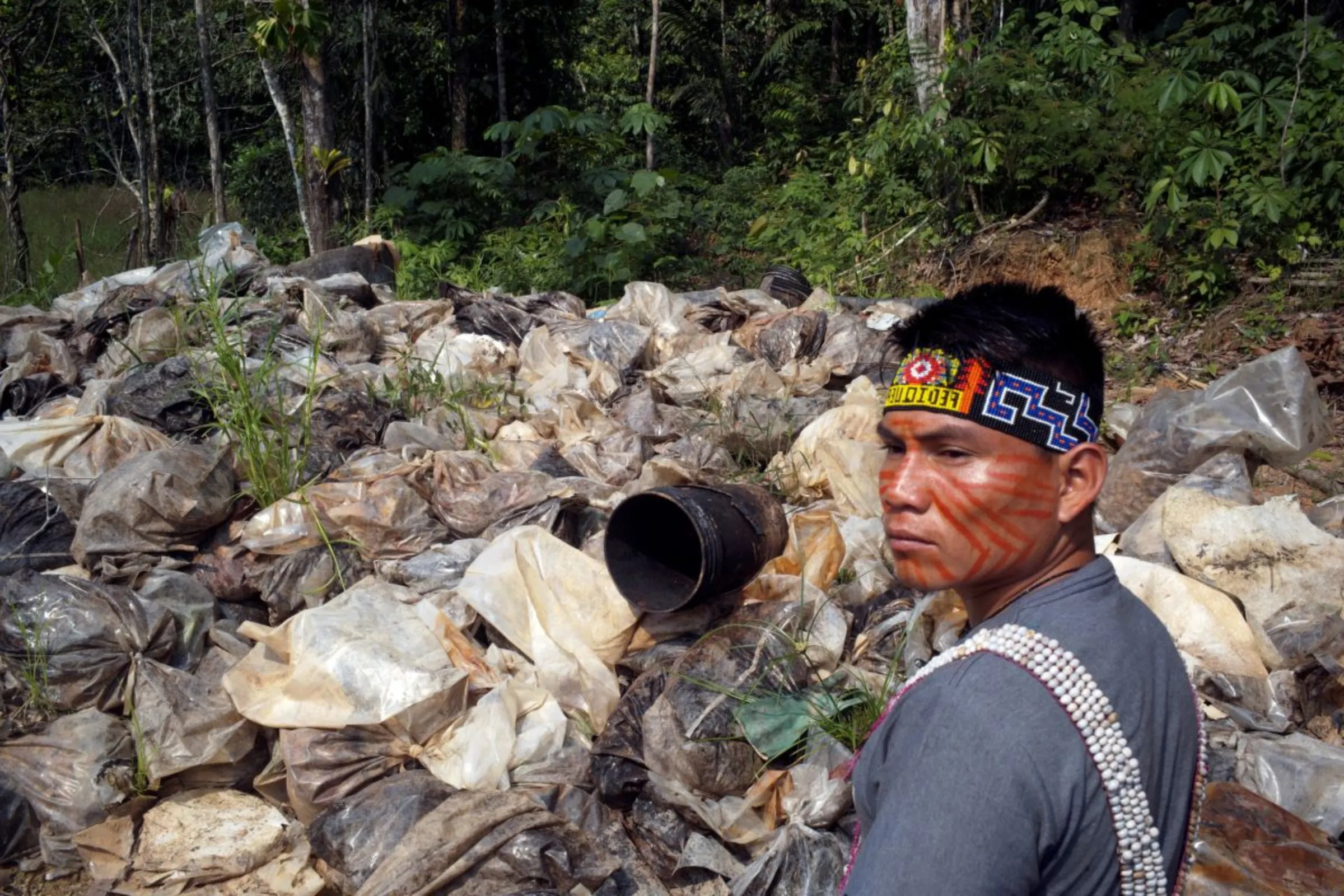 A community leader shows plastic bags filled with contamination cleaned from oil spills in Block 192, a dormant Amazon field with a history of environmental spills where Peru is looking to reboot production amid soaring global crude prices linked to Russia's invasion of Ukraine, near Nuevo Andoas, Peru February 21, 2022. REUTERS/Alessandro Cinque
Efforts to cut human rights violations and environmental damage can't leave out forest protectors
Miguel Guimaraes is vice president of the Interethnic Association for the Development of the Peruvian Rainforest (AIDESEP), representing the Indigenous peoples of the Peruvian Amazon.
In a recent report to the U.N. Commission on Human Rights, U.N. Special Rapporteur Pedro Arrojo-Agudo described the stealthy and insidious poisoning of the rivers and wetlands of the Peruvian Amazon, caused by centuries of extractive activities in my country.
To its credit, the European Union Parliament is trying to end the role of Europeans in this predatory, centuries-old economic system, which continues to exact a terrible price in developing countries like mine.
Lawmakers in Brussels are in the final round of negotiations over a bill that would force companies doing business in the EU to rid their supply chains of human rights violations and environmental damage. The Parliament's version of the new Corporate Sustainability Due Diligence Directive is unique in its quest to ensure the survival of Indigenous peoples and our proven role in protecting valuable ecosystems.
Behind closed doors, however, some EU member states are seeking to eliminate Indigenous peoples and our specific rights from the text of the directive. In a letter to Ursula Van Der Leyen and other high-level EU decision-makers, Indigenous peoples' organizations and civil society groups from almost every continent warned of the consequences should our opponents succeed in their mission.
It is not hard to find evidence of the urgent need to protect Indigenous people and local communities. Many of us manage biodiverse and carbon-rich forests in countries perceived to be among the most corrupt in the world.
A new study in Science suggests that protecting the Amazon requires urgent action; listing the triple threats of, "deforestation, droughts and fires," the authors say these are likely to cause a dramatic drop in rainfall in South America, while putting the rainforest within reach of a much-feared tipping point.
Despite the evidence of our outsize role as forest guardians, rarely do we emerge with our rights intact from events like the U.N. climate conferences, where political leaders and academic experts debate how best to protect or invest in ecosystems that Indigenous peoples have managed for millennia.
Sometimes, we are denied even a right to be present as observers. The International Energy Agency recently failed to invite Indigenous leaders to a meeting to address the growing demand for "green" minerals and metals, although almost half of the mines expected to supply these resources lie on or near our traditional territories.
Arrojo-Agudo, the U.N. special rappoteur who visited Peru last year, is a physicist and expert on water quality and human rights. In September, he told a U.N. commission that dangerous levels of toxins had been found in the blood of 10 million Peruvians, almost all of them children from Indigenous and local communities. He also warned U.N. officials what could happen if the Peruvian government continues to violate the rights of Indigenous peoples and local communities in the Amazon.
"Failure to uphold the rights of Indigenous peoples over their territories…means doing away with the role that these peoples have played for thousands of years – to the benefit of Peru and humanity – as guardians of the Amazon."
My Shipibo elders had long ago seen in their dreams the hordes of miners, planters of palm oil and loggers who have since invaded our lands. Just as foretold, these outsiders have destroyed our forests and contaminated the rivers that we depend on for our survival as Amazonian peoples.
But we are not without hope.
There is still time to defend humanity's common home from the apocalyptic landscape that Pedro Arrojo-Agudo witnessed on his visit to the rainforests of the Peruvian Amazon. But we cannot do this alone.
The European Parliament and the Commission have the power to block efforts to weaken the directive. They can insist on language demanding that companies avoid violating the rights of Indigenous peoples, including rights to our traditional lands, to self-determination, and to consent – or not – to projects affecting our territories.
Done right, the EU's Corporate Sustainability Due Diligence Directive will advance the creation of a more just world. Where there is respect for Indigenous peoples in all our diversity, we will thrive. And the EU will have on its side a powerful resource for resisting the environmental damage that fuels climate change, biodiversity loss and pandemic risk.
That is my dream.
---
Any views expressed in this opinion piece are those of the author and not of Context or the Thomson Reuters Foundation.
---
Tags
Adaptation

Fossil fuels

Loss and damage

Forests

Biodiversity

Indigenous communities
---