Rejecting nature restoration in Europe is a shot in the foot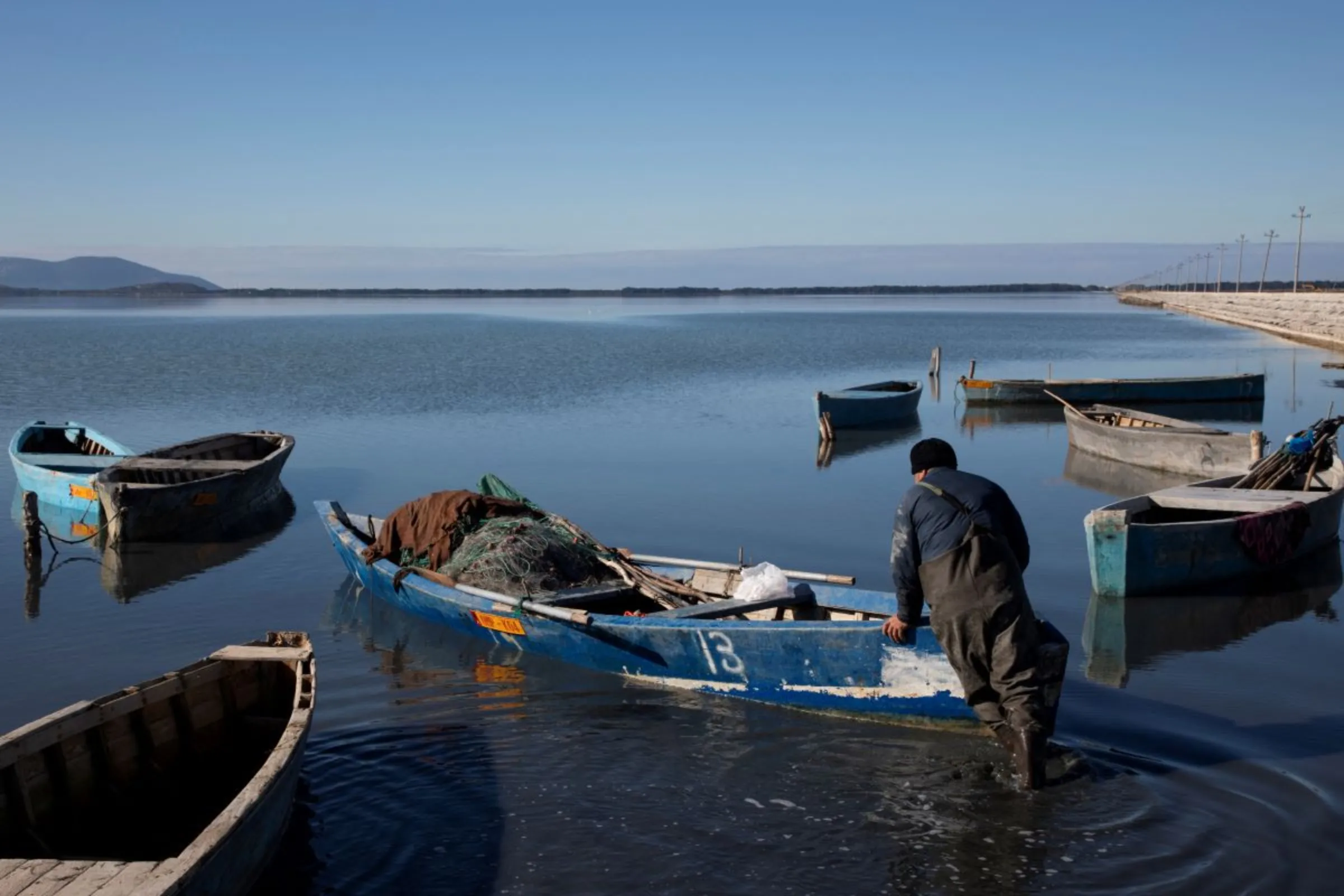 A fisherman pushes his boat at the Vjosa-Narte Protected area in Vlora, Albania, January 26, 2022. REUTERS/Florion Goga
Rather than hurting farming and fishing, protecting nature pays for itself
Enric Sala is a National Geographic Explorer in Residence.
Nature provides $125 trillion in goods and services to the global economy annually – for free. But we are depleting our natural capital, from species like sturgeon and lynx to entire ecosystems.
When we lose nature, we also lose irreplaceable production of oxygen, food, clean water and carbon storage.
Many regard these services as secondary to economic growth - but the world's top industrial sectors would not turn a profit if they had to pay for the services nature provides.
We need more nature everywhere, especially in Europe.
More than 80% of the EU's habitats are in poor condition because of development and industrial activities, from road-building to industrial agriculture. Studies have warned there are not enough wild places left in the EU to sustain food production and climate resilience.
Last year, at the historic biodiversity negotiations in Montreal, the EU helped push through a global proposal to protect 30% of the land and ocean by 2030. Now, the European Commission is turning to the restoration challenge and proposed a science-based Nature Restoration Law.
If enacted, the legislation would fund the repair of European habitats in poor condition and bring back nature to all ecosystems, from forests and agricultural lands to marine and freshwater areas – even cities.
The aim is to cover at least 20% of the EU's land and seas by 2030 with nature restoration measures, and all ecosystems in need of restoration by 2050.
But the law is facing strong pushback in Brussels from the European Parliament's conservative block, and agricultural and fishing groups.
They argue the law would limit the renewable energy development and decrease food production. But the science simply doesn't back these claims, as a letter fellow scientists and I signed supporting the legislation details.
The European Power Sector supports the European Commission's Nature Restoration proposal, arguing the complementarity of well-designed restoration and renewable energy development.
Nature is also essential to food production. Hedgerows and woodlands, for example, are reservoirs of biodiversity, harboring birds and insects that pollinate crops and control pests. They help improve soil health, reduce impacts from droughts, and retain water. Yet they have been uprooted to plant more crops.
Critics say that restoration and renewable energy production compete for the same lands, arguing that restoration will impact development of offshore wind farms. But offshore wind farms are typically farther offshore - far from the shallowest coastal areas that are ideal targets for restoration.
In fact, renewable energy and nature restoration could work hand-in-hand. Offshore wind farms could protect some areas from the destructive impacts of bottom trawling, a damaging fishing method that scrapes up the seafloor and produces significant carbon dioxide emissions.
Misunderstanding abounds about restoration and nature's importance in tackling the climate crisis.
Restoring carbon-rich terrestrial ecosystems such as peatlands and natural forests can sequester large amounts of carbon, prevent soil subsidence, reduce flood risks, and improve water quality.
Rewilding species such as beavers and large herbivores can reduce the risk of climate change-related wildfires and drought. In European seas, the restoration of seagrass beds and kelp forests can also soak up carbon.
At the same time, there is an assumption that restoration means increasing protected lands. While nature restoration is necessary in protected areas due to their increasingly poor condition, restored areas do not have to become protected areas.
Restoration doesn't just happen on land, but also at sea. The most efficient mechanism for restoring scores of marine life is highly protected marine areas (HPMAs), where fishing and other damaging activities are banned.
On average, the biomass of fish increases by 500% in HPMAs relative to unprotected areas nearby within just five to ten years. This surge in ocean life spills over into adjacent parts of the ocean, improving fishing catch around HPMAs.
Importantly, studies show that all of these benefits far outweigh the costs. Every eurospent on nature restoration produces 8 to 38 euros in economic value, thanks to the ecosystem services that support food security, ecosystem and climate resilience and mitigation, and human health.
In the sea, restoration of marine life in HPMAs produces economic returns of 10:1 via fisheries enhancement, ecotourism and other ecosystem benefits.
While there may be short term costs, the EU has sufficient funds to provide bridge financing. For example, restoring hedgerows and woodland as part of agricultural landscapes and reducing chemical pesticide use – while shifting to natural pest control – could be funded in the short term by redirecting subsidies from intensive farming to regenerative practices.
We cannot solve global warming without nature, and we cannot preserve nature without solving global warming. Both solutions are a sine qua non for a prosperous European future.
European farmers and fishers should be afraid of continued loss of soil, pollinators, and fish – not the law that represents our best last chance to help nature help us.
---
Any views expressed in this opinion piece are those of the author and not of Context or the Thomson Reuters Foundation.
---
Tags
Agriculture and farming

Forests

Biodiversity
---