'No water, no life': Drought threatens farmers and food in Italy
Farmer Alessandro Salmoiraghi, 49, in his farm, Cascina San Donato, in Abbiategrasso, Milan. March 19, 2023. Thomson Reuters Foundation/Michele Bertelli
What's the context?
As climate change fuels harsher drought in Europe, farmers and those who depend on them are at risk
Spring sees scant hope for end of drought in Italy
Farmers cut back planting, food production threatened
Italian government to shore up lakes for storage
ABBIATEGRASSO, Italy - There is only a feeble trickle in the irrigation canal feeding farmer Alessandro Salmoiraghi's field of kiwi fruit in northern Italy.
"The constant problem is the lack of water," he said. "Even if you diversify, when there is no water, there is simply no water, there is no life, no production."
Salmoiraghi, 49, is the fourth generation of his family to farm Cascina San Donato, a 24-hectare plot of mainly grain, vegetables and fruit - primarily kiwi - on a normally lush plain just an hour's drive west of Milan.
"We used to have higher volumes of water. Now it is just a trickle. If another farmer starts irrigating tomorrow, the flow could easily stop," Salmoiraghi said at his farm, which also boasts a shop selling fruit, vegetables and preserves.
Across large parts of Europe, climate change is fuelling more extreme weather, including longer, harsher droughts and heatwaves that can spur crop failures.
That presents a threat to farmers such as Salmoiraghi and the millions who depend on Europe's agriculture for food and a living. It is also forcing Italy's government to take new steps to manage water disputes and renovate infrastructure.
"The climate has changed in the last 10 years," Salmoiraghi noted, pointing to the lack of hard winters and frosty mornings.
Set in a normally lush plain, his farm is fed by the waters of Swiss Alpine glaciers that melt into the Ticino, one of the biggest tributaries of the Po, Italy's longest river.
But after poor winter rains and dismal Alpine snowfalls across northern Italy failed to replenish reserves, the arrival of spring has brought worries of more suffering following the drought of 2022, the worst in 70 years.
The vast valley along the banks of the River Po, stretching some 650 km from the southern Alps and Italy's northwestern border with France to the shores of the Adriatic in east, accounts for about a third of Italy's agricultural production.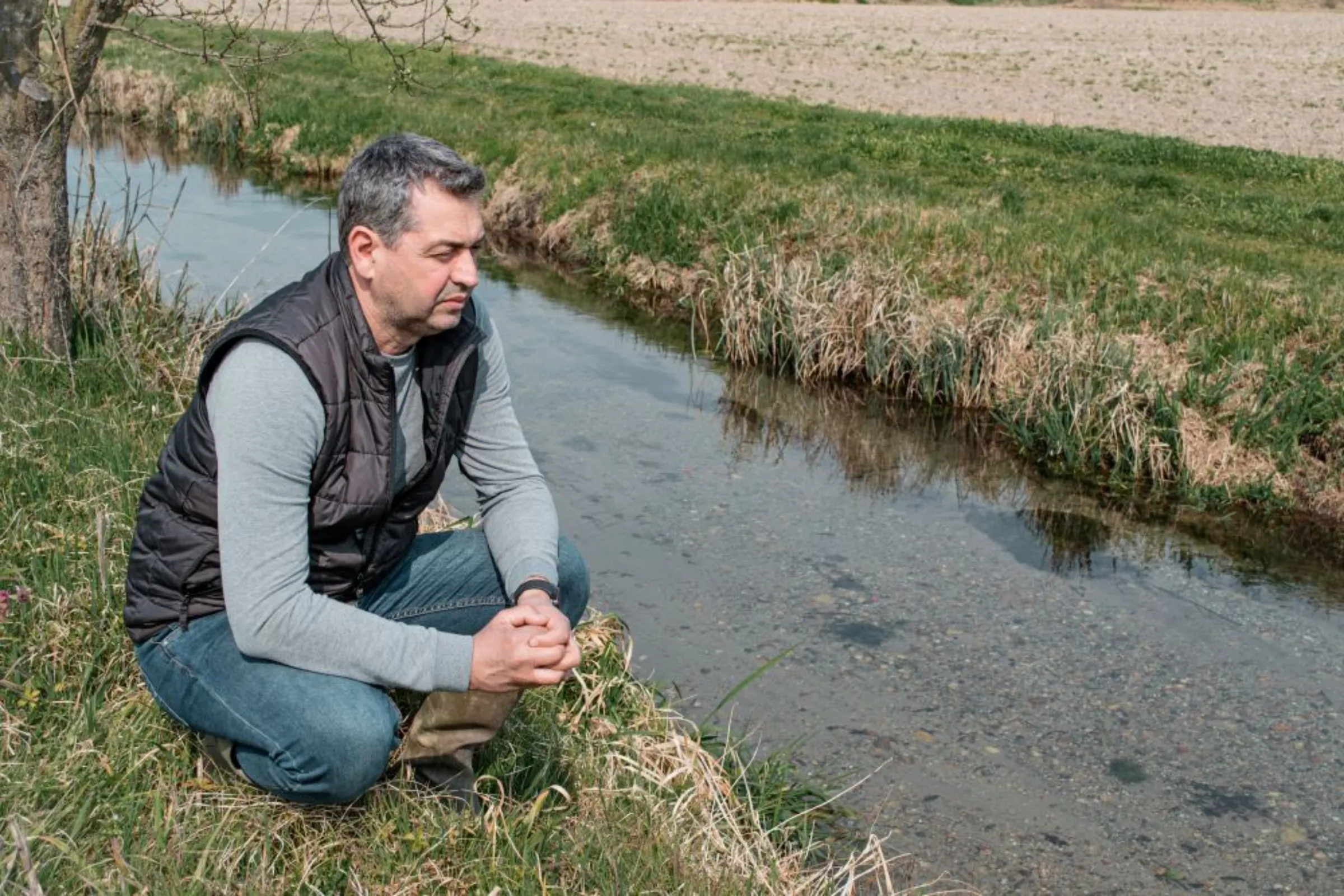 Last year people could walk across the river bed in places. A boat sunk in World War Two stood high and dry in the mud and gauges showed water levels below what normally counts as zero.
Italy is far from alone. Agricultural production is also under strain in France and Spain and the U.N. Food and Agriculture Organization says 3.2 billion people worldwide live in areas facing high to very high water scarcity.
Attilio Fontana, president of the Lombardy region, centred on Milan, said last month that regional water storage levels were less than half what they normally are at this time of year.
Coldiretti, Italy's main farmer's association, said the sector had lost some 6 billion euros ($6.6 billion) last year and predicted 300,000 businesses would lose more if the drought does not end.
But experts say that would need almost non-stop rain from now until May and June, when most farmers start irrigating their fields.
"If no rainfall comes in late spring, we will enter into emergency management, like we did last year, postponing the irrigation season," said Massimo Sertori, the councillor responsible for water resources in Lombardy.
Italian food industry at risk
Italy grows about 50% of the rice produced in the European Union, but is set to cut output this year as farmers plant less because of the drought, Coldiretti warned. Some 94% of Italy's crop is grown in Lombardy and in Piedmont, around Turin.
Other crops are also at risk.
"We are especially worried about the spring crops and then vegetables and fruit," said Lorenzo Bazzana, an economist at Coldiretti.
"At this time of the year, farmers begin sowing maize, soy, sunflower, rice, and planting tomato and potatoes. All of these face higher risks," he said.
If farmers scale back cultivation, it could hurt the whole agricultural supply chain. Maize, for example, is an important fodder for pigs and cows, which supply the ham and cheese products for which Italy is world famous.
Italy exported 61 billion euros ($66.6 billion) of food and agricultural products last year, accounting for 15% of its GDP.
But Salmoiraghi lost some 30% of his maize harvest last year and fears water scarcity will soon become the new normal.
The latest report from the Intergovernmental Panel on Climate Change predicts rainfall in the Po valley will vary more in the coming years, with an increase in extreme weather events.
Extreme drought is already affecting 6% of towns in Lombardy and Piedmont, with 19 of them experiencing the highest level of shortage, said Utilitalia, a federation of utility companies.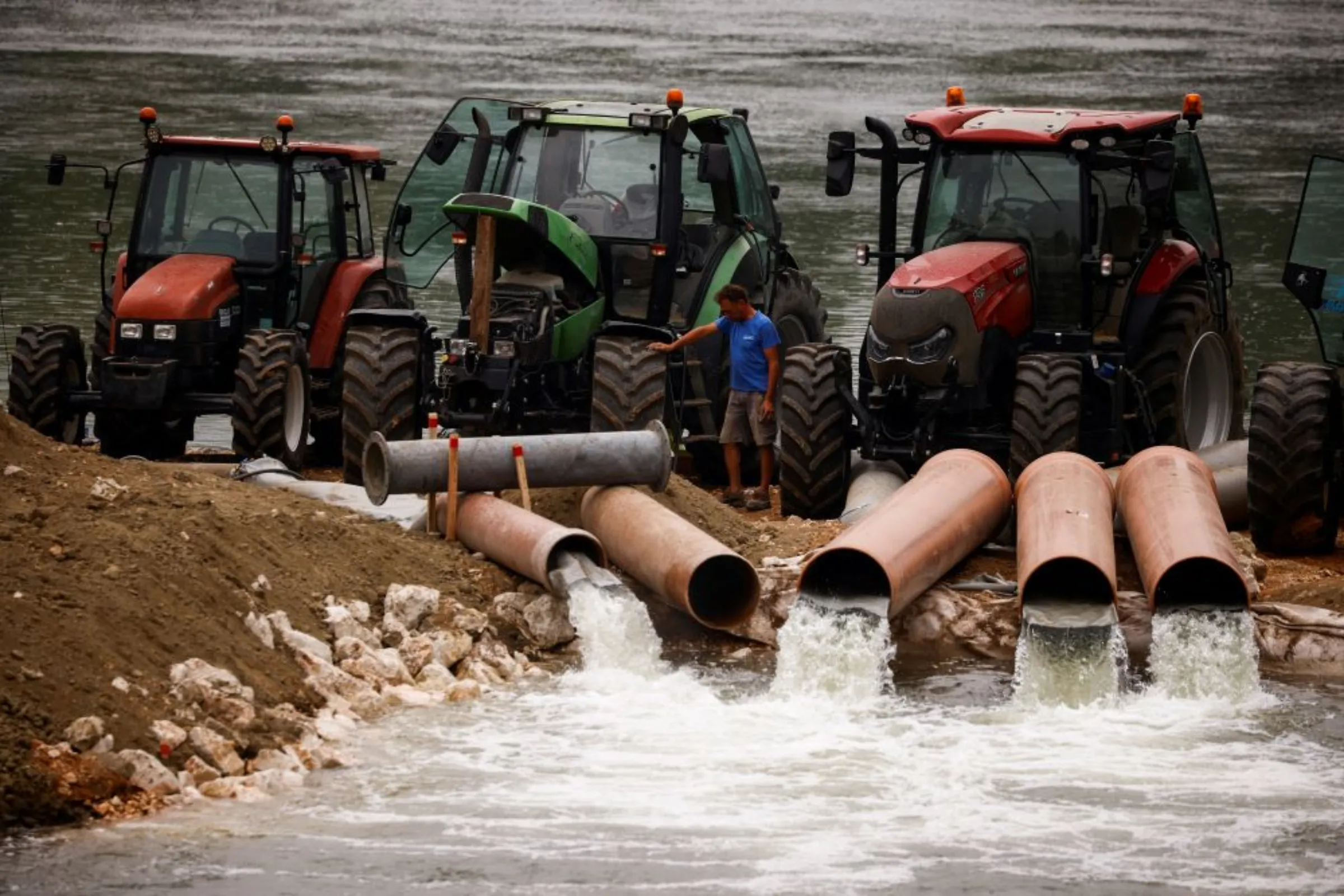 It said some towns had already started receiving water in tanker trucks.
"The situation remains utterly critical," said Alessandro Bratti, general secretary of the authority overseeing the River Po basin.
Lakes vital
In 2022, water from large lakes helped ease the drought's impact. But water in Lake Garda, which eventually flows into the River Po, is below half of normal levels, according to the Po River Basin Authority.
In response, Italian Prime Minister Giorgia Meloni last month set up a control room to monitor water capacity across the country and is to appoint a national commissioner to oversee the issue.
The commissioner will be able to intervene in issues of water management and mediate between state bodies. Last week the cabinet approved a raft of short-term measures to simplify procedures and speed up water infrastructure works. Those who draw water illegally can now face fines of up to 50,000 euros.
Inadequate water storage is a big problem. A new study by the Energy and Water Foundation and the company Proger said Italy receives an average rainfall of 301 billion cubic metres a year, but collects and redistributes only 11% of it.
The study also found the country's 531 major dams are operating far below capacity due to technical issues and lack of investment.
At the local level, the Lombardy government has asked water companies and hydroelectric operators to limit their usage.
"We are seeking a point of equilibrium that allows us to fill the lakes, without hampering energy production," Sertori said.
In the long run, Sertori believes lakes will be key to boosting water storage, with the region undertaking renovation work to expand capacity.
While waiting to see what effect the measures have, farmers are looking for their own ways to adapt.
Salmoiraghi last year bought a new, more efficient irrigation system, but he was also helped by the rise in commodity prices offsetting the loss in productivity.
This year, he has already sown more crops, including soy, that require less water.
For now, he is just thinking about reducing the possible harm. "You opt for the easy crops. If it turns bad, at least I lose only one harvest and not the whole season."
This story was produced with support from Free Press Unlimited and E3J.
(Reporting by Michele Bertelli; Editing by Jonathan Hemming)
---
---
Tags
Extreme weather

Adaptation

Agriculture and farming

Loss and damage

Biodiversity

Climate solutions
---