Here's why the world's current wave of protests is different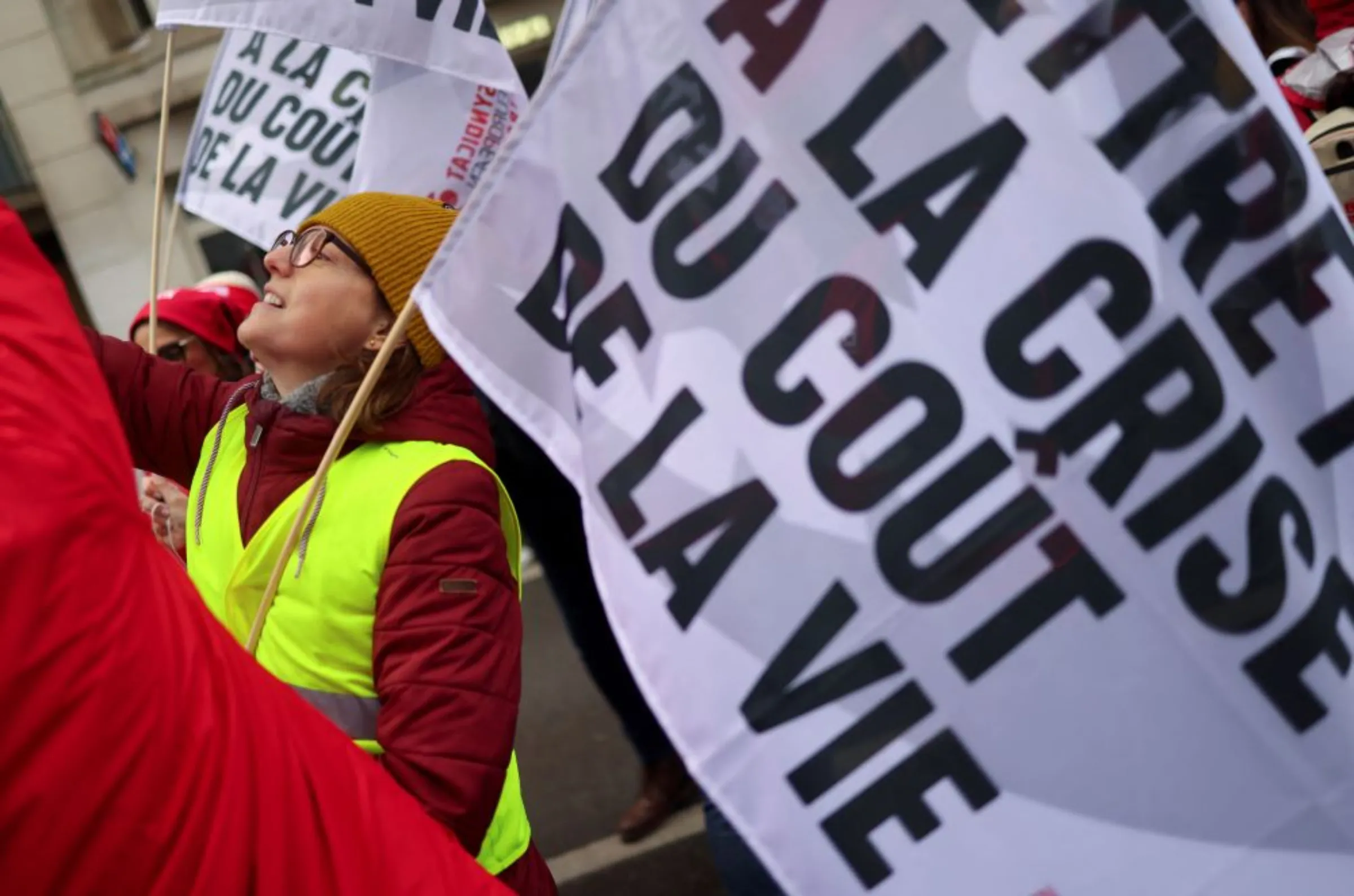 People take part in a demonstration against the rising cost of living, in Brussels, Belgium December 16, 2022. REUTERS/Johanna Geron
Governments will need to find a way to diffuse citizen's demands in 2023
Jeffrey Hallock is a PhD candidate at American University's School of International Service.
What was to become a year of cost of living protests around the world in 2022 started early – on New Year's Day. Citizens in Kazakhstan's Mangystau region gathered at fuel pumps to protest an overnight price doubling of liquefied petroleum gas (LPG) on January 1.
Protests spread to more than 45 Kazakh cities by January 7, triggering a spiraling security crisis that resulted in more than 200 deaths among protestors and state forces.
In March, food, medicine, and fuel shortages brought thousands of Sri Lankans to the street. By July 9, protestors overran Sri Lanka's presidential palace and forced President Gotabaya Rajapaksa's resignation.
In June, Ecuadorian indigenous rights groups organised a national strike to denounce fuel prices, sparking more than 1,000 protests across the country over an 18-day period.
And, as rising inflation squeezed citizens' pocketbooks from late summer into fall, protestors organised in cities from Buenos Aires to Berlin to demand government support.
Overall, 2022 saw an unprecedented wave of cost of living demonstrations, with more than 11,000 such protests in 145 countries.
In a report for the Friedrich Ebert Foundation, my co-author Dr. Naomi Hossain and I analyzed the Armed Conflict Location & Event Data Project (ACLED) data set to better understand the protests. We found that globally, between January 1 and October 31, there were 457 protests related to food, 6,910 protests related to energy concerns, and 4,066 protests with more general claims related to inflation and cost of living.
The current protest wave stands out in both its scope and scale. By comparison, the 2008 food and fuel protests in sub-Saharan Africa and the Arab Spring in 2010-2011 were regionally concentrated. Anti-austerity protests and the Occupy movement of the early 2010s were more globally diffuse but lacked coherence. In 2022, though, protests persisted throughout the year with people across the globe advancing similar grievances.
There are three key takeaways from this unprecedented protest wave.
First, the protests were not only global but occurred in a variety of regime types and countries with varying levels of economic development. Along with a diversity of locations, protestors represented a heterogenous mix of people and interests.
Organised labor featured prominently, such as Panama's teachers union-led movement in July, but student groups, ideologically diverse political activists, and even spontaneous collections of citizens managed to coalesce and express their frustrations.
For example, Sri Lankans established an impromptu encampment across from Colombo's Presidential Secretariat Building in April. The encampment served as a central organising hub for protestors and attracted people from a multitude of backgrounds commonly displeased with the country's economic crisis.
Second, the current protest wave underscores how national politics are intertwined with international events and global commodity markets. The lingering impact of the COVID-19 pandemic on mobility and supply chains as well as Russia's invasion of Ukraine figured prominently in the rhetoric surrounding the protests.
Protestors frequently cited Russia's prolonged war in Ukraine as a primary cause of spiking energy prices. Similarly, national governments consistently attempted to shift blame onto the pandemic and Russia for their domestic troubles.
Diagnosing the exact causes of all price spikes was beyond the scope of our research. Yet, it was clear in our analysis that, regardless of the specific cause for increasing prices, citizens blamed their leaders for failing to safeguard their well-being.
Third, the most contentious episodes involved political leaders proposing or implementing austerity measures. In these cases, the cause for rising prices was more readily apparent, producing a clear target for citizen ire.
For instance, the price rise in Kazakhstan followed government removal of a liquified gas price cap, while vigorous protests in Pakistan and Indonesia followed fuel subsidy cuts. Leaders justified their policy decisions as necessary for balancing budgets, sometimes to meet International Monetary Fund loan conditionality. But politicians soon found that even proposing austerity measures could be met with pushback in the streets.
One of the most important trends to monitor in 2023 is how well governments diffuse public demonstrations by responding to citizen demands. Numerous protest episodes featured groups from ideological extremes pressuring center-left and center-right incumbents.
Often, especially among far-right political activists, opposition groups would stoke the flames of discontent without offering concrete solutions. Given the legitimate grievances advanced by protestors around the world, cogent policy solutions are required that address energy shortfalls and reduce graft, rather than political posturing that simply feeds into protests rather than quells them.
---
Any views expressed in this opinion piece are those of the author and not of Context or the Thomson Reuters Foundation.
---
TAGS
Unemployment
Consumer protection
Pay gaps
Wealth inequality
Financial regulation
Cost of living
Future of work
Workers' rights
Economic inclusion
---