Food crisis promises a global wave of unrest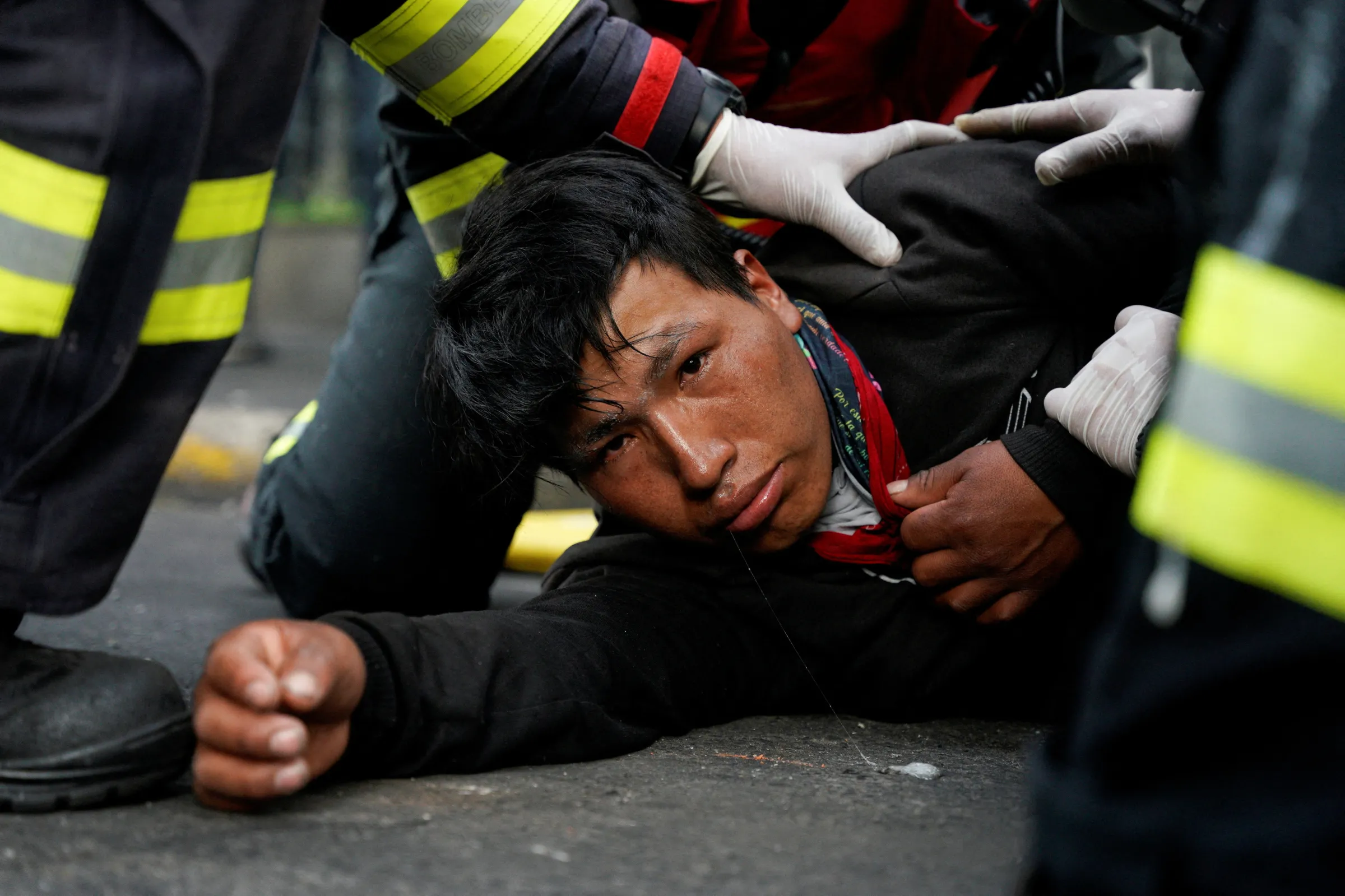 A protester receives medical attention during a confrontation with security forces in a demonstration to demand President Guillermo Lasso to address price increases for fuel, food and other basics which have ignited 10 days of demonstrations across the country, in Quito, Ecuador June 22, 2022. REUTERS/Santiago Arcos
As soaring food and fuel prices push many to the edge, many take to the streets to ask their governments why they can't do more to protect them
Andrew Firmin is editor-in-chief at CIVICUS, the global civil society alliance, and one of the lead authors of the 2022 State of Civil Society Report.
For the past couple of weeks, mass protests have brought the South American nation of Ecuador to a standstill.
Soaring food and fuel prices have pushed many to the edge. With indigenous groups at their head, tens of thousands have taken to the streets in protest, blocking roads; at one point almost cutting off access to the capital Quito. Violence has flared among security forces and protesters alike.
Recent negotiations have brought an agreement that promises to end the protests, with Ecuador's government committing to deliver on several of the protesters' demands within 90 days. But even though the current crisis in Ecuador may be solved – at least temporarily – there's a bigger problem.
Ecuador is far from the first country to have experienced mass protests caused by soaring food and fuel prices this year – and it won't be the last.
Countries as diverse as Iran, Kazakhstan and Sri Lanka have seen large-scale protests, each time because rising costs meant many couldn't afford the fuel to get to work or the food to feed their families.
Rising prices have exposed a situation where globally many people live on the edge, in supposedly rich and poor countries alike, and even small shifts can plunge them into poverty.
Economic crisis becomes a hunger crisis as people go without meals. At such times, people quite reasonably ask their governments why they can't do more to protect them.
Unfortunately, when governments are asked this difficult question their response is often violence.
In Ecuador, the UN's Child Rights Committee reported violence against Indigenous children.
In Iran, there have been reports of fatal shootings. In Kazakhstan in January, Russian troops were imported to suppress protests triggered by fuel price rises, leaving over 200 dead.
Governments often exert violence when, spurred by fuel and food price rises, protesters go on to demand fundamental change – in economics but also in politics.
Often that major change is deferred, causing crises to reoccur; Ecuador was paralysed by unrest in 2019, also because fuel prices rose, and the solution then clearly didn't prove adequate; the deal reached this time may also only kick the problem further down the road.
But still, protesters often win concessions, such as the withdrawal of unpopular policies and agreements to consult on alternatives.
In Sri Lanka, protests led to the resignation of the cabinet and prime minister. Sometimes big changes come – Chile's current inclusive process to develop a new constitution has its origins in protests sparked by a small rise in the price of metro tickets. In such ways, protests can expand democracy.
More change could be ahead, because more big protests are on their way.
We all know – when we do our weekly shop, when we fill up the car – that it costs us more each time. On top of the impacts of the pandemic, Russia's illegal invasion of Ukraine is pushing up costs even more.
As western states that normally rely on Russian oil and gas chase alternatives, prices keep going up. When it comes to food, more than a quarter of the world's wheat comes from Russia and Ukraine. With the war disrupting these supplies, prices can only go up.
The consequences are severe: globally 250 million more people could be pushed into extreme poverty by the current price rises.
The pressure is on countries that usually import the bulk of their wheat from Russia and Ukraine, which are concentrated in Africa and the Middle East.
They include Egypt, Somalia and Sudan – where a military government is already levelling violence at protesters demanding democracy. These governments and many others face the challenge of averting a food crisis by sourcing alternative supplies in a seller's market.
Troublingly, many of the countries squeezed hardest are also the least democratic: countries where, like Iran, the state's first response to mass protests is to reach for the ammunition.
But when people are desperate, they take to the streets despite the risks.
To avert the worst impacts and avoid violence, governments need to listen to their public and open up genuine social dialogue to develop policies that protect the most vulnerable.
When governments turn to bullets instead, the international community must hold them to account. And international financial institutions can help by dropping debt repayments so governments aren't forced into impossible dilemmas between importing food and servicing their loans.
It's a rocky road ahead – but there are still choices that can be made and ways of averting unrest – and they all start with governments listening to their people.
---
Any views expressed in this opinion piece are those of the author and not of Context or the Thomson Reuters Foundation.
---
Tags
Consumer protection

Wealth inequality

Cost of living
---