Big companies making "dismal" progress on gender equality - report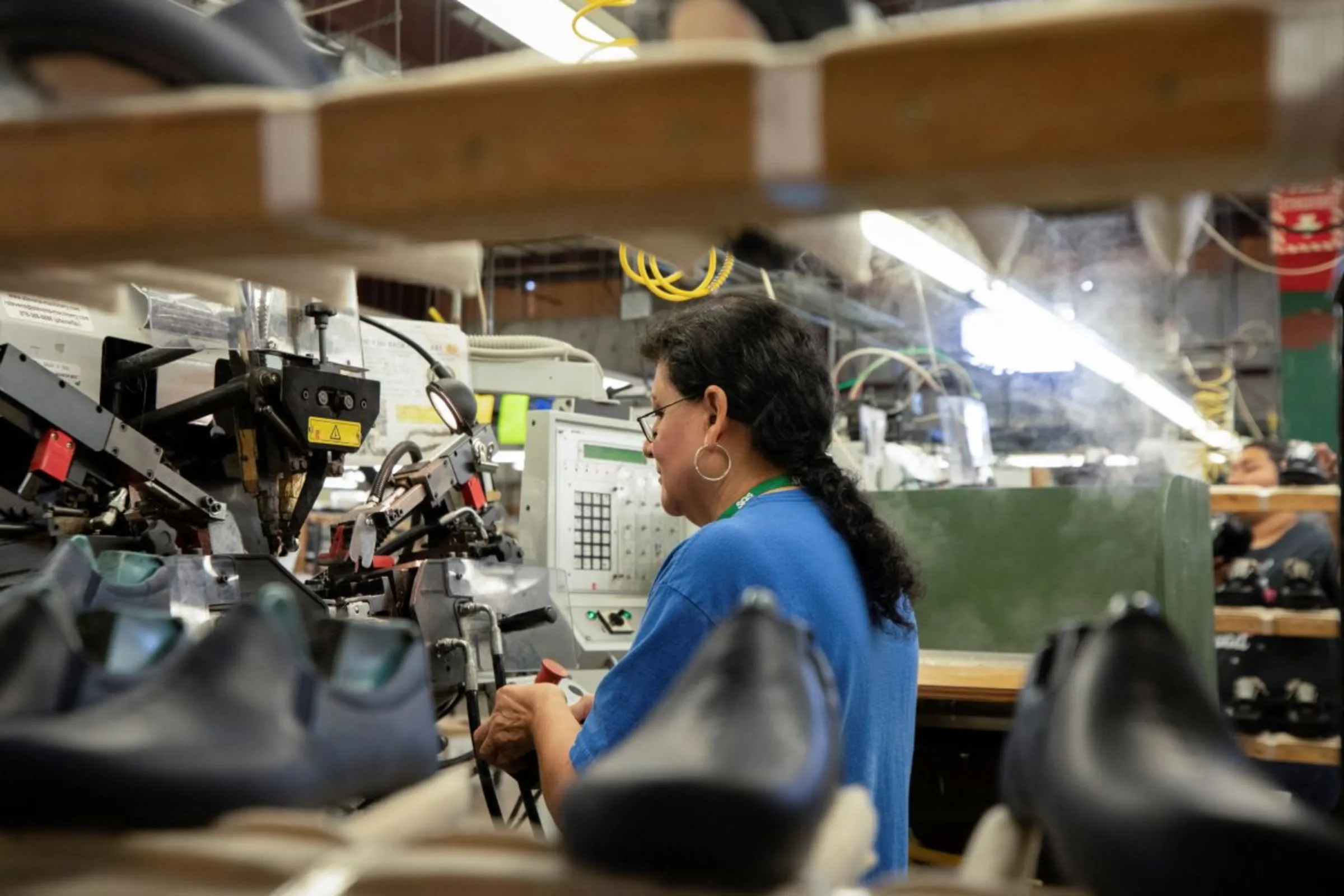 A woman works on the interior mould of a shoe at the San Antonio Shoe Factory in Del Rio, Texas, U.S., April 3, 2023. REUTERS/Kaylee Greenlee Beal
What's the context?
Although more women are reaching leadership roles, companies have a very long way to go to ensure gender equality in the workplace
LONDON - A global survey of more than 1,000 of the world's most influential companies paints a "dismal" picture of their performance on gender equality, the World Benchmarking Alliance (WBA) said on Monday.
Women are underrepresented in leadership positions and their concerns go unheard, its research showed.
Many businesses do not treat parental leave as a universal right, and few take steps to prevent violence and harassment in the workplaces or offer remediation, the research showed.
The survey also spotlighted how some companies' buying practices fuel exploitation of women workers in supply chains around the world and contribute to the suppression of wages.
The WBA aims to hold influential companies accountable for their part in meeting the UN Sustainable Development Goals, which include achieving gender equality by 2030.
The World Economic Forum said this year that closing the gender gap would take another 131 years.
Here is a look at some issues impacting women's employment:
Women at the top
Only three companies in the WBA survey achieved a gender balance at all levels of leadership.
Its research showed women encountered a "broken rung" in the corporate ladder at the middle management level in two-thirds of companies which slowed progress to senior leadership positions.
In the C-suite, women accounted for just 21% of senior executives, while more than 130 businesses reported that no women occupied the highest positions.
The WBA said companies needed to gather better insights into women's participation in career development programmes and women's promotion rates as well as their experiences of discrimination and work-life balance issues.
Gender pay gap
Globally, women earn 17% less than men on average. Factors include lower rates of promotion and women taking more flexible jobs that pay less per hour than full time jobs.
The WBA study showed only 3.5% of companies published a breakdown of their gender pay gap by employee category.
In an attempt to improve equality, Britain has introduced compulsory pay gap reporting for medium-to-large sized companies.
Some countries now mark "Equal Pay Day" – the point in the year after which women effectively work for free due to the pay gap. In the EU, the day fell on Nov 15 this year. In Britain, it falls on Nov 22.
The birth of a baby can have huge and lasting economic impacts for women – sometimes dubbed the "motherhood penalty" – as caring responsibilities lead them to quit the workforce or cut their hours.
In Britain the pay gap for women over the age of 40 is more than double that for younger women.
Workers tend to see their pay rise as they gain experience, but part-time workers forfeit these gains.
Women may also miss out on jobs and promotions when they have children or because of a perception that they will have them in future.
Unpaid care burden
The COVID-19 pandemic exposed how women bear the brunt of unpaid care responsibilities worldwide, including for sick and elderly relatives.
Women spend four-and-a-half hours on unpaid care each day, three times as much as men and are nearly 15 times as likely as men to be out of the workforce due to caregiving responsibilities.
Women's unpaid caregiving contributes around $8 trillion in value to the global economy each year, according to the International Labour Organization (ILO).
The charity Oxfam puts the figure higher at $10.8 trillion.
The introduction of remote and flexible working – in part propelled by the COVID-19 pandemic – has often helped women balance their work and care responsibilities.
The WBA found three-quarters of the top performing companies on gender equality provided flexible working.
Parental leave
Paid leave can help women remain in work, reduce businesses' staff turnover costs, and lessen families' need for public assistance.
The ILO advocates a minimum of 14 weeks of maternity leave to help the mother fully recover and bond with her newborn.
Globally, 120 countries have legislation offering at least 14 weeks, but 64 countries fall short of this standard, mostly in the global south.
The WBA said the variation in national laws and cultural norms meant it was often up to the private sector to take the lead in advocating for global parental leave policies.
But barely a third of the companies surveyed disclosed a parental leave policy and the majority did not apply globally. Only 7% had a global policy to provide at least 14 weeks, the WBA said.
Some countries are encouraging parents to share time off work after having a baby.
Evidence from Nordic countries shows that when both parents take leave, not only do women's wages and work hours increase, but couples split domestic duties more evenly in the long term.
Violence and harassment
More than one-in-five people in employment globally have experienced violence and harassment at work.
But the WBA said prohibition policies were not enough and that companies must also ensure abuses are effectively prevented, reported and remediated.
While most companies surveyed had grievance reporting channels very few supported whistleblowers.
ILO research shows most victims of abuse and harassment do not report it, often because they think it will be a waste of time or fear stigmatisation.
The WBA said companies should step up their game on remediation and require suppliers to do likewise.
Supply chains
Globalisation means millions of women work in jobs like garment making and food processing for big brands.
But the WBA said just 3% of companies take specific actions to help ensure suppliers pay their workers a living wage.
The WBA said companies' buying practices can impact women's pay and conditions in sectors like clothing where 80% of the workforce are women.
Although most clothing companies place expectations on their suppliers regarding gender equality, the WBA found barely a quarter enabled their suppliers to meet them by practicing responsible purchasing.
It said last-minute order changes, short lead times and late payments could pressure suppliers to demand excessive overtime and increase the use of even lower-paid informal labour.
(Reporting by Emma Batha; Editing by Jon Hemming)
---
---
Tags
Finance

Gender equity

Pay gaps

Wealth inequality

Race and inequality

Future of work

Workers' rights

Economic inclusion
---