With a peace deal now reached, it's time to invest in Ethiopia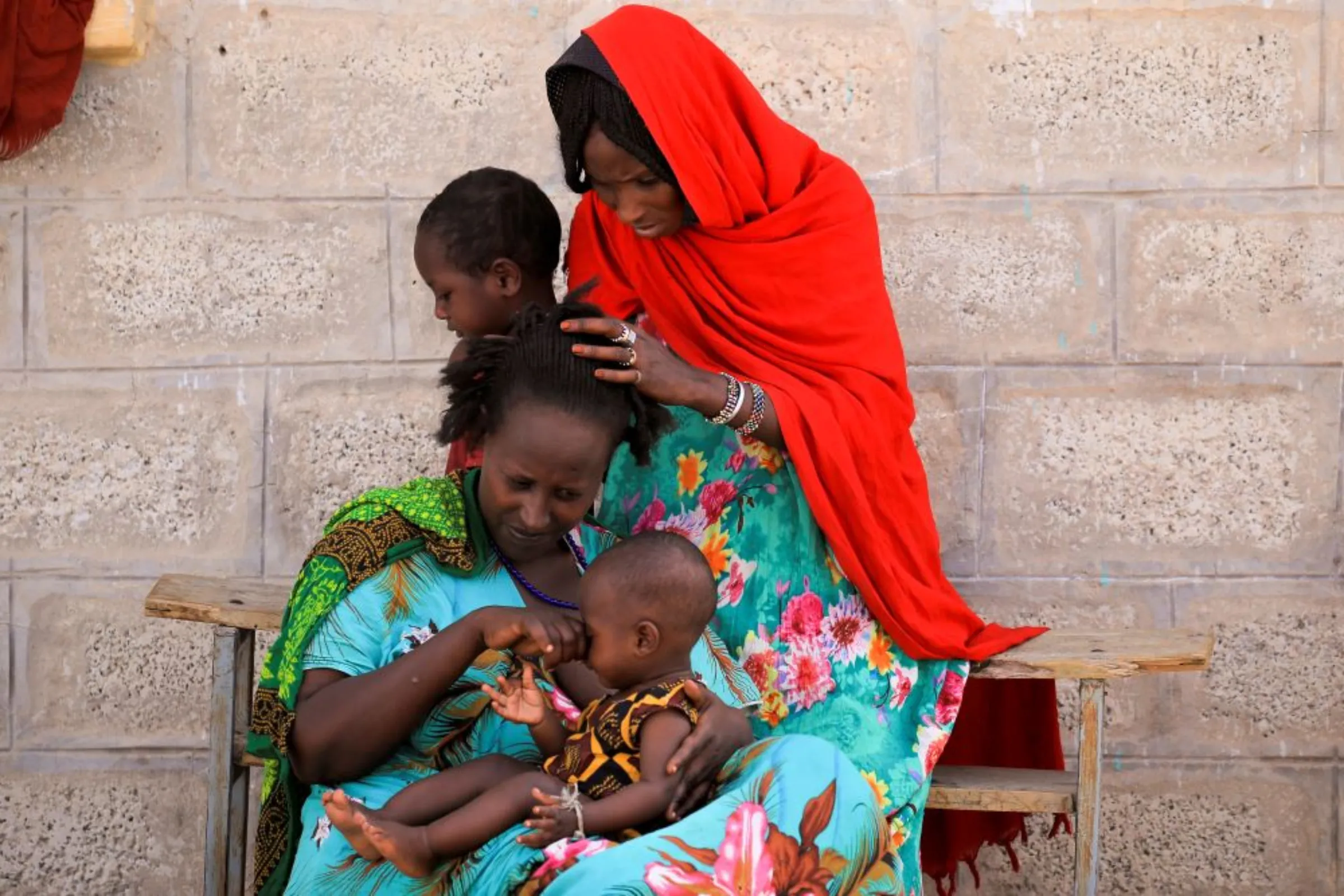 An internally displaced family who fled their home in Berhale due to fighting between the Afar Special Forces and the Tigray People's Liberation Front (TPLF) forces sit in front of their shelter at a makeshift compound in Afdera town, Ethiopia, February 23, 2022. REUTERS/Tiksa Negeri
Economic incentives for peace must be spearheaded by the international community to support long-term peacebuilding in Ethiopia
Stefan Dercon is Professor of Economic Policy at Blavatnik School of Government, and Director of the Centre for the Study of African Economies at University of Oxford and Christian Meyer is Director of the Oxford Martin Programme on the Future of Development at the University of Oxford.
After almost two years, the government of Ethiopia and the Tigrayan People's Liberation Front (TPLF) have agreed to stop their violent and destructive conflict. The deal agreed in South Africa is an immensely important first step to peace and recovery.
The international community, particularly Brussels and Washington, must step up to support the ceasefire agreement by ensuring a large economic upside to peace without meddling in the fragile process that will shape the future of Ethiopia and the broader region.
Ethiopia is the second most populated nation of the continent. In 2018, it reached the fastest growth rate in Sub-Saharan Africa and is an anchor economy in the Horn of Africa.
The humanitarian costs of the conflict have been dramatic and are rightly a significant focus, with immeasurable suffering and rife human rights abuses. Several hundreds of thousands of people have been killed, wounded and displaced; sexual violence has been used as a weapon of war; and basic services like healthcare and education have been destroyed or disrupted, with over a million children likely to suffer acute malnutrition.
However, the considerable and mounting economic costs of this war have received far less attention. Prior to the pandemic and the war, Ethiopia's economy was one of the fastest-growing in the region. It outpaced growth in non-natural resource rich African economies by 5.4 percent per year on average in 1998 to 2020. Current growth forecasts by the IMF imply much lower annual growth premium relative to other comparable African countries of only 1.5 per cent. We argue that this is linked to the direct and especially indirect costs of the conflict, such as the inability to access international public and private resources to support speedy macroeconomic stabilisation, economic reform, renewed public investments for growth and acceleration of FDI.
Without sustained peace and a positive response from international partners, it is unlikely that any improvement is possible on the IMF forecasts. Some may even argue it could be worse. If this growth premium cannot be restored, it would be equivalent to a loss to the Ethiopian economy of about 125 billion current USD dollars, and lead to an economy 19 percent smaller than what Ethiopia could have obtained by 2027.
None of these figures take into account the vast destruction of public infrastructure and private property across the Tigray, Amhara and Afar regions. Large parts of the north must be completely rebuilt, with the cost of reconstruction in the next three years estimated to be $20 billion.
Such colossal losses must be put in context. Cash transfers of $125 billion could lift 10 million rural Ethiopians – or the country's entire poor urban population – out of poverty for the next four years.
The return of international economic support for peace building efforts will be indispensable to avoid these vast economic losses and protect livelihoods. Getting Ethiopia's ambitious development agenda back on track, including Prime Minister Abiy's stated goal of large-scale poverty reduction, will be challenging.
Ethiopia's macroeconomy is on the brink of collapse. Like many countries around the world, Ethiopia has been hit hard by the global rise in fuel, food and fertiliser prices – translating into rapid inflation and a balance of payments crisis.
Economic policymakers in Ethiopia now face the near-impossible task of restoring its macroeconomic stability, tackling a looming debt crisis and investing in reconstruction.
The international community must step up and help Ethiopia square this economic circle, for the sake of 117 million Ethiopians, including 7 million Tigrayans. With a clear roadmap to economic recovery, partners can help define the economic upside of stable peace.
These economic upsides could include an International Monetary Fund (IMF) programme to stabilise the macroeconomy, accompanied with G20 debt relief, multilateral finance for recovery and investment credits. A clear route to restoring the African Growth and Opportunity Act (AGOA) should also be implemented.
Brussels and Washington must move beyond allocating blame to spearhead an economic package that includes ambitious support for the reconstruction of Tigray and other conflict-affected regions in the north. A large economic recovery package for Ethiopia is, after all, in the interest of Europe and the US.
Thorny questions will no doubt be asked both politically and at the technical level. How should AU monitoring of the cessation of conflict, political dialogue and progress in implementation of the deal be sequenced with the release of funding? How will funding be fairly used in all conflict-affected areas? Ensuring that nothing is off the table will help create a more effective package of support and help repair relationships with global development partners.
Identifying a clear upside to peace for all parties involved is the surest route for progress in coming months. An international reconstruction forum and transparent donor platform to coordinate the process – not unlike what the G7 and the European Commission recently convened in Berlin for Ukraine – could be a first step.
African Union envoy Olesegun Obasanjo rightly praised last month's peace deal as an African solution to an African problem. It is high time for the international community to also invest in peace by shelving ineffective sanctions and offering real economic incentives. This is a gamble well-worth taking.
This piece was updated on Friday, December 2 2022 16:11 GMT to correct GDP figures in paragraph 5 and 6, and to add additional information.
---
Any views expressed in this opinion piece are those of the author and not of Context or the Thomson Reuters Foundation.
---
Tags
Government aid

Race and inequality

War and conflict

Economic inclusion
---