Redlining in America: How a history of housing discrimination endures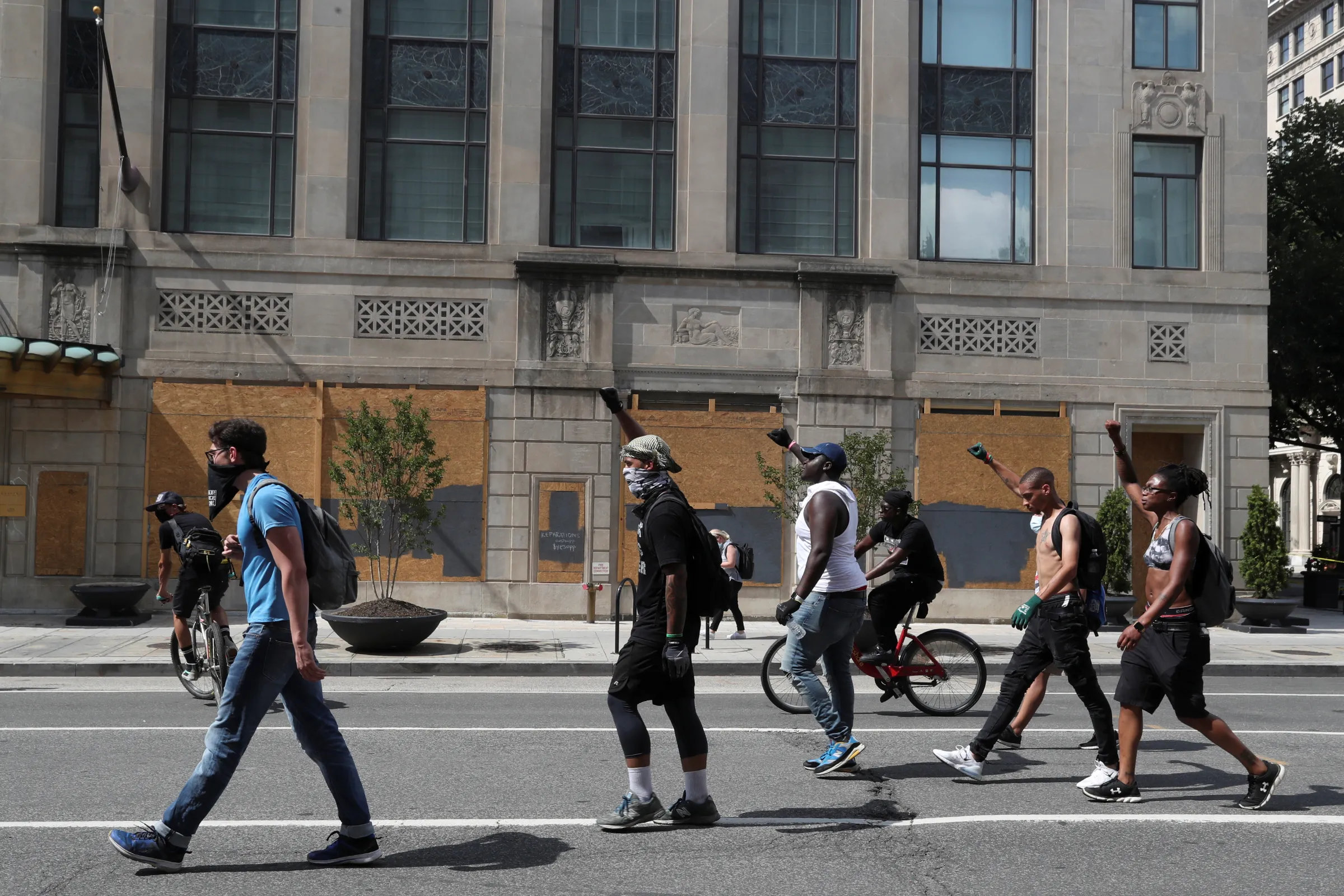 People raise their fists as they protest against racial inequality and police violence at Black Lives Matter Plaza, during Fourth of July holiday, in Washington, U.S., July 4, 2020. REUTERS/Leah Millis
What's the context?
Black-owned homes in the United States are worth less than white-owned homes, partly due to a racist zoning policy of the 1930s whose effects are still being felt.
By Nellie Peyton
WASHINGTON - As the United States reckons with its history of racial injustice and inequality, the country is revisiting a topic that some say is at the root of the problem: housing discrimination.
The average white family in the United States is about 10 times wealthier than the average Black family, according to 2016 data, and white households are 75% more likely to own a home.
Experts say that the vast racial wealth gap is rooted in a system of housing discrimination that the government spearheaded decades ago, called redlining, which discouraged investment in Black neighborhoods. Its effects are still being felt today.
Here is what you need to know about redlining:
What is redlining?
In the 1930s, a U.S. government agency classified different neighborhoods based on how safe it was to give out mortgage loans. These classifications were color-coded onto maps: green meant "best", blue meant "still desirable", yellow meant "definitely declining", and red meant "hazardous".
Neighborhoods with large Black or minority populations were typically colored red, meaning authorities deemed it risky to give those residents a loan.
Banks were discouraged from lending to people in these areas, making it almost impossible for them to get the financing needed to buy or renovate a home.
Why does it matter?
Home ownership is one of the main ways in which Americans build wealth and pass it on to the next generation. For many families their home is their most valuable asset, acting as both a savings account and a long-term investment.
Home equity was the single biggest contributor to household net wealth in 2015, accounting for 34%, according to the U.S. Census Bureau. The same study showed that homeowners' median net worth was 80 times larger than renters'.
In addition, property taxes are used to fund schools and other public services.
So when Black neighborhoods receive less investment, the average property value goes down, and local schools receive less funding which can lead to worse educational outcomes. This makes it harder for residents to get good jobs, make more money, and move to better neighborhoods.
Does redlining still happen?
No. The actual practice of drawing red lines on maps mainly took place from 1935 to 1939. Racial discrimination in the sale or rental of housing and related services was officially outlawed with the 1968 Fair Housing Act.
However, research shows that Black Americans are still denied loans at far higher rates than white Americans. Today, "redlining" is sometimes used to refer to continued racial discrimination in the housing and lending markets.
Most of the neighborhoods that were redlined in the 1930s are still low-to-moderate income, and still have large minority populations.
In the average U.S. city, homes in majority Black neighborhoods arevalued at roughly half as much as homes in white neighborhoods, according to research by the Brookings Institute.
What's the solution?
Housing experts say there is no quick fix. Black neighborhoods need more investment, but you can't artificially raise home prices or the residents will be priced out, said Andre Perry, a fellow at the Brookings Institute and author of a new book about the devaluation of Black communities.
The solution is to invest in people, eliminate racial discrimination from the housing market, offer low-interest loans and find ways to help renters buy homes, said Perry.
Cities could also take action by revising their zoning policies to promote more diversity and inclusion, said Jesse Van Tol, CEO of the National Community Reinvestment Coalition.
---
---
Tags
Pay gaps

Wealth inequality

Housing

Race and inequality

Economic inclusion
---