The rise of surveillance tech in Africa: What you need to know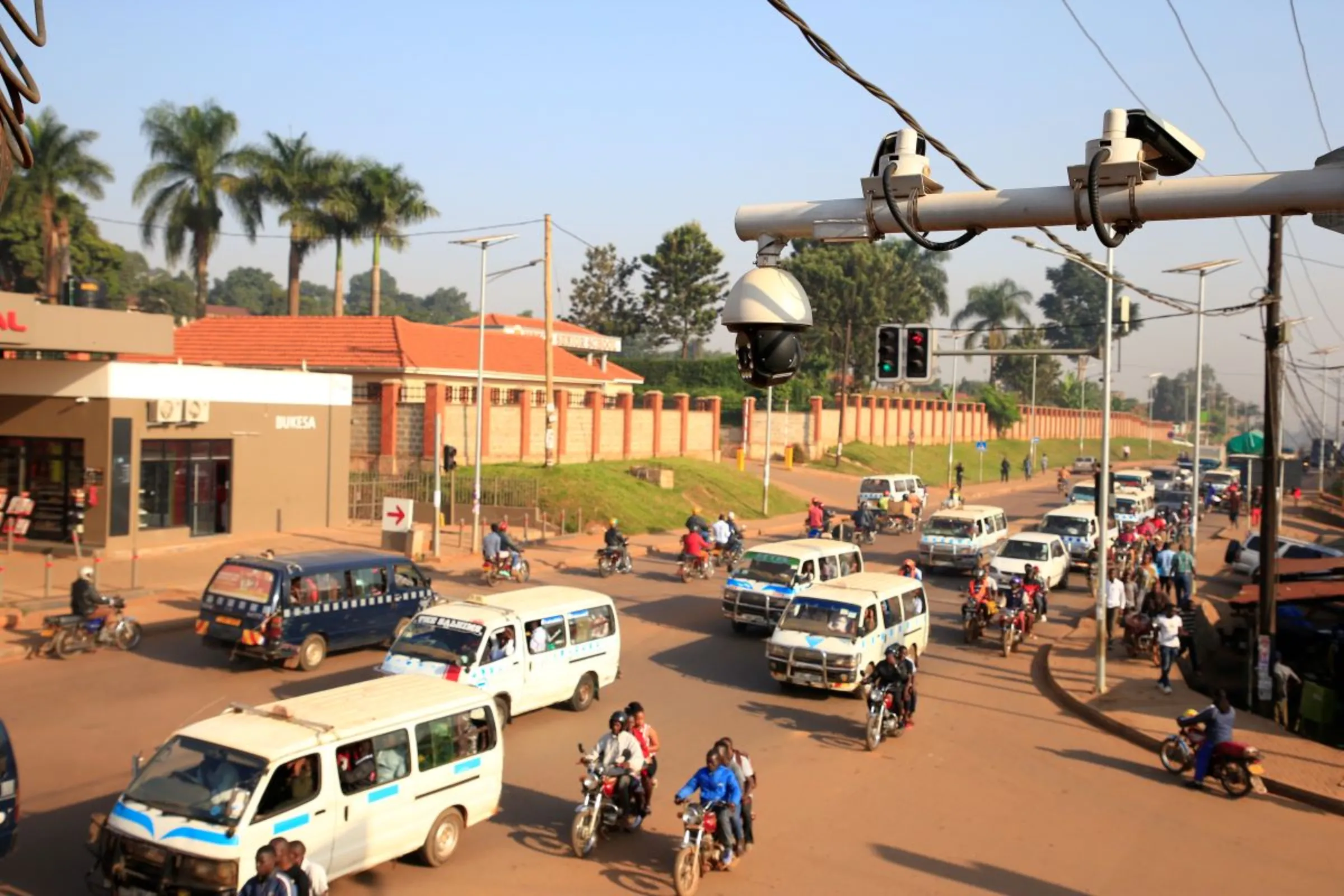 Traffic flows under the surveillance closed-circuit television camera (CCTV) system along Bakuli street in Kampala, Uganda August 14, 2019. REUTERS/James Akrena
What's the context?
African states are increasingly investing in foreign surveillance tech despite privacy concerns and fears of online repression
Africa has become a hotspot for surveillance technology exports from countries including the U.S., Britain, China, Israel as well as the European Union, according to new research published this week.
Nigeria, Ghana, Morocco, Malawi and Zambia spend more than $1bn every year on surveillance technology, estimates a report by the Institute of Development Studies (IDS) and the African Digital Rights Network (ADRN).
Their report, "Mapping the supply of surveillance technologies to Africa", reveals the financial and social costs of the technology.
So what is it being used for and should citizens be concerned?
Which countries are importing surveillance tech?
While the report focused on five countries, many others are importing and using surveillance tech.
Zimbabwe, for example, has begun building its $60 billion Zim Cyber City project - a smart city that aims to install "surveillance technology that is directly connected to law enforcement authorities."
Kenya has rolled out video cameras, tracking devices, software and cloud storage systems in cities such as Nairobi by partnering with Chinese telecom firm Huawei's Safe City intiative.
The devices and systems tap public and private platforms to boost public services like policing and managing traffic, officials say.
Out of the five countries studied in the report, Malawi is the only one to have rejected the safe city surveillance package offered by Chinese companies.
Report authors were forced to drop research on Zimbabwe, Ethiopia, Egypt, Tunisia and Sudan due to security concerns for local researchers, report editor Tony Roberts said.
Further research coming out next year will look into Egypt, Kenya and South Africa, Roberts added.
Have rights groups raised any concerns?
Technology can be used to enable mass citizen surveillance using mobile spyware, internet interception, biometric ID data collection, social media monitoring, facial recognition and car number plate recognition, researchers warn.
The report found that surveillance tech is being used to "single out citizens for harassment, detention and torture for expressing opposing views, violating international human rights law and the technology companies' policies."
For example, Nigerian pharmacist Solomon Akuma was arrested in April 2020 for posting comments on social media that were critical of former President Buhari. Akuma was charged with terrorism, sedition and criminal intimidation of the president, researchers said.
David Indeje from KICTANet, a Kenyan ICT think, said that "the (Kenyan) government says the surveillance tech is in the interests of national security."
"But this tech also infringes on rights of Kenyan citizens on matters related to privacy as most people don't know they are being surveilled and how the data being collected is being used," he added.
Who supplies the tech and how is it funded?
Historically, the market has been dominated by U.S. and European companies, but Chinese companies Huawei and ZTE are fast moving into the safe city surveillance space.
The research shows that Chinese banks offer huge loans to African governments to buy surveillance packages including from China-based Huawei and ZTE.
Often the loans include the installation of the CCTV cameras as well as a command room data centre to monitor citizens in real time.
Ghana, Morocco and Zambia have each spent over $250 million on Chinese surveillance technology, the report said.
The U.S. and Britain still dominate the supplying of social media monitoring, which can be used to manipulate voter behaviours, for example.
Mobile phone hacking malware comes mainly from Germany, Italy, and Israel, according to the report.
"On top of the personal costs there are the enormous financial costs that could be better spent on vital public services," said Roberts.
"We have uncovered surveillance technology contracts worth billions of dollars, but due to the secrecy surrounding the contracts, this is just a fraction of what the true total spend will be," he said in a press statement.
How can citizens protect their privacy?
Citizens across the continent are taking steps to avoid surveillance such as using VPNs, encrypted messaging and privacy browsers, said Roberts.
For example, climate activists in Uganda and Tanzania are using secure phone messaging apps such as Signal that encrypt message data, and two-factor authentication to prevent hacks.
The report calls for the abolition of harmful surveillance technologies and for the defunding of mass surveillance of citizens.
Civil society groups are also working to challenge and revise legal frameworks to ensure that legitimate surveillance is only carried out when 'legal, necessary and proportionate', according to Privacy International.
"Regulation is simply not keeping up with what is happening with surveillance tech," said Chenai Chair, digital rights expert at Mozilla.
"We need to have transparency in the procurement process for this surveillance tech. Many of these agreements are not made public and so citizens don't know where the data collected is going and what it is being used for."
(Reporting by Kim Harrisberg and Nita Bhalla; Editing by Zoe Tabary)
---
---
Tags
Facial recognition

Data rights
---