Murder on the dancefloor: My first AI rave
Partygoers at an AI rave in London, February 17, 2023. Thomson Reuters Foundation/Adam Smith
What's the context?
I went to a rave where an AI app was running the dancefloor. Verdict: automated systems aren't ready to replace DJs
Artificial intelligence has been touted as a great disruptor, taking over the jobs of customer support workers, translators, marketers, and even writers and artists. Friday night it was coming for the DJ.
'Algorhythm', an experimental rave promising a night when AI would control the dance floor, is the reason I found myself in the basement of The Glove That Fits, a bar in north London's Hackney borough with a reputation for showcasing eclectic sounds.
"No track will have ever been played before or will be played again," the event website said. "It's going to be a rave, but not as you've ever known it before."
This superlative primer had set expectations high, and I arrived at the venue prepared for an outlandish light show and some pumping tracks trained on London's infamous nightlife.
Here's how the night unfolded.
'Just a generic bop'
It started with deep, pulsating techno.
A rhythmic drumbeat was punctuated by lazer-like zaps, and a blast of white light coming from the DJ deck illuminated the dense smoke, revealing how empty the space was. There were about 15 of us, for a dancefloor capacity of 80.
Behind the light, sitting on a mixing board, was an old Android smartphone. Vapourwave artwork of planets, their colours rapidly inverting and reverting, whirled on screen as Mubert, the app controlling the night, played on.
Rather than generating the music itself, Mubert uses human-made loops that are remixed into new tracks for social media or advertising content. Musicians then get a cut when their sounds are sampled.
One woman got her phone out to check a track on Shazam: no results found.
Then, a sudden shift - from the slow beat there was a half-second valley of silence before the app transitioned into a repetitive, rapid club mix.
The mix Mubert blasted that night was proficient, but not inspiring. One person described it as dry, empty. "Background music," another said.
"It's just a generic bop," 24 year-old programmer Rose shrugged.
Then the app broke. Twice, in quick succession, Mubert was unable to transition from one track to another. Groans punctuated the silence.
The music resumed, but bugs continued throughout the night. It was like a needle was skipping over the record, then songs colliding. The friction moving from one to the other was rough, like sandpaper.
Eventually the organisers stepped in just past midnight. The music was manually changed from techno to 'run', an 180 beats-per-minute set heavy on drums.
Cheers rose from three enthusiastic men among the dwindling crowd.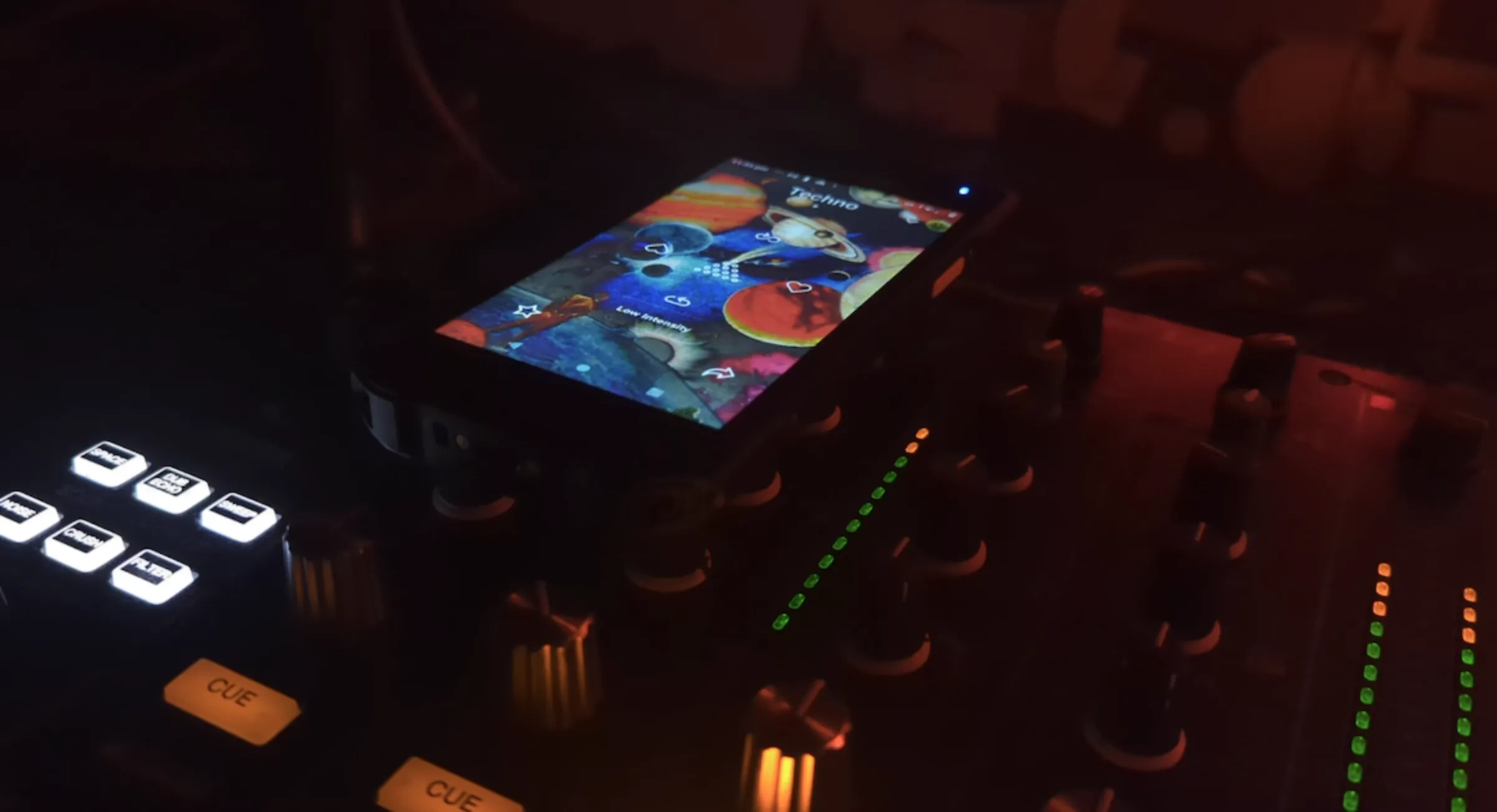 Democratising music?
Most ravers said they were curious about the AI's capabilities. Some missed the relationship with the DJ and other people to make new memories, not just new tracks.
"When you're having a really good night at a rave, it's because the DJ is guiding you through a journey," Anna-Laura, a 26 year-old AI researcher from Imperial College London, told me.
"You're a part of a unique consciousness, but with an AI you do not see that happening," she said, leaning against the barrier of the smoking area as people started heading home.
For Paul Zgordan, chief executive of Mubert, the app, the goal is to "democratise music, to lower the barrier".
Musicians can profit off their unfinished tracks rather than compete with bigger artists on Spotify and other services, he added in a video call ahead of the event.
"With this AI-generated content hype, a lot of musicians are stressed ... so we want to give musicians an ethical way to work with AI."
Artists may make less selling piecemeal bars rather than being commissioned for full songs, but Zgordan argues this frees them up to be more creative.
I am yet to be convinced. If a popular DJ can copy themselves and play in 10 venues at a time, then nine others looking for their big break are put out of work.
A rising tide lifts all ships, they say, but not everyone can afford a boat.
Until then, for DJs, it's all hands on decks.
(Reporting by Adam Smith; Editing by Zoe Tabary.)
---
---