Web Summit: From AI to green tech, here are four key takeaways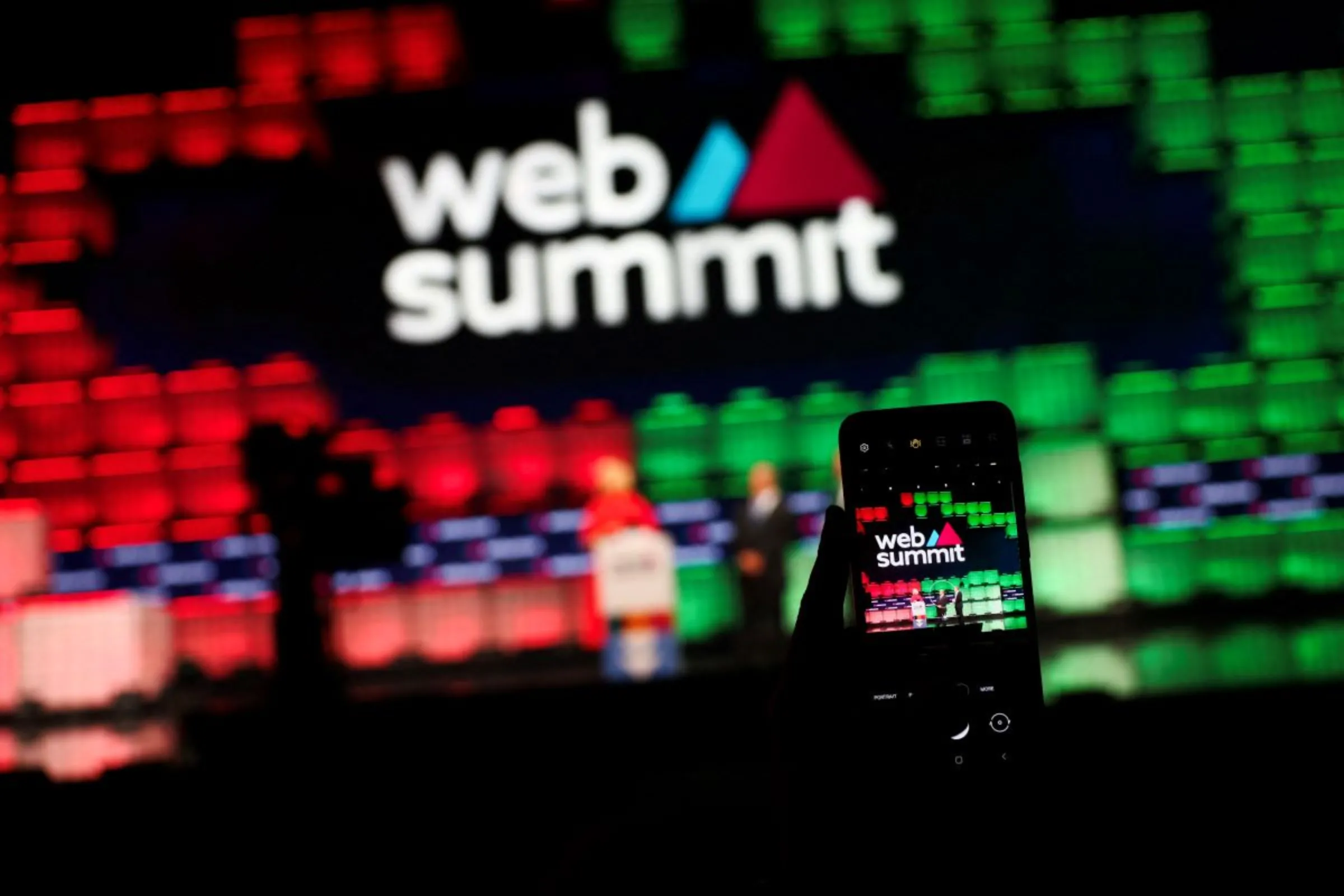 A man takes a picture of the centre stage of Web Summit, in Lisbon, Portugal, November 13, 2023. REUTERS/Pedro Nunes
What's the context?
AI safety and sustainable tech were top of the agenda at Web Summit 2023
Tech giants withdrew from event after ex-CEO's Israel-Hamas comments
Ukrainian start-ups showcased tech amid funding concerns
Discussions on AI in labour, education, productivity
LISBON - Web Summit Lisbon, one of the world's largest technology conferences, began mired in controversy.
Summit CEO and founder Paddy Cosgrave resigned last month after comments he made on the Israel-Hamas conflict prompted major technology companies and investors to withdraw plans to attend.
Event speakers and delegates debated the use and regulation of artificial intelligence (AI), internet infrastructure, mis- and disinformation, the creator economy, green tech, and more.
Here are the key takeaways from the event:
Israel-Hamas war
Alphabet (Google's parent company), Meta (which owns Facebook, WhatsApp and Instagram), Amazon, and Intel all said they would not attend the event this year following Cosgrave's comments.
"War crimes are war crimes even when committed by allies, and should be called out for what they are," Cosgrave posted on October 13.
He was replaced by former Wikimedia Foundation chief executive Katherine Maher.
"I think it's important to say that I believe everyone, everywhere, has the right to express their views on what is happening in the world," Maher said, opening the conference.
"But having a right to expression, and considering the weight of your words are two different things," she said.
Web Summit says there were over 70,000 attendees this year - approximately the same amount as previous years - and more than 2,600 start-ups.
AI use
Artificial intelligence was a key focus at the summit, from its future in the labour market to education to the creator economies.
Generative AI products do not think nor are they creative, but they can shorten the amount of time between idea and execution, said Cassie Kozyrkov, chief executive of IT consulting company Data Scientific.
Productivity tools and workplace automation are the two areas most likely to be affected by AI, she added, raising concerns about how executives will use them.
But delivering the final talk of the event Chelsea Manning, the U.S. activist and whistleblower, said that the philosophy behind AI development needed to change.
"We're not held to the same ethical standards as doctors despite having more impact on the world. Would you feel comfortable going to a surgeon with the mentality of 'move fast and break things'?" she said.
Ukrainian tech presence
Web Summit also played host to a number of Ukrainian start-ups and politicians, amid concerns that Middle East conflict could affect its military funding.
U.S. officials have cautioned that funding for Ukraine aid is running low as the Republican-controlled House and Democratic-majority Senate remain at odds over the Biden administration's request for billions of dollars more in assistance to Kyiv.
Wladimir Klitschko, a Ukrainian former professional boxer and head of the non-profit Klitschko Foundation, spoke about the role technology played in defending the country from Russia.
"When the Russian forces came in our CCTVs were capturing the war crimes, capturing the faces who did it, to later face the consequences. And to protect this data, it was extremely important in the beginning of the war, in live streaming," he said.
But the collection of facial data has raised concerns with Ukrainian rights activists about how the system will operate once the war has ended.
Oleg Polovynko, an adviser to Kyiv mayor Vitali Klitschko, spoke about how digitalisation was vital to evacuate and assist citizens as the war continues.
The Kyiv Digital smartphone app, which residents used to pay bills and parking tickets, was updated with maps of bomb shelters and resource stores.
"We receive thousands of events in a minute (about) our infrastructure, as Russia tries to stop Kyiv Digital," Polovynko said. "New lines of attack are developing every day."
Sustainable tech and climate
The final day of Web Summit was dedicated to climate technology and how it could intersect with AI.
"Imagine accelerating the development of solutions from years to months," said Melanie Nakagawa, Microsoft's chief sustainability officer.
"By 2050, we'll need to double the world's food production. This is going to require new approaches to farming," she said, citing a project combining data from sensors, drones, and satellites with machine learning to boost productivity.
However, both climate activists and green tech companies were skeptical of large corporations' approach.
"Microsoft does have some of the most ambitious goals," climate activist Sage Lenier told Context at a press conference, adding that the company was "absolutely not" doing enough.
"Every single company needs to continue to come to the table. The problem is profit is their number one motive. They are just not incentivised to degrow, and that's why we need a different economic system."
Christian Kroll, head of tree-planting browser Ecosia, also expressed skepticism of Big Tech's approach.
"I appreciate that they are thinking of this, but many tech leaders have a very limited understanding of the climate crisis. They only think from a tech solution perspective," he said.
"Protect and resow forests, turn agriculture into regenerative agriculture, ensuring oceans can thrive - (tech executives) don't understand how those ecosystems actually work.
"They come up with an idea that you apply fertilisers and pesticides more efficiently, but that's not the solution. We need more nature-based solutions."
(Reporting by Adam Smith; editing by Zoe Tabary.)
---
---
Tags
Disinformation and misinformation

Tech and climate

Tech regulation

Data rights
---