Could COP28 help protect Africans from growing modern slavery?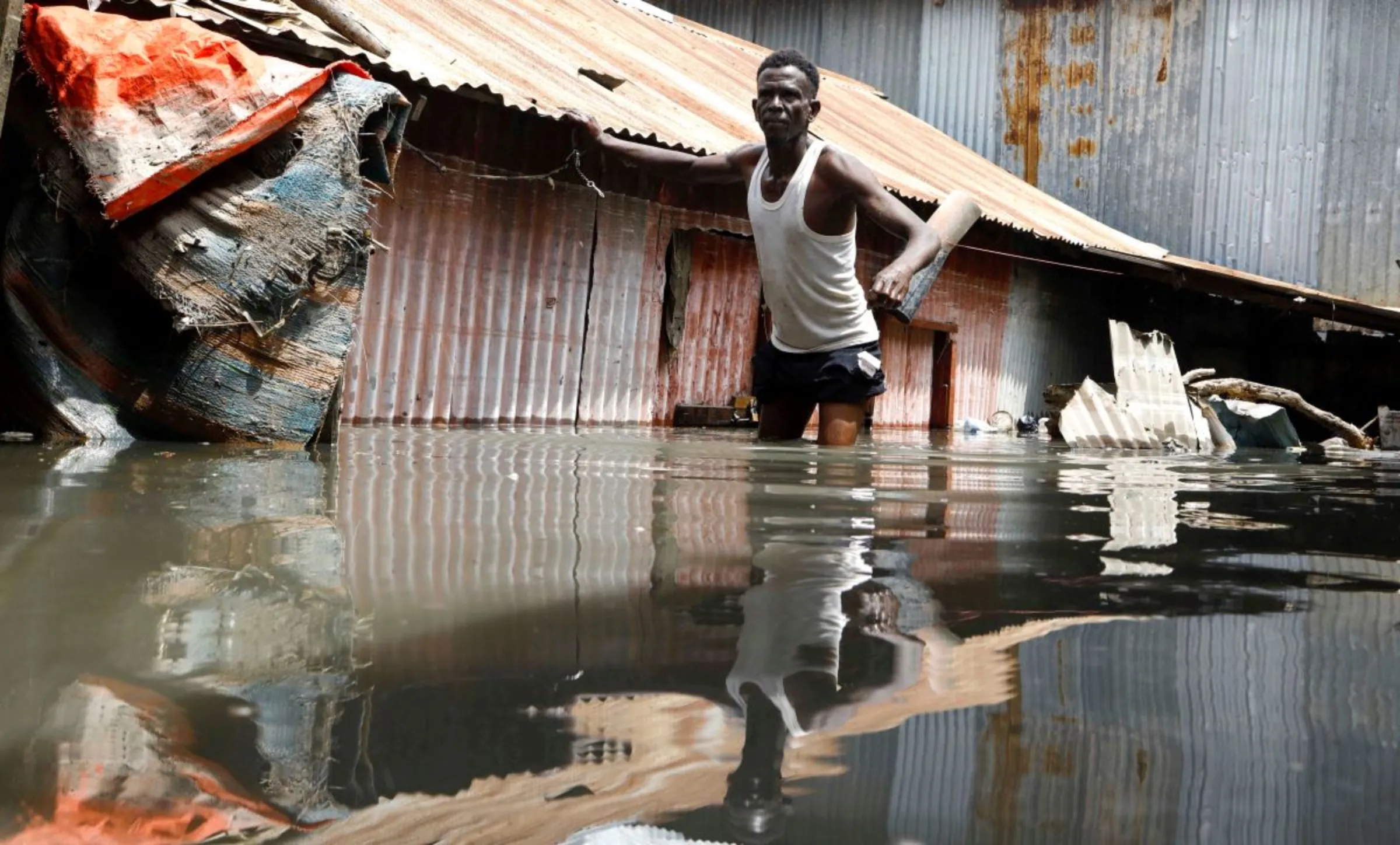 A man wades through flood waters following heavy rains in Mogadishu, Somalia November 9, 2023. REUTERS/Feisal Omar
How can a 'just transition' for Africans - and better protection for those impoverished by climate impacts - be achieved?
Leona Vaughn is the vulnerable populations lead for the Finance Against Slavery and Trafficking initiative of the U.N. University Centre for Policy Research.
The Global South is disproportionately shouldering the burden of the climate crisis.
Africa, for example, is warming faster than global average temperatures and the increasing severity of climate risks such as droughts and floods is aggravating already severe social, environmental, and economic challenges.
As Africa struggles to adapt to this new climate scenario, it is also witnessing a worrying rise in the incidence of modern slavery. An estimated 3.8 million people are now trapped in situations of forced labour, up from 3.4 million in 2017.
There are several drivers of modern slavery. But our research indicates that the climate crisis is a key risk multiplier.
As climate-related pressures increase and economic opportunities simultaneously disappear, millions of people are pushed into vulnerable situations where they are forced to endure limited rights, informal work, and brutal exploitation.
The threat is often greatest in communities dependent on natural resources.
The climate crisis-modern slavery nexus
The complex relationship between climate change and modern slavery is poorly understood.
Research by United Nations University in Ghana's cocoa and gold mining sectors revealed a clear link between declining and unsustainable production and growing modern slavery risks: drought and unpredictable rainfall depressed yields and incomes; gold miners routinely experienced increased indebtedness due to flooding; and impoverished farmers were forced to turn to cheap labour, including the unpaid work of their own families, in often hazardous conditions.
Farmers also resorted to cheap pesticides and using or selling their land for artisanal small scale gold mining to increase incomes – worsening environmental degradation, pollution, and community health. This threatened production and entrenched exploitative working conditions in local economies.
Worker vulnerabilities were compounded by limited financial support and a lack of access to financial services: farmers, miners, and labourers were often not entitled to insurance schemes or annual salaries, for example.
Many instead relied on informal economic arrangements, exposing already vulnerable populations to the risks of perpetual debt bondage, loss of land, and/or wage theft.
Addressing modern slavery at COP28
Can this year's United Nations Climate Change Conference – COP28 – contradict the sceptics and deliver for those who are vulnerable to climate-driven modern slavery risks in Africa?
This remains an open question. But the summit's focus on climate financing and inclusion provides a potential opening to motivate actors to respond.
Engaging the financial sector is critical – we need to initiate a conversation about environmental and social risks in investments and lending portfolios and demonstrate how the sector can leverage its unparalleled influence to protect workers.
Here are three areas where financial sector support can be mobilized.
Securing a more inclusive 'just transition.' This transition needs to include human and labour rights on various fronts, not only in the context of job losses resulting from phasing out fossil fuels.
It also needs to engage with, as a priority, those in developing nations who have already lost properties, livelihoods, and lives due to climate change. This will help identify how a just transition can be resourced and damages remedied – and encourage the financial sector to consider how they can contribute.
Progress can also be made by placing track and trace controls along entire supply chains – for example in the renewable energy sector – to identify where forced labour might be taking place.
Addressing fairness and equity. A human rights approach to achieving fairness for workers, especially across agricultural and natural resource value chains, requires equity.
Actions which promote a fairer economic model, such as a living wage and profit sharing, can help improve economic conditions, protect against slavery and exploitation and help businesses and investors generate higher returns (such as reduced turnover and higher productivity).
Investors can also prioritize climate and social risks in their risk assessments, alongside profit and reputational risks, to help increase equity and effectively identify and tackle potential climate and social impacts that could have financial implications.
Investors can also use their leverage to hold businesses accountable and put in place preventative measures to protect both vulnerable populations and the environment.
Delivering a global low carbon future. We are starting to see climate resilience prioritized by some investors as part of their environmental, social and governance (ESG) commitments, and the net-zero commitments of some major banks are also moving in this direction.
It is critically important that companies investing in value chains connected to the 'green transition' also help build resilience against modern slavery risks and ensure labour practices do not worsen. The presence of responsible investors at COP28 can help shift conversations and set new standards for the entire sector.
Africa contains many of the commodities needed to drive the clean technology revolution. But it also bears the brunt of a climate crisis it has not significantly contributed to.
Beyond the discussions on mitigation and adaptation, while critically important, COP28 needs to consider credible alternatives to current global investment patterns that exploit resources in Africa yet offer few protections to the Africans who mine or tend those resources.
---
Any views expressed in this opinion piece are those of the author and not of Context or the Thomson Reuters Foundation.
---
Tags
Extreme weather

Climate inequality

Loss and damage
---