It's time for a fossil fuel non-proliferation treaty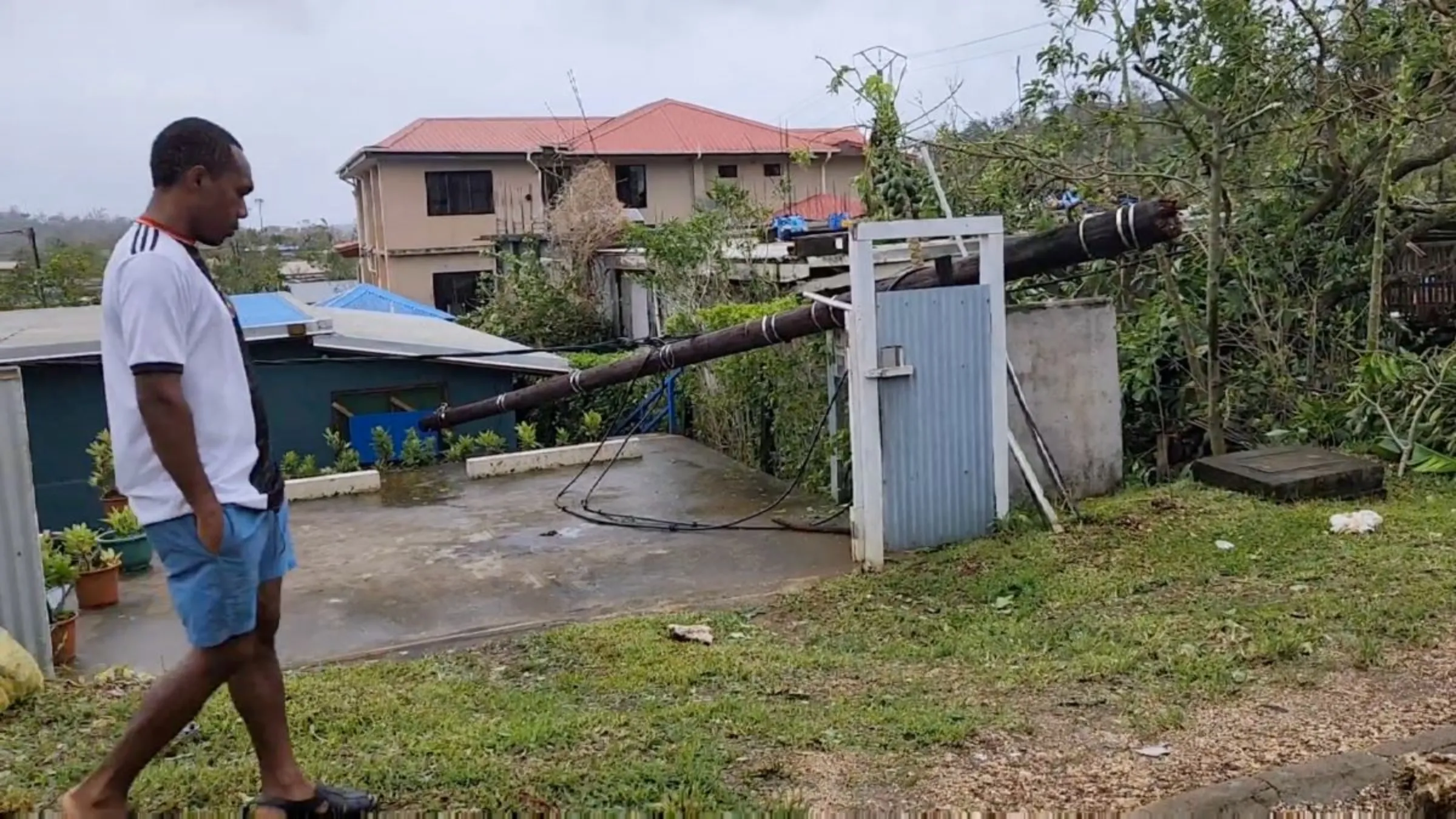 A man walks next to a fallen pole in the aftermath of cyclone Kevin, in Port Vila, Vanuatu March 4, 2023, in this screen grab obtained from a social media video. DevMode/via REUTERS
My nation of Vanuatu was just struck by two cyclones in 48 hours. Now is the time to cut climate risks
Ralph Regenvanu is the minister of climate change adaptation, meteorology and geo-hazards, energy, environment and disaster risk management for Vanuatu.
My country of Vanuatu has been in a State of Emergency for over a week.
Within just 48 hours, we were hit with two Category 4 severe tropical cyclones, a 6.5 magnitude earthquake and its 5.4 magnitude aftershock.
My nation is no stranger to cyclones, yet there is a dramatic irony in the timing of these twin storm systems.
In the hours between Cyclone Judy and Cyclone Kevin wreaking havoc on our islands, my government led a 105-strong coalition of nations in securing a historic motion to ask the International Court of Justice to define what legal responsibility countries have for our changing climate and its impacts – impacts we were facing the very moment the motion was finalized.
The wreckage of cyclones is haunting. The home where you have just had family dinner is flattened. Your child's school is flooded and pierced with fallen trees. The roads that connected your communities are broken and ripped from the land.
Cyclones are among the most destructive extreme weather events and, on a warming planet, cyclones are predicted to become even more intense and costly.
Around the world, there is evidence that the frequency and intensity of extreme weather events have already increased. The physical impacts of climate change are causing substantial damages and, in some cases, irreversible losses.
The loss and damage from climate change — whether it is from cyclones like those that hit New Zealand last month and my home country last week, flooding that engulfed parts of India and Bangladesh in May, or heat waves that gripped much of the United States and Europe last year - will only escalate with every fraction of warming.
When Category 5 Tropical Cyclone Pam hit Vanuatu in 2015, its damage was the equivalent of 64 % of our GDP, not to mention the trauma inflicted on those who lost livelihoods and loved ones.
We must end the short-sighted greed that threatens our success of staying within a 1.5oC temperature increase, a ceiling that the Intergovernmental Panel on Climate Change (IPCC) Synthesis Report, set to be released on March 20, will note is only possible with a fast and equitable phase-out of coal, oil and gas globally.
It is crystal clear that the primary cause of this crisis we now face is the fossil fuel industry, which is responsible for more than 75% of global greenhouse gas emissions.
The IPCC warns that only the most drastic cuts in carbon emissions from now would help prevent an even greater environmental disaster.
These conclusions are validated by other international institutions, such as the International Energy Agency (IEA), which highlights that a credible - and cheaper - pathway to 1.5 degrees Celsius is only possible with a fast reduction in fossil fuel production, and the U.N. Environment Programme (UNEP), whose Production Gap Report notes that we are now on track to produce 110% more fossil fuels by 2030 than the world can ever burn.
However, a significant gap persists between governments' climate plans and pledges, and the scale and pace of action needed.
It is clear that protecting our planet is not possible if the fossil fuel industry continues to open new fossil fuel projects, seeking record windfall profits with little regard for the near-term future of the Pacific and other vulnerable - and yet resilient - nations that contributed the least to the climate crisis.
The huge problem lies in that our governments are only regulating emissions, but not the fossil fuel production that ultimately causes those emissions.
There are very few policies that actually constrain fossil fuel production so there is a glaring gap, especially for a solution that matches the enormous scale of the problem. In fact, UNEP's Production Gap Report notes that we are now on track to produce 110% more fossil fuels by 2030 than the world can ever burn in order to stay below 1.5C.
This is why we need international mechanisms like the proposed Fossil Fuel Non-Proliferation Treaty to end the expansion of fossil fuels while phasing out existing production, while providing the global governance required to manage this transition in a way that is fair, fast and sufficiently financed.
I am proud to say that Vanuatu alongside our Pacific neighbour Tuvalu were the first nation states to formally take this proposal to the United Nations.
Our island nations hold almost no responsibility for causing the climate crisis yet are one of the most impacted and are carrying responsibility in leadership for finding solutions.
Despite the current State of Emergency in my home, this work cannot wait. Amid ongoing recovery efforts we are convening governments from across the Pacific in Port Vila this week at our second Pacific Ministerial Dialogue on the Pathways for the Global Just Transition.
As we here in Vanuatu rebuild following last week's devastation, we need world leaders to join hands with us in the Pacific and tackle the climate crisis at its source: by stopping coal, oil and gas expansion, planning a scale-down in production, and supporting a just transition to a low-carbon system that provides energy access and sustainable development for all.
Vanuatu calls on the world to stand with us to secure a future in which our children and grandchildren not only survive, but can thrive.
---
Any views expressed in this opinion piece are those of the author and not of Context or the Thomson Reuters Foundation.
---
Tags
Extreme weather

Climate inequality

Loss and damage
---