It's time to reset our approach to the global water crisis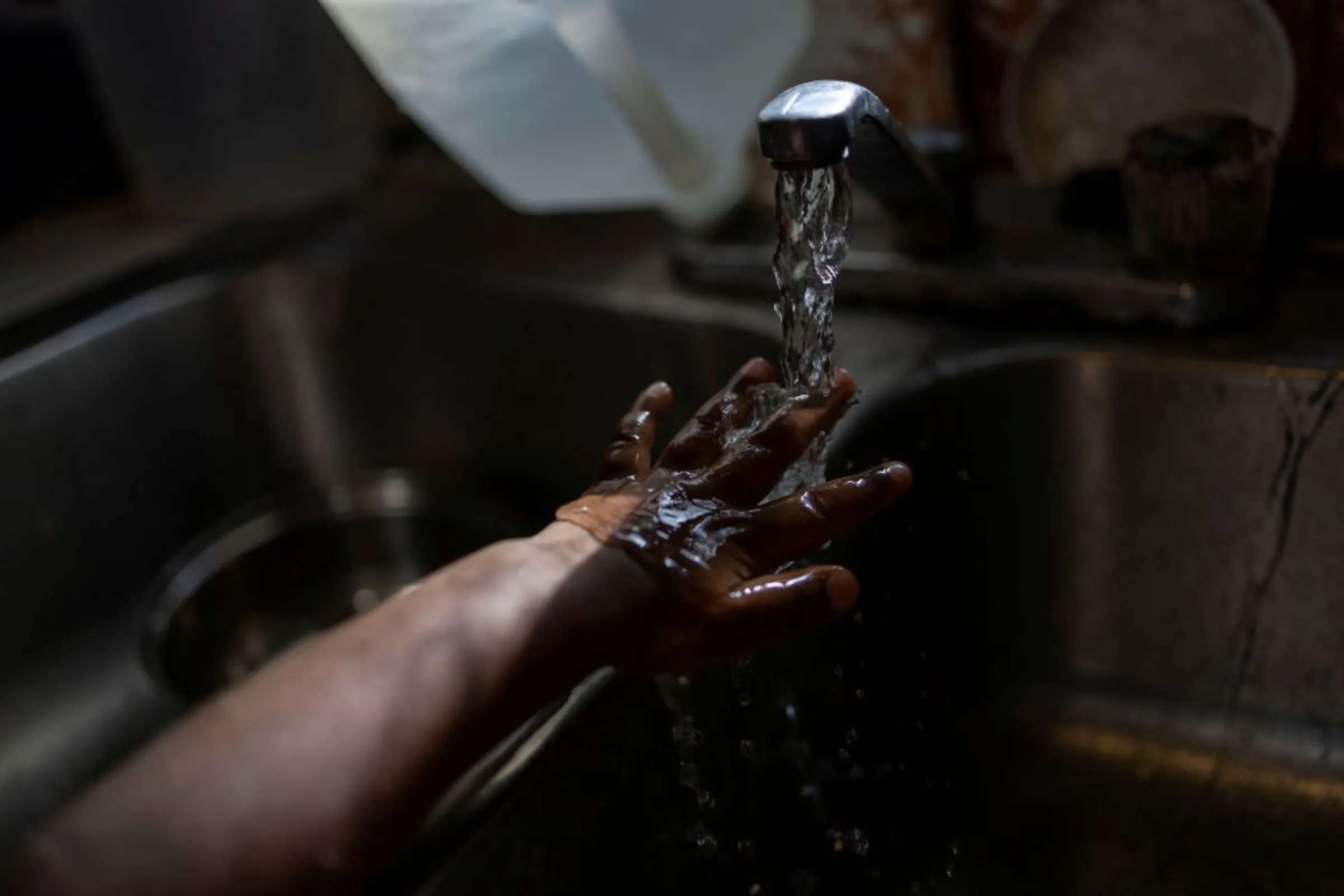 Water is seen running from a faucet as a youngster washes her hand in Jackson, Mississippi, U.S., September 2, 2022. REUTERS/Carlos Barria
Better water access and sanitation is a social and public good, and it needs investment
Alan Nicol is director for water, growth and inclusion at the International Water Management Institute. Lyla Mehta is a professorial fellow at the Institute of Development Studies.
The United Nations 2023 Water Conference takes place in New York this week, nearly five decades after the first conference in 1977. That first conference sought to avoid a global water crisis by the year 2000 and produced the Mar del Plata Action Plan - much of which remains relevant to this day.
But much more is needed for the next 50 years.
We now inhabit a world of semi-permanent water crises. Half a century of tumultuous social and political change has left us with systemic failure to act collectively on climate change, as well as spiralling social inequalities.
By a long shot, we have not even managed to provide the most basic water and sanitation services to many communities around the world, even though global GDP grew more than 10-fold during the same period, to nearly $100 trillion in 2022.
Despite decades of development, some 2 billion still live without safe drinking water and 4 billion lack safely-managed sanitation, while only 56% of domestic wastewater is safely treated.
Climate change, poverty and bad water management policies and practices exacerbate challenges faced, and leave the poorest and most marginalised extremely vulnerable. It is unacceptable that women and girls still spend hours a day waiting and working for water and for safe places to defecate.
Tellingly the upcoming UN conference is just for three days and hosted by two countries (the Netherlands and Tajikistan) in contrast to the COP meetings on climate change and World Committee for Food Security conferences.
Water and sanitation clearly need a stronger champion in the UN system, and their relevance in terms of food security, livelihoods and climate resilience need to be brought to the fore.
To reset our approach to water, global, state and private actors need to be held to account for daily exclusions from water and sanitation due to caste, class, race and ethnicity.
We also need collective action rooted in civil society working in partnership with public investment and a renewed emphasis on investment in water and sanitation – and water for food production – as a social and public good.
Markets and consumer-based approaches can take us so far, but ultimately public provision through stronger taxation delivering better public services has to be the future gold standard. The post Mar del Plata slide towards commercialisation and privatisation is no longer relevant to our current global situation.
Since the 1977 conference we have witnessed pressures to shrink the state's role in development, including in the water sector, through payments for water services, markets and privatisation.
There has also been a retreat from the 'water for all' slogan of the 1980s' UN Water Decade under which National Drinking Water Missions aimed to eradicate children carrying jerrycans over long distances and women crowding around water points.
The New Delhi statement of 1990 shifted to 'Some for All Rather than More for Some', and became a new mantra, perhaps in anticipation of privatisation trends to follow.
Under economic reforms, powerful multilateral actors led new water agendas away from investment in public bodies towards investment in individuals as consumers and markets as providers. Consumers became champions and their willingness to pay for services a central policy motif, even for some of the poorest.
The 1992 UN Earth Summit further shaped the policy agenda, building water into an 'economic good' under the Dublin Principles.
A new international architecture emerged with 'globalised' institutions promoting notions of water management at the 'lowest appropriate level' under an Integrated Water Resources Management paradigm – even if this became a poor fit for prevailing social and economic realities.
International water events became routine with Congresses, Forums and Weeks filling calendars and endorsing policy positions, alongside slow progress towards the UN Millennium Development Goals on water and sanitation and, more recently, the Sustainable Development Goals.
We now face a very different, more dangerous and uncertain world. Climate change-induced water system disruption is a recognised 'new normal' with a whopping more than 30% increase in atmospheric carbon since 1977.
We've learned some lesson in the past 50 years - most recently during the Covid-19 pandemic - but we now need to press the reset button and assess the unprecedented levels of risk facing humankind and the global environment in new ways.
Old assumptions about systems, markets and individuals need to give way to ideas of collective action, equality, gender and intersectional justice, social and public goods and collaboration.
Otherwise we face very uncertain water futures. The New York Water Conference 2023 is one opportunity to really stop and think. Let's use it.
---
Any views expressed in this opinion piece are those of the author and not of Context or the Thomson Reuters Foundation.
---
Tags
Climate policy

Climate inequality

Water
---