We are staring down the barrel of Europe's petro-colonial gun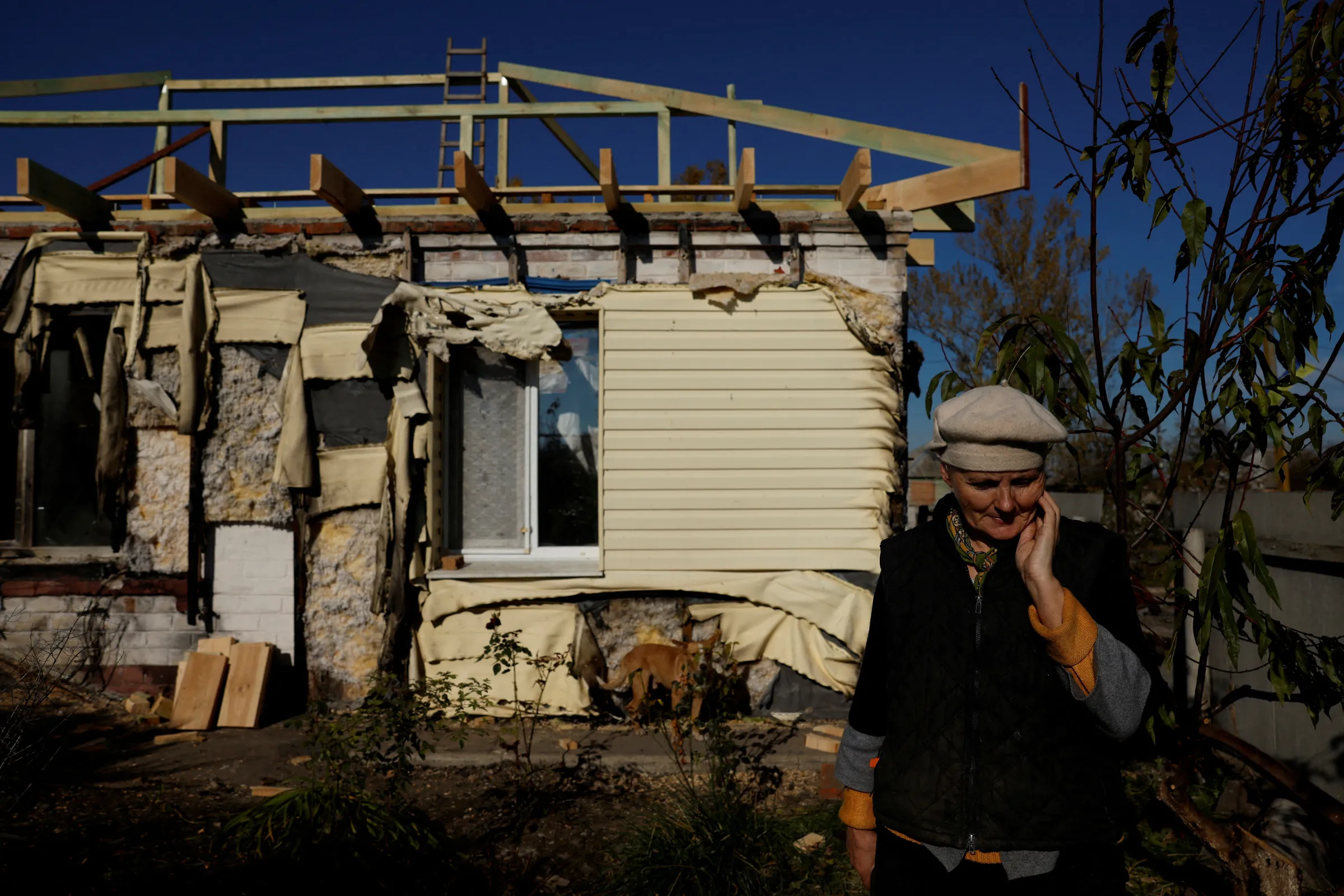 A women stands outside her home that was destroyed by a Russian grad rocket, which she is now trying to repair, after extensive damage by Russian strikes also cut electricity and gas in the whole village, amid Russia's attack on Ukraine, in Korobochkyne, Ukraine, October 17, 2022. REUTERS/Clodagh Kilcoyne
From Africa to Ukraine, the fossil fuel industry is sponsoring the climate emergency, and the deaths of millions. Europe must stop hunting for more gas and throw its weight behind the shift to renewable energy
Svitlana Romanko is the Founder and Director of Razom We Stand and Ina Maria Shikongo is a coordinator and co-founder of Fridays for Future Windhoek (FFFW).
We are two women staring down the barrel of the same gun. One pointed at all of us.
I, Ina Maria Shikongo, am a mother and a climate activist. I was born in a refugee camp in Angola. Angola was in the throes of a war which ran intermittently between 1975 and 2002, the result of Western vs Soviet geopolitics, funded and fueled by our global addiction to fossil fuels.
I went home to Namibia from former East Germany in 1990 after my country won its independence from apartheid as the Cold War thawed. Today a Canadian oil company, ReconAfrica, is drilling for oil and gas in the headwaters of the Okavango Delta, Africa's last great oasis. Now, Europe is relentlessly panic-shopping for fossil (so-called natural) gas up and down the continent.
I'm fighting to stop the destruction of my people, my country and the world. It is time to halt the global genocide wrought by oil and gas, and end petro-colonialism.
I, Svitlana Romanko, am a mother and a climate activist. I was born in Ukraine at the time of the Soviet Union, from which my country gained its independence in 1991. It has been in the throes of a devastating Russian invasion for over eight months. It is a war which has run intermittently since 2014 and is a result of Western vs Russian geopolitics, funded and fueled by our global addiction to oil and gas. Amid ghosts of the Cold War, I am now forced to live in a half-destroyed but remarkably resilient country. Meanwhile, as the world faces multiple crises as a result, the climate emergency remains relentless.
I fight to stop the destruction of my country, my people and the world by spreading the word on the interlinkage between fossil fuels and war, the latter being the ultimate weapon of mass destruction. It is time to put an end to all fossil fuels and stop petro-dictators.
We both intimately know the horror of fossil fuel-funded wars. The wars we have both experienced - and, thus far, which have orphaned one of us - are inextricably linked to oil and gas. Yet, since the invasion of Ukraine began, Europe has spent over €106bn on Russian fossil fuels, more than the totality of international military aid received by Ukraine.
Ironic as it may sound, European countries remain among the biggest financiers of Putin's regime. This absurd situation cannot and will not find a solution in the short-sightedness of replacing Russian gas dependency for gas from Algeria, Egypt, Angola, Senegal, Mozambique or the Republic of Congo. Europe cannot continue to solve its crises by exporting its problems.
Germany, Italy, Spain and France's apparent dash for gas on the African continent would undermine Africa's development by locking it into fossil fuel conflicts and debt to cover export-oriented gas production and the costs of these stranded assets in a world that is ultimately shifting away from this source of energy.
Net zero means no new fossil fuels
Surprisingly the International Energy Agency's (IEA) 10-point plan for the reduction of EU reliance on Russian gas released earlier this year failed to call for a moratorium on new exploration. Outlined steps included no new gas supply contracts with Russia, the acceleration of wind and solar projects, adding heat pumps and maximising low emission sources.
However in October, the IEA released its latest global report unequivocally stating "no one should imagine that Russia's invasion (of Ukraine) can justify a wave of new oil and gas infrastructure in a world that wants to reach net zero emissions by 2050." This report aligns with previous findings that a net-zero trajectory means no expansion of new gas or oil fields anywhere in the world but instead major investments in renewable energy.
Only sustainable, locally sourced energy, like wind and solar, can generate real sovereignty. The Global North must send the legacy of colonialism and dictators packing by refusing to finance new death-mongering projects. It is not just Putin's gas and oil which needs to be phased out immediately. It must ALL go.
If Europe chooses to invest now in new oil and gas, and expand fossil fuel infrastructure, the inevitable energy transition will mean stranded assets both in Europe and in Africa. In response, fossil gas could be potentially extolled as a green fuel and its shelf-life indefinitely extended. In fact, EU parliamentarians have done just that by voting to give "natural" gas a green label, in what can only be described as a travesty and betrayal of climate pledges.
Fossil gas will not save Europe or the rest of the world. We have communicated as much to EU institutions and the national governments of France, Germany, Italy and Spain, by co-signing a letter with hundreds of organisations, scientists and celebrities delivered ahead of COP27.
Politicians continue to tout national interests at international climate conferences like the UN's COPs as people die in wars sponsored by oil and gas on an ever-heating planet. With the upcoming COP27 hosted by Egypt and COP28 by United Arab Emirates (UAE), both significant petro-states, their presidencies can play roles in ushering in an oil and gas debate.
One possible route would be to advocate for compensating loss and damage to countries and regions affected by fossil fuel-financed wars and the increasingly savage onslaught of the climate emergency. This must include rebuilding a green Ukraine along with increased support for high-level international initiatives like the Fossil Fuel Non-Proliferation Treaty (FFNPT) and Beyond Oil and Gas (BOGA), as well as tripling financing for a global green transition.
What we need is a just and equitable renewables revolution. This would require redressing the loss and damage to the most vulnerable states, including African countries and Ukraine, generated by decades of extraction and war. Providing support to those countries, which have contributed least to our sorry state-of-affairs but bear the brunt of the consequences, is crucial for our planet to heal.
For Europe to prosper, it must begin by encouraging clean and sustainable development, not just at home but beyond. Whether you are in Kyiv, Windhoek, or Berlin, only once the greedy immorality of petro-colonialism is defeated can we conquer the weaponisation of energy and make real inroads into finding solutions for energy sovereignty, as well as the climate and ecological emergency.
---
Any views expressed in this opinion piece are those of the author and not of Context or the Thomson Reuters Foundation.
---
Tags
Fossil fuels
Climate inequality
Energy access
---