Are 'sponge cities' enough to curb climate-fuelled floods?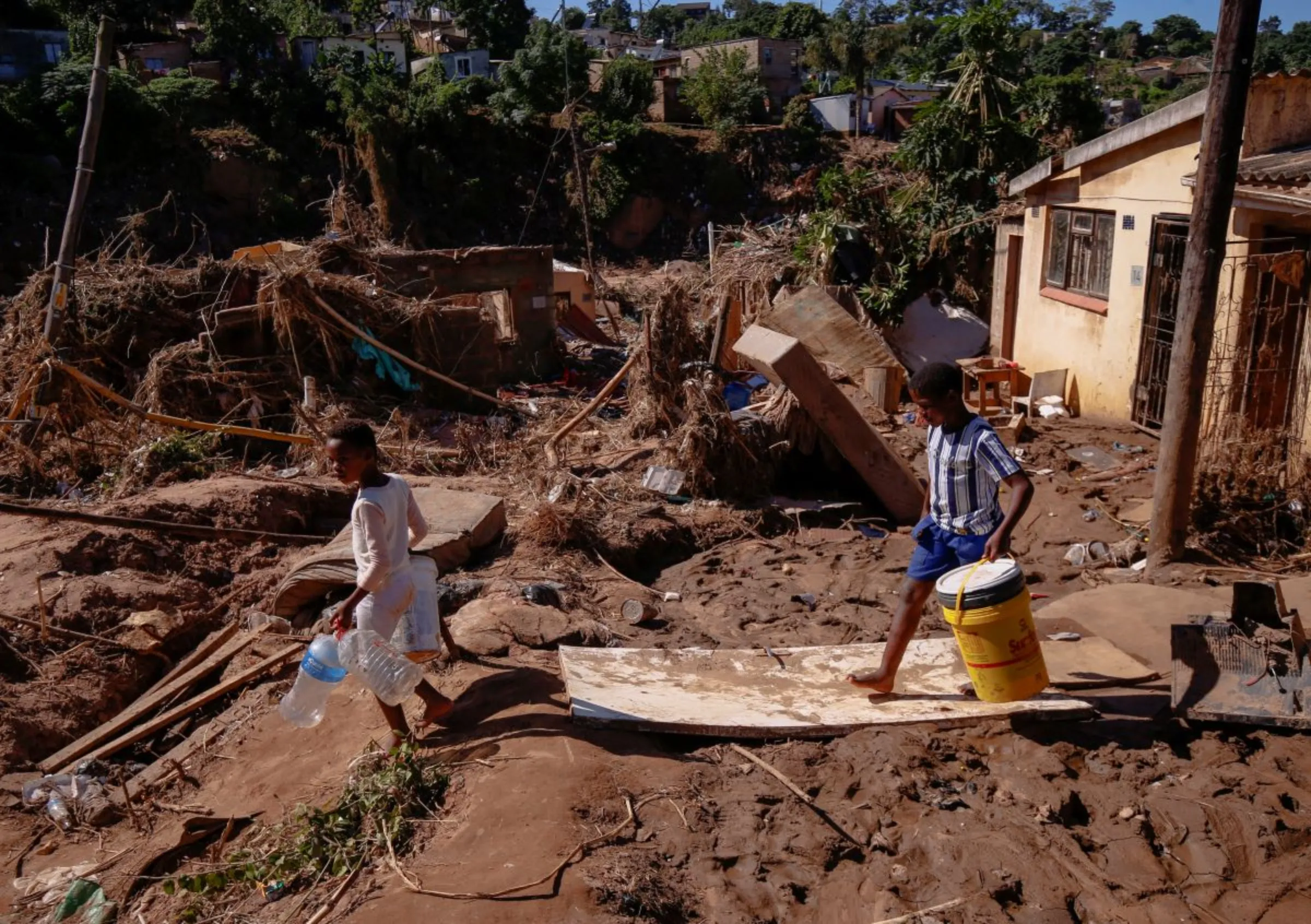 Children walk next to damaged houses to collect water after heavy rains caused flooding in Ntuzuma near Durban, South Africa, April 20, 2022. REUTERS/Rogan Ward
What's the context?
A city's rivers and parks help store water in times of droughts and floods - but other measures are also key to urban resilience
Water experts spotlight nature as a buffer against floods
Urban 'sponginess' seen as key, but just a starting point
Public messaging a vital part of cities' resilience plans
JOHANNESBURG - With its coastal forests, sugarcane farms and sweeping beaches, South Africa's Durban might appear to be an ideal "spongy" city - one capable of absorbing water, which can be useful in combatting both flood disasters and drought.
But when flooding hit Durban in April last year, it destroyed homes, damaged roads and bridges, and washed away entire families - leaving the city with a death toll of more than 500.
One year after the city's devastating floods, green experts are highlighting the importance of using what cities already have - such as parks and rivers - to reduce risks, and figuring out what else they need to be as resilient as possible as climate change threats intensify.
A city's ability to absorb water - referred to as its "sponginess" - is one key to withstanding climate shocks, environmental researchers say, with sponginess dependent on the amount of greenery and other water storage available.
But sponginess is just a starting point, they say, noting that policies, funding and infrastructure to protect communities are equally important in building resilience against future weather-related disasters.
That includes things like prioritising better drainage, improving urban planning and public messaging, and ensuring good governance is in place.
"You can have as much sponginess as you want, but if people are forced to live within flood plains, (their homes) are going to be damaged," said Matthew Phillips, a senior water engineer with global design firm Arup, which does research on the issue.
From the ongoing drought in Somalia to recent flooding in Indonesia, experts warn that such natural disasters will become more frequent as emissions from burning fossil fuels such as gas, oil and coal keep rising.
"Floods will come, and cities need to do everything they can to prepare for them," Phillips said in an interview.
Nature-based solutions
The term "sponge cities" was coined in 2013 by Kongjian Yu - an architect and professor at Peking University - to describe cities using nature-based solutions to absorb and retain water, as opposed to concrete infrastructure to channel it away.
Design firm Arup uses satellite imagery, artificial intelligence and machine learning to calculate a city's "sponginess" rating - ranging from 1% to 100%.
The company calculates how much urban surface area is covered by 'blue and green infrastructure' - including grass, trees, ponds and lakes - and how much is covered in 'grey infrastructure', such as concrete, pavement and buildings.
Its digital mapping tool allows cities to gauge the best use of available space - from rainwater harvesting to ponds and inner-city gardens - to boost sponginess, and to determine the risks of not doing so.
Arup's most recent sponginess report - from 2022 - examined five African cities - Cairo, Durban, Kigali, Lagos and Nairobi - with Durban earning the second sponginess rating at 40%.
By comparison, more developed and wealthy cities such as London and Sydney scored 22% and 18% respectively.
Cities with more high-rise buildings, tarmac roads and pavements have often expanded and urbanised at the expense of their natural resources, climate experts say. Developing cities, meanwhile, have the potential to grow while preserving nature.
Natural ways of absorbing urban water are about 50% more economical than man-made solutions, and are 28% more effective, according to research by Arup and the World Economic Forum.
Vegetation and housing
Despite the spotlight on natural infrastructure, experts at Arup stress that sponginess levels should be seen only as a starting point for evaluating a city's climate resilience.
For instance, "not all green is good green" Phillips said.
Non-native plant species can end up absorbing more water than indigenous plants - but that can lead to low water availability during times of drought.
When Durban flooded last April, alien plants with a very shallow root system ripped up soil in the river corridors, eventually blocking the downstream drains and roads, he said.
The local municipality is now working with communities to remove non-native plant species and litter from about 7,400 km of river banks so that the river is able to absorb more water.
Another important resilience factor for governments to consider is housing and infrastructure, said Arup's researchers.
The Durban floods displaced about 40,000 people as many informally built homes were washed away by nearby rivers, swallowed by soft sand, or collapsed down steep slopes nearby.
"We built our homes where our families were living, where we could find land," said Nozipho Sithole, a survivor of the floods whose home in Ntuzuma in
Durban, some 20 km north of the city centre, was washed away.
Wetlands and water cuts
Arup researchers have pinpointed about 1,600 factors that help or hinder water resilience, including leadership, finances, governance, infrastructure and healthy ecosystems, as part of efforts to build guidelines to help cities implement resilience plans.
Arup has used these guidelines to help cities such as New York implement physical innovations such as rain gardens and permeable pavements to better absorb flood water.
Other solutions focus more on communication.
Working with Cape Town in 2018, when it faced drought so extreme that the taps nearly ran dry, Arup started a conversation between the city and Miami, which was experiencing flooding at the time.
Cape Town had launched a messaging strategy that informed the population of shrinking reservoir levels and daily water conservation tips to avoid "Day Zero" - the day when taps would run dry and residents would all have to queue for water.
Used alongside water tariffs and a ban on filling pools and watering lawns, the "Day Zero" strategy was seen as a success - with residents cutting back water consumption by almost 60% and the worst-case scenario avoided, according to Cape Town city data.
Connecting the two cities helped Miami develop a similar communications strategy to inform citizens of its resilience plan, including emergency strategies and funding decisions, as the city faces rising sea levels.
"We started having really open and rich conversations between cities," said Martin Shouler, a London-based lead water engineer at Arup.
"It's not always about building a big reservoir. It's sometimes simpler than that. That's why as engineers we are also working with social and behavioural scientists," said Shouler.
Having worked in more than 17 cities, Arup researchers are encouraging citizens and governments to prioritise strategies tailor-made to suit each city's profile, such as where to build homes, and which vegetation to remove and which to protect.
"Sponginess is the first piece of the puzzle ... but it is all those other elements together that build up more resilience," said Shouler.
(Reporting by Kim Harrisberg; Editing by Kieran Guilbert and Laurie Goering)
---
---
Tags
Extreme weather

Adaptation

Net-zero

Loss and damage

Biodiversity

Communicating climate change

Water

Climate solutions
---