Greta Thunberg's rise from youth activist to global climate leader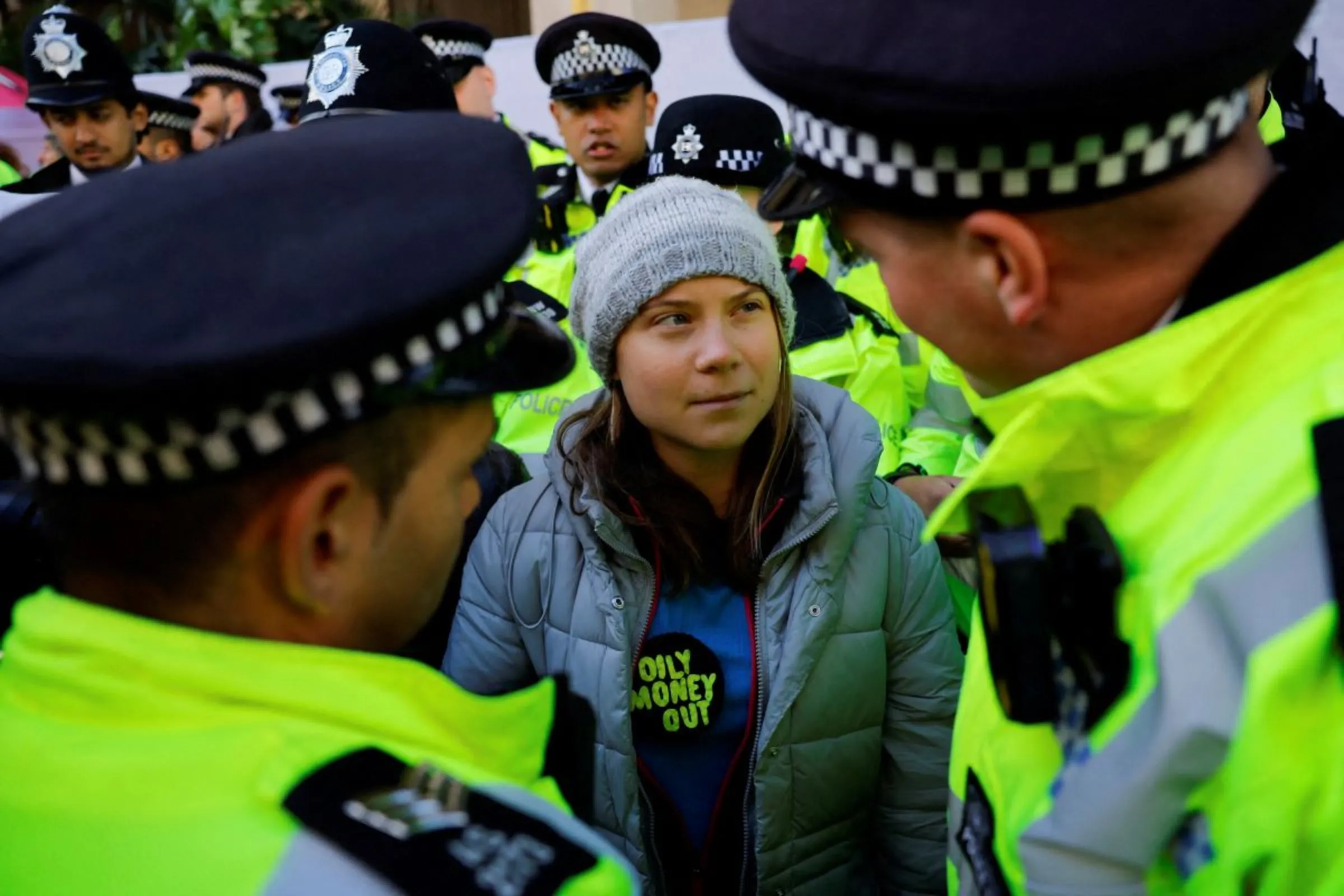 Swedish climate campaigner Greta Thunberg is detained during an Oily Money Out and Fossil Free London protest in London, Britain, October 17, 2023. REUTERS/Clodagh Kilcoyne
What's the context?
Climate campaigner Great Thunberg has pleaded not guilty to a public order offence after she was detained in a London protest
Greta Thunberg pleads not guilty to public order offence
She was detained outside London oil conference
Thunberg fined twice for disobeying Swedish police orders
LONDON - Climate activist Greta Thunberg pleaded not guilty in a British court on Wednesday to a public order charge after she was arrested at an environmental rally in London last month.
Police detained Thunberg, 20, and dozens of protesters on Oct. 17 and charged them with failing to comply with conditions they imposed to prevent "serious disruption to the community, hotel and guests".
Thunberg and four other protesters all pleaded not guilty and were granted unconditional bail ahead of their trial set to start on Feb. 1 next year. If found guilty, they could be fined.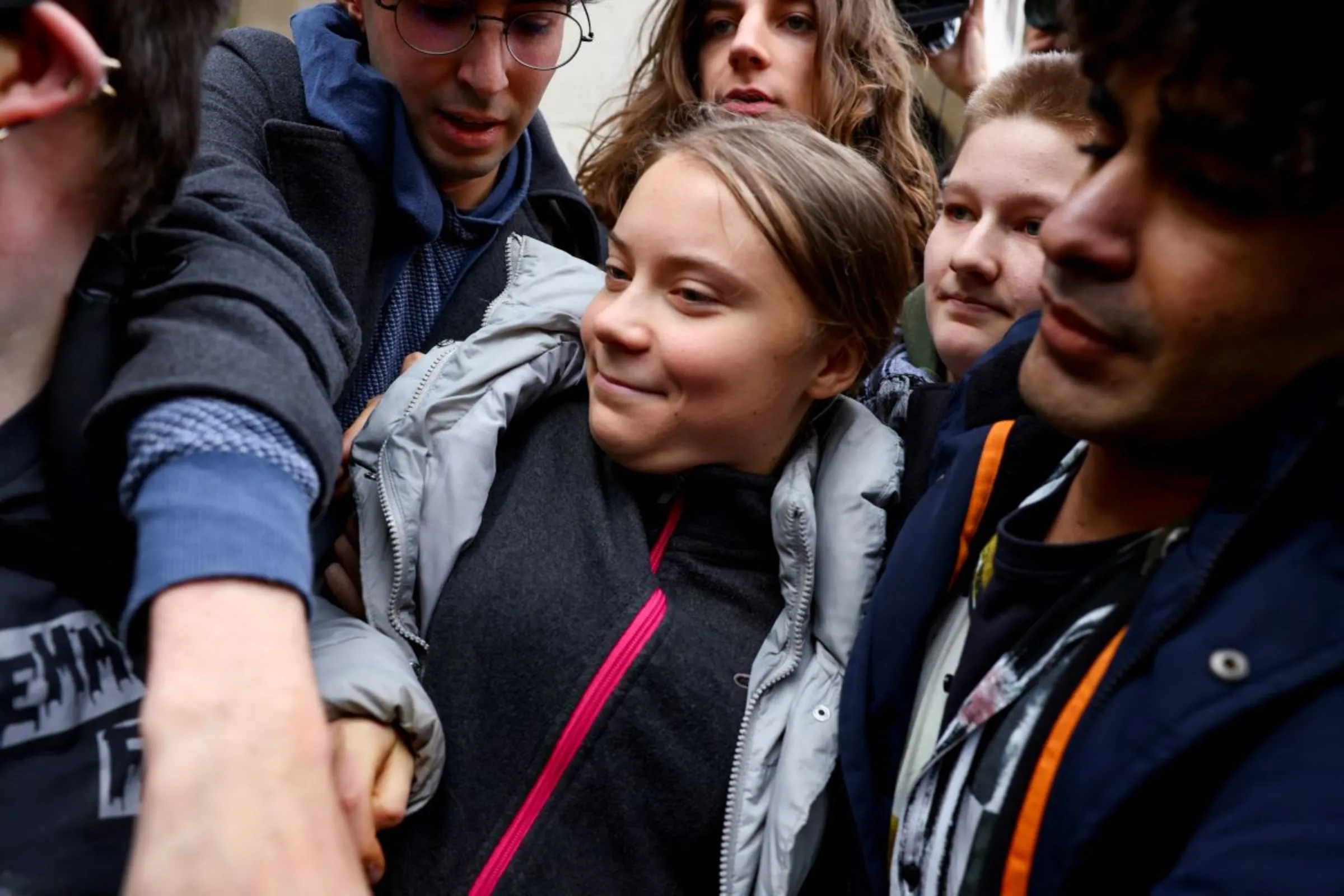 Thunberg, who rose to fame in 2018 when she organised school walkouts to protest inaction on climate change, has been detained by police or removed from protests in Sweden, Norway and Germany this year, and she has twice been found guilty of disobeying police orders.
Here's a timeline of Thunberg's rise from solo climate striker to leading global campaigner:
August 20, 2018: Swedish student Thunberg, aged 15, skips school to protest outside parliament for more action against climate change.
August 26, 2018: She is joined by fellow students, teachers and parents at another protest and begins attracting media attention for her climate campaign.
September 2018: Thunberg begins a regular 'strike' from classes every Friday to protest climate issues. She invites other students to join her weekly "Fridays for Future" campaign by staging walkouts at their own schools.
November 2018: More than 17,000 students in 24 countries take part in Friday school strikes. Thunberg begins speaking at high-profile events across Europe, including U.N. climate talks in Poland.
March 2019: Thunberg is nominated for a Nobel Peace Prize. The number of students taking part in school strikes hits more than 2 million people across 135 countries.
May 2019: Thunberg is named one of the world's most influential people by Time magazine, appearing on its cover. "Now I am speaking to the whole world," she wrote on Twitter.
August 1, 2019: Thunberg hits back at "hate and conspiracy campaigns" after attacks by some right-wing lawmakers and commentators who questioned her credibility and described her as a "Nobel prize of fear".
August 2019: Thunberg, who refuses to fly, sails from Britain to the United States in a zero-emissions boat to take part in a U.N. climate summit. Meanwhile, the number of climate strikers reaches 3.6 million people across 169 countries.
September 23, 2019: Thunberg delivers a blistering speech to leaders at the U.N. summit, accusing them of having "stolen my dreams and my childhood with your empty words".
September 25, 2019: Thunberg is named as one of four winners of the 2019 Right Livelihood Award, known as Sweden's alternative Nobel Prize.
October 11, 2019: Despite being bookies' favourite to win, Thunberg misses out of the Nobel Peace Prize which goes to Ethiopian Prime Minister Abiy Ahmed.
November 2019: Caught out by a last-minute switch of location for U.N. climate talks from Chile to Spain, Thunberg hitches a ride on a catamaran boat crossing back to Europe.
December 11, 2019: Thunberg denounces "clever accounting and creative PR" to mask a lack of real action on climate change in a speech at the U.N. COP25 summit as the 16-year-old became the youngest individual to be Time Magazine's person of the year.
March 13, 2020: As governments limit or ban mass gatherings to stem the spread of the new coronavirus, Thunberg urges students to make week 82 of the school strike digital, with the hashtag #ClimateStrikeOnline.
March 24, 2020: Thunberg says the swift measures brought in to stem the coronavirus pandemic show that the world can also take the rapid action needed to curb climate change. She also says on social media that she may have caught COVID-19.
April 30, 2020: Thunberg donates a $100,000 award she received to UNICEF to buy soap, masks and gloves to protect children from the coronavirus pandemic.
July 20, 2020: Thunberg wins the first Gulbenkian Prize for Humanity and donates the 1 million euro prize money to charitable organisations.
January 31, 2021: Thunberg is again nominated for the Nobel Peace Prize, along with Russian dissident Alexei Navalny, the World Health Organization.
April 9, 2021: The activist says she will not attend COP26 in Glasgow, due to run Nov. 1-12, because of concerns over vaccine inequality - but later changes her mind after the UK government offers to vaccinate all participants against COVID-19.
April 19, 2021: Thunberg says her foundation will give 100,000 euros ($120,000) to the WHO Foundation to support the COVAX vaccine-sharing scheme.
November 2, 2021: Protesting outside the COP26 climate talks in Glasgow, Thunberg says world leaders have "led us nowhere" and it is up to civil activists to bring about change.
"Change won't come from these conferences like #COP26 unless there is big public pressure from the outside," she tweeted.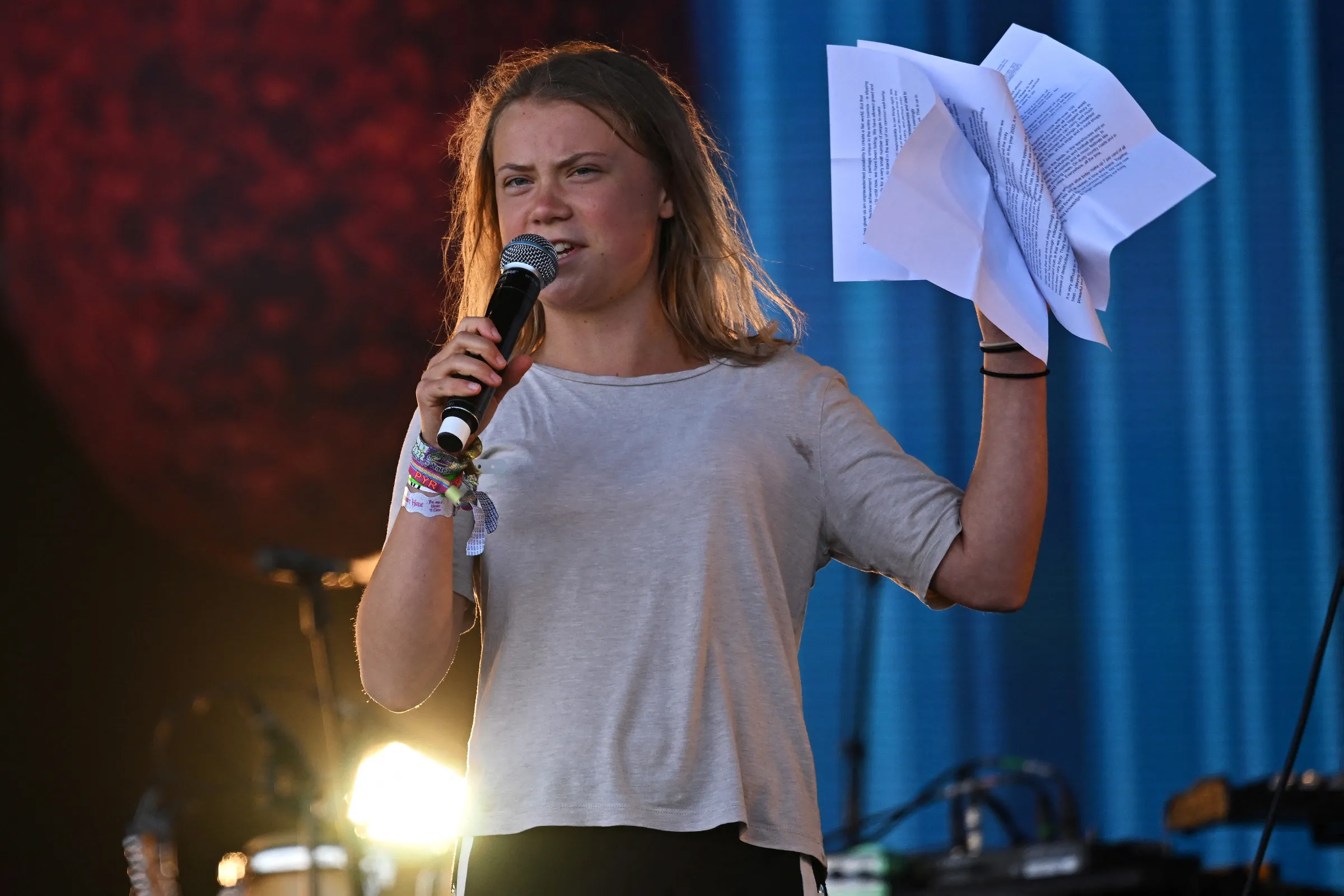 June 25, 2022: Festival-goers welcome Thunberg on stage at Britain's Glastonbury festival during a surprise appearance.
Sept. 6, 2022: Before Sweden's election on Sept. 11, Thunberg accuses politicians of not treating the climate crisis as a life-or-death threat.
October 27, 2022: Thunberg publishes The Climate Book, which includes essays from more than 100 experts, including scientists, activists and Indigenous leaders.
October 30, 2022: A week before the U.N. COP27 climate summit, Thunberg says it is an opportunity for "greenwashing, lying and cheating" and she will not attend the conference.
December 29, 2022: Internet influencer Andrew Tate is arrested by Romanian police shortly after a viral Twitter spat with Thunberg. Social media users speculate his posts helped reveal his location - though police said they were unrelated.
January 13, 2023: Thunberg joins demonstrators in Germany to protest against the expansion of a lignite coal mine.
January 18, 2023: Thunberg says climate protest is not a crime after she was briefly detained for joining a demo opposing the demolition of a German village to make way for a coal mine.
February 27, 2023: Thunberg joins hundreds of protesters blocking the entrances to government buildings in Oslo, to oppose the use of Indigenous land for wind turbines.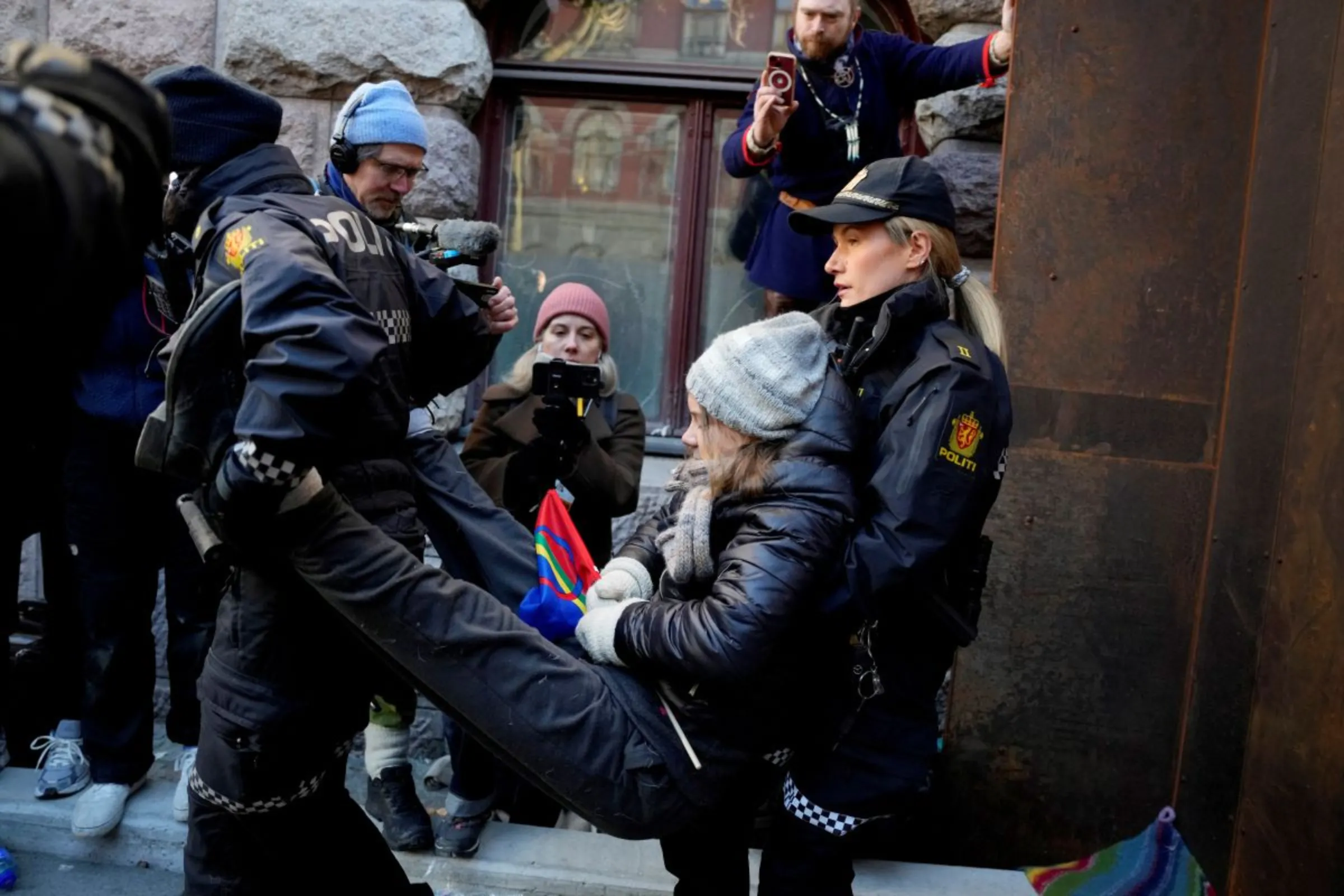 March 1, 2023: Thunberg is detained twice during a demonstration outside Norwegian government buildings.
June 9, 2023: Thunberg graduates from school and says she is taking part in her last school strike for climate although she will continue to hold weekly protests.
July 24, 2023: Thunberg is convicted in Sweden and fined for disobeying a police order to leave a protest in June, but is at another protest hours later before being removed by police.
July 28, 2023: Thunberg joins activists urging the British government to ditch its planned Rosebank oil field project.
Oct. 11, 2023: A Swedish court fines Thunberg a second time for disobeying police orders to leave a protest on July 24.
Oct. 17, 2023: Dozens of protesters, including Thunberg, are detained for obstructing the entrance to the Energy Intelligence Forum - an oil and gas conference - in central London.
Oct. 18, 2023: British police charge Thunberg with a public order offence during a protest in central London.
Nov. 15, 2023: Thunberg appeared in British court and pleaded not guilty to the offence on Oct. 17.
This article was updated on November 15, 2023 at 16:00 GMT to include Thunberg's appearance in British court.
(Reporting by Axelle Rescourio and Beatrice Tridimas; Editing by Sonia Elks, Helen Popper and Jon Hemming)
---
---
Tags
Climate policy

Youth climate movement

Communicating climate change
---