Heatwaves in India drive leading clean-energy state back to coal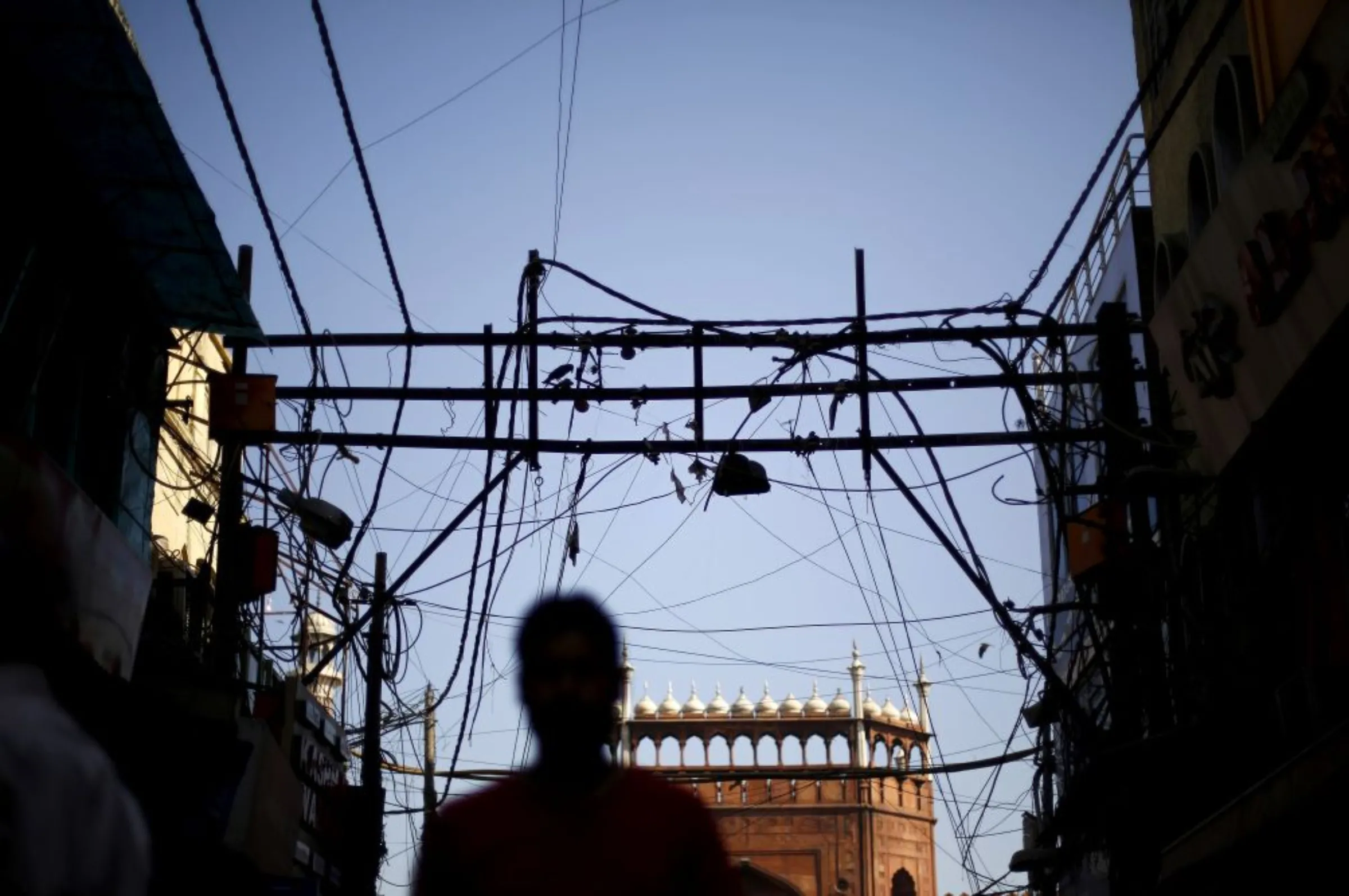 A man is silhouetted against the backdrop of Jama Masjid (Grand Mosque) as overhead power cables are seen in the old quarters of Delhi, India, September 10, 2015. REUTERS/Adnan Abidi
What's the context?
India is building renewables capacity but Karnataka is consuming more coal to meet growing power demand during hotter summers
Karnataka state seen best-prepared for energy transition
Solar and wind intermittent sources due to lack of storage
As extreme heat pushes up power demand, coal use rises
MUMBAI - A windy monsoon in Karnataka, India's leading state for clean energy production, last year eased pressure on the local government's three thermal coal-power plants, as humming wind turbines met power demand amid pleasant temperatures.
But to tackle this year's hot, energy-guzzling summer, with city-dwellers ramping up their use of air-conditioners and farmers their water pumps to combat heatwaves and above-normal temperatures, the coal-fed plants are now running full throttle.
The south Indian state's maximum day-time temperature has been hovering three to four degrees Celsius above the 36-40C that is usual at this time of year, weather officials said.
Recently praised by researchers for its preparedness for the energy transition, Karnataka's situation foretells the challenge facing India as the planet warms: the need to fall back on coal as the only reliable fuel despite a growing clean energy supply.
India has set a target for 500 gigawatts (GW) of renewable energy capacity by 2030 - also the year by which the country's coal demand is estimated to rise by 60%, to up to 1.5 billion tonnes, to meet growing electricity needs.
On April 19, when the top temperature in the state touched 41.5C, Karnataka recorded its highest-ever power consumption on a single day, at 309 million units, officials said.
Kapil Mohan, additional chief secretary with Karnataka's energy department, described April as the "peak summer month" with record temperatures and high power consumption.
Solar energy production is plentiful during summer, but wind power tends to decrease and hydropower reservoirs go dry, he added.
"Our dependence on fossil fuel in the energy sector is not going to drastically come down," he said. "My energy surplus is not constant and I need to supply power round-the-clock."
He noted that solutions to expand clean energy storage would be required to speed up a transition to renewables.
Karnataka, whose capital city Bengaluru is known globally as India's Silicon Valley, has installed massive solar parks and windmills that have helped the state surpass its renewable capacity target of 14.8GW set by the federal government last year.
In a recent study, the Institute for Energy Economics and Financial Analysis (IEEFA) compared the preparedness of 16 Indian states for an energy transition, rating Karnataka as the top performer and a role model for other Indian states.
"Renewable energy in Karnataka accounts for 48% of its power mix, and with more storage capacity coming in, the dependency on coal as a flexible resource will reduce," said report co-author and IEEFA energy analyst Saloni Sachdeva Michael.
But reliance on coal will continue for some time as the renewable energy supply is still intermittent, she noted.
"We cannot switch thermal off. This will be a gradual transition," she said.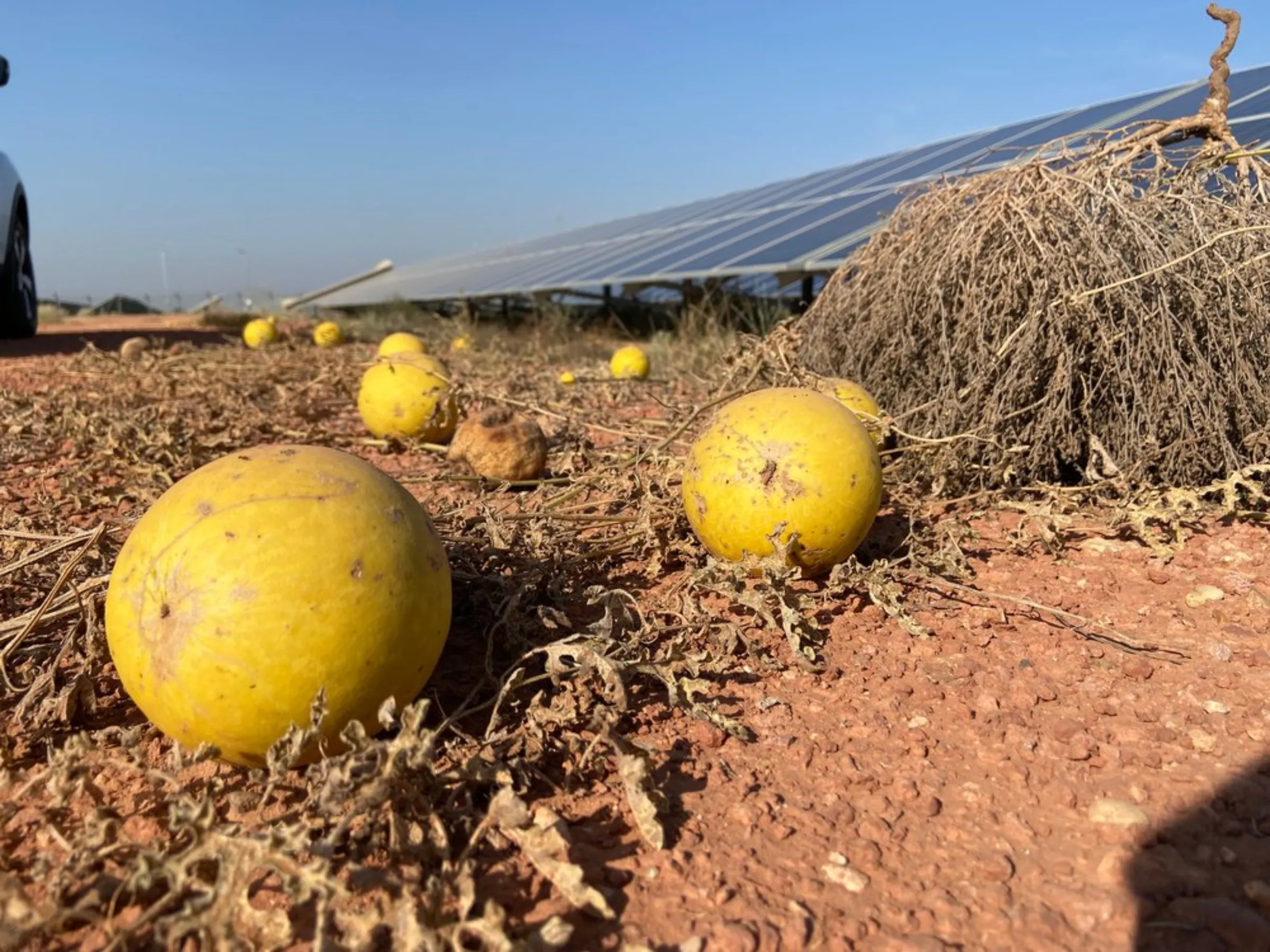 Huge solar park
Naranaiah Amaranath, chief executive officer of the Karnataka Solar Power Development Corporation Ltd, recalled a time when solar power was not taken seriously - but three decades on, it has become a major power source.
The Pavagada Solar Park, one of the world's largest in capacity, became operational in 2019.
Power generation at thermal plants dropped soon after, with solar power used during the day and coal-fired plants deployed to meet demand during peak morning and evening hours.
Thanks to solar, farmers started receiving an uninterrupted power supply for up to seven hours - a pipedream for years - instead of stints of three to four hours, officials said.
"This is a dry land and farmers depend on borewells to draw water to irrigate their crops for which they use water pumps," said Govinda Gowda, who heads a farm science centre in Karnataka's Tumkur district. "Frequent power cuts affected productivity as crops were lost for lack of proper irrigation."
With a steadier power supply, yields in the district - where most farmers grow red gram, finger millet and coconut - have improved in the past four years by 10%, noted Gowda.
The state can now run entirely on renewable energy for a few days a year during the peak wind season from July to September.
Globally, the International Energy Agency projects that renewables will account for over 90% of electricity expansion worldwide in the next five years, overtaking coal to become the largest source of electricity by early 2025.
But the reliability of Karnataka's clean energy supply depends on the weather and is being interrupted by temperature spikes, as increasingly hot summers push power demand beyond the level that renewables can supply in the absence of storage.
The state is investing in pumped storage using hydro - pumping water up to higher levels when power is cheap and releasing it at times of peak demand.
But without sufficient clean energy storage, it still needs to keep coal-fired plants on standby, as thermal capacity is flexible and can be switched on and off as the supply from renewable sources fluctuates, said energy bureaucrat Mohan.
With India's coal use not expected to peak until 2030-2035, the government has been reluctant to sign up for a Just Energy Transition Partnership with rich nations, which would hinge on it committing to a more rapid coal phase-out.
The country is instead seeking international funding to strengthen its renewable grid and storage infrastructure, which would help it transition to clean energy faster, according to energy analysts.
New highs for coal
The 1,700-megawatt Bellary thermal plant in Karnataka saw demand for its power drop to a rare low in 2020 owing to pandemic lockdowns and the Pavagada solar park coming online.
But last year, the plant's coal consumption shot up to 5.5 million tonnes from 1.9 million tonnes in 2020, and its power generation jumped to about 7 billion units from 3 billion units, data from the plant showed.
Venkata Chalapathi, Bellary's executive director, noted that until 2017-18 the plant operated at 70-100% of its capacity, but after renewables kicked in, thermal power generation began to fall. That has now reversed as overall demand rises, he said.
The pattern in Karnataka reflects the wider picture for coal in India, analysts said.
The federal coal ministry last year forecast an upward trend in coal demand, with about 1.45 billion tonnes projected for the 2029-30 financial year, up from 956 million tonnes in 2019-20, to meet peak power requirements.
Sankar Mukhopadhyay, head of the Asia Institute of Power Management, a training and consultancy organisation, said India would continue to need coal despite growing renewables capacity, to ensure stable, affordable and flexible power generation.
"Unless there is a disruptive technology like hydrogen and it is as economical as coal, we can't think of replacing coal for at least 20 years," he said.
(Reporting by Roli Srivastava; editing by Megan Rowling)
---
---
Tags
Clean power

Energy efficiency

Net-zero

Energy access

Climate solutions
---