Small-scale farmers feed the world, but we are at a breaking point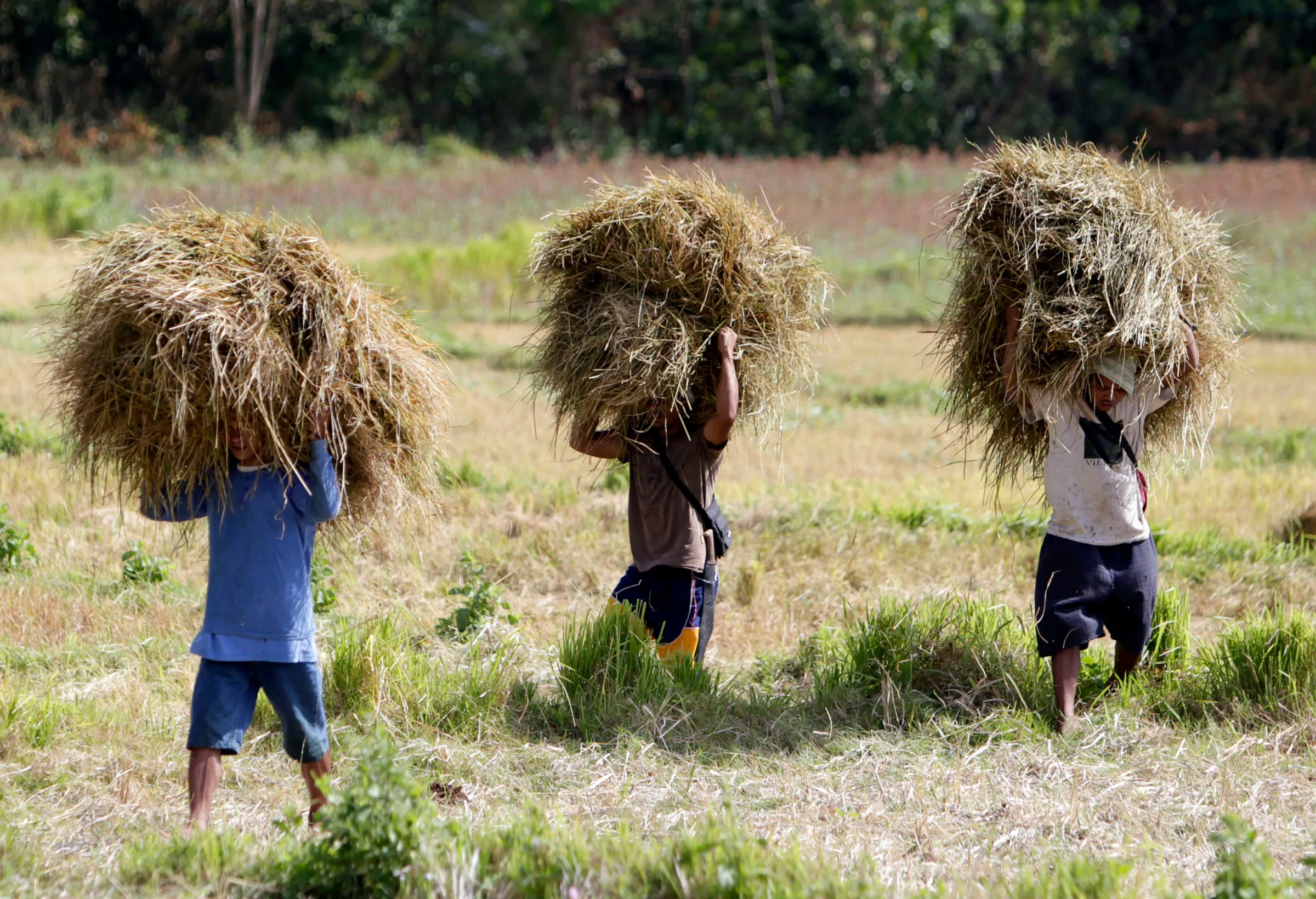 Farmers carry hay for animal feed on their heads at a farm in Magsaysay, Occidental Mindoro in central Philippines February 23, 2013. REUTERS/Erik De Castro
COP27 put food on the menu, but family farmers need more support as they suffer most from climate change's impacts
Estrella Penunia is Secretary General of the Asian Farmers' Association for Sustainable Rural Development, which represents 13 million family farmers across 16 countries.
COP27 opened in the middle of a global food crisis and followed months of extreme floods, drought and heat which have damaged harvests across the globe. Food and agriculture have never been higher on the climate agenda and, as I left my farm in the uplands of the Philippines, I had high hopes that decision-makers would finally give it the attention it deserved.
During my two weeks in Egypt, I felt frustrated by the creeping pace of negotiations, but today I return home encouraged that some small progress that has been made.
As Secretary General of the Asian Farmers' Association for Sustainable Rural Development, I carry the voices of 13 million family farmers across Asia including fishers, pastoralists, and forest producers. Every day I see that it's small-scale food producers like our members who keep the world fed. I also see the toll which climate change is taking. In the last few months, my own country has been battered by three strong storms which have felled banana trees and destroyed rice paddies – leaving farmers with mounting debts and little to harvest.
Governments are starting to see this too. The Koronivia Dialogue – where food and agriculture is discussed in the United Nations negotiations – acknowledged that farmers, and especially small-scale farmers, are severely impacted by the climate crisis and need much more support.
Governments also recognised the need for more sustainable food production but – in a blow for food producers and food security – stopped short of financially backing a shift to 'agroecological' farming.
Agroecological approaches promote more diverse food production, a reduction in the use of harmful chemical inputs, and the creation of farmer cooperatives with strong connections to local markets. The expertise accumulated by farmers over generations, and the conclusion of the International Panel on Climate Change, is that it is exactly these kinds of approaches that are key to maintaining food security in a changing climate, as well as reducing the climate and environmental impacts of the food we eat.
While the number of delegates representing big agri-business has doubled since the Glasgow Climate Summit, inadequate representation of small-scale producers remains a concern. Together we produce as much as 80% of the food consumed in regions like Asia and sub-Saharan Africa but we struggle to get our voices heard. It's why we published an open letter from organisations representing 350 million family farmers, calling on world leaders to work with us to build a stronger food system.
The big achievement in Egypt was a commitment to set up a new finance facility to help vulnerable countries deal with the loss and damage caused by the climate crisis by COP28. This is critical – the IPCC estimates that, even with rapid emissions reductions, 8% of current crop and livestock areas will become unsuitable for food production by the end of the century.
However, rich countries still haven't delivered the $100 billion a year promised in adaptation finance and small-scale producers receive a fraction of the funding that is available. In 2018 we received just 1.7% of global finance flows – just $10 billion compared to the $240 billion which is needed.
Undoubtedly the biggest failure of COP27 was the lack of action on emissions reductions. Without rapid and ambitious cuts across all sectors of the economy – including the food system which accounts for a third of all emissions – the future for food production, and humanity, looks bleak.
The decisions made in Egypt are important but it's crucial that the conversation does not end there. The farmers in our networks are at breaking point. We cannot wait for the next U.N. Climate Summit 12 months down the road in the United Arab Emirates. The work to transform the food system must start now in national capitals and communities around the globe.
There are two priorities. First, governments must shift the $611 billion in subsidies they spend supporting food production each year away from farming practices that are harmful to people and the climate and towards small-scale producers and agroecological farming. Second, they must ensure that small-scale, family farmers have a real say in the decisions which affect their lives.
Family farmers are one of the greatest tools in humanity's arsenal to fight climate change, solve the hunger crisis, and create thriving rural communities. But that will only happen if political leaders work with us as equal partners to lay the foundations for a stronger, more sustainable food system that can feed humanity for generations to come.
---
Any views expressed in this opinion piece are those of the author and not of Context or the Thomson Reuters Foundation.
---
Tags
Extreme weather

Adaptation

Agriculture and farming
---