Food system reform is crucial for the climate, and for farmers too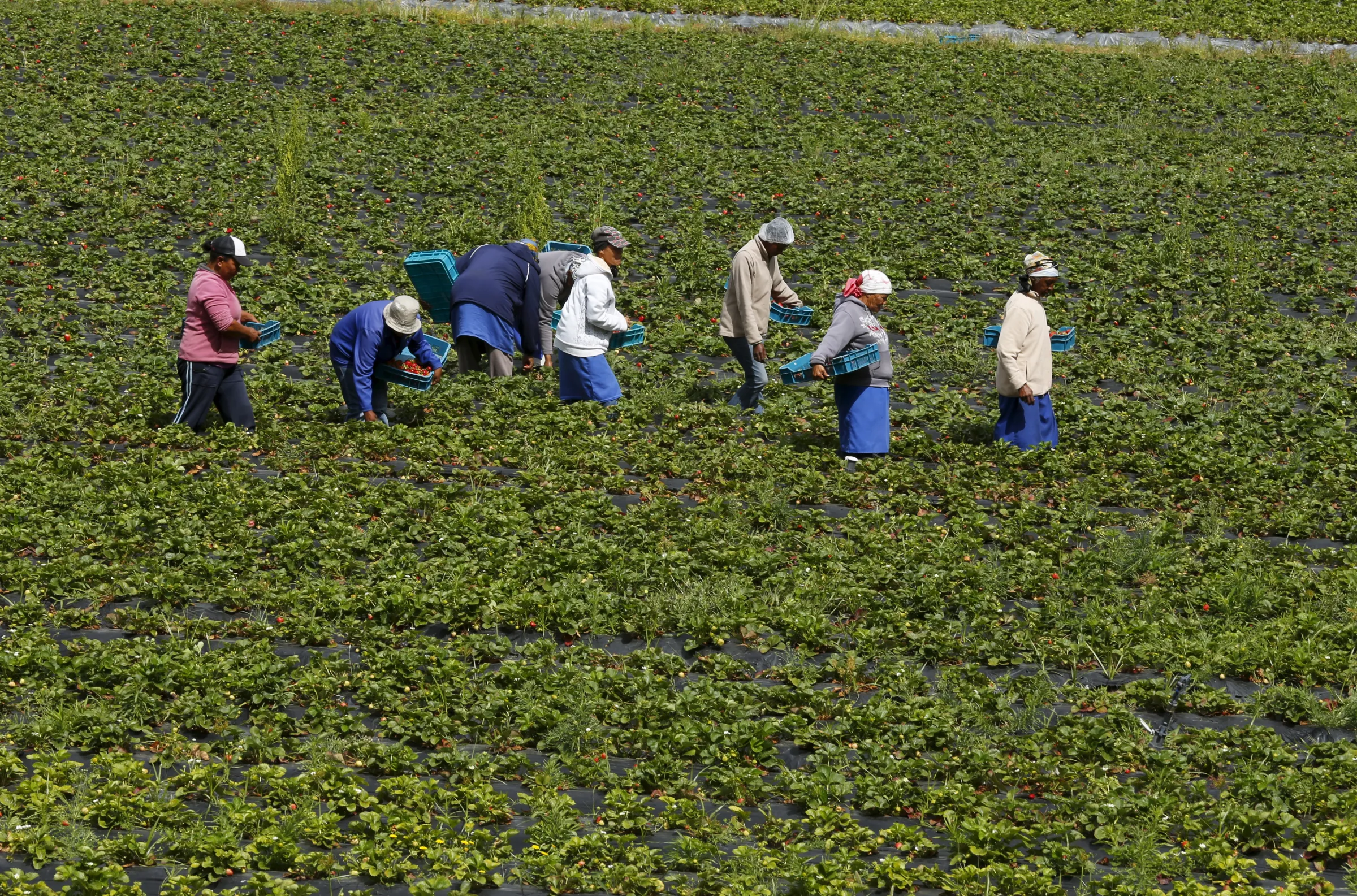 Workers pick strawberries at a farm near Stellenbosch, South Africa, November 13, 2015. REUTERS/Mike Hutchings
On COP27's Agriculture and Adaptation Day, world leaders must accelerate the transition to a sustainable and equitable food system
Ishmael Sunga is chief executive of the Southern African Confederation of Agricultural Unions (SACAU), and Tony Siantonas is director of the Scaling Positive Agriculture project at the World Business Council for Sustainable Development (WBCSD).
With COP27 hailed as the first 'food COP', unprecedented attention is being focused on the environmental and social challenges associated with our global food systems. And rightly so. The stark truth is that feeding the planet accounts for around a third of all greenhouse gas emissions, over two thirds of all freshwater use and is the biggest cause of biodiversity loss.
In a vicious feedback loop, the climate crisis is also putting our food systems at grave risk. Today, in East Africa, crops have been decimated as historic droughts sweep the region season after season and between now and the end of the year one person is likely to die of hunger every 36 seconds.
But food system reform also represents an unparalleled opportunity. Achieving sustainable and equitable food systems would feed the world, help stabilise our climate, protect nature and create thriving rural economies.
Governments must transform the way we produce, distribute, process and consume food, while ensuring that farmers get fair returns. For instance, existing government support tends to focus on maximising yields of a handful of staple crops. Not only does this drive unsustainable food systems that are vulnerable to shocks, but delivers little value for money for the farmers it is intended to help. Farmers the world over agree – there is ample room to improve agricultural policies for better outcomes for livelihoods, environment and nutrition.
Alongside farmers, those in business also recognise this urgency. This month, companies working in 190 countries signed a Business Call to Action, urging CEOs in the food sector to join them in adopting clear plans to achieve science-based, 1.5°C-aligned climate targets supporting nature, nutrition and equity goals.
Importantly, both farmers and business leaders are backing up their words with action. In Morocco, cereal farmers are adopting no-till agriculture to enhance soil fertility and moisture retention, building resilience to the climate crisis and boosting yields by around 30%. In Mauritius, farmers have increased production and sales of local organic fertilisers and pesticides, as well as creating a seed bank of climate-resilient crops.
Businesses around the world are also making changes: promoting nutritious, sustainable choices through food design, labelling and marketing; establishing deforestation-free supply chains; providing investment and technical assistance to scale nature-positive approaches; and financing models to help farmers reduce food loss and waste.
Together, we're taking strides to transform our food systems. But our efforts will remain fragmented and insufficient if governments don't back us up with ambitious leadership and international cooperation. With public sector collaboration that leverages our respective contributions, we could go further, faster.
COP27 is the chance to make this happen. We're encouraged to see that COP27's Presidency has designated today as Agriculture and Adaptation Day to push for strategies that sustainably improve agricultural productivity and food security. This, together with COP's first ever Food Systems Pavilion, will allow representatives from business, farming and government to join forces for action that drives healthy, resilient and equitable food systems.
We call on governments to integrate food systems transformation into their national strategies and into their Nationally Determined Contributions and National Adaptation Plans. Governments should set time-bound, science-based goals and commit to phasing out harmful subsidies and redirecting public funding to incentivise the transition to nature-positive agriculture practices. They must also address regulatory barriers, create enabling conditions to attract private investment, and support strategic research and innovation. Finally, and crucially, they must meaningfully consult key stakeholders, creating solutions that work for everyone.
We appreciate that these are not small requests. That's why we're urging governments to work with farmers and the private sector to unlock creative, near-term solutions that align incentives, attract investment and spur innovation for nature-positive agriculture. The design and execution of these policies, meanwhile, must be genuinely inclusive and participatory, empowering rural communities to lead the transition to sustainable and equitable food production. And it must represent the full spectrum of rural life, including women and other marginalised groups.
Together, we know that we need to accelerate actions like these, and we have committed to playing our part. What we need now, and what we hope to secure at COP27, is a similar commitment from world leaders. The race to secure nature-positive food production can be won if governments put in place strategies for a swift transition to sustainable and equitable agriculture. With aligned action from governments, businesses and food producers, we can reshape our food systems to work for people and the planet.
---
Any views expressed in this opinion piece are those of the author and not of Context or the Thomson Reuters Foundation.
---
Tags
Agriculture and farming
Biodiversity
Climate solutions
---