Trouble in Himalayan town swells scrutiny of India's hydropower push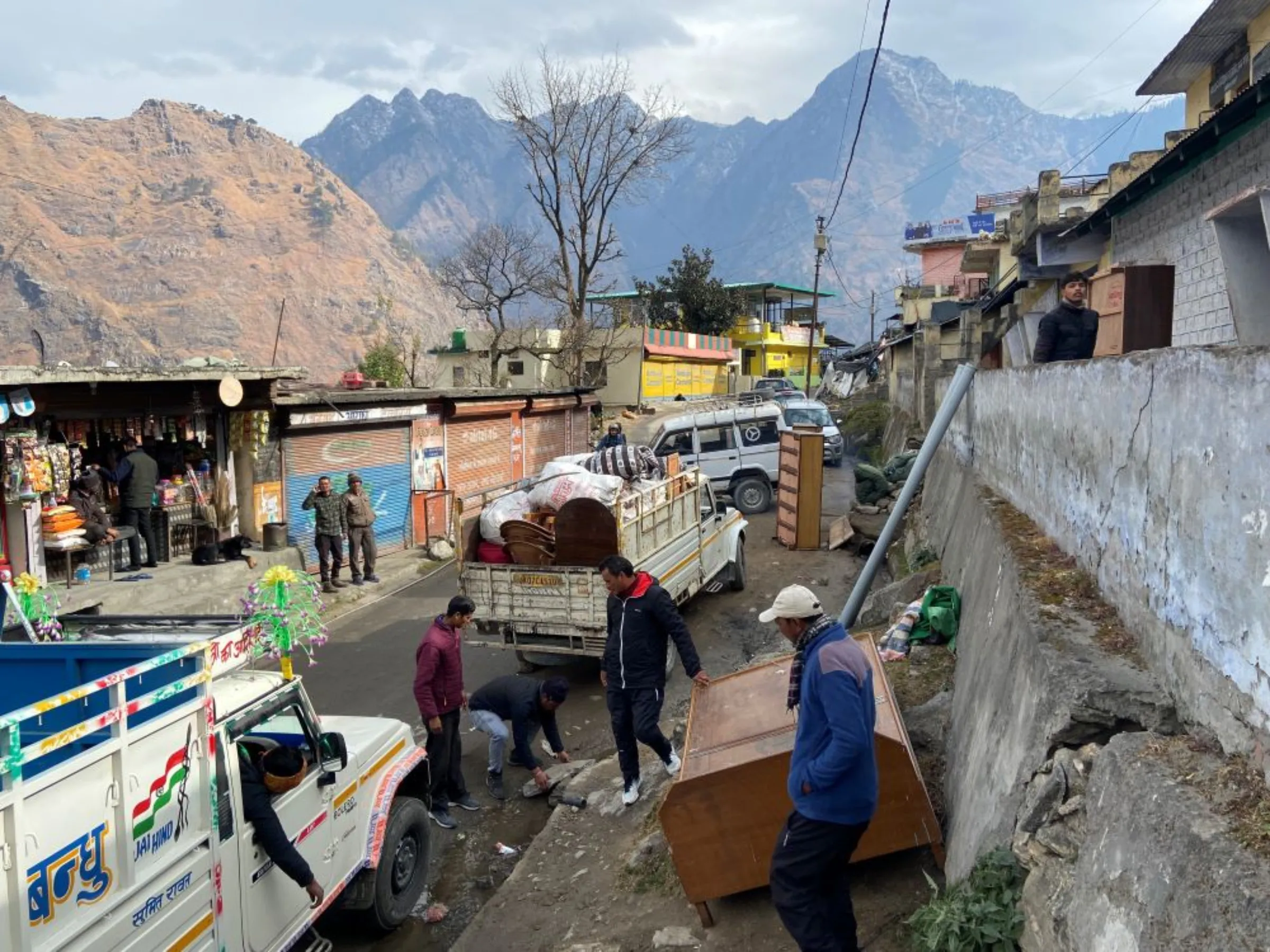 People load household belongings on a lorry as they leave their crumbling home in the Himalayan town of Joshimath, India, January 12, 2023. Thomson Reuters Foundation/Roli Srivastava
What's the context?
Joshimath residents with sinking homes raise doubts over hydroelectric projects in fragile mountain ecosystems, as India boosts clean energy to cut coal dependence
India plans to boost hydropower for clean energy goal
Problems with protests, finance and geology delay projects
Subsidence crisis in Himalayan town fuels debate over safety
JOSHIMATH/CHENNAI, India - Posters urging "NTPC Go Back" have appeared in Joshimath, a subsiding Indian Himalayan town where roads are cracking and houses crumbling - a crisis locals blame largely on a hydropower project led by India's biggest electricity producer NTPC.
Residents in the tourist hub of Joshimath are demanding a halt to the project, in the latest of a wave of protests across regions where hydroelectric facilities are being built, as India boosts clean energy to cut its planet-heating carbon emissions.
As Joshimath charity worker Kalawati Sah did her rounds assessing homes in areas marked as "unsafe" last week, she said the cracks were spreading to more structures.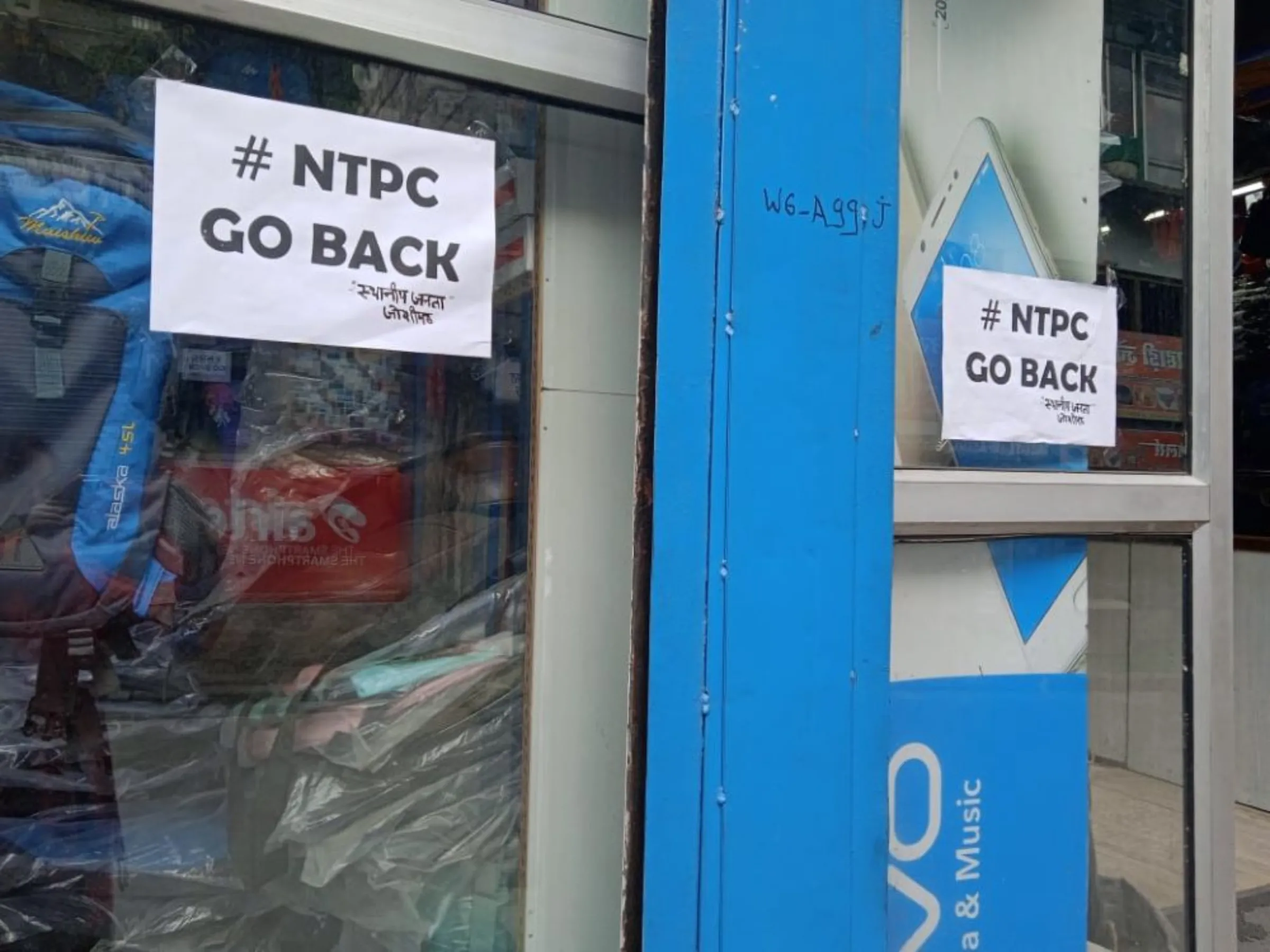 Locals attribute the sinking of their town in northern Uttarakhand state and the damage to infrastructure to tunnel-boring for the hydropower project and lack of a drainage system.
Similar concerns have been raised over the past decade in neighbouring Himachal Pradesh, one of four key states identified by India for expanding hydropower generation.
Government estimates show that India has hydro potential of 145,320 megawatts (MW) - enough to power about 140 million households or all homes in the United States - but installed capacity had reached only about 47,000 MW by the end of 2022.
Officials regard hydropower as essential for India to meet its 2030 renewable energy target of 500 gigawatts.
But the projects are cutting through mountains and forests, forcing people from their homes and triggering calls to save sensitive ecological areas like the Himalayas - even though adopting clean energy could help curb climate change and limit the negative effects of warming temperatures on the mountains.
The crisis in Joshimath has strengthened scrutiny of India's push for more hydropower to help balance rising energy demand while cutting planet-heating emissions to net zero by 2070.
India's power minister told journalists last week that construction of the NTPC project had not led to land subsidence or cracks in Joshimath.
But researcher Manshi Asher of the Himdhara Environment Research and Action Collective said her group had been documenting the damage caused by hydropower projects in the Himalayas for over a decade and campaigning against them.
"The sheer scale, magnitude and nature of hydropower construction has been a big contributing factor to Himalayan disasters in recent years," she said. "It is tragic that we waited for Joshimath to pay attention."
'Backbone' of clean power
In a 2021 report, the International Energy Agency (IEA) described hydropower as "the backbone of low-carbon electricity generation", saying it should be on the agenda for countries trying to meet their net-zero emissions goals.
India is the world's fifth-largest hydropower producer, with the IEA projecting the South Asian nation will play a key role in boosting global hydropower capacity by close to a fifth this decade.
Until the 1960s, India derived almost half of its electricity from hydro - but that has since fallen to about 12%, as power generation from coal picked up.
The government is still expanding coal mines and opening new ones, citing the need for energy security.
But it is also promoting hydropower and announced investments in a new project barely two days after Joshimath's land subsidence hit the headlines in early January.
In a bid to boost capacity in 2019, the government declared hydroelectric projects larger than 25 MW a renewable energy source, and made it obligatory for power utilities to use hydro for a share of their supply.
S.K. Singal, a professor in the hydro and renewable energy department at the Indian Institute of Technology Roorkee, said dams and reservoirs can cut the risk of flooding during the heavy cloudbursts increasingly being recorded in the Himalayas.
"Hydropower also helps maintain grid stability when solar and wind energy generation drops," he said, emphasising that facilities must be properly constructed to avoid problems.
Only two hydroelectric plants have been completed on time in the last two decades, government data shows.
As of 2020, 24 projects under construction, with combined capacity of about 11,350 MW, had overrun on time or cost, according to a parliamentary committee report.
Among the reasons for the delays, the report cited local protests, poor geological conditions such as loose rocks, flash floods, land acquisition issues and funding constraints.
One official in Arunachal Pradesh pointed to a shortage of capable contractors to build hydropower projects in the state, noting almost all are in a "precarious" financial condition.
Experts and officials told Context projects had also lost commercial viability and are being scrapped because of policy changes made to accommodate environmental and social concerns, such as locals insisting on their right to water in rivers.
"There are challenges, but there is far greater potential in hydropower" compared to other renewables, Singal said.
Upcoming projects are being planned on the run-of-river model - where flowing river water is directed through channels to drive turbines - moving away from construction of large dams.
Experts point out that run-of-river hydropower projects are cheaper to build and require less land, avoiding large-scale displacement.
Some states, meanwhile, are taking measures to help meet their targets.
Arunachal Pradesh, for example, has created a local development fund and aims to reduce the risk of disasters by installing early warning systems and measuring the carrying capacity of river basins, while a complaints mechanism is also being considered, a local official said.
But communities are not convinced their best interests are at the heart of India's clean energy push.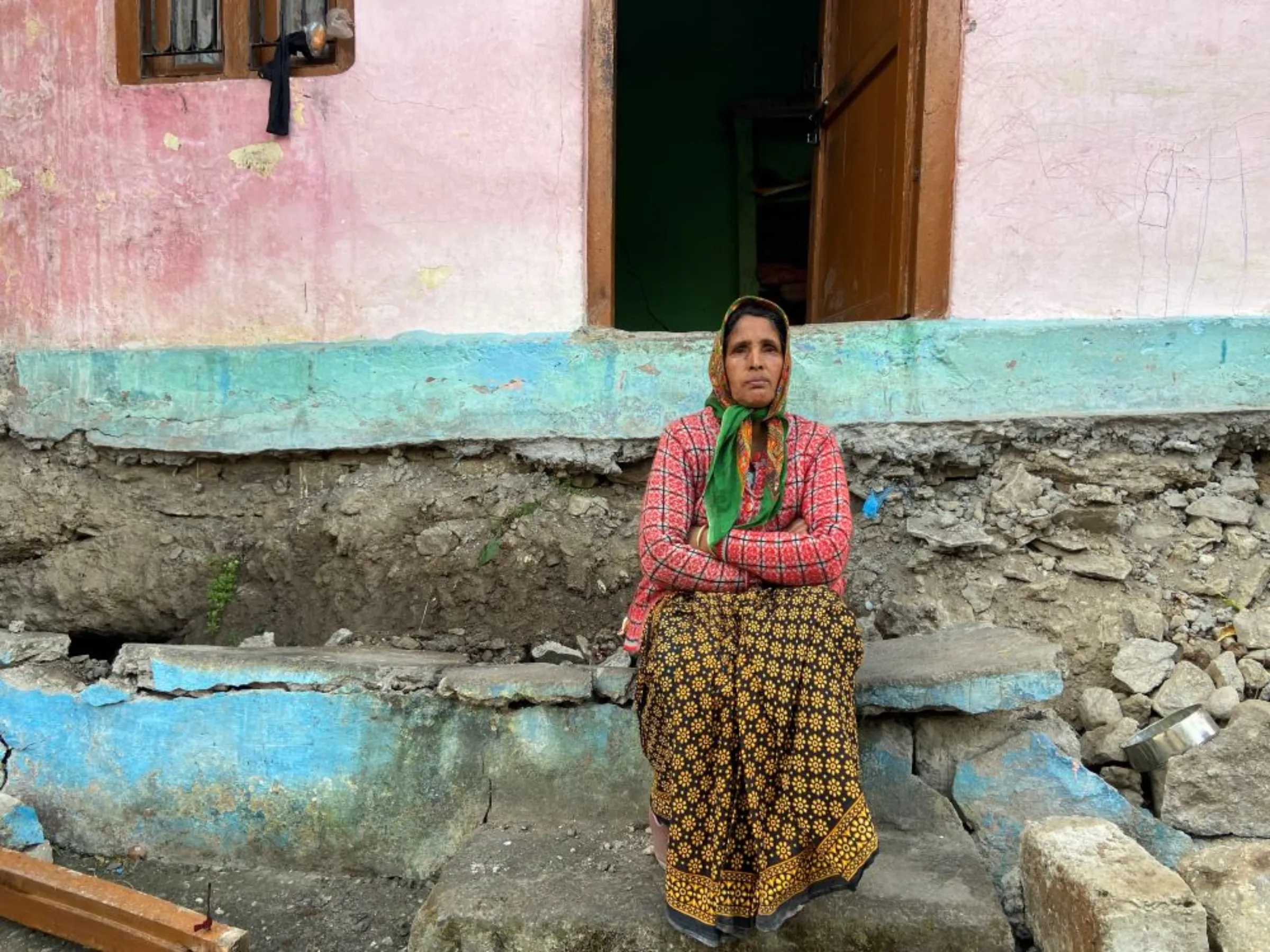 Residents resist
In pristine parts of India's northeastern state of Arunachal Pradesh, protests against dams and hydropower projects go back two decades when the first ones were mooted.
Through sit-ins, art, music and graffiti opposing displacement, the clearing of forests and loss of ways of life, communities in the lower Dibang Valley have raised questions as Joshimath residents are doing now.
"Communities are constantly told by the state that these projects will bring development, jobs, roads and electricity to remote areas," said Bhanu Tatak, a member of Dibang Resistance, a citizens' collective.
"But these should have happened anyway. There is no information shared with local communities on the exact nature of the project and proper consent is never taken," she said.
In neighbouring Manipur state, the Loktak hydro project has caused devastation downstream, according to Ram Wangkheirakpam, advisor to the All Loktak Lake Areas Fishers Union.
With river flow depending on how dam outlets are controlled, farmers are finding boulders and sand deposited on their land, while fishing as a livelihood "has almost died", he said.
"While communities upstream are offered some compensation, the impact downstream is not even legally recognised," he added.
As in other regions, the hydropower project here has fuelled migration and pushed people into sand and stone mining.
"Climate solutions are being forced on marginalised communities and they are getting no benefits," said Wangkheirakpam, noting that even the provision of electricity often means getting only "a bulb or two".
In Joshimath, the market - usually filled with tourists and pilgrims visiting Hindu and Sikh shrines at this time of year - is deserted as people leave for nearby towns where they have friends and relatives.
Sah, who has been recording residents' aid needs and mapping how the crisis is affecting children's education, said that even those living in supposedly safe zones like her are worried the damage will spread to their homes.
"You are tearing apart the mountains for this (hydropower) project," she said. "It is clean energy for officials - not for us who are suffering its impact.
(Reporting by Roli Srivastava and Anuradha Nagaraj; Editing by Megan Rowling)
---
---
Tags
Extreme weather

Adaptation

Climate policy

Circular economies

Climate inequality

Loss and damage

Climate solutions
---