It's time for global clothing brands to defend Sri Lankan workers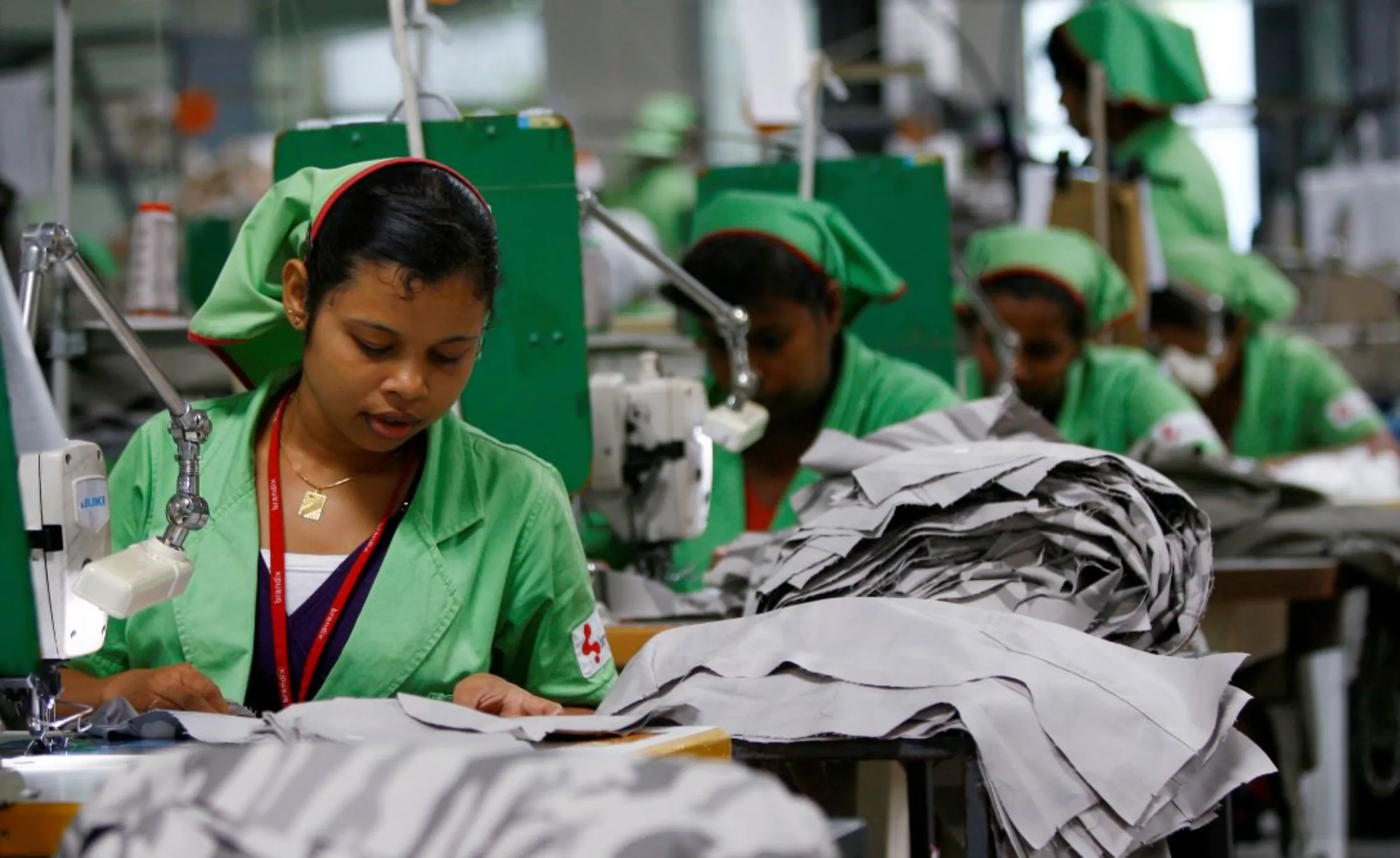 Garment workers sew pants in a Brandix factory, which exports many of the items to the European Union, in Colombo, Sri Lanka, October 1, 2009. REUTERS/Andrew Caballero-Reynolds
As real wages plummet, garment workers are left in the lurch
Anton Marcus is Joint Secretary of the Free Trade Zones & General Service Employees Union in Sri Lanka.
Sri Lanka's yearlong economic and political crisis, which led to the president being toppled last year, is unsurprisingly hitting the country's lowest-paid workers hardest.
Some 350,000 garment workers have lost jobs, seen their wages disappear into thin air after an overnight currency devaluation, and faced huge price hikes of up to 85% on food.
At the same time, their labour continues to put profits in the pockets of the country's three major garment factory conglomerates and their powerful customers, including brands such as PVH (Calvin Klein), Gap, Nike, Victoria's Secret, and Amazon.
Our recent survey of more than twenty garment factories, many owned by these giants, shows that most workers are not even being paid the minimal "Emergency Relief Allowance" of LKR 10,000 ($27 USD) that is meant to help them weather the crisis despite their now heavily devalued base salaries.
Our research shows that some factories initially paid some form of relief, but that most have now ended or decreased the payments. Factories that do pay workers extra to meet their increased cost of living pay less than one-third of the LKR 10,000 proposed by the unions.
Some factories do give their workers extra support in the form of a monthly LKR 500 ($1.37 USD) attendance bonus (contingent on perfect attendance), a dry food package or free transport to the factory.
The total of all both wage and benefit adjustments means workers receive a total of between 20,000 and 23,500 LKR ($55-65 USD) for a month of work. This is entirely insufficient considering that before the crisis worker wages were already barely at subsistence level and were then worth between $120-$175 USD per month.
'Insult to injury'
We have seen no signs of brands who make their goods in these factories giving factory owners any incentives to ensure workers are given any paid relief. Together with other organisations in the Clean Clothes Campaign network we reached out to the main brands that source from Sri Lanka several times during 2022 to ask them what they were doing to ensure that the garment workers who make their clothes get through this crisis.
Many did not answer and those who did failed to get specific about how they were supporting the workers who enable their profits.
While garment workers, who are mostly women who have migrated from their villages to support their families, are the foundation an industry that represented 52% of Sri Lanka's total export revenue in 2021, they have suffered from every single crisis that hit the country in the past few years. During the pandemic, the industry's income was deemed too important to let garment workers go into lockdown, leading to mass outbreaks of COVID-19 in factories and boarding houses.
During the first three months of the pandemic, garment workers in Sri Lanka lost about 40% of their wages. In 2021, workers' boarding houses were hit by devastating floods. And now, on top of all of that, garment workers have seen their already meagre livelihoods swept from under them in the wake of the currency devaluation and rampant inflation.
To add insult to injury, we as unions are not seen as part of the solution. While we try to step in where we think authorities and factory owners fail, by providing emergency support and food, the Sri Lankan government is ignoring social dialogue – even breaking its obligations under the International Labor Organization's Convention 144. Instead of trying to get out of this crisis together, the Sri Lankan government has authorised the use of whatever force is necessary to control protesters under the state of emergency.
As the largest trade union in the garment sector, we have faced office break-ins and intimidation, and our annual reports were not accepted by the Trade Union Registrar last year.
But it is those who already have the least that are being made to pay the highest price for this crisis. That cannot be allowed to happen.
We are therefore calling on all brands sourcing from Sri Lanka, including the ones mentioned above and others, such as Asos, Next, Marks & Spencer, and Ralph Lauren, to ensure the payment of full "Emergency Relief Allowances" every month to all workers in their supply chain in Sri Lanka. Workers must also enjoy freedom of association and the basic standards of labour protections, both in their supply chain and in Sri Lanka as a whole.
Only then can their lives improve.
---
Any views expressed in this opinion piece are those of the author and not of Context or the Thomson Reuters Foundation.
---
Tags
Race and inequality
Workers' rights
Economic inclusion
Underground economies
---