Why are high gold prices bad for the Amazon rainforest?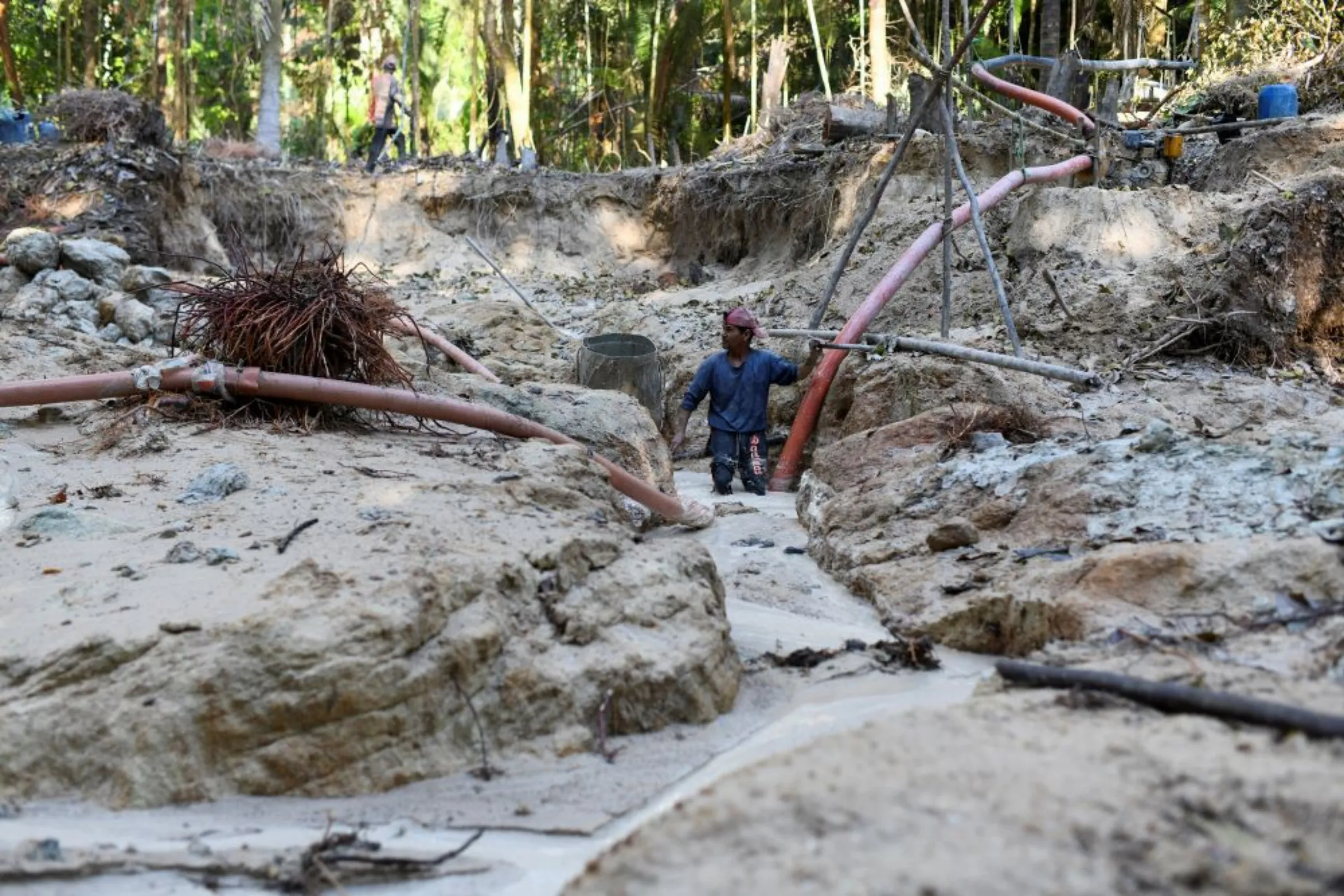 A miner works in an illegal gold mine at an environmental preservation area in the Amazon rainforest, in Itaituba, Para state, Brazil September 3, 2021. REUTERS/Lucas Landau
What's the context?
Surging gold prices lead to more illegal mining in the Amazon, contributing to deforestation and pollution on Indigenous lands
High gold prices fuel mining, deforestation
Illegal mining often takes place on Indigenous land
Crackdowns on wildcat miners have mixed results
BOGOTA/RIO DE JANEIRO – High gold prices are bad news for the Amazon rainforest, fueling demand for the metal and increasing illegal mining linked to deforestation and violence against Indigenous communities.
Prices for the precious metal - traditionally seen as a safe-haven investment during times of political and financial uncertainty - are close to a record high after rising above $2,000 an ounce earlier in April.
Is there gold in the Amazon rainforest?
Gold mining has been taking place in parts of the Amazon basin - spanning nine countries in South America - since the late 16th century.
For centuries, miners have used shovels and rudimentary pans to search for small pieces of gold deposited in mud or sand often found in and near rivers running through the Amazon.
In recent decades, the Amazon basin has been a focal point of small-scale illegal gold mining, which has skyrocketed since the early 2000s as high gold prices have created a gold rush.
Where are the Amazon's illegal gold mining hotspots?
Brazil, home to the largest share of the Amazon rainforest, along with Colombia, Peru, Ecuador, Bolivia and Venezuela, all have areas heavily impacted by illegal gold mining.
Indigenous groups are often affected, with more than 20% of Indigenous lands overlapped by mining concessions and illegal mining, according to the World Resources Institute.
The largest small-scale mining area in Brazil is around the Tapajós river basin in the northern state of Pará.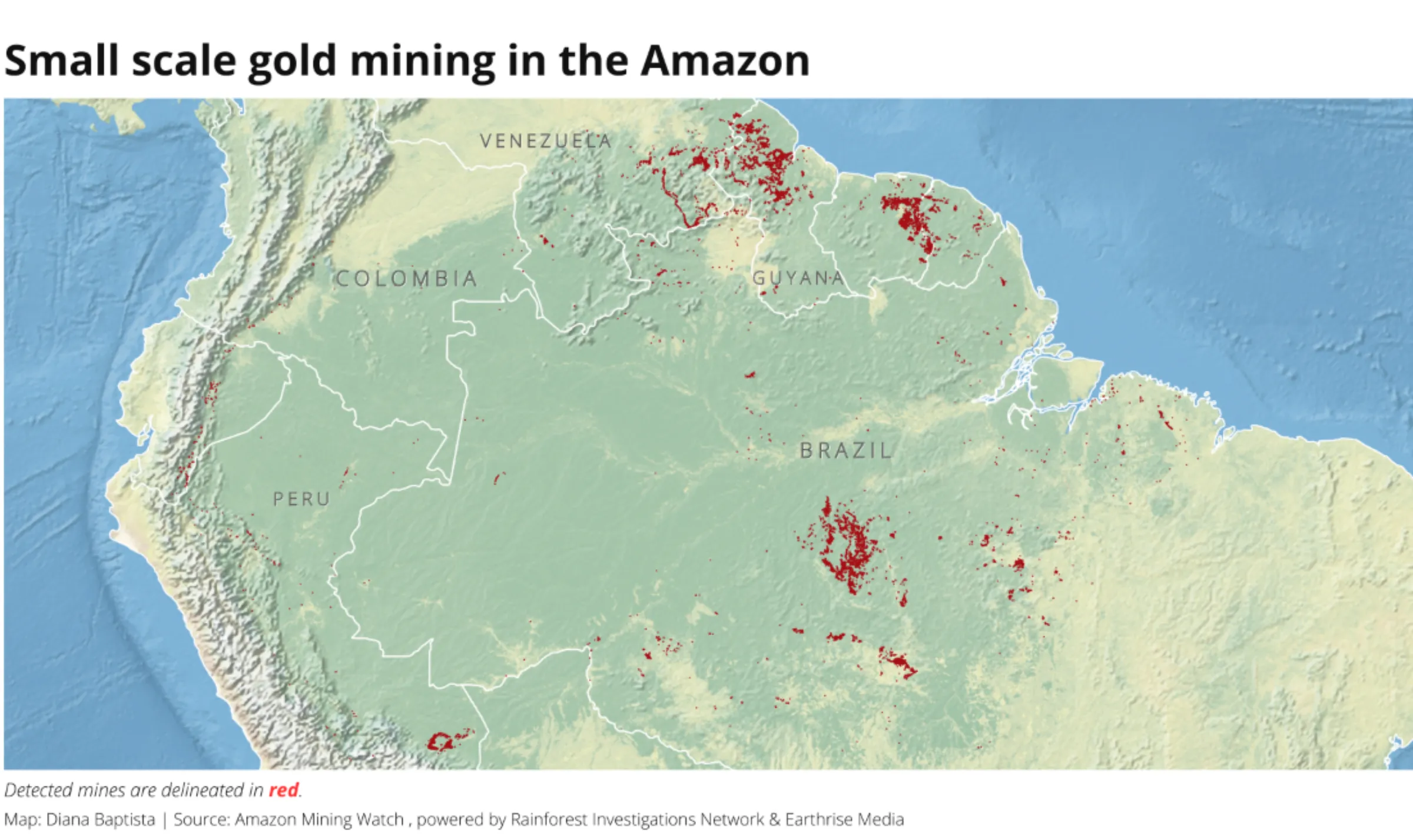 Another hotspot is Indigenous Yanomami lands on the border between Venezuela and Brazil, where illegal mining increased 20-fold from 2015 to 2020.
Peru is the world's sixth-largest gold producer and illegal gold mining is widespread in the rainforest region of Madre de Dios along its southeastern border with Brazil, one of the Amazon's most biodiverse corners.
How does illegal mining damage the rainforest?
The hunt for gold has attracted wildcat prospectors who have destroyed forests, poisoned rivers and brought fatal diseases to Indigenous Amazon communities.
A series of gold rushes in the past decade in Brazil, Peru, Colombia, Ecuador and Bolivia have destroyed swathes of once-pristine forest, sometimes leaving in their wake desert-like landscapes strewn with barren craters.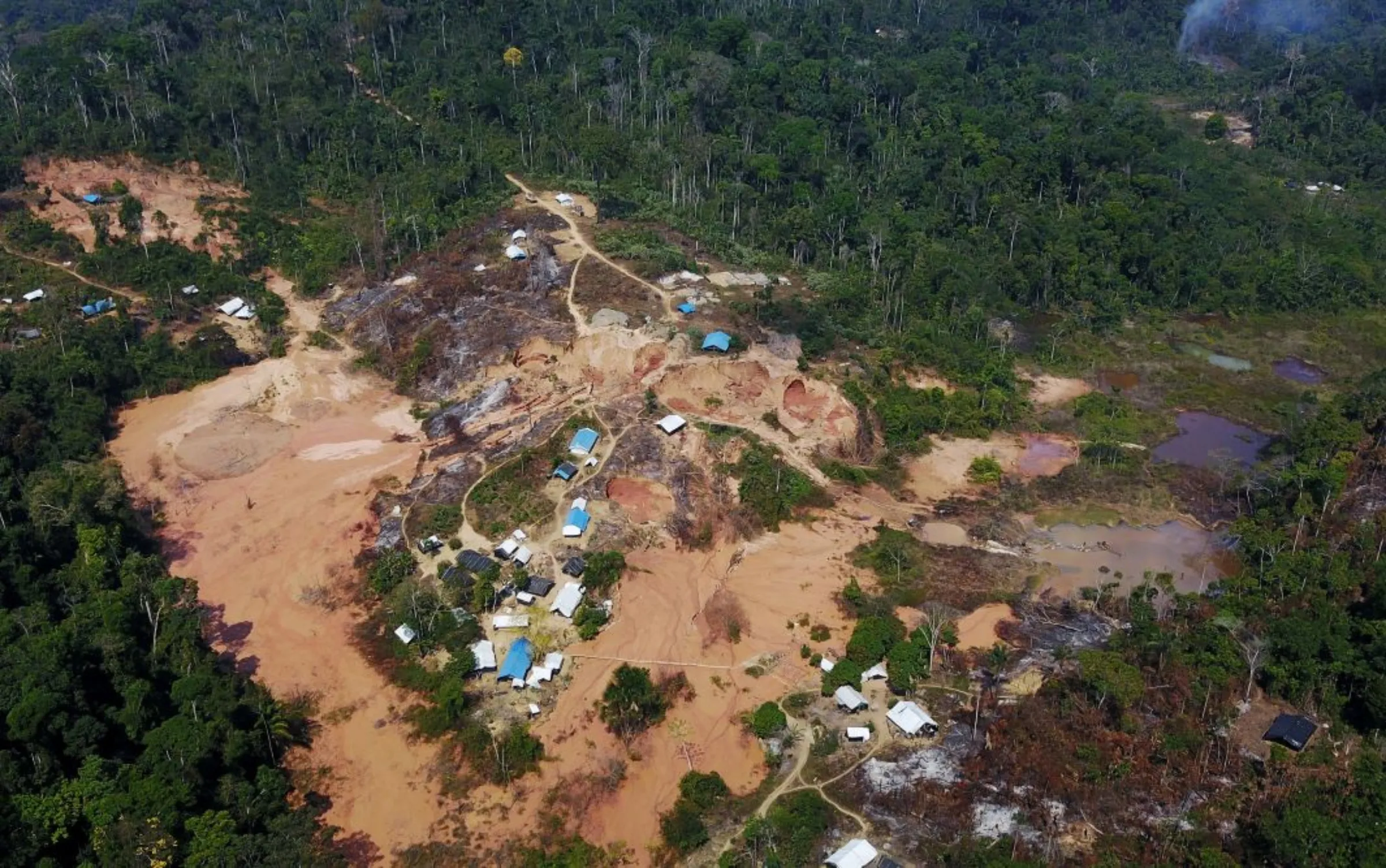 Mercury, used by illegal miners to separate gold from grit, pollutes rivers and contaminates soil and food.
Stagnant water in mining wells also provides breeding sites for mosquitoes that carry diseases such as malaria, often initially brought into the area by miners.
Traffickers in Peru's Madre de Dios region, a gold mining hub, prey on women and girls from poor indigenous farming communities, offering well-paid jobs and then forcing them into sex work in bars frequented by miners.
What can be done to halt illegal gold mining?
Combating illegal gold mining is complex and authorities have struggled to combat the problem.
In April, President Joe Biden announced plans to contribute $500 million to a fund to curb deforestation in Brazil's Amazon rainforest and stem the drivers of forest clearance, including illegal gold mining.
The proposal would need approval by Congress.
In recent years, Brazil and Peru's military have raided mining camps, arrested and prosecuted miners, and seized equipment such as river dredgers and bulldozers.
In 2019, Peru sent more than a thousand police and military officers to try and eradicate illegal mining in the La Pampa region in Madre de Dios after deforestation soared after a spike in gold prices.
And in February, Brazil's environmental protection agency launched an armed operation to try to expel thousands of illegal gold miners from the country's largest Indigenous reserve, home to the Yanomami people.
But law enforcement operations tend to only temporarily halt illegal mining in a particular area. Mines soon spring up elsewhere in what is known as the "balloon effect" - squeezing mining out of one area can make it expand in others.
Laws protecting Indigenous rights, including the rights of communities to be consulted about major extractive projects planned in their lands, need to be strengthened to keep miners out, environmentalists say.
In Ecuador, Indigenous groups have mounted successful legal challenges before the country's top court to protect their lands from illegal mining.
To combat illegal mining, Ecuador's Cofan Indigenous people have also launched Ecuador's first uniformed and tech-backed Indigenous guard, which regularly patrols their lands to keep miners out.
(Reporting by Anastasia Moloney in Bogota and Andre Fabio Cabette in Rio de Janeiro; Editing by Tom Finn and Helen Popper)
---
---
TAGS
War and conflict
Forests
Indigenous communities
---