Can we trust corporate climate pledges or is it greenwashing?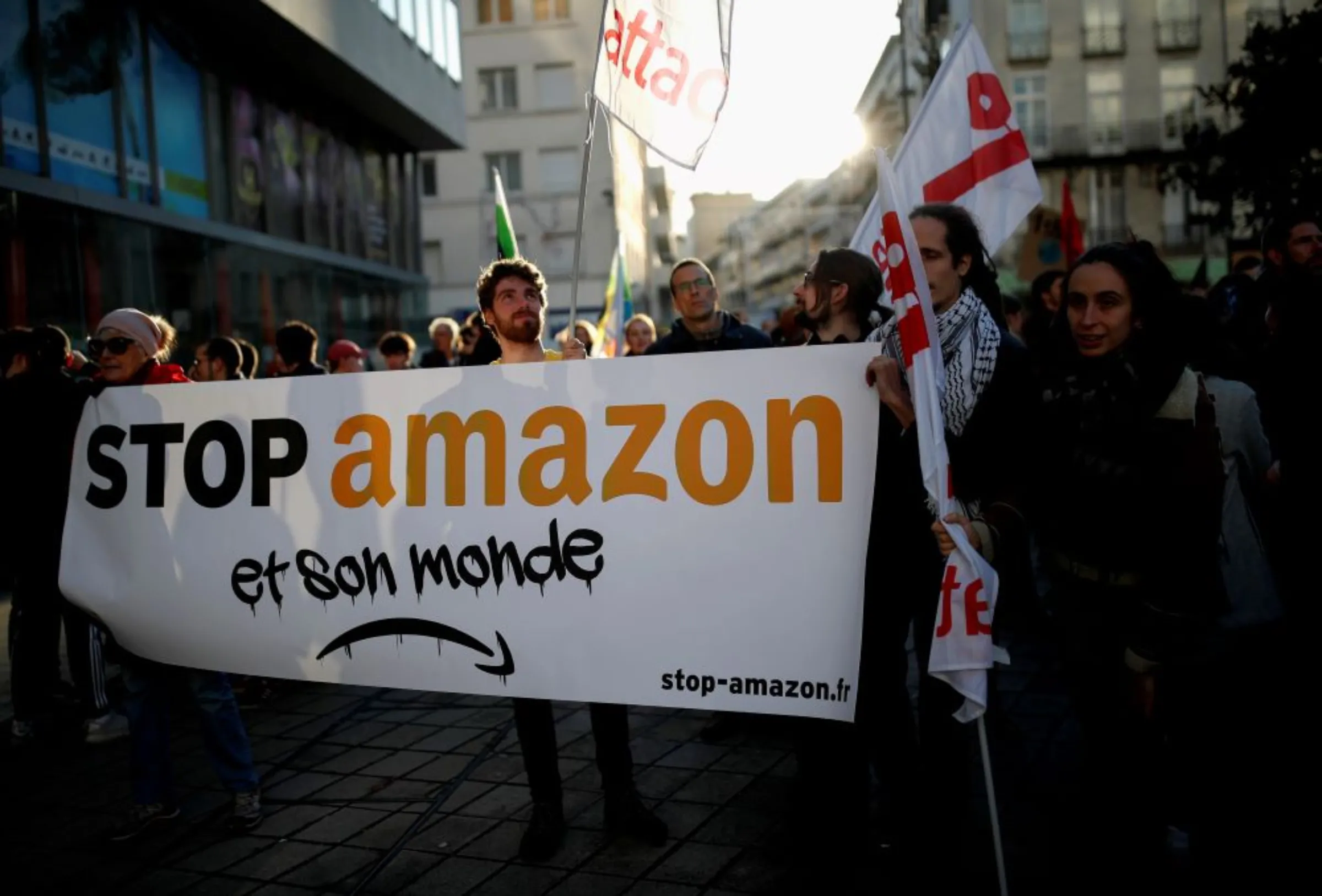 Anti-globalisation movement Attac activists hold a banner that reads: "Stop Amazon and his world" as they demonstrate during a day of protest to denounce the annual Black Friday shopping frenzy in Nantes, France, November 29, 2019. REUTERS/Stephane Mahe
What's the context?
Big companies branding themselves as climate leaders often have patchy plans to fulfil their promises, according to new research
Climate plans of 24 major companies analysed
Report says emissions targets 'woefully inadequate'
Warns over off-setting, green certification schemes
LONDON - Corporate climate pledges are mushrooming as global companies seek to reassure customers and investors about their green credentials by promising net zero emissions and carbon-neutral products.
But multinational companies branding themselves as climate leaders mostly have "inadequate and ambiguous" plans to fulfil their promises, according to a report published on Monday by the NewClimate Institute, a Berlin-based think-tank.
In an analysis of 24 big firms, from retailers to carmakers and airlines, the Corporate Climate Responsibility Monitor found their plans only amounted to emissions cuts of just over one-third by the time they have pledged to become net zero.
So how can companies turn their green pledges into significant reductions in planet-heating emissions, and what will it take to protect consumers from greenwashing?
Are companies on track for net zero?
While only analysing a snapshot of global companies, the report said the firms' climate strategies "do not add up" to their net zero pledges, and 15 of the 24 were judged to be of low or very low integrity.
It paid particular attention to firms' plans up to 2030, seen as crucial to meeting the Paris climate goal of keeping global warming "well below" 2 degrees Celsius (3.6 degrees Fahrenheit) and ideally to 1.5C (2.7F).
This decade is "make or break" for climate action, said lead author Thomas Day, yet the short- and medium-term targets of these "self-proclaimed climate leaders ... (are) woefully inadequate".
To keep global warming within 1.5C, the report said these companies should cut emissions by at least 43% by 2030, yet their current plans point to cuts of 15% on average.
Maria Mendiluce, chief executive of the We Mean Business Coalition, a nonprofit that works with businesses on climate action, said many firms are committed to fundamental change.
"Companies are trying their best to understand their footprint and to tackle it," Mendiluce said, calling for increased scrutiny of climate "laggards" - businesses that are doing nothing.
What makes a climate pledge credible?
The leading voluntary environmental disclosure platform CDP said fewer than one in 200 companies that submit climate change-related data have credible climate transition plans, according to the nonprofit's latest review published last week.
CDP judges a credible plan by 21 key indicators which demonstrate a shift in business model to align with climate targets, such as oversight at the board level and financial planning.
The NewClimate Institute report said pledges often include disclaimers to exclude certain activities – such as "scope 3" emissions that are generated by consumers and suppliers, and which can account for the vast majority of their impact.
Another issue that undermines credibility is the ambiguity of corporations' plans and the lack of concrete measures to decarbonise, said Silke Mooldijk, a co-author at the institute.
"For instance, the three fashion retailers in our report all claim to source more sustainable materials, but they do not explain what 'more' means or what 'sustainable' means," she told an online news conference.
Should carbon offsets count?
Many companies' net zero pledges use "offsetting", where they look to invest in projects such as tree planting instead of cuts to emissions they cause directly.
But the report said these schemes are "highly contentious" as they are "neither additional nor likely to result in permanent emissions removals", such as forestry projects which are scarce and not guaranteed to last.
"If everyone were to follow their example, we would need two to four Planet Earths," said Mooldijk.
Voluntary standards like the Science Based Targets initiative's (SBTi) "Net-Zero Standard" require companies to decarbonise 90%-95% of their emissions before offsetting "residual" emissions which may not be possible to cut.
But in response, Mooldijk said offsetting is now "moving behind the guise of alternative terminologies" such as "neutralisation" or "insetting" - which usually refers to offsetting within a company's value chain.
Can people trust green labels?
Many companies in the analysis are using certifications through voluntary standards bodies such as SBTi to demonstrate progress, Day said, using them as "badges to defend insufficient action and even to deflect criticism".
He said these green certification schemes need to become stricter, such as ejecting companies that are failing to take sufficient action.
"They really need to be careful they're not creating a platform for greenwashing," he said.
Mendiluce, who sits on the executive board of SBTi, said the initiative does not give businesses a "free ride" in its validations and is "tough" with them.
She said it will eventually help support governments to create their own standards, such as how businesses helped to create the Greenhouse Gas (GHG) Protocol - a widely used accounting method for measuring emissions.
In its recommendations, researchers behind the NewClimate Institute report said governments should do more to protect consumers against misleading advertisements.
Gilles Dufrasne, a policy officer at the nonprofit Carbon Market Watch, which helped to prepare the report, said this means stronger rules, better enforcement of existing regulations, and clear guidelines for companies to adopt and communicate climate ambitions.
"It's really unrealistic to expect consumers to understand these claims, even though many of these communications are directly targeted at consumers," he said.
(Reporting by Jack Graham; Editing by Helen Popper)
---
---
Tags
Fossil fuels

Net-zero

Climate policy

Climate solutions
---