What's stopping small businesses going green? Cash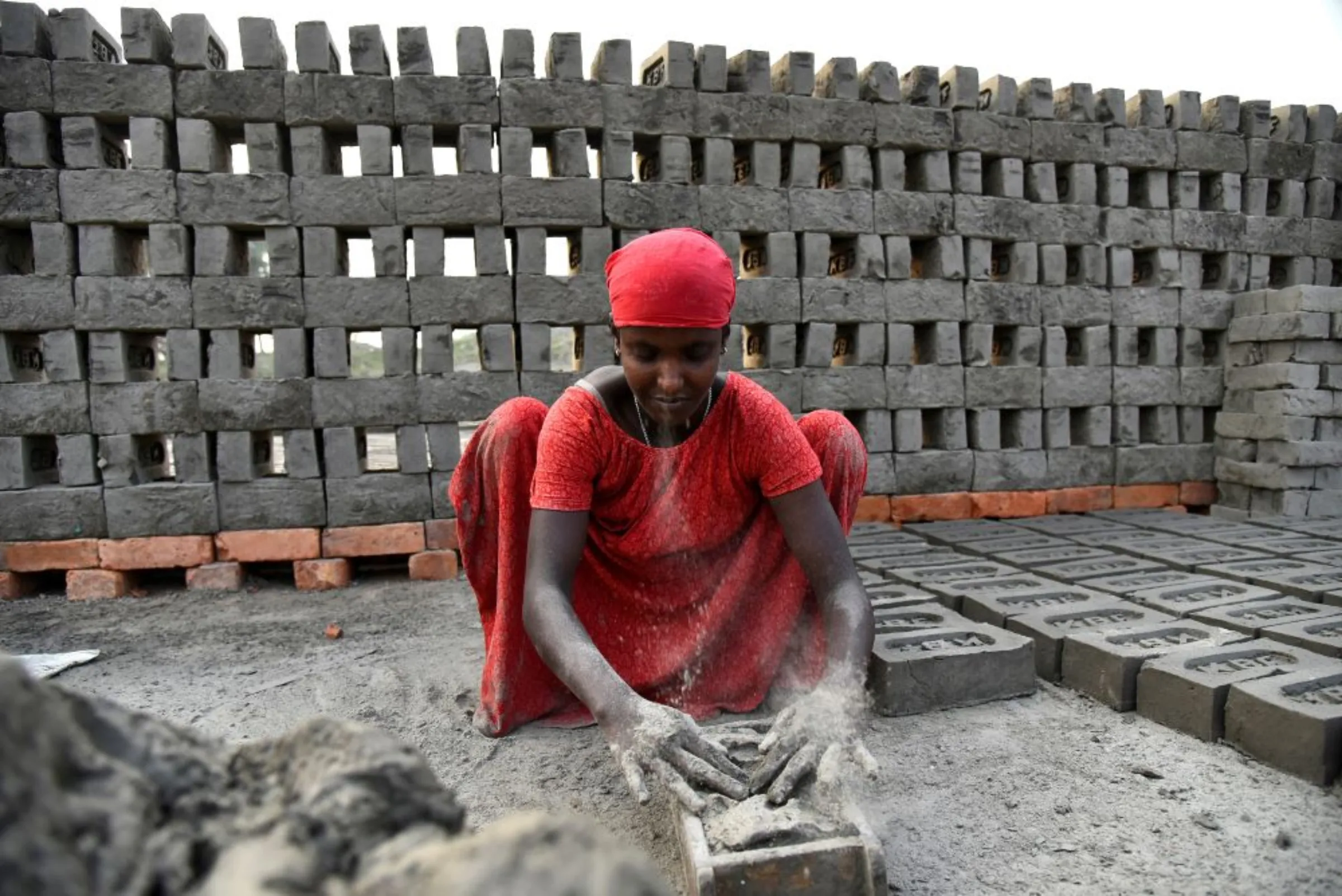 A labourer makes bricks in a kiln at Langolpota village in North 24 Parganas district in the eastern state of West Bengal, India, November 26, 2019. REUTERS/Ranita Roy
How could small enterprises – which create 7 in 10 jobs in emerging economies - get the cash they need for a green shift?
Oliver Greenfield is convenor of the Green Economy Coalition.
Small businesses are the backbone of developing economies. According to the World Bank, micro, small and medium enterprises (MSMEs) account for at least 40% of GDP and create 7 in every 10 jobs in emerging economies.
These businesses have huge potential to drive development and catalyse national and global transitions to a fairer, green economy, but they can't access the finance they need to grow.
The gap between the finance these businesses can access and what they actually need – the so-called 'MSME financing gap' in developing countries – was estimated at $5.2 trillion in 2017, 40% more than they currently have access to.
This is a big problem. Not being able to access finance stifles economic growth, meaning fewer jobs and lost revenues for businesses, communities and governments. Lack of finance also leaves MSMEs exposed to risk.
Due to their size, MSMEs are often first to feel the impacts of economic shocks such as soaring inflation, high energy prices and chokes in supply chains. In a recent report from the World Economic Forum, more than two-thirds of small business executives cited fighting for survival as their top challenge.
Against this backdrop, we know that biodiversity loss and ecosystem collapse threaten $44 trillion of economic value – over half the world's total GDP. Yet new nature-based and green business opportunities could create 395 million new jobs by 2030.
The conclusion is clear: green investment is safer investment – and MSMEs in emerging economies know it.
I lead the Green Economy Coalition, the world's largest alliance for green and fair economies. We recently worked with partners and local green enterprises in Mongolia, Peru, Senegal, South Africa, Trinidad & Tobago, Uganda and India to better understand their barriers and opportunities to growth.
We found that while local green enterprises can strengthen emerging economies, alleviate poverty, create jobs and protect the environment, poor policies are holding them back from their full potential.
In Bargny, Senegal, 1,000 women work together to process fish products in an enterprise called 'Diapal Ma Diap', or 'solidarity' in English. The women want to stop using charcoal and start using less polluting and more efficient modern smoking ovens to process the fish, but they can't access the finance they need.
They're faced with a lack of tax incentives, poor legislation for green businesses, complex financing hurdles and strong competition from industrial fishing. This is holding Diapal Ma Diap back from growing their business safely and sustainably – and depriving the community of potential jobs and income.
In Bihar, India, Ramasheesh Babu runs a successful business making fly ash bricks – bricks made from industrial waste from local coal power plants. Compared to traditional red bricks, fly ash bricks use less water, produce less waste, are stronger and are cheaper to produce.
During the COVID-19 pandemic, construction services came to a halt and so did the production of fly ash bricks. Unaware of government relief measures to support small enterprises, Babu was unable to repay his start-up loan on his own, which has since been marked a 'non performing asset'.
This is severely limiting his capacity to meet current demand, let alone expand. Babu's lack of financial literacy has impacted his ability to borrow and landed him in trouble.
These are just two examples of the barriers faced by green-minded business owners in emerging economies, but we found many more.
MSMEs in emerging economies face risky and informal money lending arrangements, high bars for accessing credit, regulatory hurdles and a lack of information on how to access finance. At best these barriers slow down entrepreneurs and stifle community development, and at worst stall them completely.
Our economies are not set in stone. They can and must be upgraded, overhauled, transformed. By incentivising local green enterprises, decision makers can close the MSME financing gap and drive inclusive, resilient and sustainable development in emerging economies.
Governments and development finance institutions must work together to define a legal status for green MSMEs, allow small businesses to use moveable assets like machinery and business equipment as collateral, and make development finance and debt more accessible.
By unleashing the power of MSMEs, decision makers have an opportunity to rapidly catalyse the transition to a fairer, green economy.
This year's G20 Presidency, India, has made 'just and equitable growth for all in the world' a priority. G20 countries should use this week's finance meeting to drive MSME finance up the agenda, ready to inform the much talked about Bridgetown finance summit in June.
With a global recession looming and climate and biodiversity targets hanging in the balance, there's never been a more important time to support green economies. It's time for decision makers to step up and understand that incentivising local green enterprises is a key stepping stone in the path to creating a fairer, more sustainable world for all.
---
Any views expressed in this opinion piece are those of the author and not of Context or the Thomson Reuters Foundation.
---
Tags
Adaptation
Net-zero
Climate policy
Circular economies
Green jobs
Climate solutions
---