With funding support, Africa's youth can change farming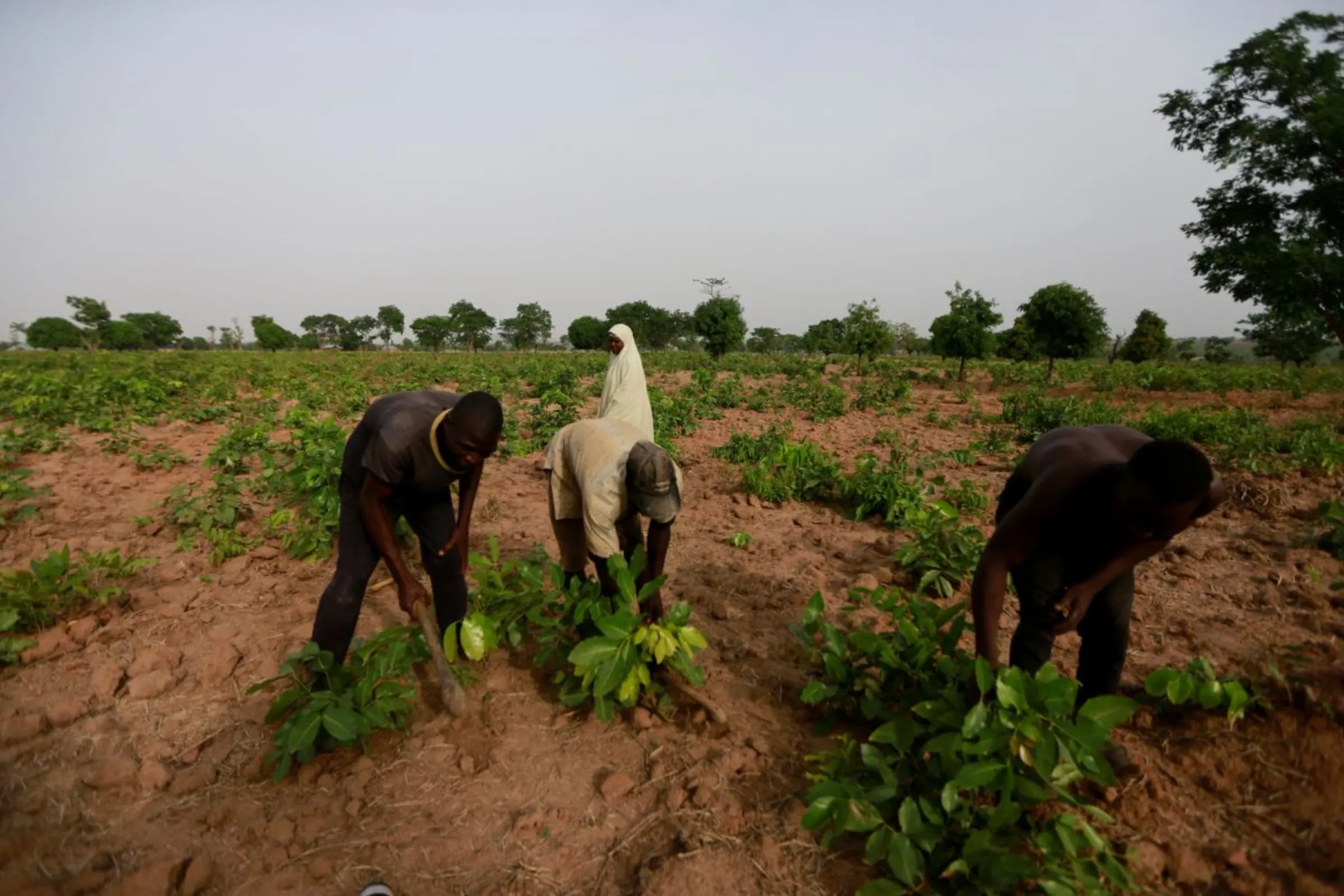 Workers work in a farm in Kaduna, Nigeria. April 28, 2021. REUTERS/Afolabi Sotunde
Climate change impacts, and the need for youth jobs and a green energy shift could remake African farming – if the money is there
Adesuwa Ifedi is Africa senior vice president for Heifer International and Sara Mbago-Bhunu is the director of the International Fund for Agricultural Development's (IFAD) East and Southern Africa division.
A fungus from Brazil, spread by warming temperatures and globalization, threatens wheat crops in Zambia. At least 11 million livestock have perished during three years of consecutive drought in the Horn of Africa.
Across the continent, weather extremes challenge farmers to adapt or to spiral into poverty. These farmers supply most of the food consumed in Africa, and their success is key to Africa's food security.
Yet, despite the urgency, adaptation has been slow in coming.
Investments are limited: globally, just 3% of public climate finance goes to food systems, and foreign direct investment in new food and agriculture projects in Africa declined by 45% between 2019 and 2021.
As pressure grows for climate action, governments, private investors and partner organizations should look to Africa's young agricultural entrepreneurs for solutions. They are the change agents already harnessing technology and data to adapt food systems to climate change. But they need financing to succeed.
Their innovations — like portable cooling stations for agricultural produce, new systems for providing hyperlocal weather forecasts to farmers, and creative approaches to risk analysis and farm insurance — offer practical pathways to help small scale farmers overcome challenges posed by climate change.
Small farm businesses themselves need financing to adapt and innovate — to invest in climate-smart crops, off-grid energy sources, solar-powered irrigation and more.
But the financial reality has been harsh. Only between one-third and one-fifth of African small and medium enterprises (SMEs) even have a bank loan or line of credit. Climate finance (limited as it is) rarely comes their way, going instead to large enterprises and projects.
One study found that only 16.9% of SMEs in Senegal and Kenya were able to get a loan to finance climate change adaptation, and only 27.6% of agricultural SMEs were able to switch to a more climate-resilient crop.
In 2022, the global economy surpassed $100 trillion for the first time. In a world awash with money, Africa's young agricultural entrepreneurs should be supported and emboldened to drive change across the continent.
Those who are least bankable today hold key solutions for African agriculture.
The majority of young people in sub-Saharan Africa work in agriculture and in rural areas. They live the reality of climate change and farming. They know what is needed and pursue innovations that will improve the productivity and profitability of agriculture even as the climate changes.
Several areas of innovation stand out, among them:
Climate-smart information services. A host of African start-ups are applying digital technology to provide information on weather, climate, pests and disease, and to help them prepare and adapt.
Working with Ignitia, Heifer International is using text messaging to inform thousands of smallholder farmers in Africa about weather predictions with an unprecedented accuracy for tropical countries.
It includes agricultural advice such as when to sow, harvest or apply crop nutrition, enabling farmers to improve their farming techniques, reduce costs, increase yields and mitigate weather-related risks.
Innovative insurance for farmers. In Nigeria, small farm businesses account for 90% of local agricultural production, but most are uninsured or underinsured and highly vulnerable to extreme weather events.
Several Nigerian businesses, including Pula Advisors, recently introduced a pay-at-harvest insurance program. It allows farmers to pay insurance premiums after they have harvested and sold their produce, while providing that coverage from the start of the season. Farmers that experience insurance-covered crop losses can recover their investment.
Innovative financing for training and employment. IFAD's Youth Integrated Agribusiness Grant Model seeks to spur both self- and wage-employment across food systems in Africa, particularly for young people entering the job market by the millions every year.
Its partnership between public and private sector entities (one of the core priorities of the Fund's Thirteenth Replenishment) has already created 1,554 jobs, nurtured 839 enterprises, and established 715 wage employment opportunities across Rwanda, Nigeria, Kenya, Mozambique, Cameroon and Madagascar.
The project has since expanded to cover a total of nine countries. As the fund moves towards its new replenishment IFAD will continue to create sustainable employment opportunities for rural youth through integrated agribusiness hubs.
Africa's young entrepreneurs envision a new agricultural future: one that embraces high-yielding, climate-smart agriculture powered by alternative energy sources, e-mechanization, data-driven decision-making, and high-performing food processing, packaging and distribution, with every technology harnessed to adapt to climate realities while opening new markets and generating wealth.
Funders can make a meaningful difference in bringing about this new future. But to do so, they must be as innovative as entrepreneurs and embrace new forms of blended finance, including impact investment, reduced-rate loans, repayable grants and innovative partnerships. Investing in the talents of Africa's young entrepreneurs is the smart choice.
Finance is the key that will enable young agricultural entrepreneurs to scale their solutions beyond the pilot phase and help reshape agriculture to stand up to climate change, whatever the weather.
---
Any views expressed in this opinion piece are those of the author and not of Context or the Thomson Reuters Foundation.
---
Tags
Clean power

Adaptation

Agriculture and farming
---