Agroecology is the future for Africa's farming youth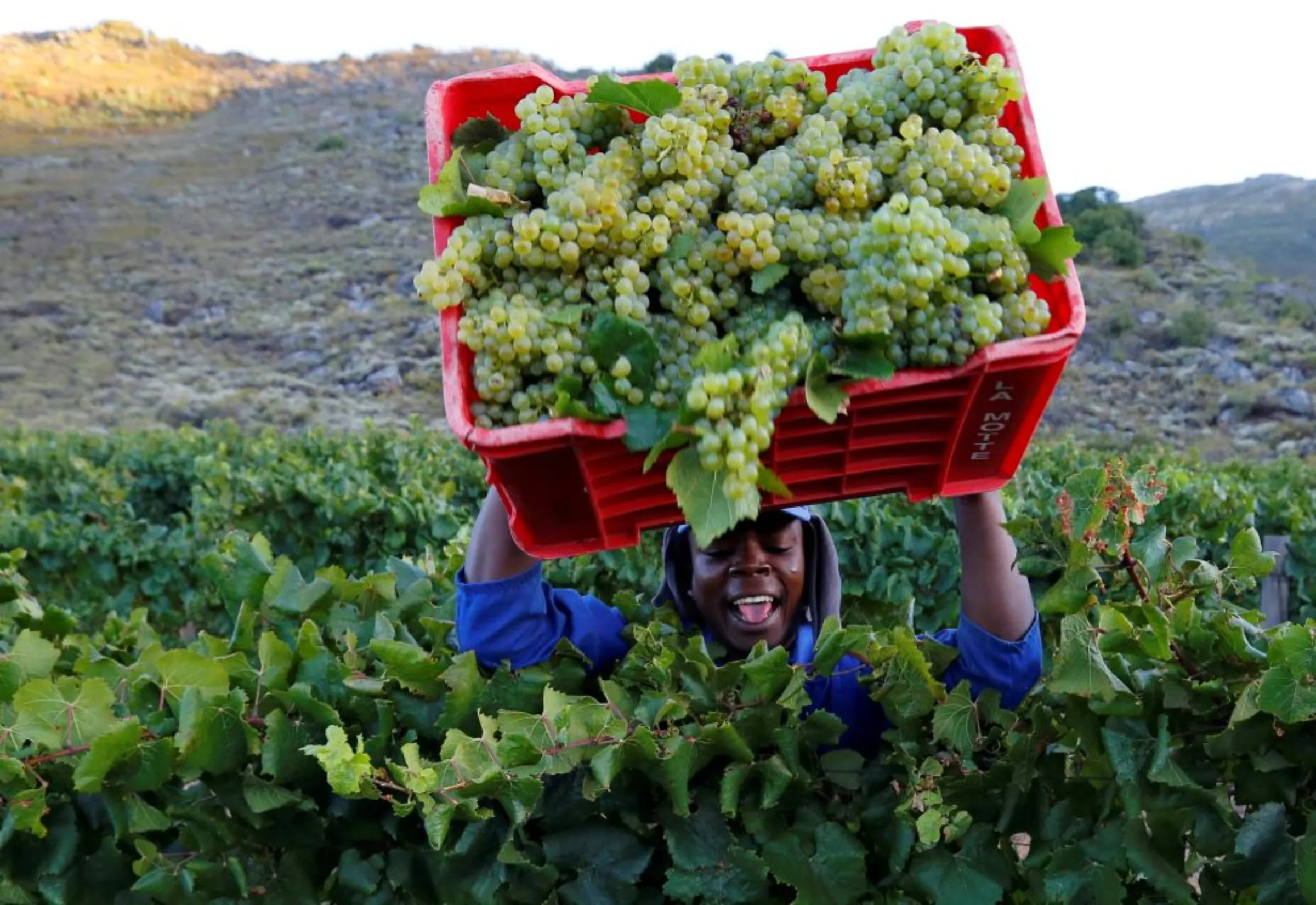 A worker harvests grapes at the La Motte wine farm in Franschhoek near Cape Town, South Africa in this picture taken January 29, 2016. REUTERS/Mike Hutchings
Bringing more young Africans into farming is crucial – but industrial agriculture is not the answer for the continent
Simon Bukenya is a programme officer for the Alliance for Food Sovereignty in Africa (AFSA).
Policy makers and leaders in Africa are starting to recognise importance of involving youth in Africa's agricultural future. This is a commendable and a much-needed call to action, given the significance of agriculture to Africa's economic development and the growing challenge of feeding its rapidly expanding population.
However, officials seem to have focused exclusively on industrial agriculture, which is not necessarily the best option, given its immense contribution to climate change and the health crisis.
Industrial agriculture is an agricultural production system characterized by intensive use of advanced technologies such as genetically modified crops, large-scale monoculture, and heavy use of chemical inputs. The focus is on maximizing productivity and reducing costs, while relying on economies of scale and centralized control.
In Africa, the adoption of industrial agriculture has been slow, but it is being encouraged by aid agencies, international organizations, and governments in the hope that it will increase productivity and reduce poverty.
However, this is unlikely to happen, for a number of reasons. One is that Africa is not a homogeneous region, and the agricultural systems that are appropriate for one country may not be appropriate for another.
As well, climate change is having significant impacts on agriculture and food production. As weather patterns become increasingly unpredictable, it's becoming more difficult for farmers to successfully and reliably grow crops.
Hybrid seeds that have been imported from other regions can be ill-suited to local growing conditions and are often more vulnerable to disease, pests, and weather extremes.
By using locally adapted seeds and a more diverse range of crops, farmers are better equipped to withstand changing weather conditions and produce a more reliable harvest.
This type of nature-friendly farming can help to reduce the risk of crop failure and protect farmers from financial losses, which is becoming increasingly important in the face of climate change.
Industrial agriculture does not provide sustainable solutions to the climate crisis and to Africa's failing food systems. The intensive use of chemicals and energy inputs is contributing to environmental degradation and climate change, which will make it increasingly difficult for farmers to grow crops in the future.
The degradation of soil quality, loss of biodiversity, and increased salinity in water resources will make it more challenging for farmers to grow food in the future.
Industrial agriculture also is not the most profitable option for young people who want to make a career in agriculture. The high cost of inputs and the dependence on capital, energy, and chemicals make it difficult for African farmers to succeed.
Agroecology as a holistic, diverse and sustainable approach is more appropriate.
Agroecological farming, on the other hand, is a more suitable approach to adapting to the effects of climate change. This approach focuses on the use of environmentally friendly inputs and methods that promote sustainable agriculture.
Agroecology encourages the use of natural fertilizers, crop rotation, and other methods that improve soil health, protect biodiversity, and reduce the dependence on costly inputs.
It is important to note that Africa has a long history of agroecological farming, where farmers have used traditional knowledge and local resources to produce food in an environmentally sustainable way. This approach to agriculture recognizes the interconnectedness of the natural environment and human society and seeks to develop farming systems that are in harmony with nature.
Agroecological farming is characterized by the use of local inputs, such as organic matter and natural pest control methods, and the promotion of biodiversity.
The result is a more sustainable, resilient, and productive system that is better suited to Africa's future.
To make agroecology a more attractive option for young people, it is necessary to invest in education and training programs that promote agroecological methods and help young people to develop the skills they need to succeed in this sector.
Additionally, the government needs to provide support to young farmers in the form of loans, subsidies, and other forms of assistance.
By providing young people with the tools and support they need, it will be possible to create a new generation of young farmers who are passionate about agriculture and who are committed to protecting the environment and providing food for their communities.
---
Any views expressed in this opinion piece are those of the author and not of Context or the Thomson Reuters Foundation.
---
TAGS
Adaptation
Net-zero
Agriculture and farming
Green jobs
Climate solutions
---