South Africa's electricity crisis puts women at risk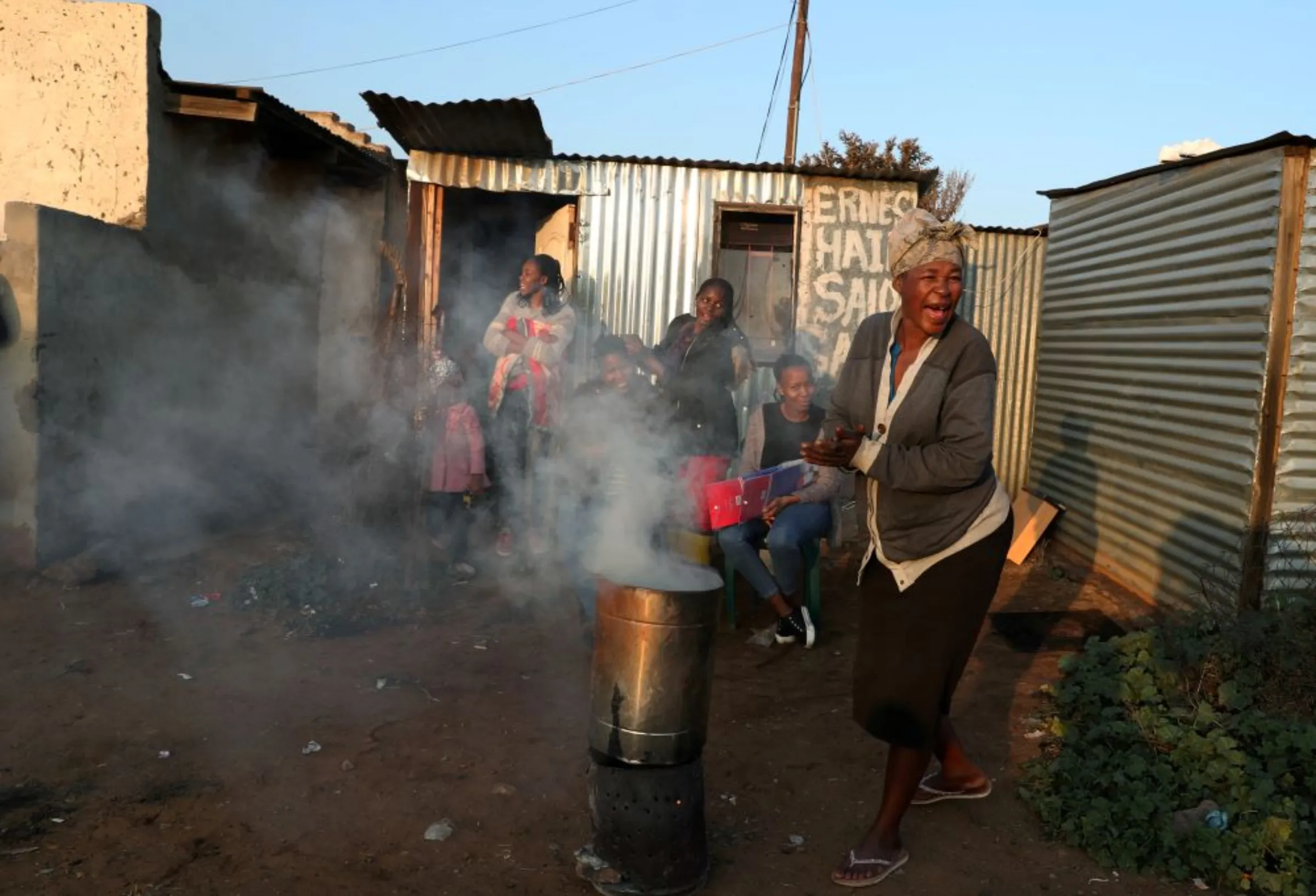 A woman reacts as she prepares a brazier in front of a makeshift hair saloon, during electricity outages in Soweto, South Africa, June 19,2020. REUTERS/Siphiwe Sibeko
The lack of a consistent – and affordable – power supply is an emergency that must be tackled immediately
Koketso Moeti is a civic activist, a Mulago Foundation Rainer Arnhold fellow, an Atlantic Fellow for Racial Equity, an inaugural Obama Foundation fellow and an Aspen New Voices senior fellow.
Even as South Africans face a cost of living crisis worsened by an unaffordable and inconsistent electricity supply, the country's electricity public utility Eskom recently applied for a massive 32% tariff hike on electricity in 2023.
This year, the country has faced excessive loadshedding - rotational, planned supply interruptions due to the demand for electricity exceeding the available supply.
According to Statistics South Africa, the national statistics agency, since load shedding began in 2007, electricity price hikes have "generally exceeded inflation", meaning consumers are paying more for less.
And it was only as recently as the end of September that the health minister announced additional public hospitals that were being exempted from loadshedding. But the move reportedly only brings the number to a tenth of the country's public hospitals exempted.
In addition to loadshedding, in 2020 Eskom introduced load reduction "to avoid network overloading in high density areas", a practice which has been described as "energy racism" by researchers at the University of Johannesburg. The policy, which started in Gauteng, has since spread to other provinces.
The social value of access to electricity needs to not only be recognised in South Africa, but also affirmed. Electricity should always be easily available given the important role it plays in many aspects of human life and wellbeing.
It is an essential service, and it is the duty of governments to make societies function better through the provision of this kind of basic service. Its absence has multiple, often underreported, negative impacts.
For instance, a lack of electricity exacerbates unpaid reproductive labour, which includes domestic work and caregiving, all activities which UN Women finds mostly fall to women. In my daily life, I can attest that a lack of electricity means routine domestic chores like preparing meals or doing laundry take longer.
A 2021 study found that powering households empowers women by reducing our time poverty, giving us more time to spend on other pursuits. Likewise, an assessment of "the socio-economic impact of electrification" in South Africa found that the majority of electrified households identified the biggest benefit of electrification as: "makes life easier".
'My hair caught fire'
The loss of time is however not limited to inside the household. One evening, my children and I were taking a 20-minute walk home from a place they attend a weekly activity and the electricity went off, leaving us in the dark.
Feeling unsafe, coupled with my poor night time vision, we decided to walk instead on a main road because at least the headlights of cars would offer us some light.
Our walk doubled in time. Not only did we feel unsafe in the dark, but we also had to be careful to avoid the gaping craters made by City Power and Johannesburg Water on both the footpaths and the road. With an adequate power supply, this wouldn't have happened to us.
That experience made me think about the workers at my local supermarket, which closes at 7pm. The cashiers and cleaners are mostly women. Some of them live in my area or surrounding ones and walk home in the dark, while those who live further away use public transport.
South Africa is simply not a safe place to be a woman, we must be constantly vigilant, and being in the dark can only increase our insecurity as it did for me.
It's not the only way safety is compromised. The use of open flames for light and cooking when electricity is unavailable poses its own risks.
In the area where I grew up, we did not always have electricity. Being the reader I was as a child, one evening I had a candle on the wooden armrest of the couch. I fell asleep and as the candle burned, my hair caught fire.
I often tell this story as a joke, but it was a truly terrifying moment. I eventually managed to put my hair out, but the smell and smoke were overwhelming, so I left the door open, which was not safe.
Of course my experience is minor in a country where shack fires and devastating burns are an almost daily reality, with a lack of electricity being a key contributor.
According to the Fire Protection Association of Southern Africa, there were more than 5,000 shack fires during the 2016-17 municipal reporting year. Excluding the "undetermined" and "other" categories, open flames were found to be the biggest cause of informal dwelling fires where the cause was determined.
The impact of not having electricity is, of course, not limited to these examples. It also includes harmful outcomes such as income loss for already exploited workers like ride share drivers. Food goes to waste. And, in a country where too many go hungry as a result of a broken food system, small businesses suffer.
But having a consistent supply of electricity is not enough. It also needs to be affordable. Far too many low-income households cannot afford the amount of power required to really reap its benefits.
While I am no expert on electricity provision, as a consumer of I know that consistent, affordable electricity is essential for promoting socio-economic development and a higher quality of life. Its provision must be prioritised.
---
Any views expressed in this opinion piece are those of the author and not of Context or the Thomson Reuters Foundation.
---
Tags
Consumer protection

Cost of living

Economic inclusion
---