What does the future hold for Venezuelan migrants?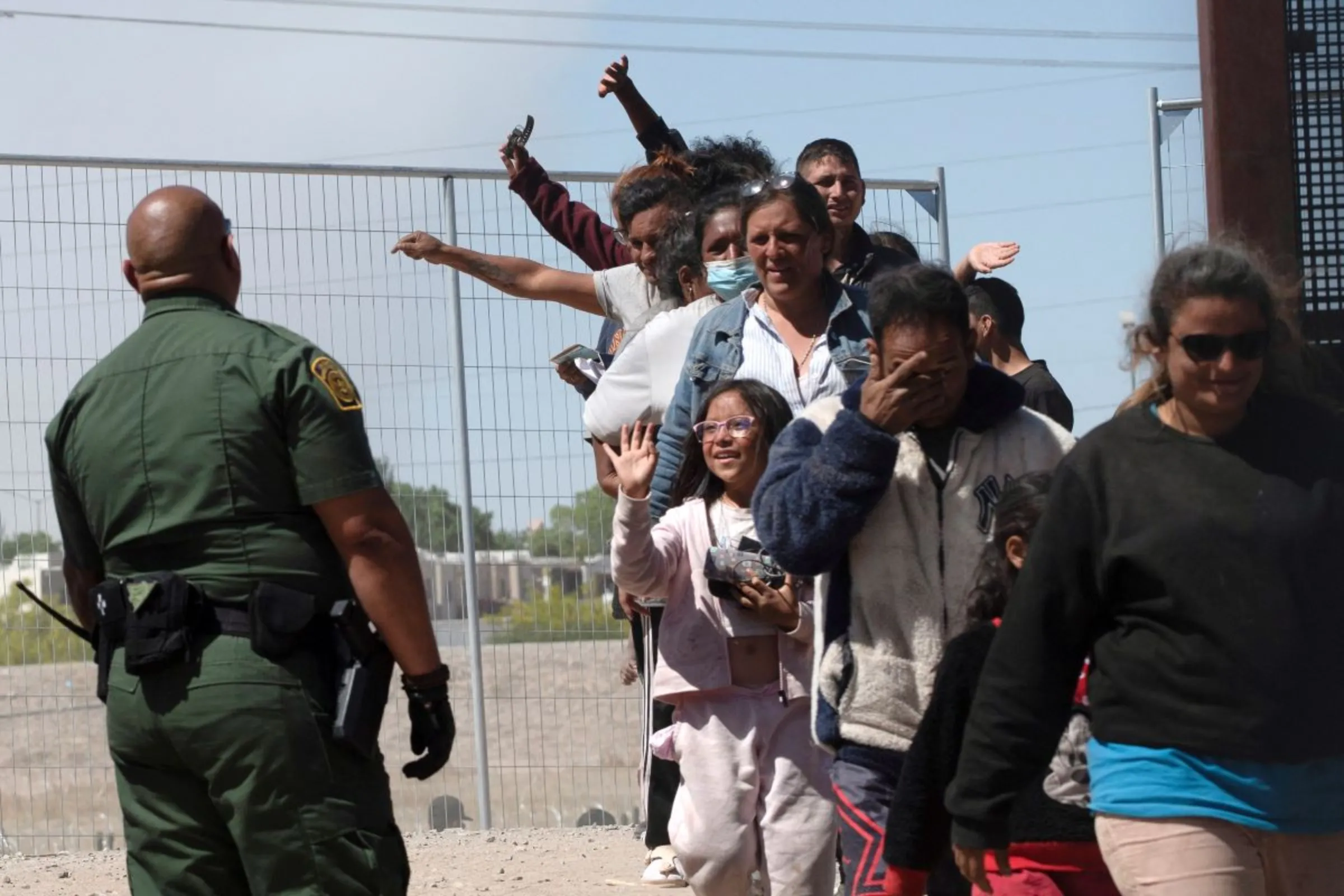 Migrants from Venezuela wave goodbye as they are taken to a CBP processing center in El Paso, Texas, U.S., May 10, 2023. REUTERS/Roberto Schmidt
What's the context?
Millions have fled economic and political turmoil in Venezuela - here is what you need to know about the crisis
Venezuelan migrants to total 8.4 million by 2025
Exodus is one of Latin America's largest mass migrations
Record number of Venezuelans attempt to reach United States
BOGOTA - Venezuelans fleeing economic and political turmoil now face tough new border regulations in the U.S. as Joe Biden's administration tries to clamp down on a wave of migration.
Millions have left the South American nation over the last decade for countries including neighboring Colombia, Brazil and the United States.
Biden has announced tough new restrictions on asylum claims, many filed by migrants from Venezuela and Central America, as temporary curbs expired that had allowed border agents to quickly turn back many migrants at the Mexico border on public health grounds.
As the issue tests Biden's pledge to take a humane approach to immigration, here's what you need to know about what has been driving mass migration from Venezuela and what could happen next:
What caused the Venezuelan refugee and migrant crisis?
Venezuela's oil dependent economy has been steadily collapsing since the 2014 crash of oil prices left it unable to maintain its socialist economic system.
Stringent price controls introduced by the government of Nicolás Maduro created widespread shortages of food and medicine, and coupled with hyperinflation, meant people could not afford food and services in the once-prosperous nation.
The resulting economic and humanitarian crisis has driven more than seven million people to flee the country since 2015 - one of the largest mass migrations in Latin American history, according to the U.N. refugee agency (UNHCR).
In 2018, rampant inflation exceeded 1 million percent. The local bolivar currency became so worthless that bills were used to make trinkets and souvenirs.
Massive anti-government street protests aimed at ousting Maduro took place in 2016 and 2019, bringing violence and unrest that prompted more Venezuelans to flee.
Despite some economic improvements due to price controls on food products set by the government to curb inflation, most Venezuelans still struggle to make ends meet and pay bills.
Today the monthly minimum wage is 130 bolivars, just over $5 at the official exchange rate, and average public-sector pay is just $35 per month.
Where are Venezuelan migrants going?
Most Venezuelan migrants have settled in Latin America and the Caribbean. More than five million have moved to the region, in countries including Colombia, Peru, Ecuador, Chile, and Brazil.
Betting on a brighter future in the United States, a growing number are crossing the Darién Gap - a lawless stretch of rainforest straddling Colombia and Panama - as new visa restrictions imposed by several Latin American countries make it harder for them to fly into Mexico and Central America.
In recent years, dozens of Venezuelans bound by boat for the neighboring island nation of Trinidad and Tobago have drowned.
In Colombia, where the largest share of Venezuelan migrants are living, many have been granted legal status and a 10-year right to remain.
But half of the Venezuelan refugee and migrant population across Latin America and the Caribbean cannot afford three meals a day and lack access to housing, according to 2022 data from the International Organization for Migration (IOM).
Since 2015, over 211,000 Venezuelans have been recognized as refugees, and over a million have submitted asylum claims worldwide, according to the UNHCR.
How has the migration crisis changed over the years?
The first wave of Venezuelan migrants were the rich, skilled and university-educated, later followed by the middle classes and then the destitute and most desperate during the height of hyperinflation in 2017-2018.
These years saw tens of thousands of Venezuelans, some carrying babies in their arms, travel across South America on foot as they were too poor to afford transport or a passport.
Migration from Venezuela was interrupted during the pandemic, when many countries closed their borders, but since then has continued although at a slower pace.
The number of Venezuelans trying to illegally cross the Mexico-U.S. border has risen in the past two years, in part because Washington granted temporary protection status in 2022 to those who were on U.S. soil, meaning they couldn't be deported.
In 2020, U.S. and Mexican authorities introduced temporary pandemic measures to turn back most Venezuelans entering the U.S. from Mexico.
As the curbs expired, Biden's administration announced sweeping new regulations that will bar most migrants from claiming asylum with the aim of deterring them from crossing.
What does the future hold for Venezuelan migrants?
The International Monetary Fund (IMF) estimates Venezuelan migrants will number around 8.4 million by 2025 — more than 25% of the country's population in 2015.
Hundreds of thousands do not have visas, permits or valid passports to stay legally in host countries, and so lack access to basic rights and are at high risk of being exploited.
Some migrants say they will return to Venezuela only when there is a change of government and Maduro is no longer president.
Critics of Maduro describe him as a dictator who has usurped power, allegations which the government has denied.
Other Venezuelans hope to return to their homeland when the economy significantly improves allowing them to earn a decent living, while other migrants say they will remain in the countries they have settled in.
Since 2018, the Venezuelan government has implemented a voluntary repatriation plan called "Return to the Homeland" to help the return of migrants who lack the means to do so.
In May, more than a hundred Venezuelans seeking to return home found themselves temporarily stranded in Chile's northern border after being denied entry into neighbouring Peru.
(Reporting by Anastasia Moloney; Editing by Tom Finn and Sonia Elks.)
---
---
Tags
Migration

Economic inclusion

Underground economies
---