Why are U.S. abortion rights battles focusing on pills?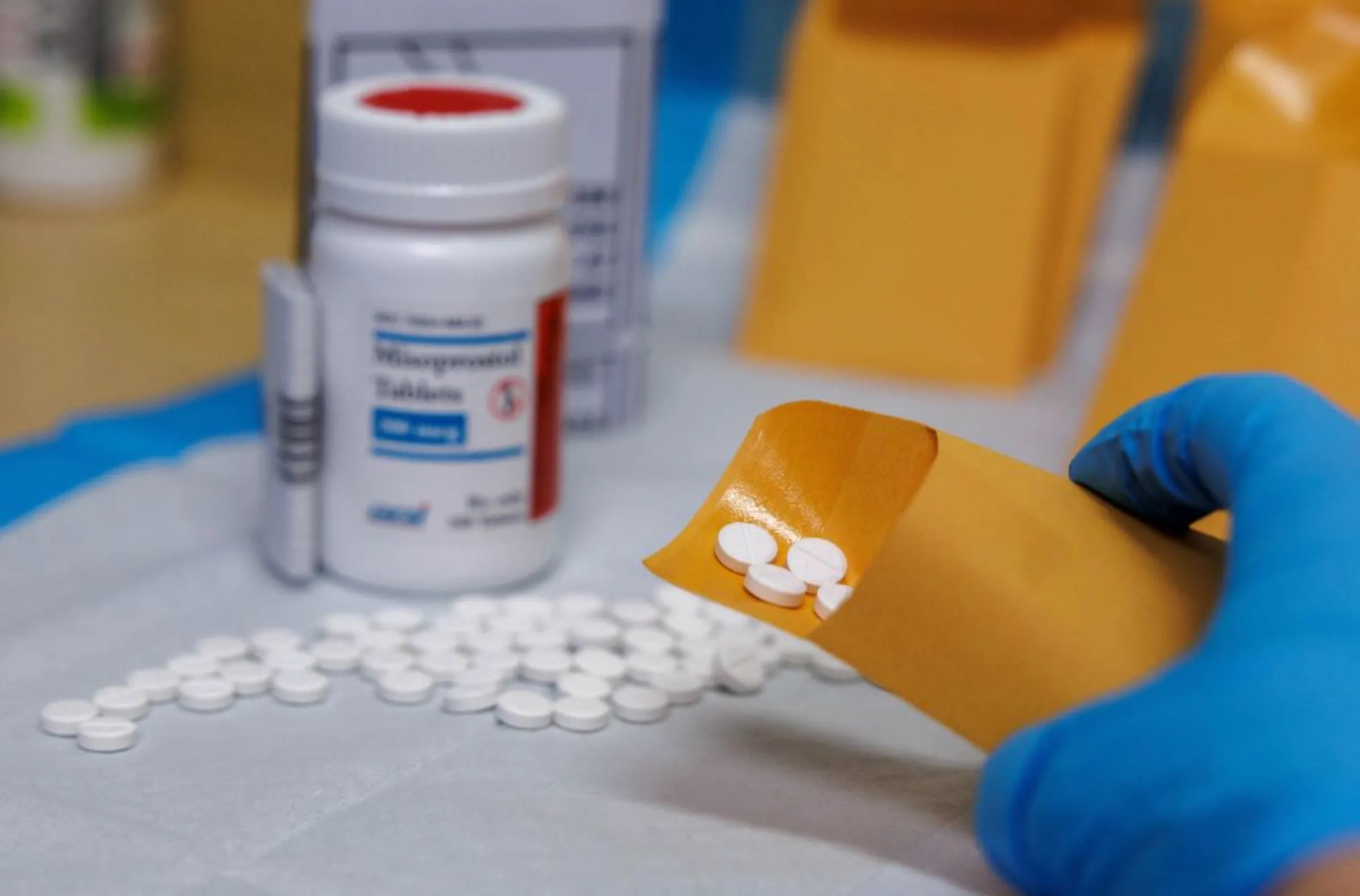 Misoprostol pills, the second medication used in a medical abortion, are put in envelopes for patients at Alamo Women's Clinic in Albuquerque, New Mexico, U.S., January 10, 2023. REUTERS/Evelyn Hockstein
What's the context?
Conservative lawmakers and policy groups are targeting access to abortion pills, reproductive rights groups say
Pills seen as 'next frontier' in abortion rights fight
Numerous states and lawmakers target access
Abortion activists circumvent bans with pills by mail
Women and girls in U.S. states from Texas to Arizona face increasing obstacles to getting abortion pills as conservative lawmakers tighten restrictions on terminations.
Reproductive rights groups say that demand for the pills has soared since the U.S. Supreme Court in June 2022 removed women's nationwide rights to end their pregnancies.
But a growing number of states are looking to crack down on access.
Here's what you need to know:
What is the abortion pill?
The abortion pill - also known as medical or medication abortion - is widely used to end early-stage pregnancies.
It usually involves two drugs, mifepristone and misoprostol, taken 24-48 hours apart. The process can generally be done at home and without medical supervision.
In the United States, more than half of abortions are carried out by taking abortion pills as opposed to having a surgical procedure, according to the Guttmacher Institute, a reproductive rights research group.
How is abortion pill access being restricted in U.S. states?
Nearly all abortions, including medication abortions, are now banned in 12 states, according to the Guttmacher Institute.
Another 16 states that permit abortions under limited circumstances also had laws specifically restricting access to abortion pills as of November, it said.
"We fully expect more efforts by state legislatures to restrict access to abortion care," said Elisa Wells, co-founder of Plan C, a nonprofit website that provides information about medication abortion.
Placing barriers on pills has become a particular target for U.S. anti-abortion groups and lawmakers, "as many view it as the next frontier in the war against abortion access," said the Center for Reproductive Rights.
More than 400 state bills to restrict or ban abortion were proposed last year, according to the Center for Reproductive Rights, and a total of 28 states introduced 50 restrictions on abortion pills, with five bills ultimately enacted.
Restrictions passed by states include a ban on the use of abortion pills, prohibiting the mailing of pills, banning doctors from prescribing them through telemedicine consultations via phone or video calls, or requiring patients to get pills in person from a doctor and not by mail.
In Texas, anti-abortion groups have filed a lawsuit before a district judge challenging the U.S. Food and Drug Administration's (FDA) approval of the drug mifepristone for medication abortion.
Other measures like blocking websites that offer or sell abortion pills and making it harder for people to get a prescription for the pills are also being considered by anti-abortion groups as ways to curb access.
In conservative Alabama, which has a near-total ban on abortion, Attorney General Steve Marshall said in January that people who provide abortion pills can be prosecuted under state laws.
How are abortion rights groups reacting?
Abortion rights groups said pills were still available in states with bans or restrictions through groups like Aid Access that help people order pills, online pharmacies, and community-based supply networks.
According to Plan C, people living in states with restrictive laws can access abortion pills by using "creative options," including traveling across state lines.
Another option involves people using telemedicine service in another state and using a mail forwarding service to get pills mailed to their home or general delivery address.
In January, the FDA said it would allow pharmacies to dispense abortion pills to patients with a prescription, removing restrictions on mail order shipping of the pills and their prescription through telehealth.
The change in rules expanded access in states where abortion is legal, and could also make it easier for people to travel from a state that bans abortion to one that permits the procedure to pick up medication at a pharmacy.
"However, 12 states have banned abortion, and this move will not change anything for the people in those states," Nancy Northup, president and CEO of the Center for Reproductive Rights, said in a statement.
Is abortion pill access under threat elsewhere in the world?
Yes – activists said the trial of reproductive rights activist Justyna Wydrzyńska in Poland could have a chilling impact on access to pills there.
Wydrzyńska is accused of helping a woman obtain an abortion using pills, in defiance of a near-total ban on terminations imposed last year.
Rights campaigners say the case could deter activists from helping other people who want to end their pregnancies.
"Charging Justyna Wydrzyńska sets a dangerous precedent in Poland and sends a chilling message not only to those in need of safe abortions but also the people who support them in accessing care," said Monica Costa Riba, a women's rights campaigner at Amnesty International.
SOURCES: The Center for Reproductive Rights; The Guttmacher Institute; Kaiser Family Foundation; Amnesty International
(Reporting by Anastasia Moloney in Bogota; Additional reporting by Joanna Gill in Brussels; Editing by Sonia Elks)
---
---
Tags
Gender equity
Race and inequality
---