COP28 outlook soured by climate finance blame game at UN talks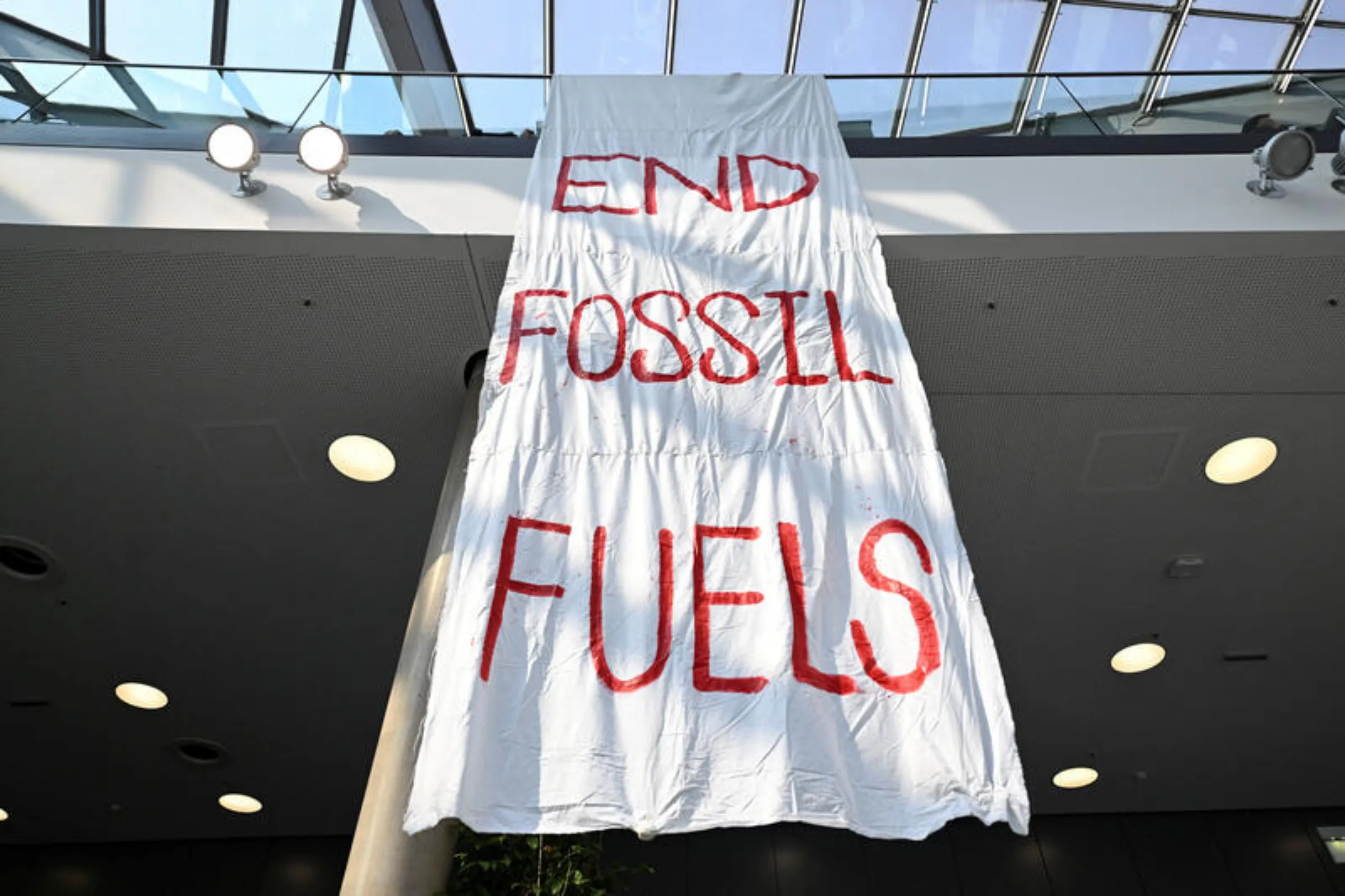 A banner reads "End Fossil Fuels" at the Bonn Climate Change Conference in Germany, June 8, 2023. REUTERS/Jana Rodenbusch
What's the context?
Could a row at mid-year UN climate talks over a lack of funding for developing nations spell trouble for upcoming COP28 summit in Dubai?
As Cyclone Biparjoy approached southern Pakistan this week, top Pakistani negotiator Nabeel Munir told governments at mid-year U.N. climate talks in Bonn it felt like he was "conducting a primary school class", amid squabbling over the meeting agenda.
The evening before the two-week negotiations were due to end in the German city on Thursday, a compromise was found, avoiding a diplomatic embarrassment ahead of December's key COP28 summit in Dubai.
But the Bonn outcome did not resolve the stark differences between rich nations that want to focus on a formal work programme to boost emissions reductions - and some developing countries that are demanding they also address a lack of international finance to help them shift to clean energy.
"Here in Bonn, negotiators have been playing the blame game and pointing fingers at each other's insufficient action," said Tom Evans, policy advisor on climate diplomacy and geopolitics at environmental consultancy E3G.
The "big prize" at COP28, he noted, would be an ambitious political deal to step up climate action in response to a global review that is set to highlight how the world is failing to limit warming to a global goal of 1.5 degrees Celsius, and is unprepared for climate disasters.
"There's a real risk we end up with a lowest common denominator outcome if champion countries don't step in to cobble a deal together before COP28," warned Evans.
As the Bonn talks wound up, climate policy experts said the unwillingness of wealthy countries to deliver on their climate finance promises and to discuss increased funding for poor and vulnerable nations had soured the atmosphere on most issues under negotiation - and was set to spill over into COP28.
Since 2020, developing countries have been waiting for $100 billion a year in finance to help them adopt clean energy and adapt to a hotter planet - a pledge rich nations have said they should finally meet this year. The latest estimate put such funding at about $83 billion in 2020.
That delay has led to a lack of trust that is needed for effective political negotiations, noted David Waskow, international climate director at the World Resources Institute.
"Progress (in Bonn) was underwhelming on nearly every front, with one main culprit: money," he said. "Developing countries are increasingly frustrated that funds promised to implement their climate plans are not materialising."
The ripples from the impasse over finance meant that many key issues at the mid-year talks - which were intended to prepare the ground for a successful outcome at COP28 - also remained mired in disagreement and were delayed until further workshops and meetings before the year-end summit in Dubai.
Those key areas of work ranged from setting targets for a global goal on adaptation to making agriculture more climate-friendly and planning for a just transition to a low-carbon world.
FOSSIL FUEL PHASE-DOWN 'INEVITABLE'
One bright spot was a comment by the UAE's Sultan al-Jaber, president of the COP28 talks to be held in Dubai and also head of the national oil company, that a phase down of fossil fuels is "inevitable" - stronger language than he has used before.
He added that the speed at which that happens will depend on "how quickly we can phase up zero carbon alternatives, while ensuring energy security, accessibility and affordability".
"He could be the man to oversee agreement this year on the transition to a phase-out of all fossil fuels," said Mohamed Adow, director of Nairobi-based climate and energy think tank Power Shift Africa.
"For people in Africa, fossil fuel-driven climate change is making us suffer terribly. Let this year's Dubai COP28 be where we begin our recovery."
Advocacy groups that have been lobbying to stop fossil fuel industry representatives participating at the climate talks also applauded the adoption of the first-ever requirements for all participants to disclose their affiliation beforehand.
But they lamented that the new measures, to be rolled out in the coming days by the U.N. climate secretariat, will not include the need to reveal financial sponsorship - meaning it will not be clear whether an individual is being funded by the fossil fuel industry to participate in climate talks.
Research at last year's COP27 in Egypt, released by human rights groups, showed that 636 fossil fuel lobbyists were registered to the summit, affiliated with some of the world's biggest oil and gas firms, both public and private.
"Foxes have no place in the hen-house. This important step to increase transparency is a milestone that moves us closer to kicking big polluters out of this process," said Sara Shaw of green group Friends of the Earth International.
Climate activists and analysts said that while the outcomes of the Bonn talks were disappointing, there would soon be opportunities to advance discussions at other key gatherings, including next week's Paris summit on reforming the global financial system to help debt-strapped developing nations.
They called for governments there to agree to ease the debt distress affecting more than 90% of climate-vulnerable countries and to provide more funding in the form of grants to help them adapt to extreme weather and rising seas and recover from climate-driven loss and damage.
"You can't make money from people's despair," said Harjeet Singh, head of global political strategy for Climate Action Network International, warning that these challenges could not be solved with loans, which make up the bulk of climate finance now.
"It is immoral, it is unjust," he told journalists in Bonn.
(Reporting by Megan Rowling @meganrowling; Editing by Kieran Guilbert. The Thomson Reuters Foundation is the charitable arm of Thomson Reuters. Visit https://www.context.news/)
---
---