Climate-stressed Indian farmers seek to escape debt and suicide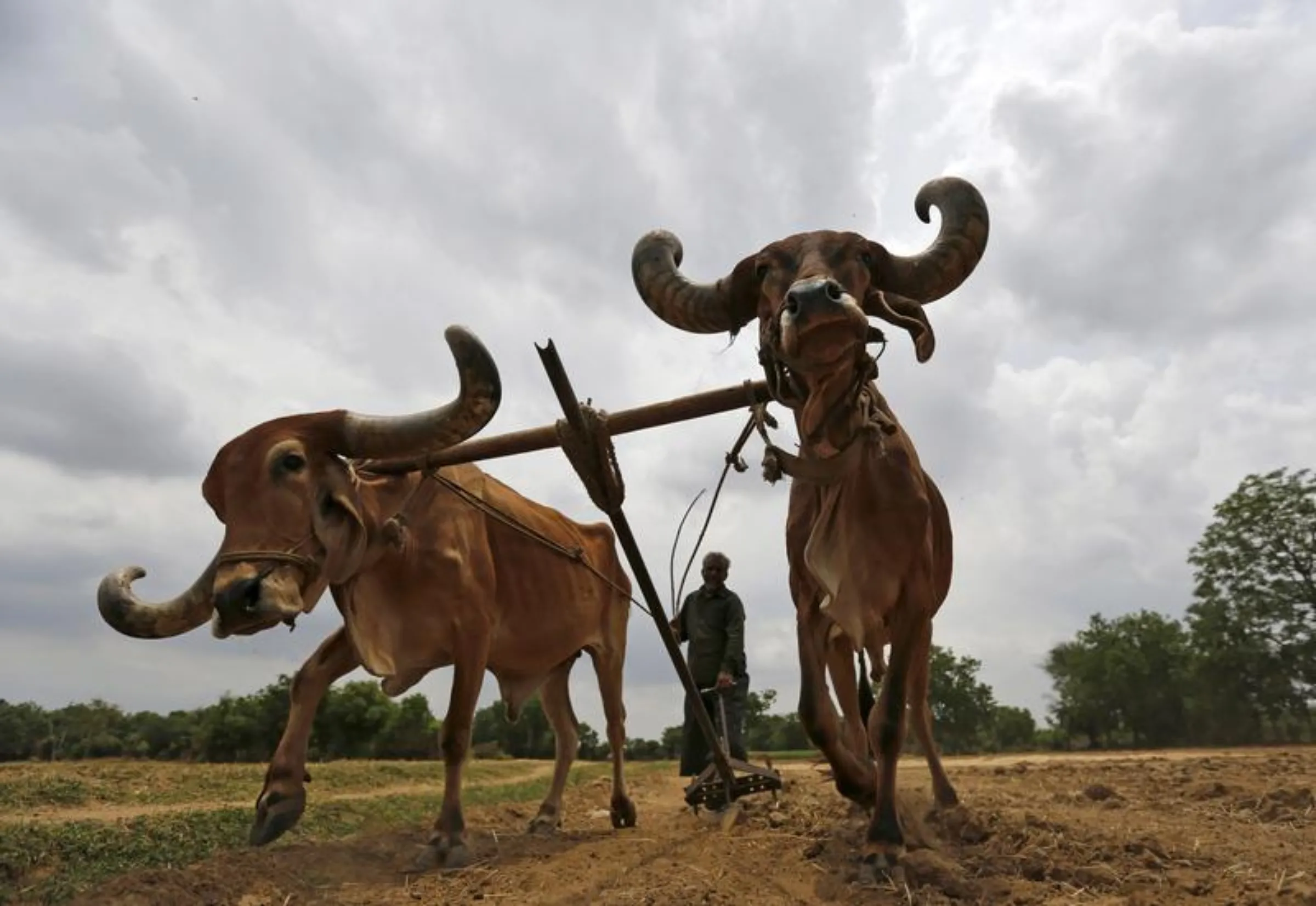 A farmer uses a pair of oxen to plough his field before sowing rice seeds on the outskirts of Ahmedabad, India, June 11, 2015. REUTERS/Amit Dave
What's the context?
India's farmers face mounting losses as drought worsens, with some even driven to suicide, spurring calls for social protection to ease the pressure
About 30 farmers died by suicide daily in 2021
Climate change exacerbates agrarian distress in India
Job guarantee, mental healthcare seen as key solutions
MUMBAI/NEW DELHI - Farmer Ganpatram Bheda, 66, fears he will lose his two acres of land in northwest India after scarce rainfall and extreme cold in recent years hit crop yields, trapping him in a web of loans with little help from the state to overcome his financial woes.
As small-scale Indian farmers like Bheda grapple with growing climate uncertainties, researchers this week called for a robust rural jobs scheme, crop insurance and mental healthcare to ease growing distress and suicide in agrarian communities.
In a new report linking rainfall deficits to higher farmer suicide rates in India's drought-prone states, researchers said climate change was making "agriculture an extremely risky, potentially dangerous and loss-making endeavour".
Farmers are among the most at-risk groups in India for death by suicide, said the report from the London-based International Institute for Environment and Development (IIED), as recurring droughts affect their health and emotional wellbeing.
For more than two decades, rural India has struggled with farmer suicides, as consecutive years of drought, poor harvests and costly animal feed have fuelled debt and mental anxiety.
Nearly 11,000 farmers, cultivators and agricultural labourers took their own lives in 2021, averaging about 30 deaths a day, according to India's most recent crime data cited in the IIED report.
But experts estimate that the real numbers are far higher.
Madhura Swaminathan, an economist with the Bengaluru-based Indian Statistical Institute, said the official figures cover only reported cases.
More robust research is needed on the linkage between suicides and climate change in order to better plan ways to make Indian agriculture more climate-resilient, she added.
Ritu Bharadwaj, a principal researcher with the IIED, noted that climate change impacts are "a stress multiplier".
In particular, they are exacerbating economic pressures on farmers through recurring droughts, she said.
While droughts are not a new problem, "climate change has made (them) more intense and more frequent, and it has increased (their) geographical coverage," she said in a phone interview.
More than 250 million people in India, or nearly half of all workers, are employed in agriculture and related sectors, according to India's last census in 2011 - and the vast majority depend entirely on their farm incomes to survive.
New interventions are needed to protect this huge community as the planet warms, said the IIED report, noting that early warning systems and insurance policies can offer protection against extreme weather.
While the Indian government has some support programmes in place for farmers, including crop insurance and a rural job guarantee scheme, those suffer from poor budgeting and patchy implementation, said campaigners for farmers' rights.
Debts pile up
For farmers like Bheda, a bad harvest spells doom.
In the last four years, he has accrued loans amounting to 4 million rupees ($48,911) from local moneylenders and banks to tide him over crop losses, buy expensive fodder for his cows and pay off other debts.
"We depend only on farming, we have no other income source - and I don't have any other skill either," said Bheda, speaking from Sikar district in Rajasthan state.
Last year, he lost millet and peanuts to a poor monsoon and mustard to a cold wave.
"I take one loan to repay another. If I don't do that, the bank will take away my land," he said.
India still does not map "the hazard, risks and vulnerabilities" affecting farmers at "a hyper-granular level", said Abinash Mohanty, division head for climate change and sustainability at IPE Global, an international development organisation.
This limits understanding of the real impacts of climate change on people, he added.
In recent years, environmental groups have equipped some farm communities with weather information and alerts via text message, as well as resilient seeds for climate-smart farming.
State-run agricultural research institutions also issue weather-based advice on crops.
Yet drought is still forcing many farmers to migrate to cities for work, while some see no way out and end their own lives.
"The likelihood of these cases (of suicide) increasing in the future is high," said the IIED's Bharadwaj, whose assessment of rising risk is based on rainfall variation and suicide data.
Her team studied rainfall patterns between 2014 and 2021 in drought-prone Chhattisgarh, Karnataka, Madhya Pradesh, Maharashtra and Telangana states, which recorded the highest farmer suicides, and found more cases during periods of below-normal rainfall.
"Climate is a factor," Bharadwaj explained. "But vulnerabilities like poverty, illiteracy and lack of social safety nets, or knowledge about how to access them, come together to create a difficult situation."
Employment scheme
The IIED report recommends a shift from insuring against poor crop yields to insuring against bad weather, giving farmers an immediate payout when it hits, regardless of actual losses.
India's rural job guarantee scheme - which promises 100 days of paid labour a year to each rural household - can also be a shock absorber, the report said.
The scheme created much-needed jobs during the COVID-19 pandemic when tens of thousands of people returned to their villages from cities as industries shut down. But its budget was trimmed this year and its implementation is increasingly patchy.
Peoples' Action for Employment Guarantee (PAEG), a collective of academics and campaigners which tracks the scheme's implementation, recorded a 30% fall in the work created this year up to April, compared to the same period last year.
There have also been problems with workers not getting paid, as attendance is now recorded using an app and some rural areas have poor phone networks, said M.S. Raunaq, a PAEG member.
IIED researcher Bharadwaj said she had found that regions where jobs were available under the scheme registered lower suicide numbers despite erratic rainfall.
But the scheme needs to offer better wages and more skills training to open up other job options beyond digging wells and canals and building school walls, researchers said.
For now, farmer Bheda said he and his fellow villagers are planning a protest this month at the district administrative office to demand work under the rural jobs scheme.
But he is not too hopeful, despite scoring a rare win this year: a payout of 48,000 rupees from the state crop insurance scheme for his losses last year.
"The money has gone to the bank, and it gets deducted there for loan repayment. I don't want to be a loan defaulter or I lose my land," he said.
When it comes to the troubles he is experiencing, the blame cannot be put on the climate alone, he added.
"The state has failed to protect farmers," he said.
($1 = 81.7800 Indian rupees)
(Reporting by Roli Srivastava and Bhasker Tripathi; Editing by Megan Rowling)
---
---
Tags
Extreme weather

Agriculture and farming

Climate inequality

Loss and damage
---