As heat wilts crops, India's women forfeit their gold to survive
Farmer Hirabai Shankar Kalel sits on the floor, wrapping her hands covered with glass bangles around her legs, at Jambhulni village in Satara district, India, September 14, 2022. Thomson Reuters Foundation/Abhijeet Gurjar
What's the context?
In India, gold is a woman's security, but as climate change-fuelled heat kills crops, many are cashing it in.
This story is part of a special series on what the world might look as the planet heats up: What happens at 1.5C?
Women's gold jewellery being pawned to keep livestock alive
Worsening heat and drought undermine crop production
Fodder costs for livestock rising, eating up savings
JAMBHULNI, India - Farmer Hirabai Kalel remembers being awash in gold jewellery as a new bride, sporting anklets, arm bands and a waist belt in a country where a woman's gold is her savings and her insurance policy.
But as rising heat and extreme weather fuelled by climate change batter farmers across India, Kalel - like many women - is being forced to cash in her savings.
In her rural area of Maharastra state, increasingly extreme heat has led to rising crop failures, leaving many families heavily reliant on just their livestock.
But without the crop residue that once fed their animals, they now have to buy fodder - a new and unsustainable cost that is quickly eating up their gold and threatening their future resilience.
"If I had not sold my gold, we would have lost both our land and animals," said Kalel, 75, who now wears dozens of green glass bangles on her arms.
"What is left with me is my life and this sari I wear. But I don't regret selling my jewellery. My animals are more dear to me than my gold," she said, sitting cross-legged with other women in her drought-prone village in western India.
Global temperatures have risen more than 1.2 degrees Celsius (2.2 Fahrenheit) since preindustrial times and are now swiftly approaching a 1.5C degrees of warming mark that scientists fear could herald a transition to far costlier and deadlier climate change impacts.
With fossil fuel use still rising globally, despite pledges to slash emissions, 1.5C of warming - the more ambitious limit set in the 2015 Paris Agreement - could be passed within a decade, top climate scientists say.
They fear that could trigger irreversible ecological tipping points, from surging sea levels as polar ice melts to spiking temperatures as methane - a potent driver of warming - escapes thawing permafrost.
A hotter planet is also expected to spark more extreme weather, crop failures, species extinctions, migration and soaring personal and financial losses for many people around the planet.
Pawning gold
In Kalel's village, like many others across India, crop losses from worsening heat and drought are already forcing more women to part with an asset they have long held close as a hedge against bad times, often to ensure their children stay in school.
At the busy counters of Mann Deshi Bank, in the town of Mhaswad, 700 women through September this year have pawned their gold for loans.
That's a big jump from just over 500 gold loans last year and 350 in 2019, according to data from the bank, run by a non-profit of the same name that aims to financially empower women.
"There is not a single day when we don't have a gold loan applicant and we get 10 applicants on average every day. Most loans are for fodder and for children's education," said Vanita Pise, a board member of the bank.
The non-profit's founder Chetna Sinha said climate change-related losses were not on her group's radar when the bank started offering gold loans more than two decades ago.
But loans to cope with those losses have become one of its most sought-after services, as droughts in the area worsen.
Gold loans were designed "to solve problems of people and protect their assets," Sinha said. Women could mortgage their gold safely at the bank instead of going to often unscrupulous private moneylenders who charged high interest rates.
Now bankers wonder if many women, facing worsening losses, will ever be able to reclaim their gold. Less than half have done so, bank officials said, though most have sought extensions on their loans.
Less feed, more cost
The road leading to Sarita Bapu Gejage's sparse hut is flanked by swathes of lush grassland, and dozens of goats and cattle munch lazily on the grass. But villagers say this splash of green is deceptive.
"This land is barren most of the year and we buy dry fodder for nine months," said Gejage, 45, a farmer who recently pawned the gold necklace she had earlier bought for herself in order to afford needed feed.
This morning, Gejage rued a fresh loss: her millet crop, ruined by an unusual two weeks of heavy rain at a time when the southwest monsoon normally retreats and brings only intermittent showers.
"We grow millet to feed our animals fodder but water scarcity at the time of sowing has been spoiling the produce. And now the rain has spoiled the harvest," she said, gesturing across her inundated farm.
With 536 million animals, India has the world's highest livestock population, government data shows.
But of the 148 million hectares of farmland in the country, only about 5% is used to grow fodder crops, a figure nearly unchanged for five decades, said Amaresh Chandra, director of the Indian Grassland and Fodder Research Institute (IGFRI).
Globally nearly a third of arable land is used for livestock feed production, according to the U.N. Food and Agriculture Organization.
Another 11 million hectares of land in India is used for grazing - but that is becoming less productive as overgrazing and excessive heat hurt fields, Chandra said.
That means as farmers need more fodder to keep their animals alive in the face of crop failures, they are finding less of it and paying more.
This year, the country lacks near a quarter of the dry fodder it needs and almost a third of the green fodder required, the government told the parliament in September.
The cost of animal feed now accounts for nearly 70% of livestock rearing expenses, said Sreenath Dixit, principal scientist for the International Crops Research Institute for the Semi-Arid Tropics.
That is eating up the "little financial freedom women had", he said.
Feeding one cow or buffalo now costs farmers up to 3,000 rupees ($36.64) a month, with feed selling at four times what it cost a decade ago, agriculture researchers said.
For small landholders, who typically keep two to three cows and buffaloes, this is a huge sum, villagers said, adding they were effectively feeding their animals gold.
"A quintal of fodder costs us as much as a gram of gold. But what choice do we have? We are up against the might of nature," Gejage said.
Hotter, dryer
The problem is likely to become worse as global temperatures continue to rise.
A 2021 study by Rahul Todmal, an assistant professor of geography at the College of Arts, Science and Commerce in Baramati, Maharashtra, found the state was one of the world's most vulnerable to the kind of rising temperatures now seen globally.
"Climate change has already created a water crisis in these parts and we are aggravating it by growing more cash crops and less of the drought-resistant varieties that could give more resilient food and fodder supplies," he said.
The government and experts said a range of agricultural shifts could help build resilience as climate change drives growing reliance on animals among Indian farmers.
Those include increasing the area for fodder crops, rejuvenating grazing land, using more climate-resilient feed varieties and regulating fodder prices, as happens with other crops, according to IGFRI.
The government is currently working to improve the quality of fodder crop seeds, set up more feed processing units and promote livestock insurance, according to the Ministry of Fisheries, Animal Husbandry and Dairying.
'We wouldn't have survived'
India's farmers and herders are hardly alone in facing growing climate change-fuelled pressures.
From Pakistan's farmers faced with drowned fields and animals to drought-hit farmers in Texas and Brazil having to reduce herds, more extreme conditions are making earning a living from land and livestock harder around much of the globe.
Yet in many of India's rural villages, livestock - like a woman's gold - are often the only thing standing between a family and disaster.
"We sell the animal's yield of milk and dung. When there is no money, we eat a dry roti with milk and a green chili paste. We have curd and buttermilk in our house at all times," said 75-year-old Kalel.
Her three buffaloes, she said, are indispensable, and she doesn't mind having sold the last of her gold chains to keep them fed, at least for now.
"We can keep gold all our lives but what is it yielding?" she asked. "If my animals had no food, we wouldn't have survived."
This story is part of a series on what the world will look like at 1.5 degrees Celsius. For the rest of the series, click here.
(Reporting by Roli Srivastava @Rolionaroll; Editing by Laurie Goering.)
---
---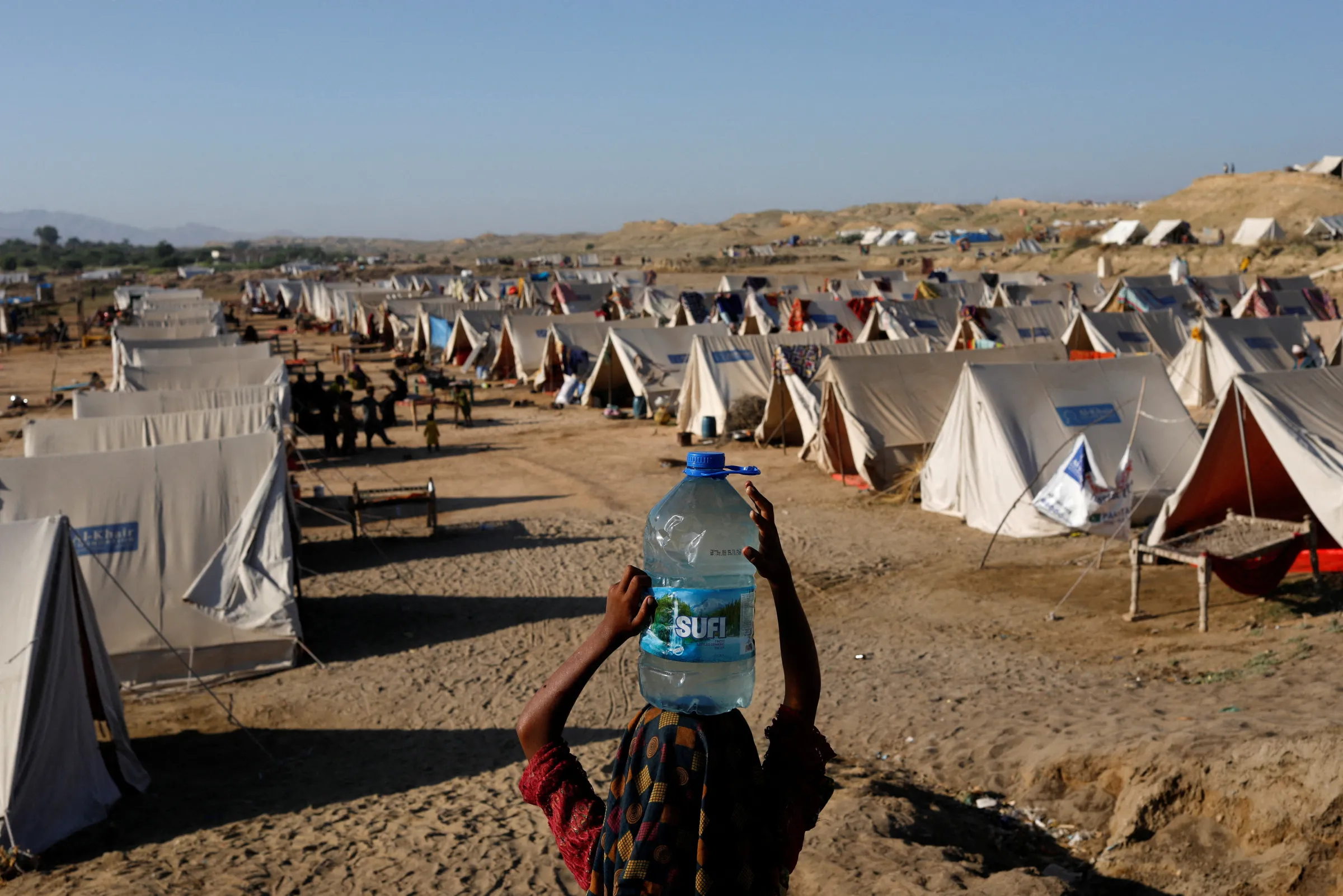 ---
Tags
Climate inequality

Climate solutions
---