Warmer Mediterranean threatens Spain's mussel farms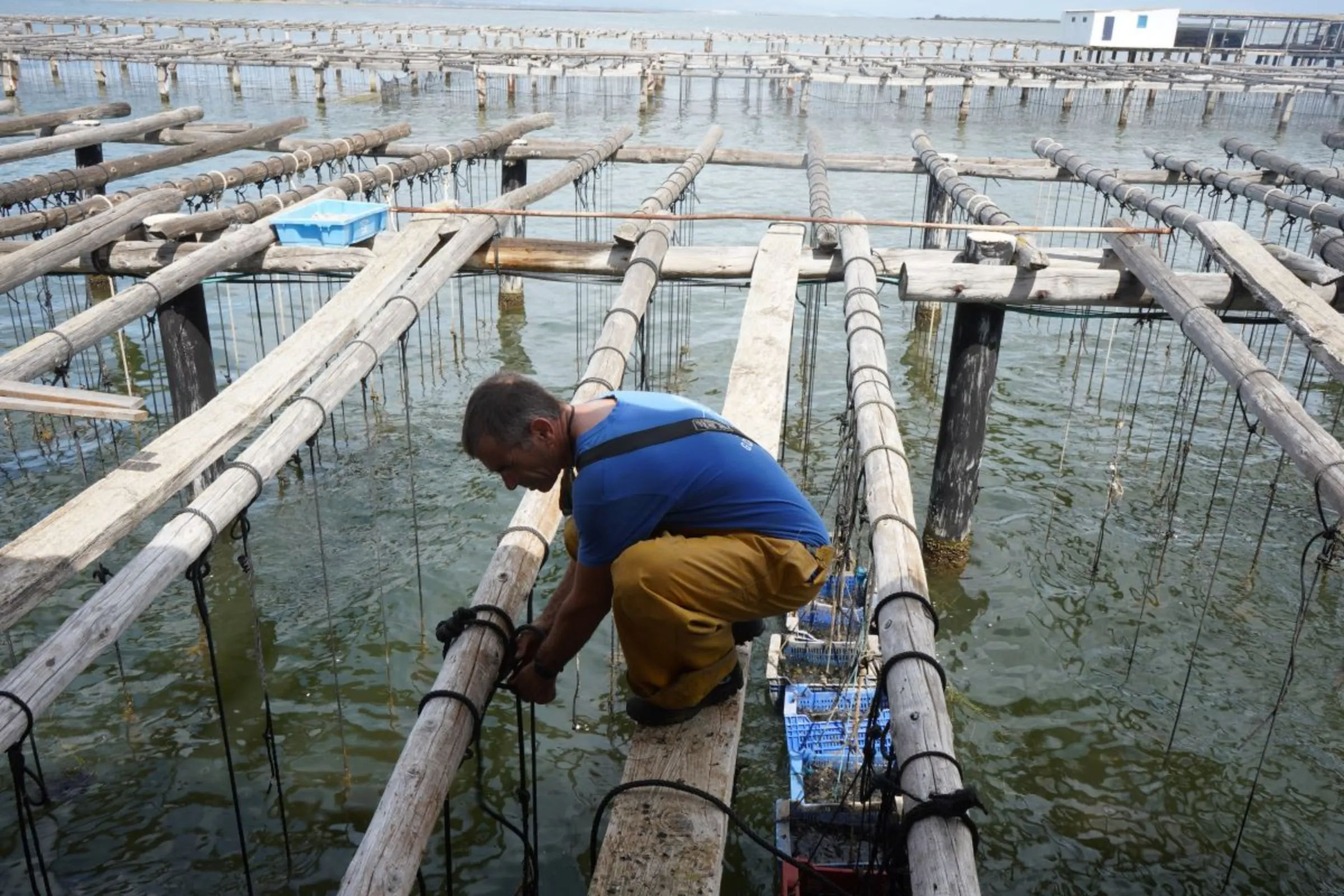 Xavier Cabrera unties ropes that would have been used to grow next year's harvest of mussels in Catalunya, Spain, September 1, 2023. It takes about 14 months for mussels to grow to the desired size, but a heatwave at the end of August killed about 80% of the mussel seed. Thomson Reuters Foundation/Naomi Mihara
What's the context?
Rising sea temperatures are killing mussels in Spain's Ebro delta and shellfish output is also suffering from Greece to Canada
Spanish heatwave kills mussels in Ebro Delta farms
Former "black goldmine" wrecked by heat, farmer says
Shellfish producers seek solutions in deeper, cooler waters
EBRO DELTA, Spain - Mussel farmer Xavier Cabrera held out a handful of dry, dead mussels from his shellfish farm on the coast of the Ebro Delta, 100 miles (160 km) south of Barcelona. "Let's hope this isn't our future," he said ruefully.
A summer heatwave in the Mediterranean region killed off about 80% of the seed mussels - the tiny young that were going to be next year's harvest - and the little that was left of this year's production.
Together with his son Dídac, Cabrera, 47, was removing the empty shells from 1,500 ropes dangling in the water where healthy mussels — which take about 14 months to reach commercial size — would normally grow.
"This has gone from being a black goldmine to pure subsistence," he said in early September.
A decade ago, Cabrera harvested some 10,000 tonnes of mussels each season. But for the past few years, production has tumbled to around 1,500 tonnes.
Spain is the main mussel-producing country in the European Union and the third globally after China and Chile. Mussels, which make up more than a third of EU aquaculture, are a delicacy in dishes ranging from paella to moules frites.
EU mussel production peaked in the late 1990s at more than 600,000 tonnes a year, but economic and environmental factors — including climate change — have cut output. In 2020, production was down to 431,000 tonnes.
Cabrera's father built the farm in 1982 and he now runs it with his brother Rubén. But Cabrera is unsure if the family business will survive even though his son Dídac, 20, studied aquaculture and has been working on the farm for the past five years.
"My son wants to continue what his grandfather, his dad and his uncle did ... but his future is very uncertain," he said.
Last year, a July heatwave also killed about one million of the tiny seed mussels, forcing him and other farmers in the area to buy baby mussels from Greece - where they are cultivated in cooler, deeper waters - adding another big expense.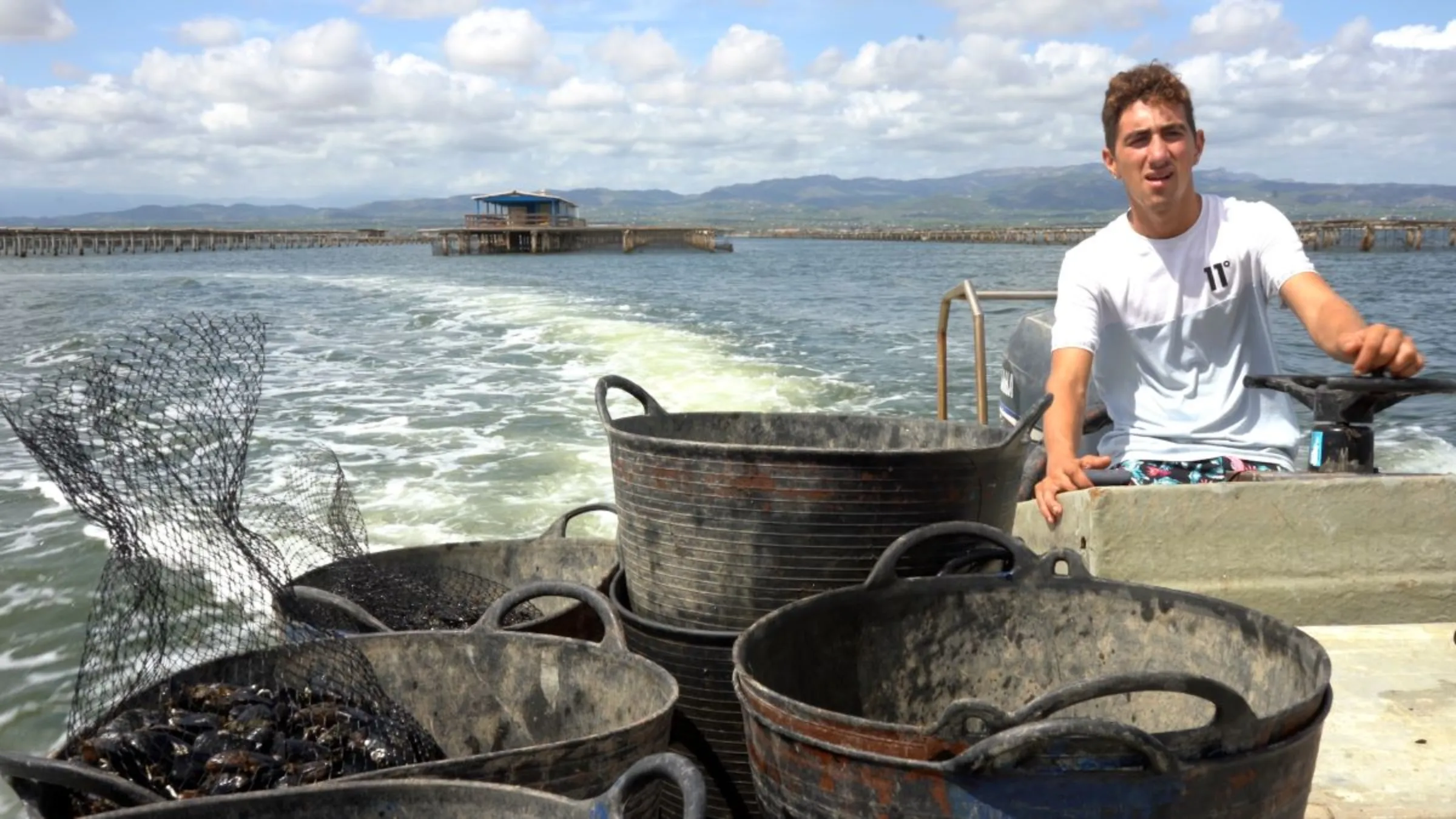 Higher temperatures threaten livelihoods
The Ebro Delta Natural Park, covering 320 square kilometres (123 sq miles) is one of the largest wetlands in the Mediterranean region of Europe and is known for rice production, pink flamingos and high-quality seafood.
But climate heating is threatening the ecosystem, including shellfish production that provides about 1,100 jobs in the delta. The area is home to about 70 family-owned shellfish producers and 13 shellfish depuration plants, which clean pollutants from the molluscs.
In addition to climate change, the Ebro Delta is suffering from coastal erosion and mismanagement, which has created a kilometre-long arm of sand that is slowly closing off the bay of Fangar where Cabrera's farm is located.
This reduces both oxygen levels and circulation of the water, which contains the phytoplankton that mussels and oysters feed on, Cabrera said. The lack of oxygen combined with high temperatures suffocates the mussels.
Cabrera and other mussel farmers have spent years advocating for the authorities to reach a deal to dredge up the sand choking the bay.
Most mussels die when water temperatures reach 28 degrees Celsius (82.4 Fahrenheit), said researcher Margarita Fernández Tejedor from the Institute for Agrifood Research and Technology in the neighbouring municipality of Sant Carles de la Ràpita.
The water in the bay of Fangar reached 30.8C on Aug. 21.
"We know that the heatwaves in the bays are becoming more frequent, longer and more intense, and they also start earlier," she said.
While August used to be highly profitable due to demand from tourists and restaurants, mussel farmers are now forced to harvest in July or they risk losing their entire harvest to a heatwave.
And ocean temperatures are rising globally, driving species polewards.
In August, a record 39% of the planet's oceans experienced marine heat waves, according to the U.S. National Oceanic and Atmospheric Administration
In Greece, high seawater temperatures in 2021 coupled with mucilage — or "sea snot" generated by the overgrowth of phytoplankton — ravaged mussel farms, said Katerina Aligizaki, a biologist from the Aristotle University of Thessaloniki.
This year, high market demand allowed Greek producers to export most of their harvest right before the heatwave, she told Context by email.
While mussel seed mortality is more common in southern Europe, areas further north have recently also started to be affected, according to a 2020 study.
In Canada, Shelby Clarke at the Department of Biology at Dalhousie University in Halifax, said mussels tend to close their shells to protect themselves when exposed to higher temperatures.
"When they are closed they're not breathing and they're not feeding, and that can hinder their ability to grow," she said.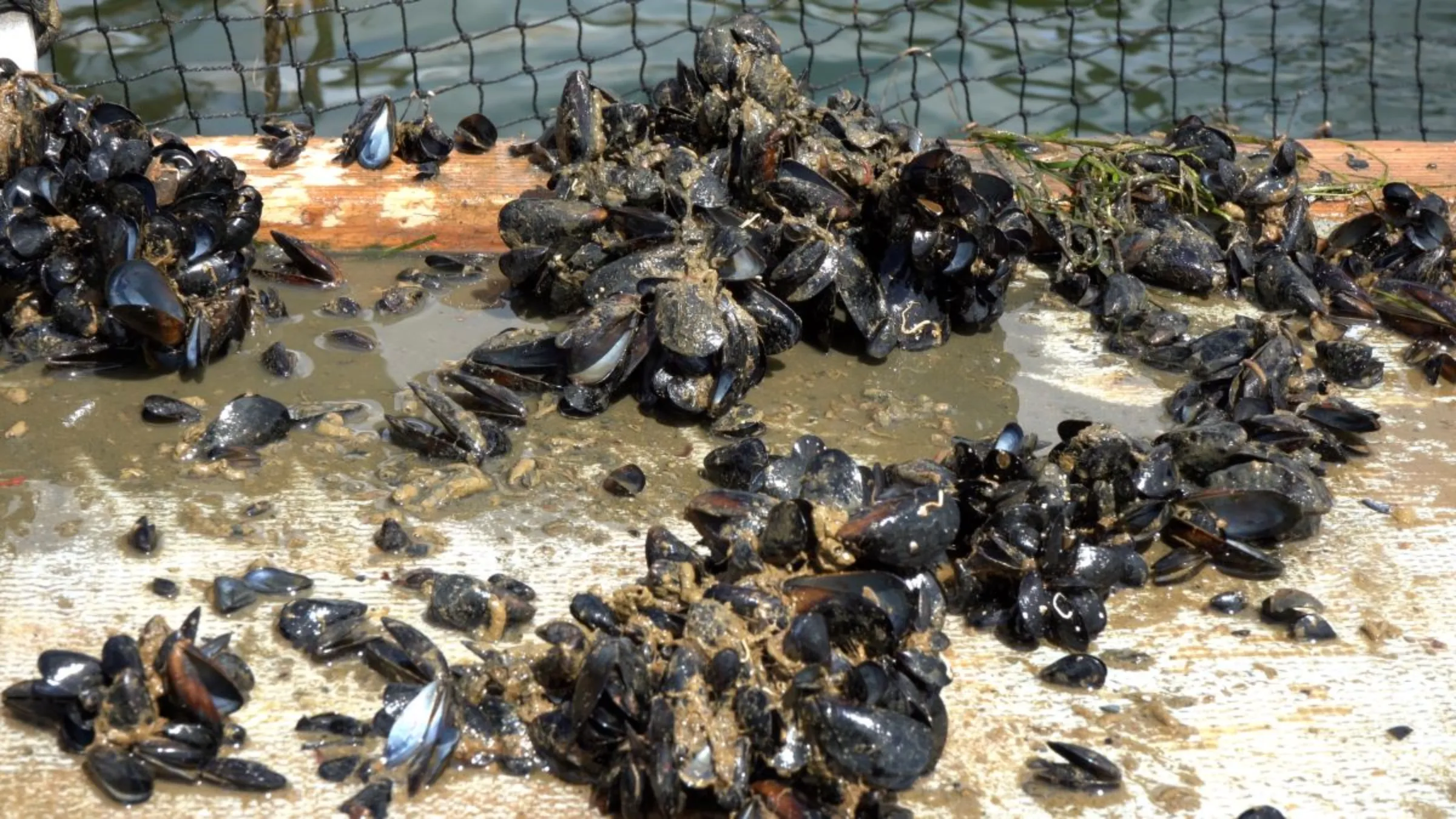 Adapting mussel farming to changing climate
Clarke said the Canadian aquaculture industry could look at switching from its current practice of gathering mussel seed from the open sea and instead use hatcheries to breed strains more resistant to rising temperatures.
Other farmers are moving into oysters as they have a better heat tolerance and a higher price, Clarke added. However, oysters take longer to grow and cost more to produce.
Cabrera's family has always grown both mussels and oysters, but has in recent years increased production of the latter. He recently also started fishing octopus and cuttlefish during the winter season to diversify the family's sources of income.
Yet these new solutions are not without risk. Fernández said that importing mussel seed from other countries including Greece risks introducing invasive species.
To protect local production, her research team is looking into shifting it to cooler waters off the Ebro Delta that could be used for so-called "longlines" — horizontal ropes attached to small anchored floats from which vertical ropes are hung to grow baby mussels.
They may take longer to mature in deeper waters, which contain less chlorophyll and phytoplankton for the mussels to feed on. But the quality may be better because the water is cooler and cleaner, she said.
The longline technique is already the preferred method in New Zealand and it is also being explored by mussel farmers elsewhere.
Bill Silkes, a shellfish producer in Narragansett Bay in Rhode Island on the east coast of the United States, is attempting to move his mussel farming operation into the Gulf of Maine using the offshore longline technique.
But operating in open water presents other challenges, including limited availability of new permits to operate in federal waters and access to dock space, he said.
Cabrera is not among those who are optimistic about longlines. "What good does it do to grow the seed out there if it will just die when you plant it here in the bay?" he asked.
With warming waters, mussel farmers fear they are running out of options.
And Gerardo Bonet from the Federation of Mollusc Producers in the Ebro Delta said that small-scale producers are the first hit by the impacts of climate change.
"We're already suffering, and we've been going through it for years," he said.
(Reporting By Natalie Donback and Naomi Mihara, editing by Alister Doyle)
---
---
Tags
Extreme weather

Adaptation

Agriculture and farming

Loss and damage

Biodiversity

Climate solutions
---