Closing the UK's digital skills gap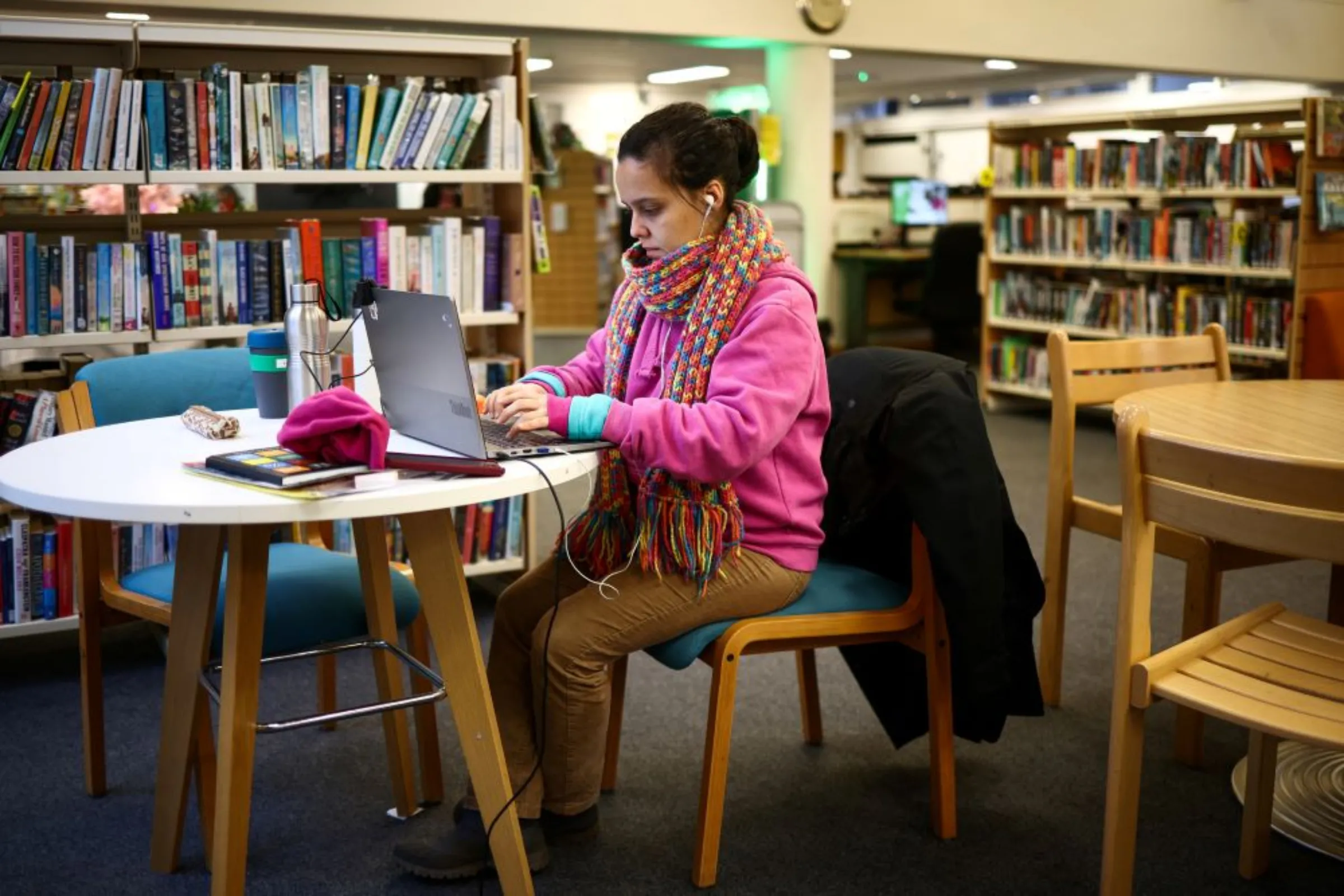 A local resident uses a laptop inside the Roehampton Library, that is being used as a "warm bank", in London, Britain, December 14, 2022. REUTERS/Henry Nicholls
Addressing the digitally excluded can help close the digital skills gap pervading the UK economy
Elizabeth Anderson, Chief Operating Officer for the Digital Poverty Alliance.
Digital exclusion remains a major issue across Britain with a lack of digital skills, connectivity and device access holding back millions and stunting the national economy. In fact, research has shown that the digital skills shortage costs the economy over £50bn annually.
Many services moved online following the pandemic, but not everybody has been able to follow into the online world. Digital poverty continuously impacts those without access, creating barriers to essential daily activities such as education, finding employment, remote working, online banking, finding cheaper energy bills, accessing healthcare and so much more.
However, the cost-of-living crisis has worsened the issue, with both the public and businesses tightening their purse strings. Immediate action is required, or else the digitally excluded will be left behind and the UK economy hit with further losses.
Lack of digital access
Amid other barriers, three elements are key - access to devices such as a laptop; access to connectivity such as a stable broadband connection; and access to digital skills to effectively utilise devices and the internet.
Quantifying the problem is crucial in addressing a lack of digital access, and something that the Digital Poverty Alliance's Evidence Review sought to begin last year, bringing together the myriad of previously released reports.
The review shockingly found that one in five children home-schooling due to the pandemic in 2021 did not have access to an appropriate device.
Research also revealed that 11 million people in the UK lack the digital skills needed for everyday life, with over a third of the workforce lacking the essential digital skills required for work. Essential digital skills are just that – the ability to turn on a device, open the internet and enter login details.
Promoting tech inclusivity
The opportunities for those without digital to re-enter the online world is becoming increasingly difficult, with upfront and monthly fees also increasing, and technology changing too rapidly to keep pace.
Part of solving the issue is to redefine digital as essential, alongside other utilities such as energy. Promoting tech inclusivity requires understanding the Minimum Digital Living Standard and acting on it by providing access to devices, connectivity and skills to those currently without. This means no longer regarding laptops or smartphones as a "luxury", and realising how education, work, health, finances and more are reliant on internet access.
Creating an inclusive education system that teaches digital skills and provides access to devices, without discriminating against those who cannot access online services at home, is one step to tackling digital exclusion.
Workplaces must follow suit, providing opportunities for their workforce to improve digital skills, and local support also remains essential, in physical places that are easily accessible by those in cities as well as more rural communities.
Importantly, the government must be more involved. Whether it be better advertising for social tariffs, or raising awareness of digital poverty and setting combative policies, the government has a significant role to play in making digital accessible.
Growing the economy with digital skills
Encouraging people into work was a large element in the Chancellor's Spring Budget, with 6.7 million of the working-age population economically inactive – a number of which are restricted by a lack of digital skills. In order for the economy to grow, reducing the number of people out of work due to digital exclusion must be placed higher on the agenda.
In contrast, it was revealed that two-thirds of the UK workforce are actively looking to improve their digital skills over the next two years. Increased salaries and career progression, improved employability, and job security were cited as the main reasons behind upskilling, but this too needs to extend to those out of work.
The larger the number of people proficient in digital skills and confident in using online tools, the larger the talent pool available for businesses when hiring for roles requiring digital skills. Upskilling and re-skilling are thus pivotal in expanding the talent pool, and could target under-represented groups in the tech industry, such as women, returners and ex-forces.
But this is not purely about IT jobs. This is about giving people the access to any role that relies on using a computer – from accountancy to zoology.
The UK's ambitious plans to become a 'Science and Technology Superpower' and the 'next Silicon Valley' cannot happen if millions nationwide are unable to access or use technology.
Therefore, digital inclusion has a significant role to play in economic growth in the UK, supporting people in their day-to-day essential activities, empowering the workforce with digital skills, and boosting efficiency for businesses through hybrid working models and streamlined tech solutions.
Ultimately, it comes down to digital access being seen as essential. Once government, industry and communities view digital as essential to everyday life, action can be focussed, and widespread inclusion plans put in place to benefit millions.
---
Any views expressed in this opinion piece are those of the author and not of Context or the Thomson Reuters Foundation.
---
TAGS
Digital Rights
Digital Divides
Tech and inequality
---