Africans want renewables, not fossil fuel funding from G7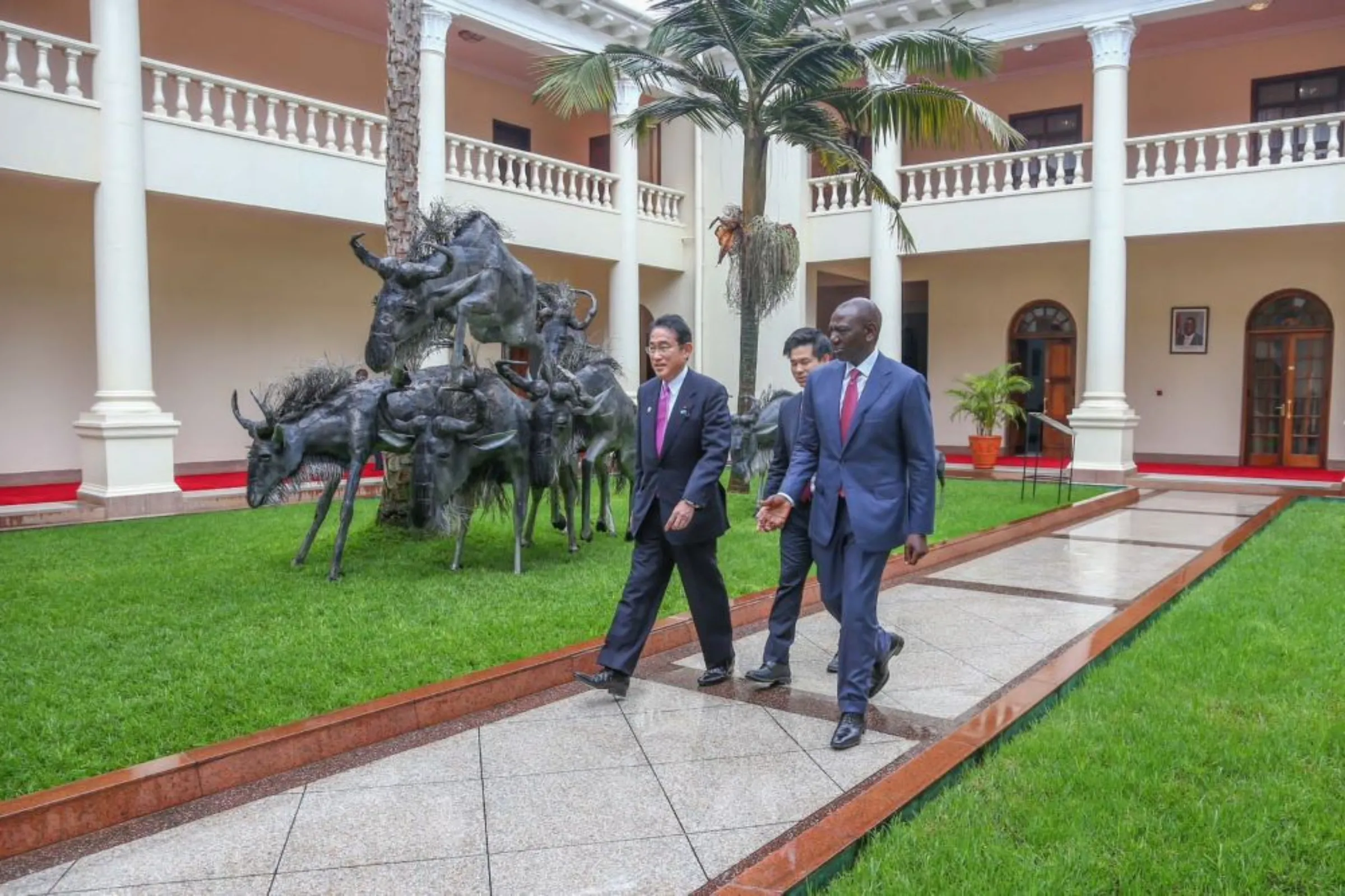 Kenya's President William Ruto walks with Japanese Prime Minister Fumio Kishida during his official visit at the State House in Nairobi, Kenya May 3, 2023. Presidential Press Service/Handout via REUTERS
With Japan's leader touring Africa, pressure is growing on G7 nations to support clean energy development on the continent rather than oil and gas
Thuli Makama is Africa Program Director for Oil Change International, Amos Yesutanbul Nkpeebo is a climate change campaigner based in Ghana, Daniel Ribeiro works with Justiça Ambiental JA!/Friends of the Earth Mozambique, and Salome Nduta is at OilWatch Africa.
Ahead of the Japan-hosted G7 leaders' summit in May, Japan's Prime Minister, Fumio Kishida, is on a tour of Africa until Friday. He is visiting Egypt, Ghana, Kenya and Mozambique, as G7 chair to "increase (Japan's) involvement in the Global South". Japan has been criticized by fellow G7 members for using its role as G7 host to promote its fossil fuel-heavy energy strategy across Asia and worldwide.
Africa - the continent worst hit by the climate crisis with the biggest energy access gap and the highest renewable energy potential - does not need more investment in fossil fuels. Kishida cannot be allowed to promote fossil-fuel dependency on the African continent. He must listen to the African people, who want a just transition to 100% renewable energy.
As African civil society organizations, we have one message to rich countries: Don't Gas Africa. With 600 million Africans lacking access to clean, modern energy, we say scaling up cheap, decentralized, renewable energy is the fastest and best way to end energy exclusion and meet the needs of Africa's people.
Last month, G7 environment, energy and climate change ministers met in Sapporo, Japan, to discuss the response to the fossil energy crisis linked to the war in Ukraine while meeting climate goals. Japan tried to convince the G7 to endorse investments in gas and liquified natural gas (LNG), as well as fossil-fuel based technologies that extend the lifetime of fossil fuel assets, such as ammonia, but the UK, France and Canada pushed back.
The ministers instead agreed "to accelerate the phase-out of unabated fossil fuels so as to achieve net zero in energy systems by 2050 at the latest in line with the trajectories required to limit global average temperatures to 1.5°C." They also highlighted that they "ended … public support for the international unabated fossil fuel energy sector in 2022, except in limited circumstances clearly defined by each country consistent with a 1.5°C warming limit."
These are critical commitments. According to the International Energy Agency (IEA), respecting the 1.5°C warming limit means there can be no investments in new coal, oil, or gas supply or LNG infrastructure without stranded assets. In addition, it is a myth that fossil fuels support development. For decades, the resources and profits from fossil fuel extraction in Africa have been exported to the richest countries, while communities are left behind with pollution, inequality, and poor energy access.
Shifting to renewable energy and phasing out fossil fuel reliance will permanently bring down soaring energy costs and increase energy security. Renewables technologies are more affordable, can be scaled up more rapidly, and do not introduce further volatility through increased climate damages, fiscal instability, and stranded asset risks as global gas demand drops. They can also be community-led and owned and can better reach rural communities.
Mozambique gas woes
Despite longstanding commitments to align financial flows with climate goals, data from Oil Change International shows that between 2020 and 2022, the G7 governments provided at least $73 billion in international public finance for fossil fuel projects, almost 2.6 times their clean energy support over the same period ($28.6 billion). The G7 ministers claim they have now ended this fossil fuel finance, but the data shows this is untrue.
The Japanese export credit agency, the Japan Bank for International Cooperation, has financed a new gas project in Uzbekistan in 2023 and approved support for LNG imports. Prior to the 2022 deadline for ending fossil fuel support, it backed a massive gas development in Mozambique, with devastating consequences - and Japan is considering additional financial support.
Almost all international public finance for gas developments in Mozambique has gone to facilities supporting gas exports rather than increased energy access. The gas sector has exacerbated the ongoing conflict in the region, the environment is polluted, and the region's climate vulnerabilities have worsened, while local communities have seen little to no socioeconomic benefits.
Rather than bringing outdated and climate-destroying fossil fuel technologies to Africa, Japan should meet its G7 promise to end international finance for fossil fuels, and instead ensure that, together with fellow rich countries at the G7 Leaders' Summit in May, it delivers its fair share of climate finance, loss and damage funding and just energy transition support to the Global South.
By shifting support away from fossil fuels, the G7 can increase their clean energy finance to at least $34 billion, a sum almost large enough to close the global clean energy access finance gap, estimated at $36 billion. This is the only effective route to securing a more secure, prosperous future - for Africa and worldwide.
---
Any views expressed in this opinion piece are those of the author and not of Context or the Thomson Reuters Foundation.
---
Tags
Clean power

Fossil fuels

Net-zero

Climate policy

Energy access
---