Why are Europe's nurses and healthcare workers on strike?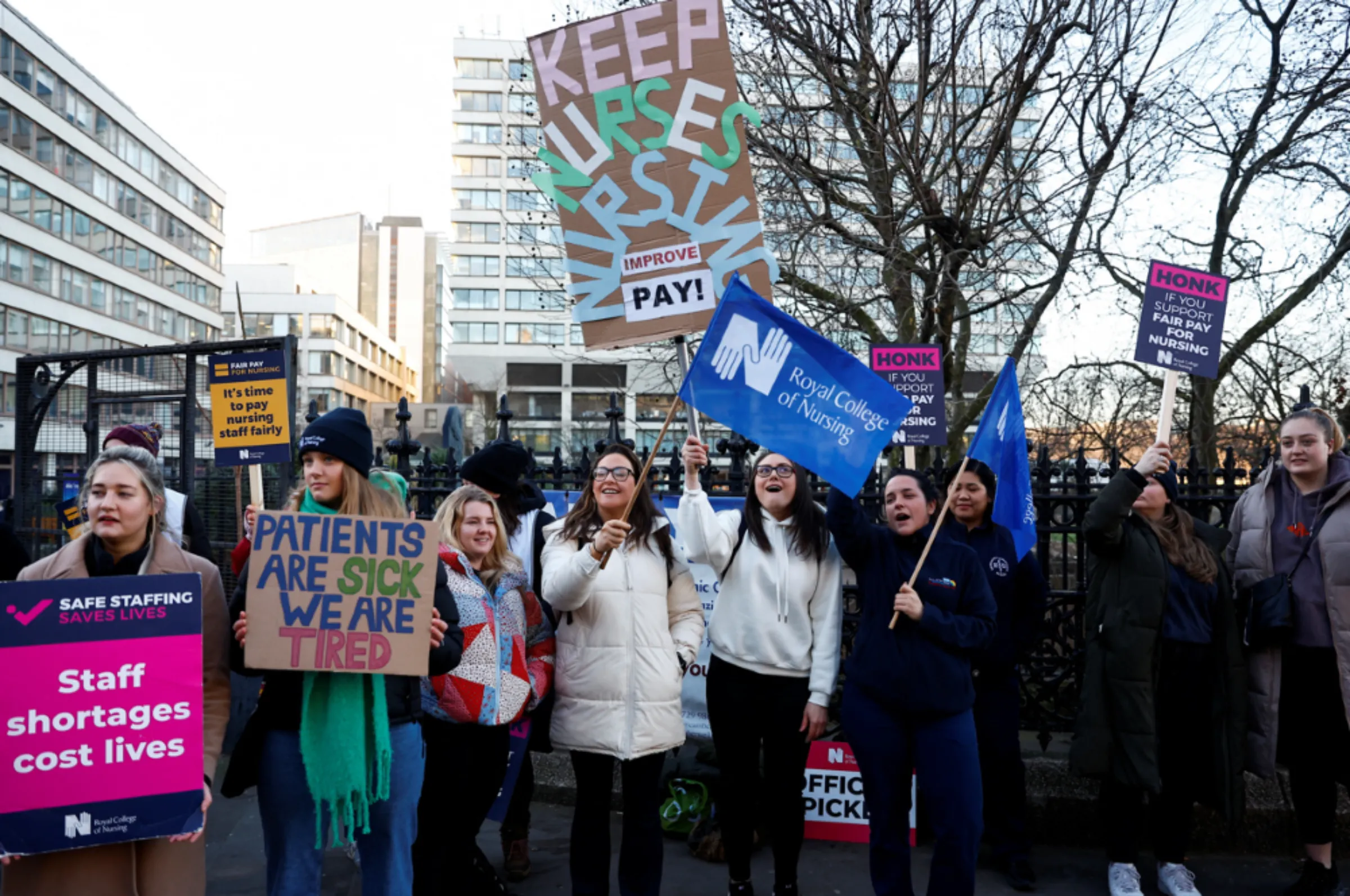 Nurses protest during a strike by NHS medical workers, amid a dispute with the government over pay, outside St Thomas' Hospital, in London, Britain, February 6, 2023. REUTERS/Peter Nicholls
What's the context?
Austerity, COVID burnout and the cost-of-living crisis have left Europe's hospitals and care homes depleted and demoralised
European healthcare workers strike over pay, conditions
Inflation, post-pandemic burnout add to strain
WHO warns of 'ticking time bomb' due ageing workforce
BRUSSELS, LONDON - Europe's health systems are creaking under the strain of staff shortages, post-pandemic burnout and stretched budgets, prompting strikes from Spain to Belgium, including the largest ever national walkout by British health workers.
Nurses and ambulance workers have been striking separately on and off since late last year but this week's walkout involving both, largely in England, is the biggest in the 75-year history of the state-run National Health Service (NHS).
Gaps in health and care staffing across the Europe are a "ticking time bomb", a World Health Organization (WHO) report warned last year, citing an ageing workforce among doctors and other medical staff as one of the main concerns.
The sector, which is mainly composed of women, faces a shortage of one million health and care workers, according to the European Federation of Public Service Unions, which represents 8 million public sector workers across Europe.
Here is a look at the situation from the perspective of six healthcare professionals from different European countries:
United Kingdom
London-based nurse Jamie Brooks, who works as a clinical practice educator and joined thousands of nurses around the country on strike, said the healthcare system was unsustainable.
"I'm striking because I think enough is enough ... We're underpaid, we're undervalued," he told Context.
The NHS, a source of pride for most Britons, is under extreme pressure with millions of patients on waiting lists for operations and thousands each month failing to receive prompt emergency care.
The Royal College of Nursing (RCN) trade union says a decade of poor pay has contributed to tens of thousands of nurses leaving the profession - 25,000 over just the last year - with the severe staffing shortages impacting patient care.
Belgium
After 22 years in nursing, Zilfi Balci quit her job in September - burnt out by the working conditions in Belgium's public healthcare services. "Don't get sick," she said wryly, when asked how she sees the health system's future.
"You can't sleep, you're crying all the time, you dread going to work," she told Context, saying authorities had failed to tackle staff recruitment and retention issues exacerbated by the COVID-19 pandemic.
Some 5,000 hospital jobs are vacant, representing 4.5% of the workforce, and the country is struggling to recruit trainees, according to a Belfius bank analysis on the health sector.
In a recent report, the Belgian Health Care Knowledge Centre (KCE), an independent health research institute, called on the government for better wages, as well as the promotion and training of staff to fill the gaps.
On Friday, Belgian health workers joined a national strike of public sector workers, and a national strike is expected on Jan. 31.
"If all those people who clapped during lockdown came to support us out on the streets, then I'd be happy," said Balci.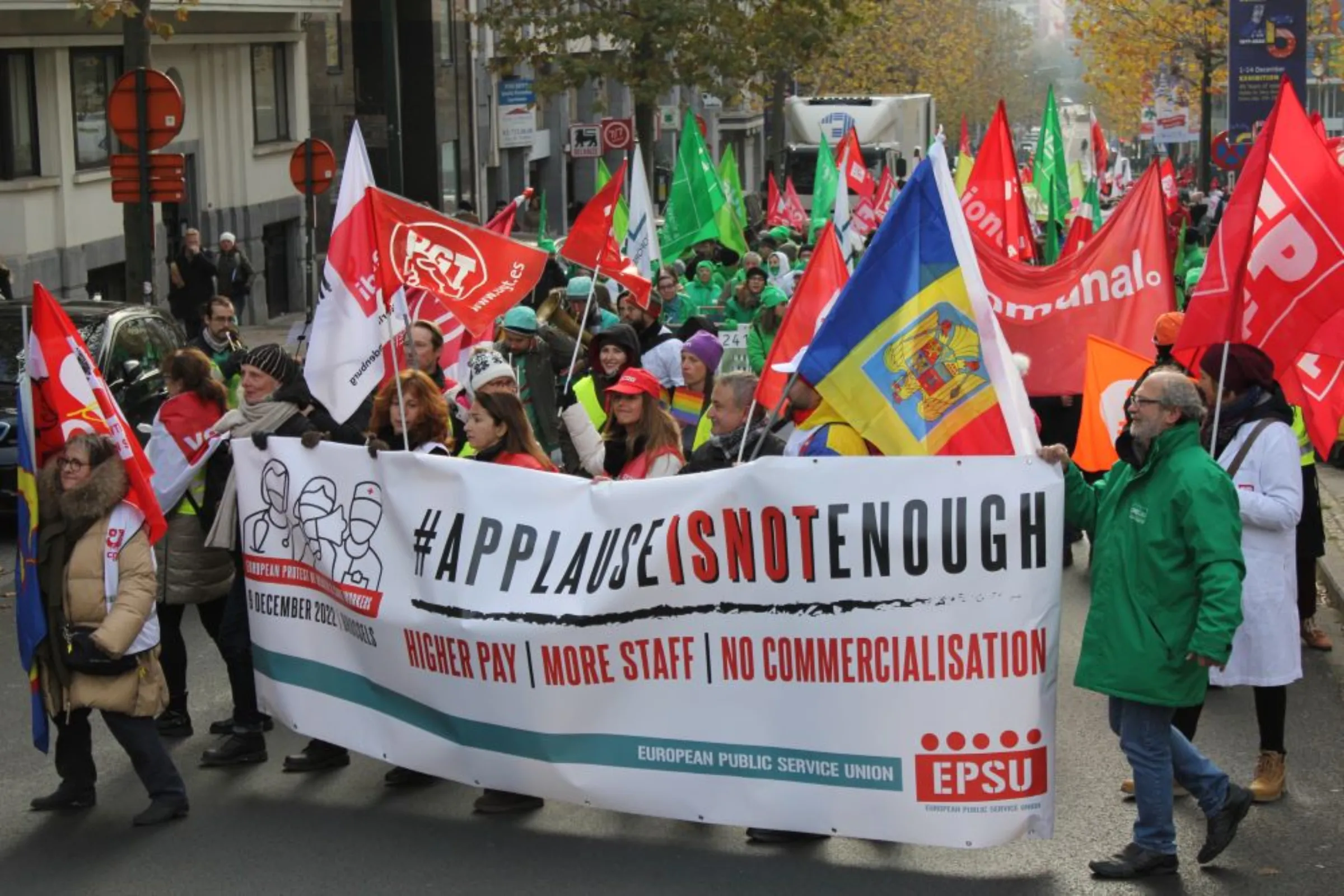 Italy
In Italy too, frontline medical staff were hailed as heroes when COVID-19 struck, but Cesare Berselli, a hospital chef and trade union leader in the northern city of Bologna, said they had already been forgotten.
The retired doctors and medical students who were drafted in to help at the height of the pandemic left the health service as COVID-19 cases declined, leaving those who remain to deal with the massive backlog of non-emergency procedures, he said.
"There are nurses now doing triple the amount of work to cover the needs of the hospital, this is the new norm," he said.
Citing Health Ministry data, the Quotidiano Sanita journal said healthcare staff numbers had dropped by 46,000 from 2010 to 2019. Unable to recruit enough doctors for years, the southern Calabria region received nearly 500 Cuban doctors in August.
Health workers took to the streets of Rome last week to defend the national health service and demand the new government raise wages and invest in recruitment.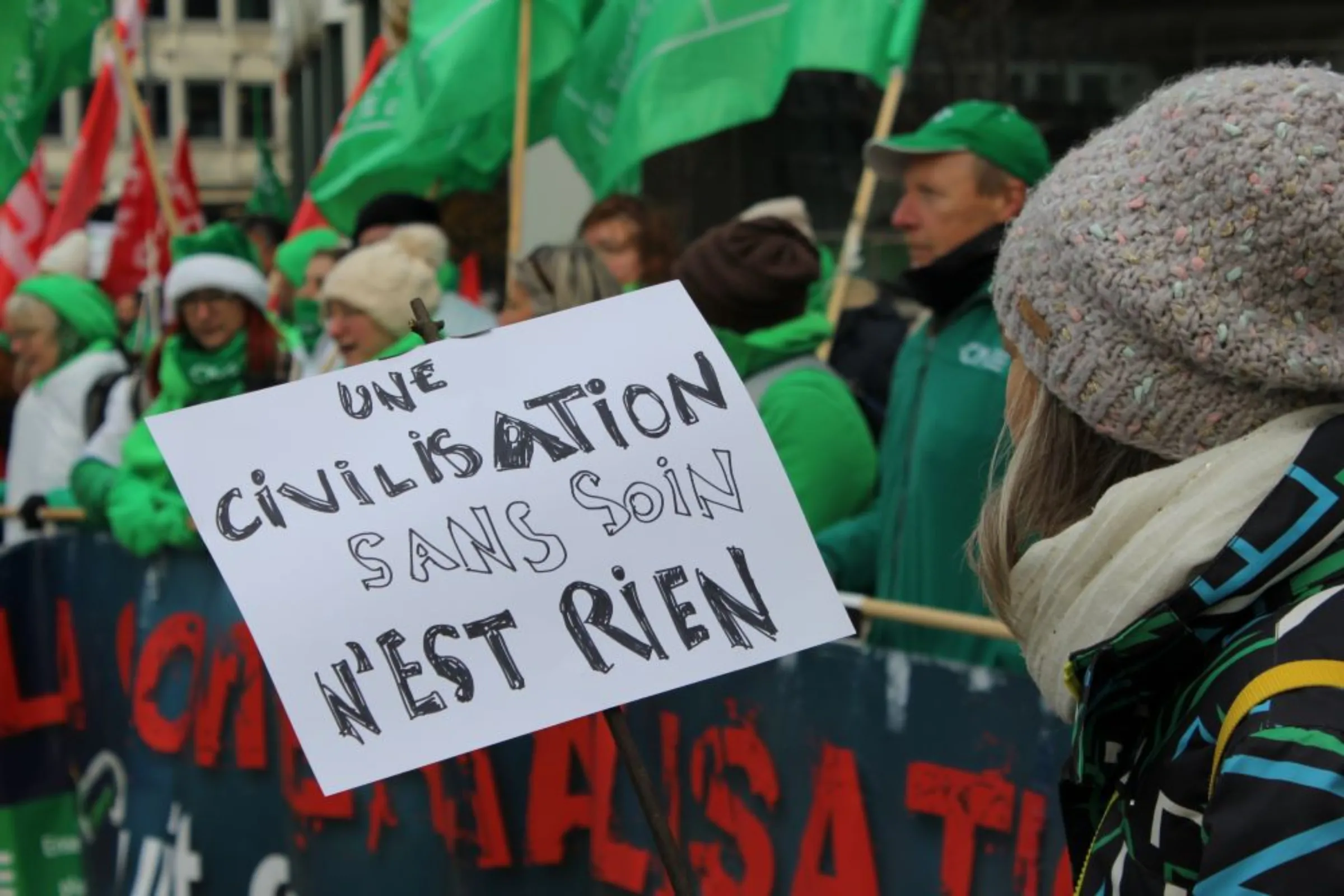 Romania
Trade unions in Romania are calling for a 20% increase in healthcare workers - equivalent to about 13,000 more doctors and 35,000 more nurses - as low pay drives many skilled medical staff to look for work abroad.
Among nurses like Gruian Crenguta, who began her career 21 years ago, anger and demands for government action are increasing.
"I feel angry and sad and nothing is happening, the government says nothing," Crenguta said as she took part in the demonstration by health workers in Brussels.
At the intensive care unit where she worked, she said she alone was responsible for 20 patients during the pandemic.
Nurses working in Central and Eastern Europe are among the lowest paid in the EU, partly explaining why some choose to move abroad, according to a report by the Organisation for Economic Co-operation and Development (OECD).
Spain
Like thousands of Spanish healthcare workers, nurse Yolanda Gil moved abroad in search of better pay and conditions during long years of austerity that took a heavy toll on the country's public health services.
Today, Gil - who leads the health workers' unit of the CCOO trade union - said she wants to help reverse the brain drain by fighting for better pay and more staff.
She said COVID-19 exposed the effects of years of austerity on public healthcare services in Spain and other southern European countries, with nurses and other frontline workers left to pick up the pieces.
"After the applause they put up a statue, like for heroes - but we didn't really see any real measures to help," said Gil.
Spain needs 95,000 more nurses to reach the European average, according to the Spanish General Nursing Council.
In Madrid, thousands of health workers launched strike action in November, calling for more investment in healthcare and better working conditions.
Sweden
In Sweden, many exhausted nurses are hanging up their scrubs for good, causing acute staffing shortages in some hospitals, said Nina Bergman, a representative from the Swedish Association of Health Professionals.
"We have a lack of nurses so severe that we have to close wards," she said at the Brussels demonstration.
A recent survey among members of her association found more than half are considering changing jobs due to the stressful working environment and concerns for their own health.
"It makes me feel very worried because it's one of the most important professions and we cannot deliver the healthcare we're supposed to deliver," said Bergman.
Sweden has a generally high number of doctors and nurses per capita, but fewer general practitioners (GPs), leading nurses to assume more primary care, according to the OECD.
This article was updated on Feb. 6, 2023, to include the British strike
(Reporting by Joanna Gill in Brussels and Lin Taylor in London; Editing by Helen Popper.)
---
---
Tags
Pay gaps

Future of work

Workers' rights
---