Britain's Voter ID is discriminatory: it must be scrapped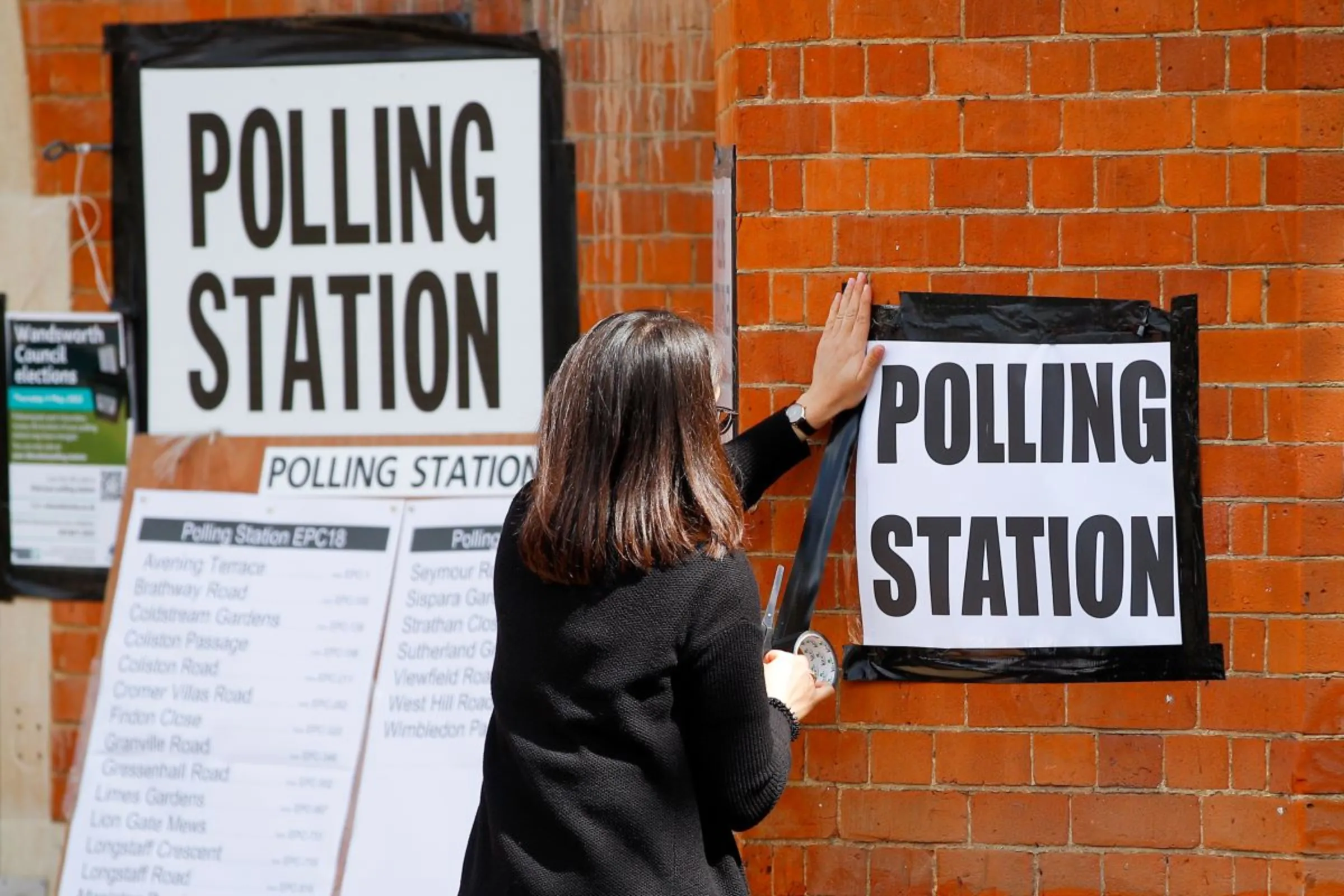 A woman attaches a sign on the wall of a polling station, during the local elections in London, Britain May 5, 2022. REUTERS/Peter Nicholls
People of colour and other marginalised groups risk losing their right to vote due to photo ID rules. That should concern us all
Alba Kapoor is head of policy at the Runnymede Trust.
Over the next year or so, critical choices will be made by the electorate that will shape the future of this country. As the prospect of a general election looms, the British people will be able to decide who governs them out of this generation-defining cost of living crisis, and the devastating aftermath of the pandemic.
At a time when people across Britain face the prospect of not being able to turn their heating on this winter, it is vital that no voice goes unheard. People of colour who, according to the Runnymede Trust's recent study, are more than twice as likely to be falling further and faster into poverty than white people, deserve their meaningful say at the ballot box.
However, new laws threaten that. In 2022, the government passed the Elections Act, which demanded that all voters present valid ID when casting their vote. At the time, civil society organisations across the UK raised their concerns about the impact of this legislation on people of colour, who are already less likely to have access to certain forms of photo ID.
People of colour are also amongst those least likely to be engaged in our democracy, with registration rates for Black and Asian people significantly lower than for white people. These concerns reached across the Atlantic, with prominent civil rights organisations in the United States warning the British government about the harmful impact of ID legislation on the wellbeing of a democracy.
Our fears have been realised. In May, the country's first elections to require Voter ID at polling stations took place. According to the Electoral Commission, about 14,000 people were turned away from voting. The Commission today concluded that people of colour and disabled communities were amongst the groups most likely to be refused their vote at the ballot box because of ID requirements.
This follows a scathing report earlier this week from a cross party group of MPs, which concluded that Voter ID is a "poisoned cure" that serves to disenfranchise more voters than it protects. Robert Buckland, the Justice Secretary responsible for launching Voter ID proposals in Parliament, was amongst those who co-authored this report.
The new ID requirements are shown to be discriminatory, disproportionately impacting people who appeared to be non-white passing. In contrast, the group warned that all white passing people who failed to present ID in the local elections were able to vote. The group warns that, if used at a general election, Voter ID could help swing the results of up to 16 constituencies.
These findings should disturb us all. The notion that government-sponsored legislation could widen racial inequities in accessing our democracy, as opposed to acting to combat them, is unforgivable. Thousands of people turned away from exercising their democratic right is something that should concern everyone. That those people are more likely to be people of colour,disabled and younger should highlight the scale of the harm caused to our democracy.
Following a decade of cuts to public services, which have disproportionately harmed working class people of colour, and the devastating impact of COVID-19 on these communities, people of colour have a clear stake in ensuring their government is attentive to their concerns and interests.
It was only five months after the 2019 general election when hundreds of thousands of people marched in the UK for racial justice, yet in the years since a swathe of legislation has been introduced which present a significant and sustained threat to the civil and political rights of people of colour. It is essential that the demands of these communities are not ignored.
As this weeks' findings have made abundantly clear, Voter ID is discriminatory by design; it must be scrapped before voters next go to the polls. According to media reports, 800,000 people could be turned away at the next general election as a result of Voter ID requirements. This number vastly outweighs the estimated 6 voter fraud cases in the last general election, on which the government's reasoning for this legislation rests.
We cannot continue the use of legislation that is leaving people without a say in the running of our country at this important time. Voices of those who are already most unheard will continue to be silenced, and people will be denied a say in shaping our country's uncertain future.
---
Any views expressed in this opinion piece are those of the author and not of Context or the Thomson Reuters Foundation.
---
Tags
Consumer protection

Race and inequality

Economic inclusion
---