Cut off from nature, UK's ethnic minorities hit harder by heat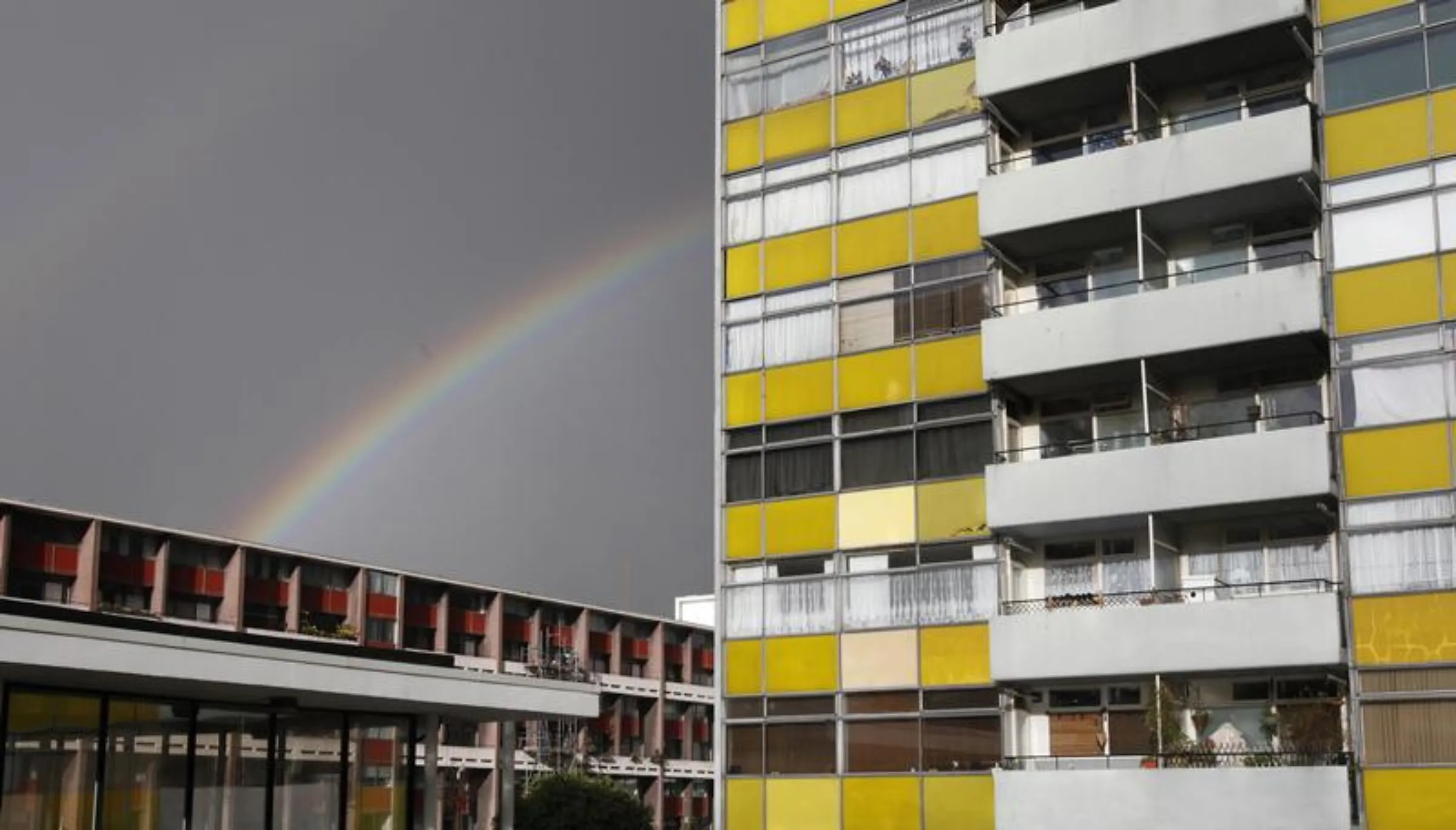 A rainbow appears over a housing estate in east London, March 3, 2014. REUTERS/Suzanne Plunket
What's the context?
Black and minority ethnic groups struggle to cope with heatwaves as many live in poor housing in urban areas with few green spaces
People of colour more likely to live in heat-risk areas
Poor housing, few green spaces in cities worsen impacts
Heat stress exacerbates inequalities, health experts say
LONDON - Growing up, Dominique DeLeon spent many hot summers in a built-up neighbourhood in the city of Birmingham, in central England, where she lived through deprivation and had little access to nature or green spaces to help her cool down.
Though she has moved to a different part of town, ever since her daughter was born in 2008, the 35-year-old has been increasingly concerned about the impacts of hotter weather on her family and the wider Black and Asian community.
"We're disproportionately affected by varying health conditions ... because of the concrete jungle in which we reside," said DeLeon, director of Ebony Hikers, a walking group that takes Black British people on hikes around the country.
In 2020, a UK survey commissioned by Ramblers, a walking charity, found that 39% of Black and minority ethnic (BAME) respondents lived within a five-minute walk of green spaces, compared to 58% of white people.
"We're consistently looking at how we can encourage people of Black ancestry to access those spaces to minimise the impact of climate change," said DeLeon.
As heatwaves in Britain record new temperature highs, health experts say BAME groups will be hit hardest as they tend to live in dense, poorly insulated households in urban areas with fewer parks and less vegetation.
Sandra Husbands, director of public health for the City of London financial district and Hackney, an ethnically diverse borough in east London, said she was concerned that minorities will suffer more from extreme heat.
"Not only because they're more likely to live in areas that are vulnerable to heatwaves, but also because they're more likely to have low incomes and, therefore, live in poor-quality housing," she told Context.
Green group Friends of the Earth said in July that measures such as adding trees and more green space could help cool down British cities by up to 5 degrees Celsius at night, helping people sleep better.
People of colour make up 65% of those living in neighbourhoods with the least natural cooling, the charity found, with London and Birmingham among the hottest cities. Air pollution was also highest in the hottest areas, it said.
Heat can be deadly - and many people are unprepared for the frequency and intensity of heatwaves that are occurring today and are predicted to worsen in the future, scientists say.
Extreme heat stress has already doubled in the last 40 years, according to the U.S. space agency NASA.
Those exposed to such conditions can die without swift access to air conditioning, fans or other cooling.
New York City's 2021 heat-related mortality report, for example, found Black Americans were twice as likely to die from heat stress than other New Yorkers because of a lack of cooling.
COVID lessons
Selvaseelan Selvarajah, a doctor in east London, which is home to many Black and South Asian communities, said that about half of the population there live in social housing - mainly flats that are not designed for extreme heat.
"Social determinants like poor housing, not having enough money, and lack of education is causing ill health," he said. "So there's no reason why heat wouldn't cause the same issues."
Hackney Council's Husbands said such social inequalities also had exacerbated the spread of COVID-19 among Black and Asian people, who were 50% more likely to die from the virus, according to an official 2020 study.
Lower socioeconomic status - another social trend among such groups - hikes the risk of people living in overcrowded households, or accommodation with shared facilities - which can make it harder to cope with heat.
"The COVID-19 pandemic exposed existing health inequalities by ethnicity that have been known about for a long time," said Husbands. "Heatwaves may either highlight or exacerbate these inequalities, or both."
Selvarajah said fostering closer community networks to identify vulnerable people, and retrofitting houses with temperature-control features like double-glazed windows are simple ways to curb heat-related health risks in the short-term.
He also urged the government to step up climate action to prevent heat-related deaths, which he said is an under-reported issue that is set to get worse with more summer heatwaves.
Expensive to access nature
Last year, Britain recorded its hottest-ever day when temperatures topped the 40C (104 Fahrenheit) mark for the first time, causing disruption to transport infrastructure like airports and railways, and fuelling wildfires.
Over the summer of 2022, 2,985 excess deaths were recorded, according to official heat mortality figures.
The Met Office national weather service last week predicted that in a scenario with medium levels of greenhouse gas emissions, by 2060, a year like 2022 would be considered an average year and by 2100, a "cool" year.
Climate change is making heatwaves more frequent and severe in Britain, according to World Weather Attribution, an international network of scientists.
BAME groups are four times more likely than white Britons to live in places vulnerable to high heat risk, according to 2022 research by the University of Manchester and Friends of the Earth.
These are often historically marginalised areas that can be several degrees hotter than nearby neighbourhoods due to large amounts of heat-absorbing concrete and a lack of trees, shade and parks.
Having lived in a council estate in Coventry in central England, Ollie Olanipekun, who is of Nigerian descent, always considered the great outdoors as a luxury for the lucky few.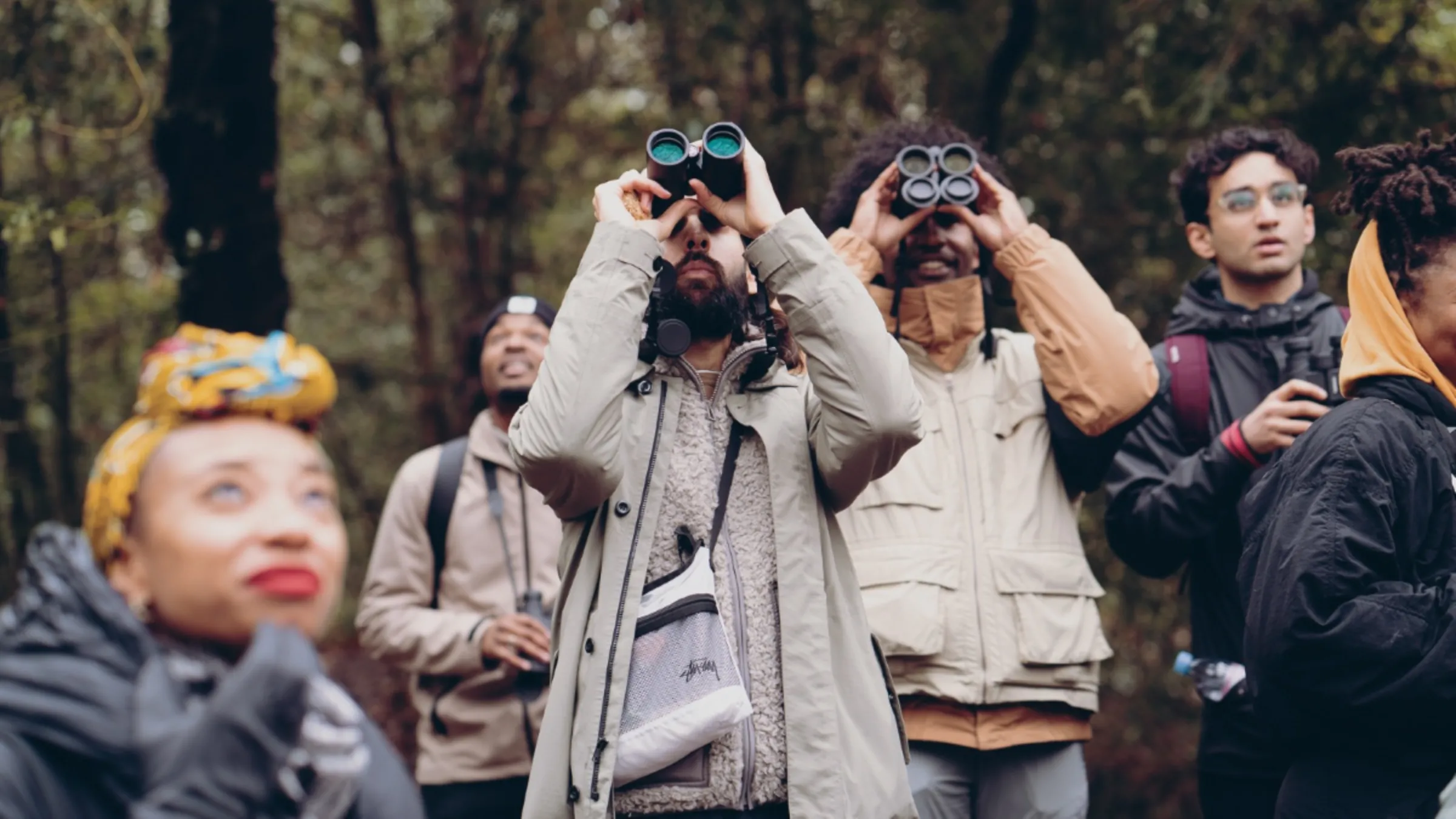 "Going to natural green spaces is expensive if you live within the urban city environments," said Olanipekun, who set up Flock Together, a bird-watching group for people of colour.
About 17% of England's population - some 9.7 million people - lived in rural areas in 2020, the latest official figures show, with BAME communities making up just 1.5% of that number.
While Olanipekun enjoys taking bird-watching enthusiasts out, he said there should be more pressure on authorities and town planners to bring nature to residents of deprived, urban areas who often cannot afford to travel to the countryside.
"How do we flip it so we can make sure that these urban developments incorporate a substantial amount of green space?" he asked.
(Reporting by Lin Taylor; Editing by Megan Rowling.)
---
---
Tags
Extreme weather

Adaptation

Climate policy

Race and inequality

Climate inequality

Loss and damage
---