People in need don't want your pity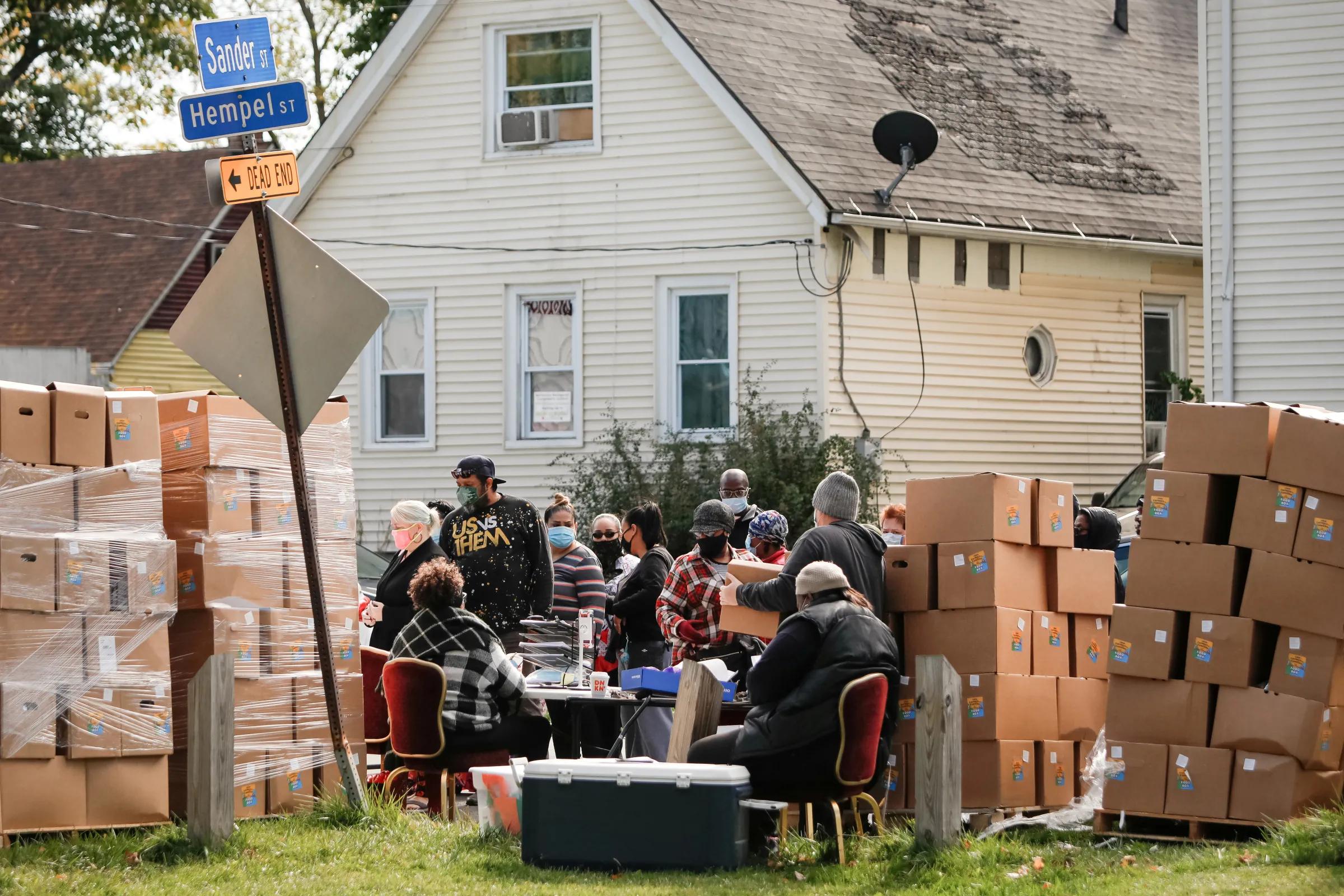 Sister Marsha and volunteers distribute fresh food boxes and hand out coronavirus disease (COVID-19) survival kits as part of an outreach program to the Black community to increase vaccine trial participation in Rochester, New York, U.S., October 17, 2020. Picture taken October 17, 2020. REUTERS/Lindsay DeDario
It's time to rethink charity, nurture talent and find the advocates and allies.
Kyria Stephens is the Director of Inclusion and Community Initiatives for the Buffalo Niagara Medical Campus.
In the US city of Jackson, Mississippi, where more than 80% of the population is Black, residents this month went without clean tap water for days.
Across the country, where poor neighbourhoods are typically hotter than wealthier ones, more than 40 million residents faced extreme heat in September.
And in Buffalo, New York, in the neighbourhood where I grew up, a gunman this summer murdered 10 Black people in a racially motivated attack.
It has long been a pattern. Low-income communities and communities of colour are often disproportionately affected by tragedy. Nearly every time, donations and volunteers pour into the neighbourhood after the fact.
These intentions are good. The resources are needed. But people in need do not want pity.We need solidarity, respect, and loving support. We need to rethink how we think about charity. Because when you share your time and resources you are not simply helping the less fortunate—you are nurturing the powerful.
'We shape the future'
These neighbourhoods are filled with people who are powerful in spite of the obstacles placed (often intentionally) in our path, from government-sanctioned redlining to more subtle yet equally destructive obstructions we face today.
Food apartheid. Sub-par access to health care. Dilapidated and abandoned homes. Schools with poor outcomes. Less economic opportunity.
These barriers to success have historically been designed to hold Black people and low-income people back and take away our progress. Yet even with everything that is stacked against us, we have still managed to become your doctors, attorneys, and business owners.
We shape the future as your teachers, professors, and chief diversity officers. We create culture as artists and entertainers and a poet laureate. We save lives as police officers, firefighters, EMTs and nurses. We drive the economy as CEOs.
We have endured and overcome much, but just imagine how many more might have thrived if these barriers were not constantly in our way. Superheroes will emerge when you take away the Kryptonite blocking our path. Consider that historically Black colleges and universities make up just three percent of colleges and universities in the U.S., yet "produce almost 20% of all African American graduates".
'We need advocates and allies'
Talent does not discriminate by race or what side of town you live on. When you stand with us, you are not just giving to people in need, you are investing in people you will need.
These communities are not defined by poverty, but by strength and perseverance, determination and forgiveness, and unshakeable joy. We need help, but not from would-be saviours. Your donations might support us for a day or a week.
But your voice, your advocacy, your determination, and your commitment will strengthen us—and allow us to sustain ourselves—for years. This is how we will continue to develop agency, raise our families, perform meaningful work, and build wealth for generations to come. This is where the strength of our community will truly shine.
These things are all within reach. But we need advocates and allies who will speak up, share networks and resources, build relationships, and help bring about sustainable change. We need people to actively listen to the deep-seated problems we face and not just prescribe solutions, as my colleague Matt Enstice discussed in City Forward.
We need to define people by their aspirations, not their challenges. Only when we stand together- and understand each other - will we unlock everyone's full potential. If we continue to let people in underserved communities suffer, we will all become weaker, not stronger.
So ask yourself: where does my neighbourhood end and another begin? Who belongs in my neighbourhood? Who is my neighbour? The reality is that we are all connected. We are your neighbours. We are powerful. And we need you to stand with us - nourish us - so that all of us can thrive.
---
Any views expressed in this opinion piece are those of the author and not of Context or the Thomson Reuters Foundation.
---
Tags
Wealth inequality

Race and inequality
---