Bangladesh's national adaptation plan must promote climate justice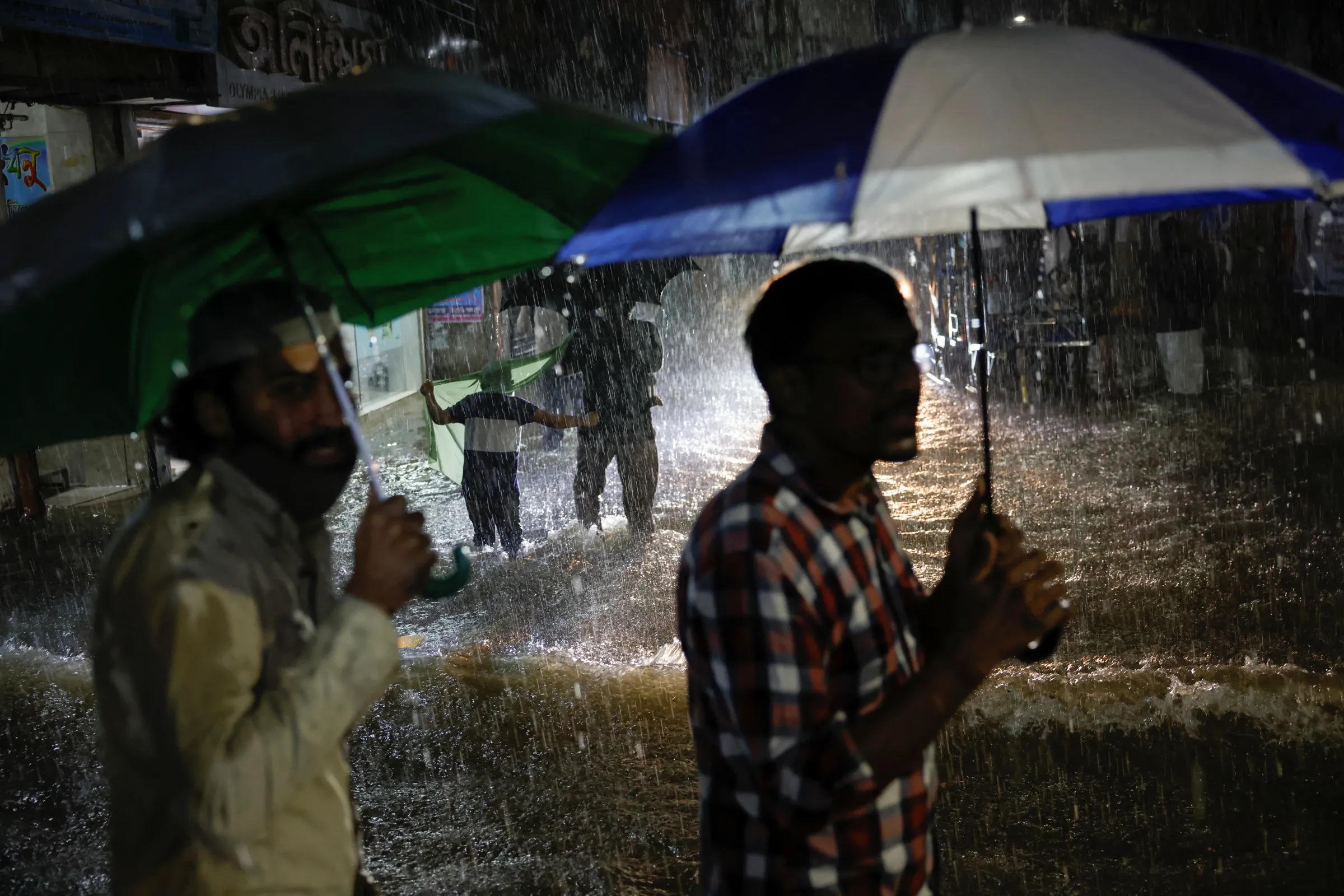 People wade through a flooded street amid continuous rain before the Cyclone Sitrang hits the country in Dhaka, Bangladesh, October 24, 2022. REUTERS/Mohammad Ponir Hossain
The country's new strategy should focus on meeting the needs of the poorest communities on the frontlines of climate change, whether in coastal areas or city slums
The climate-vulnerable people of Bangladesh require fresh policies to help them adapt to the climatic shocks that regularly wreak havoc on their lives and livelihoods. The government and civil society groups hope that a new National Adaptation Plan (NAP), approved by the Bangladesh government this week, will deliver the measures needed to keep even the poorest people safe from worsening weather extremes and rising seas. Those people continue their daily fight against climate calamities, which often force them to abandon their homes and villages, pushing them into poverty that they cannot break out of.
Sabina, a 55-year-old woman from Sirajganj District in northern Bangladesh, lost her home and belongings to riverbank erosion linked to the climate impact of increasing floods. She had to migrate to the capital Dhaka, where she rebuilt her life in the unhealthy and crowded slum of Kawran Bazar, which is no less prone to climate-induced disasters like erratic and intense rainfall and water stagnation. Sabina has lived in this slum for the last seven years, moving around to find any suitable place to resettle again.
Abdul Malek, a 68-year-old fisherman from the coastal belt of Bangladesh, lost his boat, and his legs were badly injured during Cyclone Sidr in 2007. As he is unable to work, his wife, Rahema Khatun, works as a day laborer to provide for the family, barely able to make ends meet.
Like them, millions of other climate victims in Bangladesh have limited political and social strength and are often unheard. They lack the tools, resources and capacity to adapt to the impacts of a warming world and keep themselves and their meagre belongings safe. It is high time to consider climate justice for people like Abdul and Sabina - which is what the new adaptation plan should ensure.
The national adaptation plan offers an array of measures on eight critical areas based on the latest scientific knowledge. The plan incorporates suggestions gathered from a series of discussions, from the national to the local level, to come up with concrete ways to address the plight of the weakest and most marginalized groups in society, such as disabled people or ethnic minorities.
The plan seeks to conserve water bodies and protect embankments for better water management to minimize the impact of floods and other disasters. In preparing for and responding better to disasters, it prescribes more shelters and livelihood opportunities for the most critical and vulnerable sections of the community.
It also recommends better irrigation and adapting crop varieties so that agricultural production is not seriously hampered by climate change. Specific measures are proposed for protecting urban areas and infrastructure and preserving biodiversity.
Finance for resilience
Moreover, adaptation finance marshalled under the plan must target climate-vulnerable poor people to ensure justice and fulfill their fundamental human requirements. Existing global financing sources have a minimum allocation for adaptation as it does not generate revenue or profit. This is an injustice to climate-vulnerable communities as they often have no option but to cope with climatic shocks as best they can, with negligible aid. Since the beginning of the U.N. climate change negotiations, only tens of billions of dollars have been generated for them globally.
There is a significant correlation between financial resources, especially in the most marginalized climate-prone areas, and the climate resilience of people residing there. The NAP proposes more than 110 interventions worth $240 billion up to 2050, to develop adaptation pathways and address sectoral needs. The government's development projects, private-sector investment and civil society action will have to combine to pursue the actions and achieve the results envisioned in the plan.
The NAP calls for smooth coordination among government ministries and fostering capacity among institutions that will act based on the plan. Local government institutions must be given financial autonomy to cater to local climate adaptation needs.
Civil society and NGOs have offered crucial support to remote communities for decades. But with declining development funds, these actors can now do less on the ground. Hence, the adaption plan must consider their involvement while designing projects and support.
More than 45 million Bangladeshi youths will be affected by today's policies. The NAP's planned institutional architecture to implement the strategy includes youth voices. It introduces a local-level youth leadership program and encourages young people to develop innovative solutions for climate change through extensive action research and field experiments.
The NAP will guide the adaptation scene in Bangladesh as the nation gets its act together to guard against the worst climate impacts. The plan should raise awareness among people on the frontlines to help them prepare for the threats posed by a warming planet.
We must take this much-needed first step towards ensuring climate justice for the poor and vulnerable by enabling them to live well despite the growing shocks and stresses we all face.
---
Any views expressed in this opinion piece are those of the author and not of Context or the Thomson Reuters Foundation.
---
Tags
Adaptation
Climate policy
Climate inequality
---