Colombia's climate migration draft law hailed as 'life saver'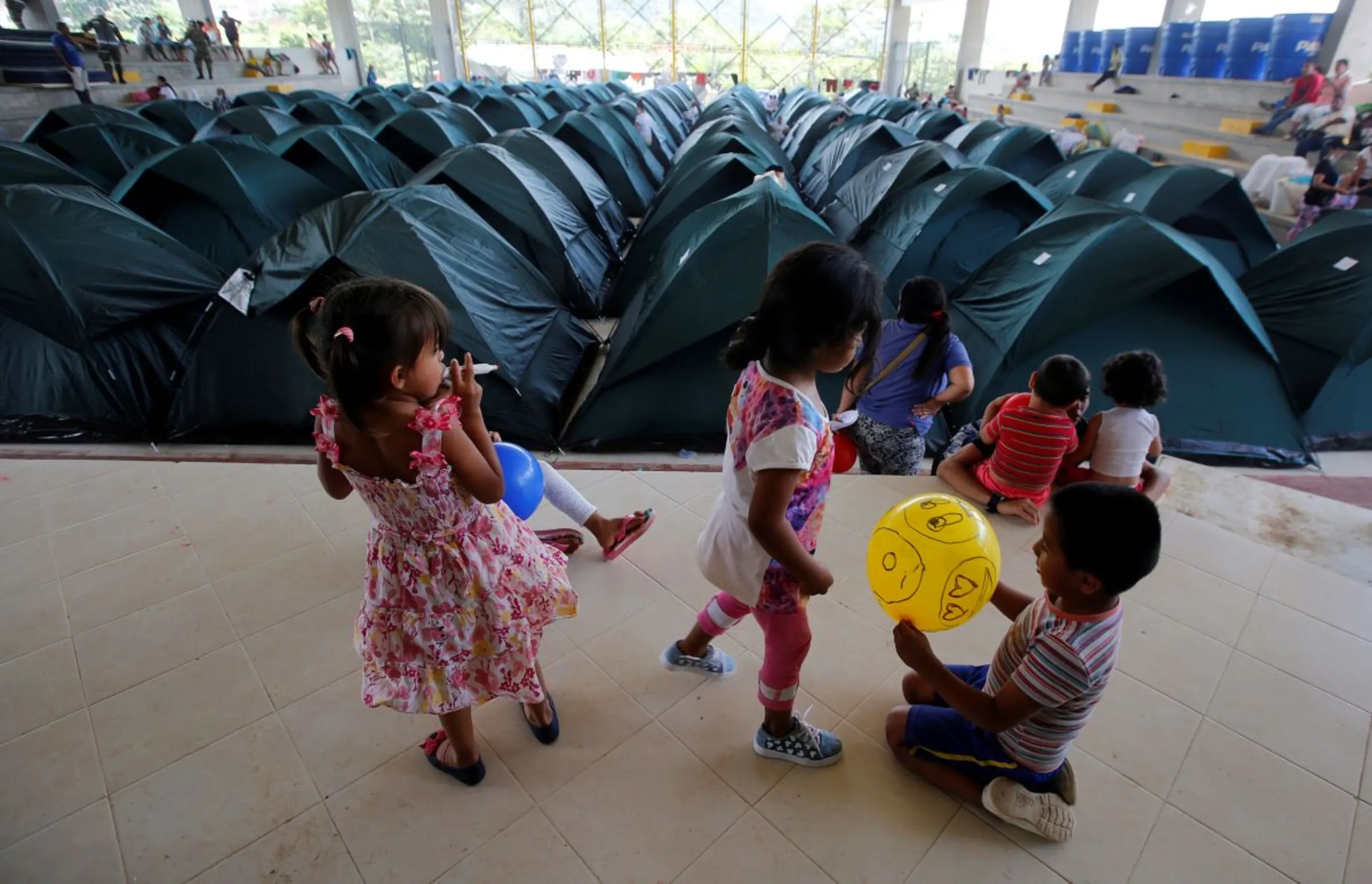 Children play in a shelter for people who became homeless after flooding and mudslides caused by heavy rains led several rivers to overflow, pushing sediment and rocks into buildings and roads in Mocoa, Colombia, April 4, 2017. REUTERS/Jaime Saldarriaga
What's the context?
Colombian bill recognizing those displaced by climate-fueled disasters, from floods to drought, could be first for Latin America
Colombia debates bill on displaced by climate change
Draft law is first of its kind in Latin America, Caribbean
Climate migrants globally lack legal protection and rights
BOGOTA - People in Colombia who are uprooted within the country due to the impacts of climate change could receive legal recognition under a landmark climate migrant bill that this week cleared the first hurdle in Congress.
From fishing communities having to abandon their coastal villages on Colombia's Pacific Coast as sea levels rise to families losing their homes to landslides triggered by heavy rains, the draft law covers climate change-fueled displacement.
If passed, it would be the first such law in Latin America and the Caribbean, a region where up to 17 million people could become climate migrants by 2050, the World Bank estimates.
As extreme weather events linked to climate change become more common and severe, the issue of how to protect people forced to move within their own country or across borders is becoming ever more urgent for governments around the world.
"The people most exposed to these climate change impacts and emergencies are the poorest and most vulnerable," said congressman Duvalier Sánchez, of the Green Alliance Party.
Sánchez is one of several lawmakers sponsoring the bill, which on Tuesday won approval in the first of four debates in Congress that are required for it to be signed into law.
"The majority of displacement during the previous century was due to war and conflict, but most of the displacement this century will be because of the climate emergency," he added.
Sánchez said he was optimistic the bill would be passed, noting it has widespread political support and aligns with the government's commitment to tackle climate change and its impacts.
By recognizing climate migrants, the aim is to give them priority access to housing, health services and education, according to Sánchez.
The bill has a broad definition of climate-displaced people, from families fleeing hurricanes to farmers forced to move because of crop failure caused by drought and environmental degradation, including soil erosion.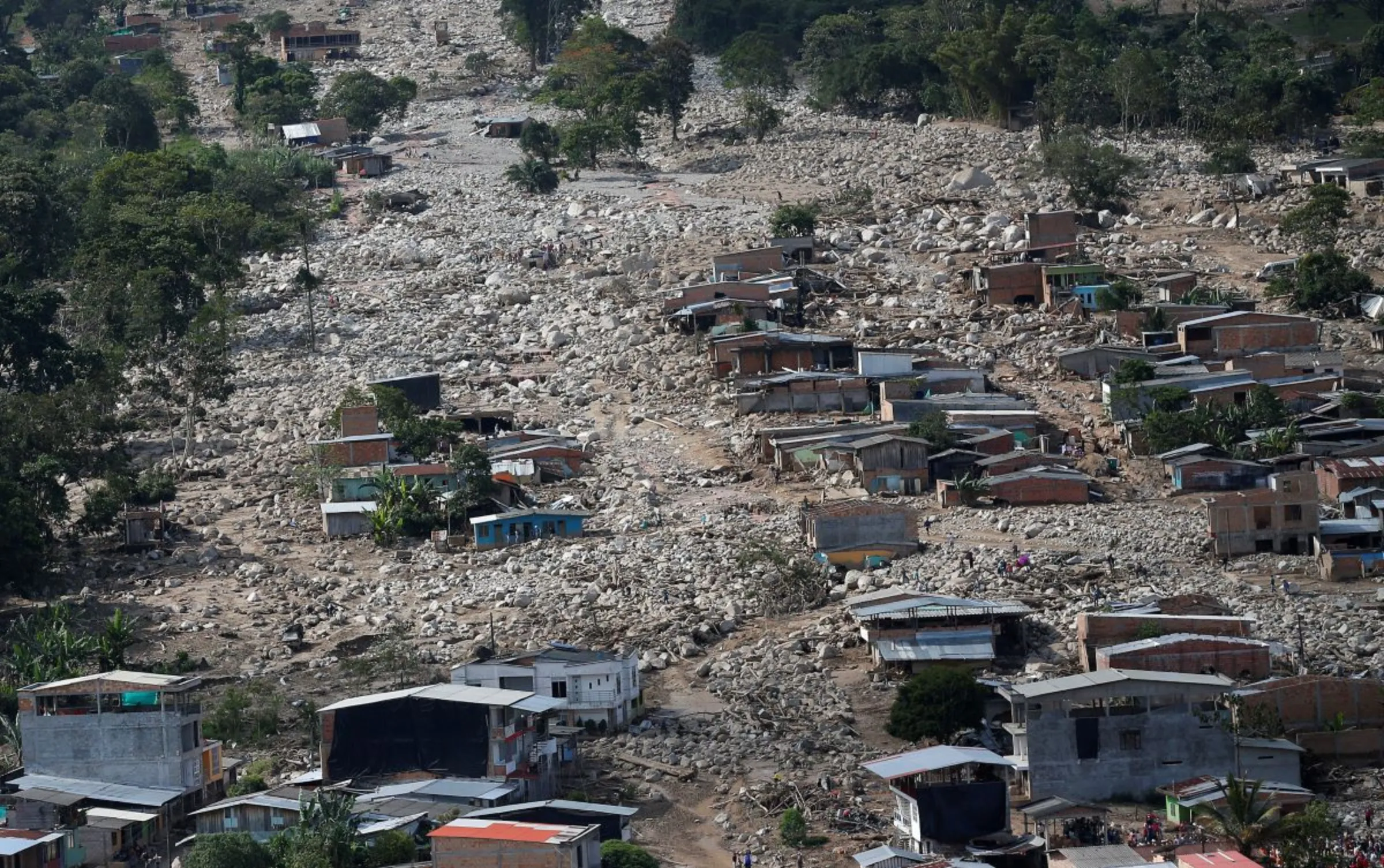 Giovanni Rizzo, Colombia country director for the Norwegian Refugee Council (NRC), said the draft law would save lives.
"Nearly 800,000 Colombians are in need of humanitarian assistance as a consequence of disasters and climate change," Rizzo said.
"Additionally, some of these people were already displaced by the armed conflict. Many lost everything again as a result of this year's floods," he said.
The bill proposes creating a national register of climate-displaced people.
"This could be an important measure to properly identify and guarantee protection to people affected in this context," said Rocío Castañeda, communications officer at the U.N. refugee agency (UNHCR) in Colombia.
No legal definition
Most people uprooted by climate change move within their own country, and the World Bank has estimated there could be 216 million internal climate migrants by 2050 - with sub-Saharan Africa and East Asia and the Pacific the hardest hit.
"Climate-driven mobility is not some far off, theoretical future. It's happening now," said Alex Randall, an expert at Climate Outreach, a Britain-based think-tank.
However, as there is no universal legal definition of a climate migrant or refugee under international law, affected people lack rights and protection, experts warn.
Climate refugees are not covered by the 1951 U.N. Refugee Convention, meaning they have no grounds for seeking asylum when they cross borders.
Ian Fry, the U.N. special rapporteur on human rights and climate change, said he would soon propose an optional protocol under the convention "to define people displaced by climate change and to give them the same status and legal protection as refugees".
However, other experts such as Randall say that it would be easier and more pragmatic to focus on building smaller regional agreements and bilateral agreements between nations.
"The fact Colombia has begun the process of thinking about what climate-driven migration and displacement is going to mean for them, and what kind of changes they need to make in law, is really important," Randall said. "There's no one-size-fits-all."
Humanitarian visas, which can provide temporary protected migration status for victims of natural disasters such as droughts, earthquakes and hurricanes, are offered by numerous nations, he said.
Countries should consider extending those to allow people to stay longer in a country or to enter for other climate-related reasons, he said.
"Given that lots of governments already have humanitarian visas, I think there is a quick win here," Randall said.
Argentina last year set up a new humanitarian visa program that allows people displaced by climate disasters from Mexico, Central America and the Caribbean to reside in the country for three years.
Colombian lawmaker Julia Miranda, who is also sponsoring the climate displacement bill, hopes it will provide an example for other countries in the region to follow suit - and pave the way for regional cooperation on the issue.
"There will come a time, not too far off in the future, when countries will have to act in a coordinated way," she said.
"People will cross from one country into another and we'll have to address this together."
(Reporting by Anastasia Moloney; Editing by Kieran Guilbert and Laurie Goering)
---
---
Tags
Extreme weather

Migration

Loss and damage
---