Home insurance coverage falters as California wildfires worsen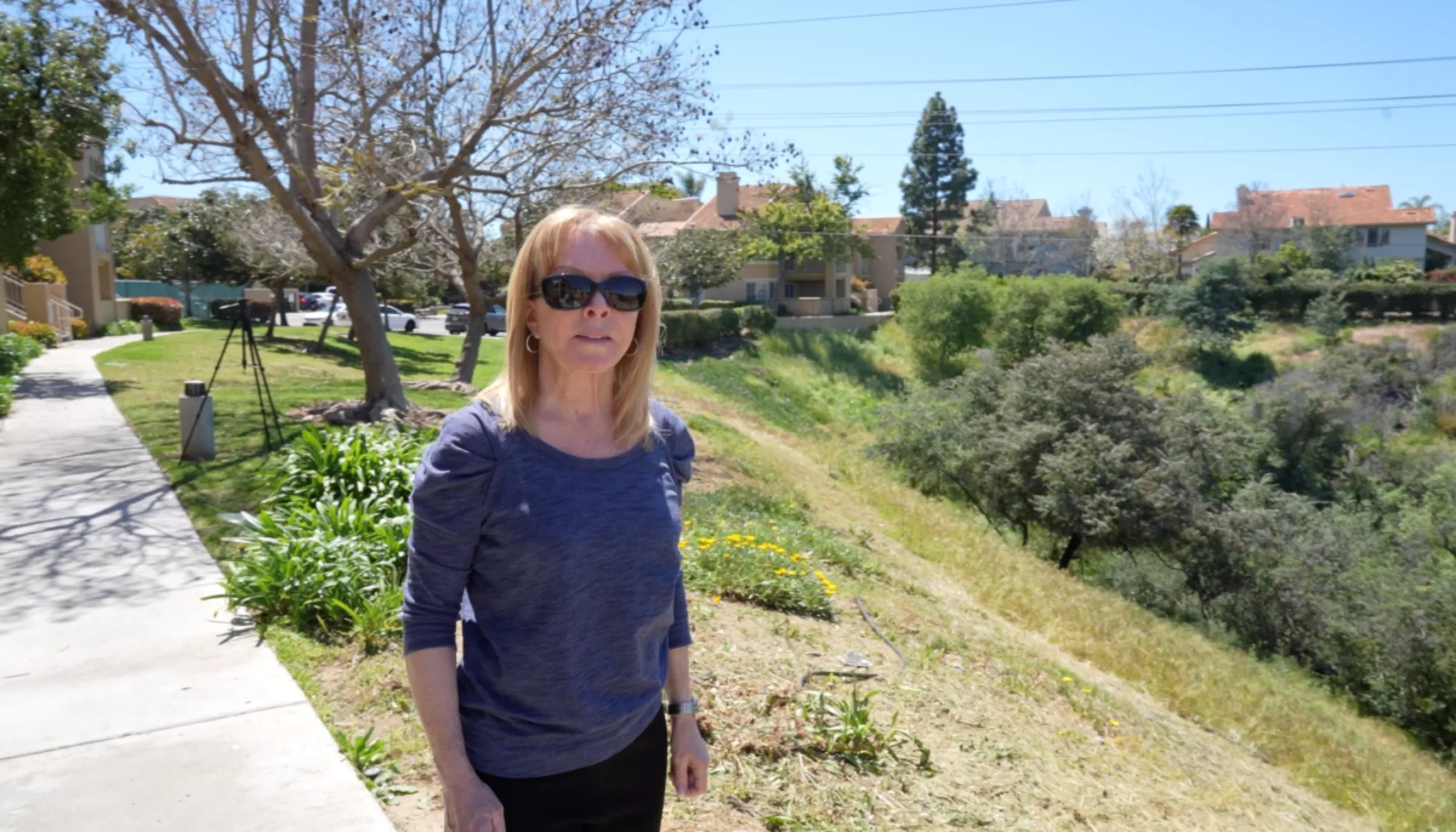 Paula Southwick, a resident of Canyon Park Villas, a southern California condo association that saw its insurance policy dropped as wildfire risks rise, stands outside some of the units, outside of San Diego, April 21, 2023. Thomson Reuters Foundation/ Manuel Ocano
What's the context?
As climate change fuels growing wildfire threats, prices for coverage are soaring and access to policies weakening
This story is part of a series on weakening access to insurance protection in the United States in the face of growing losses from climate related disasters: End of insurance?
Growing fire risk results in 'non-renewal' of policies
Homeowners seeking replacement insurance face high costs
Insurers say rate rises needed as wildfire losses grow
MIRA MESA, California - Last August, Canyon Park Villas - a condo complex that sits atop a steep wooded canyon outside of San Diego - lost its fire insurance, as more private providers across the state decline to renew policies in the face of growing wildfire risks.
When the condo association looked for replacement coverage, the cost was nearly 13 times the old rate: $600,000 a year, up from $47,000.
To pay the bill, the complex of 240 clustered units levied an immediate special assessment of $2,500 per home to cover the cost, with another expected later this year, said Paula Southwick, a retiree who has lived in the complex for over 30 years.
Residents are struggling to pay.
"Many people here are seniors on a fixed income or young couples with children in their first home," Southwick said. "So yes, people are unhappy, people are hurting."
The residents of Canyon Park Villas are part of a growing flood of California homeowners being forced into the world of last-resort insurance, where prices can be astronomical.
Their case is extreme, but the problem is increasingly common: As climate-change-fueled disasters worsen, insurance against them is becoming unaffordable, leaving many families, organizations and governments at growing financial risk.
Between 2015 and 2021, over 1.3 million Californians had their fire coverage dropped by an insurer, out of a total of around 10 million total polices in the state, according to data gathered by the California Insurance Commissioner's office.
A 2022 report from Rand Corporation found that in zip codes in California's Sierra Foothills with the highest wildfire risk, insurance rates are expected to jump by 18% for every $1,000 dollars of coverage by 2055 - making those areas potentially unaffordable to live in.
"There's a crisis," said Amy Bach, the executive director of United Policyholders, a non-profit group that advocates for consumers in insurance markets.
"We have people going into debt, borrowing money to finance their home insurance premiums."
Policy 'non-renewables'
With 13 of California's most destructive wildfires having happened in the last five years, according to the National Aeronatics and Space Administration (NASA), worried insurers are issuing increasing "non-renewals" to policyholders.
In response, the California insurance commissioner, starting in 2019, began blocking insurance companies from carrying out the practice in parts of the state impacted by fire and where states of emergency had been declared.
Many of those one-year blocks have now expired, though three, put in place after 2022 fires, remain in place.
The blocks "prevent the insurance companies from actually overreacting to the fire and wanting to just, on a whim, (not) renew all these folks," said Ricardo Lara, the Insurance Commissioner, in an interview.
But insurers say worsening wildfires have put the California market under strain, and raising premiums must come alongside making bigger payouts if companies are to stay in business.
After a record wildfire year in 2018, California insurers paid more than $13 billion in claims, said Darlene Baxter, a Farmers Insurance agent based in Pleasant Hill, east of San Francisco.
One of her clients lost their home in the Camp Fire, which destroyed over 18,000 structures in northern California.
Now premiums there and many other places are higher - and insurance buyers are unhappy.
"People call me on the phone, and they are crying and hysterical," Baxter said.
"All of a sudden someone's mortgage is up a thousand dollars more a month because of the cost of fire insurance."
She estimated that over 80% of people who contact her in search of wildfire insurance policies are now considering leaving California if they cannot find affordable coverage.
Other insurance options
Other insurance options beyond private policies are available but not very attractive.
Families who have lost their home cover can purchase a policy with up to $10 million of coverage from the California FAIR Plan, a high-risk privately-run insurance pool established by California state law.
It typically has high premiums, and only covers structural damage to properties, compared to traditional private policies that usually also cover loss of a home's contents.
In 2021, the California FAIR Plan had over 250,000 polices.
Canyon Park Villas, which lost its $50 million private policy last August, hopes to replace its current emergency $10 million in private coverage with a $20 million FAIR Plan policy later this year, when the facility is set to double its coverage ceiling.
Bach, of United Policyholders, said she believes traditional insurance companies are too quick to cancel or issue non-renewals of policies, and that "to a certain degree they are overreacting."
"We understand that insurance companies are not non-profits," she said. "But right now prices are going up, and coverage is down."
Mark Sektnan, vice president with the insurance industry group American Property Casualty Insurance Association, said California's regulatory proccess requires insurance companies to seek approval for rate increases.
Those can be hard to win or entail a long approval process, according to industry groups. With their hands tied, insurers sometimes opt to drop policies instead.
"If you can't adjust rates, your only option is to stop offering policies," Sektnan said.
Larger wildfires
Fire is a natural part of the California ecosystem, but climate change is increasing the length of the fire season, and leading to droughts that dramatically increase the amount of dead vegetation that feeds large destructive fires.
The average area burned in California each year in the 2000s and 2010s was twice the 1990s average - and in 2020-2021 it was 10 times higher, according to a 2022 report by the California Environmental Protection Agency.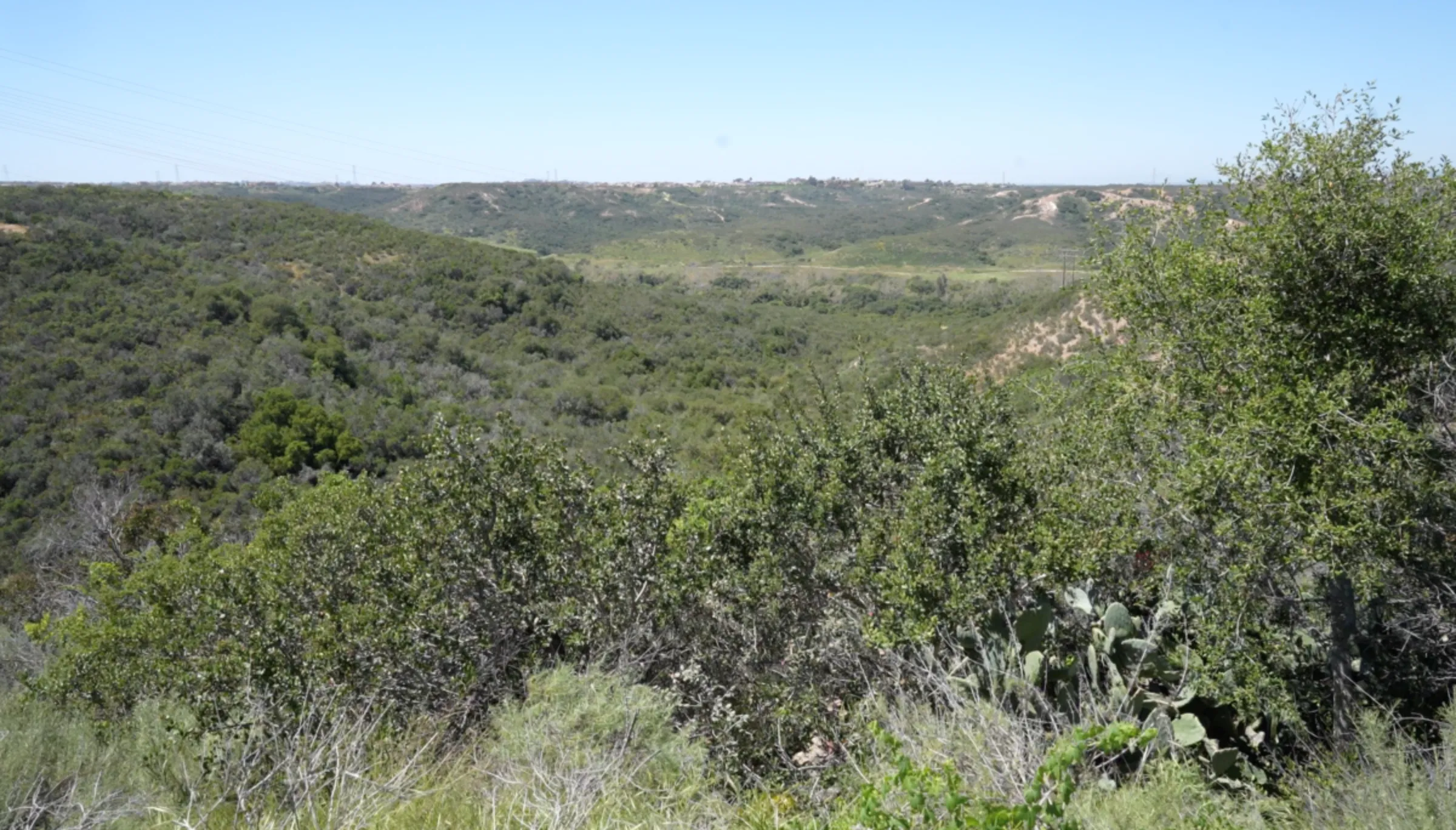 That fast-growing wildfire risk is a major problem, especially with protections from losses, including through insurance coverage, weakening.
"We are one ignition event away from a catastrophe. It's top of mind, and people want to be protected," said Damon Connolly, a California State Assemblyman from Marin County, north of San Francisco.
In February, Connolly proposed a state law that would prohibit insurance firms from canceling insurance for people over 65 years old - though he has since set aside the proposal for further study by a select committee on wildfires he chairs.
The aim, Connolly said, is to protect some of those least equipped financially to cope with skyrocketing insurance costs or loss of insurance altogether.
"Our seniors are our most vulnerable residents. They are on a fixed income, and disparately impacted by wildfire," he said. "We need to bring everyone to the table to figure this out."
Among those struggling with higher costs is Emily Wilson, who is facing a possible three-fold increase in the cost of fire insurance on a duplex she owns in Grass Valley, in nothern California.
The price hike could force the relocation of her 86-year-old grandmother, who lives there.
"She's on such a tight budget. We can't raise her rent to cover the costs - and we can't afford to cover it ourselves," said Wilson, who lives in nearby San Jose.
She got a note from her insurer Berkshire Hathaway in February saying it would not renew her policy, which she bought for $1,200 in 2020 due to increasing fire risk.
Berkshire Hathaway did not reply to requests for comment on the non-renewal.
Wilson has now been quoted over $3,000 for a new policy, and is trying to negotiate with Berkshire Hathaway to reconsider the cancellation in exchange for taking fire prevention measures on her property, including clearing vegetation around the home.
"It's on a main street in town. There's a fire hydrant on the corner," Wilson said in an interview. "I never thought this would happen."
Sektnan, of the insurance industry association, said people often underestimate wildfire risks where they live, noting that urban parts of communities such as Paradise saw thousands of structures burn in recent years.
"People think that there isn't a fire risk in urban areas - but that's not true," he said.
Cutting fire risk
In April, insurance providers submitted proposals to the California Insurance Commissioner's office outlining price breaks they intend to offer for efforts to reduce wildfire risk, as part of new state rules requiring discounts for such work.
That could prove a boost for businesses such as Frontline Wildfire Defense, a company that installs building sprinkler systems and other measures to defend homes against wildfires.
Harry Statter, the company's CEO, said he had seen an uptick in interest from California homeowners in his systems, noting some customers could save as much as 10% on their premiums or in some cases maintain their existing coverage by adding protection measures.
Southwick, of Canyon Park Villas, said she would be happy to take steps to cut wildfire risks for her property if she knew they would bring her insurance rates down.
She has already paid $5,000 to clear brush from the slopes near her unit, but said the work did not affect her premium - or her old insurer's decision to not renew her coverage.
"In our case, the insurance company wasn't paying any attention to that," she said. "They were just interested in getting our policy off the books and canceling it."
Large condo associations in California can face particular problems securing insurance coverage, as their insured value can surpass the cap on California FAIR Plan policies, forcing them into even costlier high-risk private insurance markets.
Finding an answer to California's wildfire insurance challenge - and broader questions about weakening access to affordable insurance in the United States - will take new kinds of thinking, analysts say.
Miyuki Hino, a planning expert at the University of North Carolina who studies climate adaption, said wildfire insurance markets are a microcosm of a much broader debate: Who in society should have to pay the fast-growing costs of climate change?
"Is this a burden that we all pay for equally? Is it going to be part of the social safety net? Or do we have isolated groups pay for this risk?," she asked.
(This story was updated on May 18 to correct a calculation error in paragraph 2.)
(Reporting by Avi Asher-Schapiro in California and David Sherfinski in Washington; Editing by Laurie Goering)
---
---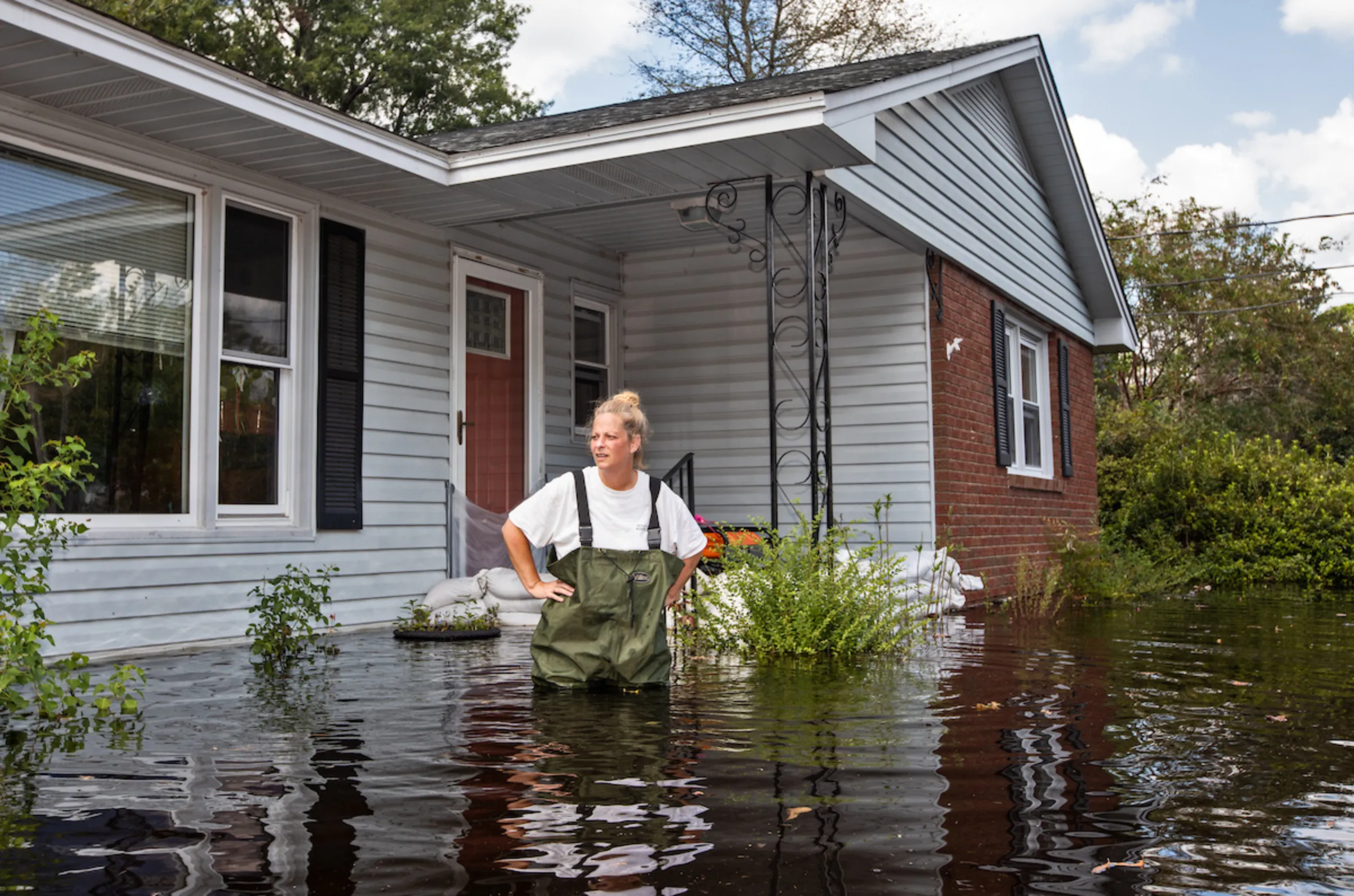 ---
Tags
Extreme weather

Adaptation

Government aid

Climate finance

Climate policy

Loss and damage
---